December 30, 2020
The heavy rain on Christmas was followed by days of very cold air. That may seem like most of our recent winters in Maryland, but what followed in Bel Air appeared to be out of the ordinary.
The photos here are confirmed legitimate, which will be backed up by a simple explanation below. I've added supportive videos, and maybe you can try this in your home freezer (or outside).
Ice Spike Bel Air Maryland 2020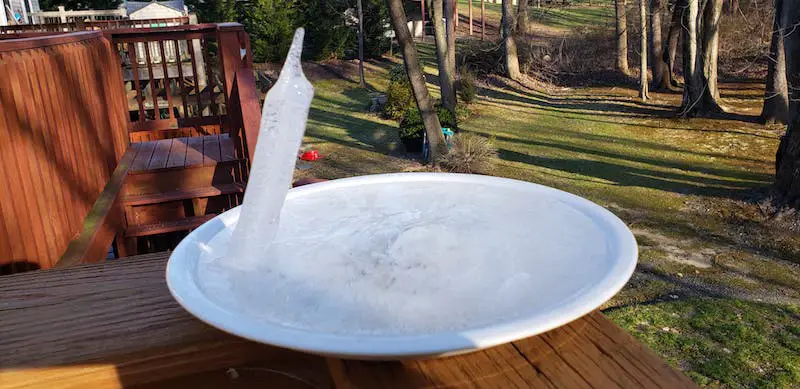 Katie Tipis Colamonaco sent me this and other photos. She confirmed it was NOT from a falling icicle as there was nothing overhead. But part of her message stated,
"I'll be honest, it kind of freaked us out".
I have seen photos of this before, and my first impression reminded me of this from January in 2014. I apologize I don't have the notes of who sent it in other than it is labeled Ice Man in Tub.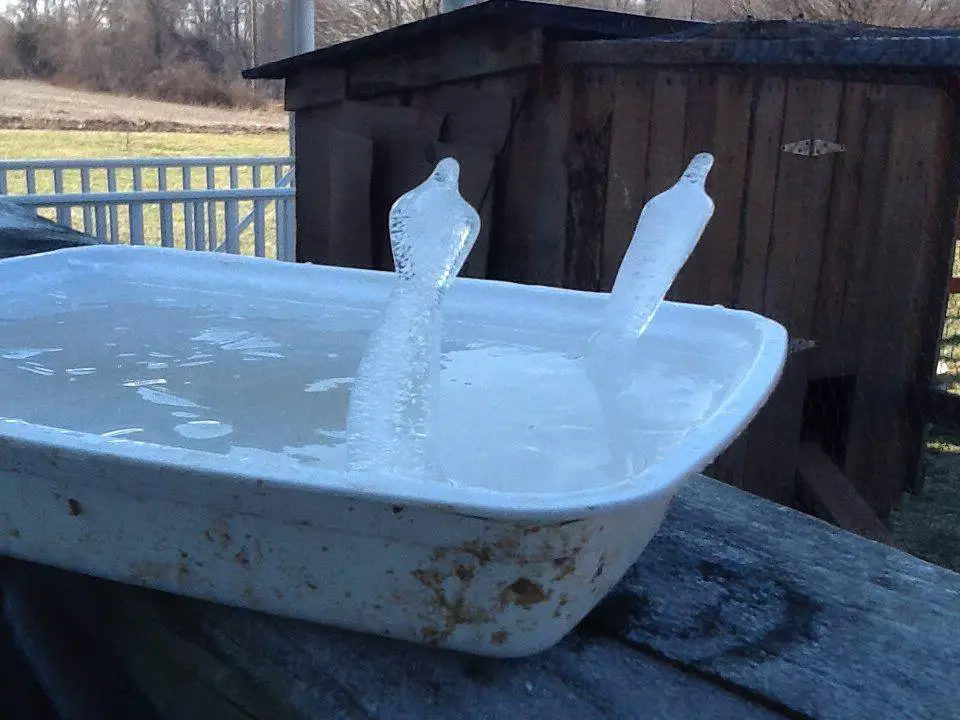 If I had only shown this photo to you now, you might think it was a melted snowman flipping 'the bird' to the recent rain. Or simply to 2020. I could go for that, and have a feeling I might have to turn this into an End Of Year MEME.
But, there is some educational material here and I must keep this PG.
Let's go back to Katie's message to me:
"The plate that you will see was used for a plant. It has remained outside, and when it rains, I typically empty the water. After the last rain we received in Bel Air, MD, I had forgotten and noticed the ice. The icicle was not there yesterday, or the days before. but last night we noticed that it was there."
Ice Spike Close Up
This closer view may give some of the explanation away, but look closely before scrolling down. Notice the lines inside the spike and at water level in the plate…
I know this looks like something else as well, but out of good conscience I simply can not write that. Teachers and parents share this with children for science lessons.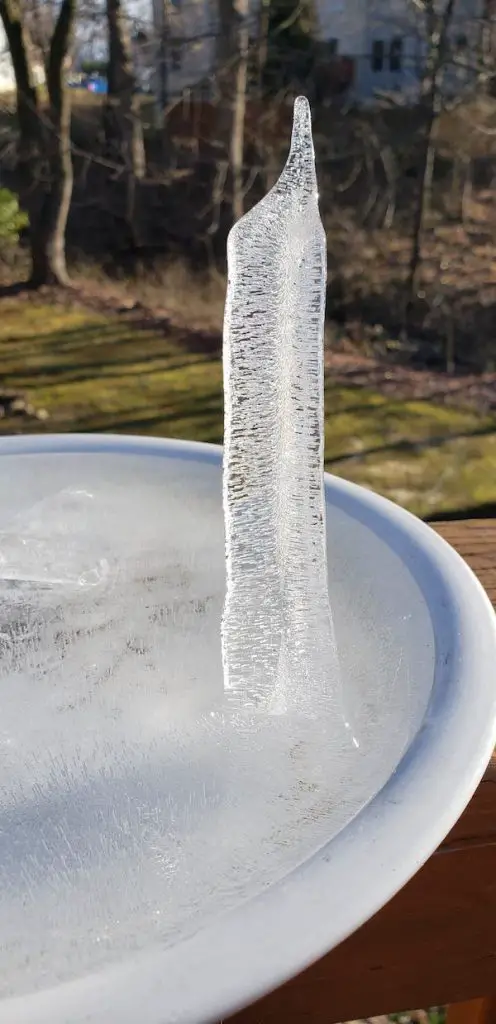 How Does This Form?
Water molecules expand or get farther when they form ice.

The top layer, and surrounding sides ice first.

This can force the water inside to push into or up hole or weak spot on the edge of the new ice

New ice can form around the edge of the pushed up water, as it rises.

A light breeze helps to push this to Ice side, so it does not collapse on itself.
Have you seen this before? I get a few photos each winter, but they never get old.
I was ready to make a video to explain this process to you, but found a really good one to share instead. Check this out and hopefully the animation will help with the explanation.
Video: Ice Spikes Explained
Want to make your own?
You can do this outside, on a night you know it will drop below freezing.
Use a birdbath, or ceramic plate.  A metal toaster gill plate will work as well. The reason is you want the surrounding bowl filled with water to be mostly elevated so it reaches freezing.  The more surface area touching the ground or table may insulate it.
Time Lapse Videos: Just for fun…
Larger Ice 'sculpture'
YOUR INTERACTIVE WEATHER PAGES
14 Local Maryland Pages (and York PA)
We have made a page for Maryland Weather which gives you the current conditions for 14 present area locations.
Local Hourly Forecasts and Local Radar
Central Maryland
Delmarva
Pennsylvania

FITF Shop Open
My 'bonus' daughter Jaiden and wife showing off our popular Maryland Hoodies. Unisex and women's items all produced in Maryland.
Click here to see this and many other new items.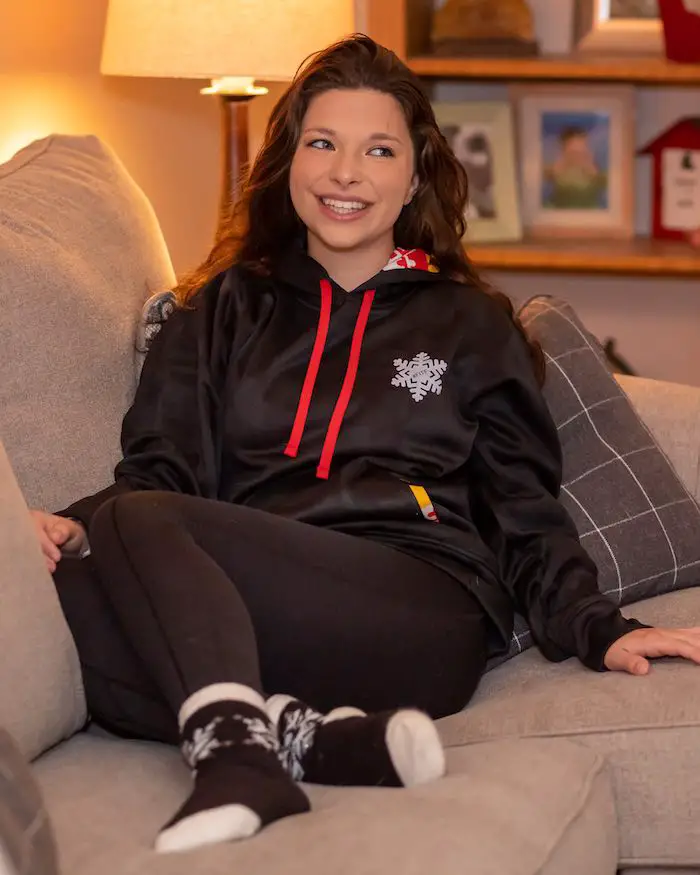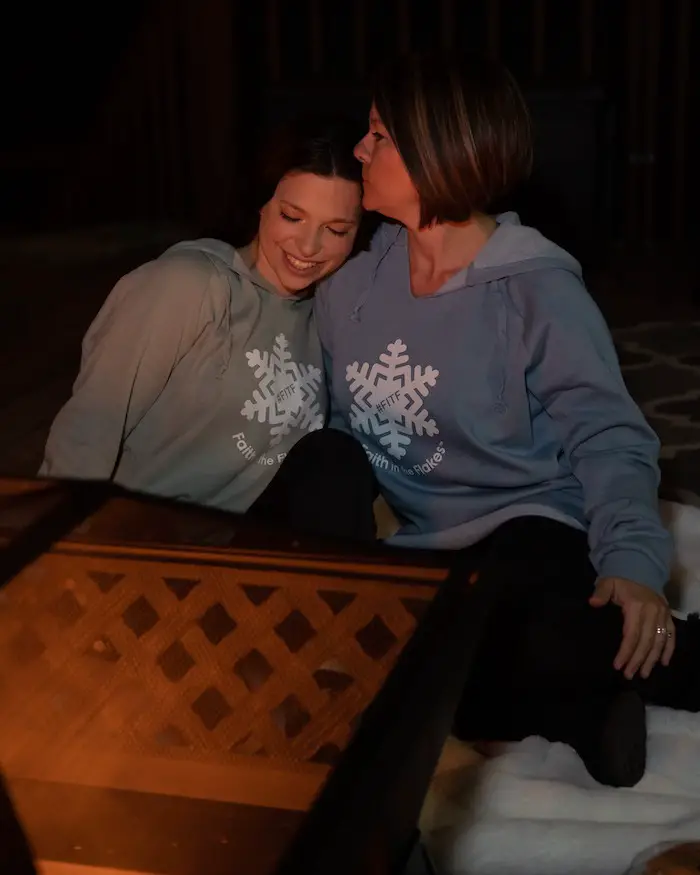 Also see:
Maryland Weather Page
I wanted to keep it simple. Just the basics for a quick view at any time.
Please share your thoughts, best weather pics/video, or just keep in touch via social media
---
Email Updates
Please make sure you sign up (above or click here to sign up for email alerts…. ) for my newsletter. This way you will get an email to make sure you are notified of each post.
---
Just In Power Kids:
A portion of proceeds go to our programs Providing FREE holistic care for kids in cancer treatment and up to 5 years post treatment and caregivers.
New Caps and Hats