Friday December 25 2020
This may end up as a gift for most of us today. The colder air is moving in as expected this morning, and the upper level energy continues to support snow showers with possible heavier squalls.  This will be ambience flakes, but may coat the ground in spots.  Temperatures will continue to drop and allow for some stickage this afternoon and evening.
Strong Winds 
Baltimore recorded a 42 mph wind gust. There were stronger surges. It appears most of the region kept their power, but how about the decorations?  Did they survive?
Today, winds will be from the west and northwest. The gust will most likely be in the 30 mph range, but could be higher in snow squalls making the snow appear heavier.
Christmas Morning Set Up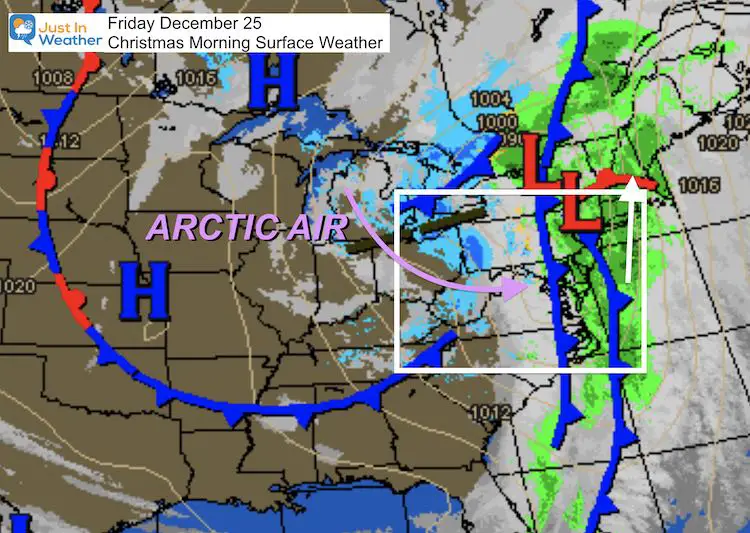 Satellite
The sharp shadow from early morning sunlight really helps define the low level jet with this arctic front.  That cut off is behind the front, in the cold air.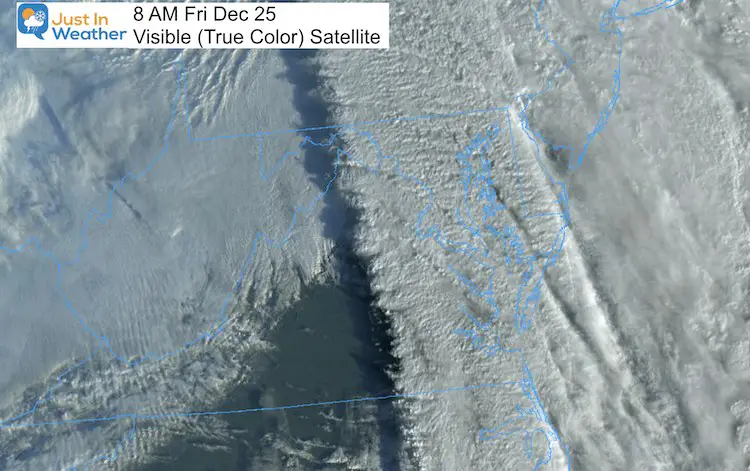 Forecast Snapshot: Central Maryland 

8 AM Temperatures 
The freezing temps made it to the suburbs just west of Baltimore.
There is a nuisance with Frederick, Westminster, and York showing just about freezing, but all surrounding sites were closer to 30ºF at 8 AM. I mention this because of the potential freeze if you have any travel.
Notice the 20s just west of Frederick. That's the cold air working to move in all day.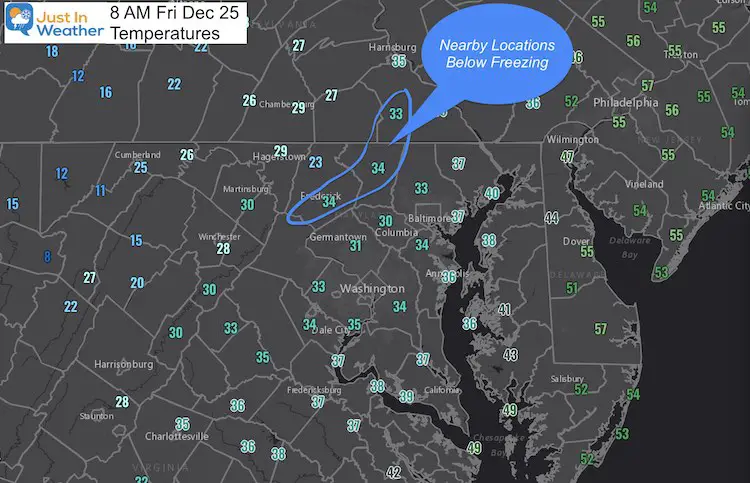 Key Times —> slider
Remaining nearly steady or dropping.
Vorticity
This is the spin at 500mb, around 18,000Ft that I have been showing all week. This is the upper level energy that will support snow showers and squalls today into Saturday morning
—> slider
Snow Showers and Squalls
This and all models are NOT PERFECT.
I'd watch for verification a little earlier and possibly a little farther north than shown here.
There appears a distinct east-west band that could produce the best chance for minor accumulation mid afternoon into the evening.
—> slider
Live Radar Widget
*This is not color coded for winter precip.