Tuesday December 22 2020
We still have an arctic front on the way for Christmas. It will be preceded by some heavy rain and warm temps. It will be followed by an abrupt drop of temps with some getting a flash freeze and most into a deep freeze.  But what about all of that snow talk?
In my last few reports, I have been trying to shift the attention to the weather set up AFTER the arctic front for what I think will bring the better chance for more to see snow. I am now more confident that is the better call, and it may bring some snow for more of our region at a better time.
Here is a brief summary of what is likely to happen:
GFS Model Animation
This does not show the whole story. See my notes and more maps below.
Christmas Eve Day:
Developing rain, will be heavy at times. Totals may be over 1 inch.
Some thunder may rumble.
Temps push into the 50s to near 60ºF at night.
Arctic Front:
The timing should pass between 10 PM to 5 AM (Christmas Day)
Rain will mix and change to snow showers before ending.
Best chance for stickage: A coating or more west and north of Baltimore.
Flash Freeze: Ice will try to form in metro areas, and most likely inland.
Snow shower and flurries may fall near the Bay and northern Delmarva. But the impact will be minimal.
I will have more specific details and a map to explain this in tomorrow's update.
*Timing this frontal passage has been a challenge.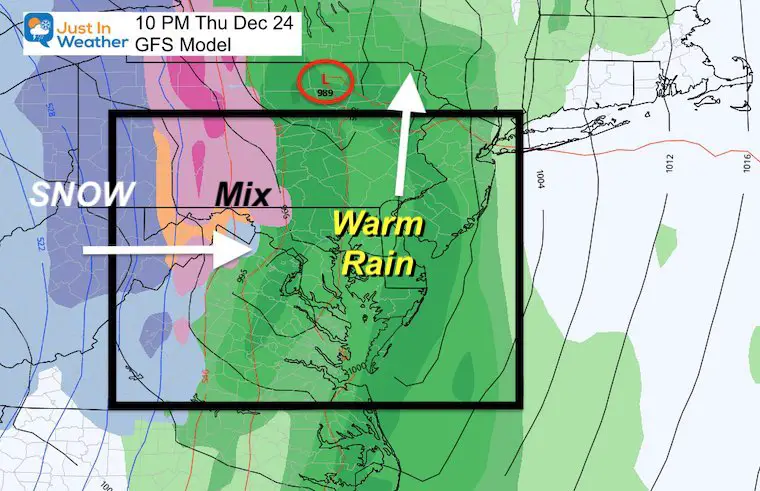 Temperatures After The Front Passes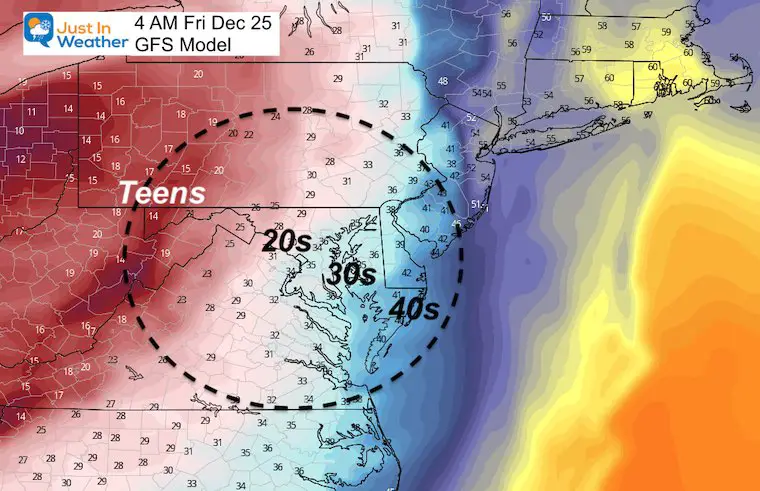 Christmas Day Afternoon and Overnight
Arctic air fully in place. Flurries and snow showers will develop and could be enough to coat the ground where they pass.
Two prime times for snow bursts: (See slider below)
3 to 8 PM Friday
Midnight to 4 AM Saturday
Vorticity (Spin in Jet Stream Around 18,000 Ft)
Tracking the upper level energy and Vort Max still supports a break out of snow showers
Timeline —> slider
Snapshots
The prime times for the Vort Max passage and snow showers brings the first potential during the daylight on Christmas when most will be awake to see them.  This is better than overnight in the dark, right?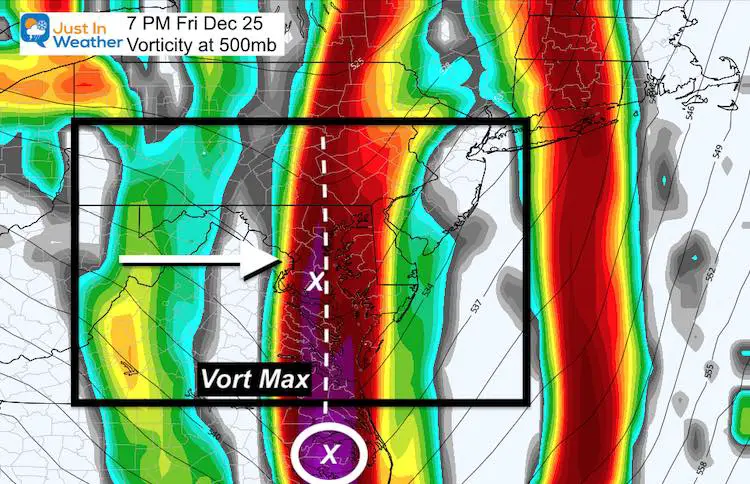 Temperatures 
IT REALLY IS GOING TO TURN COLD!
Christmas Morning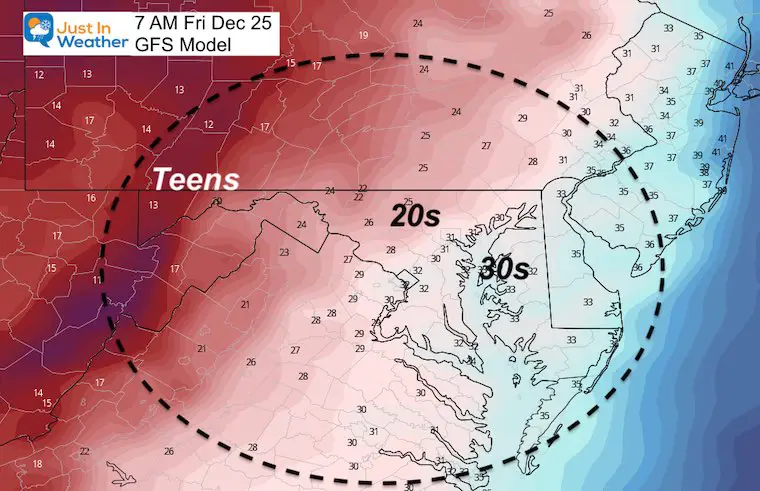 Christmas Afternoon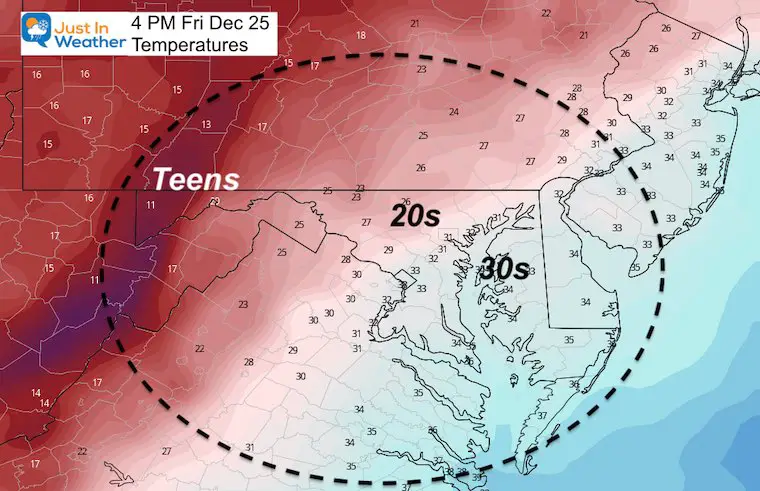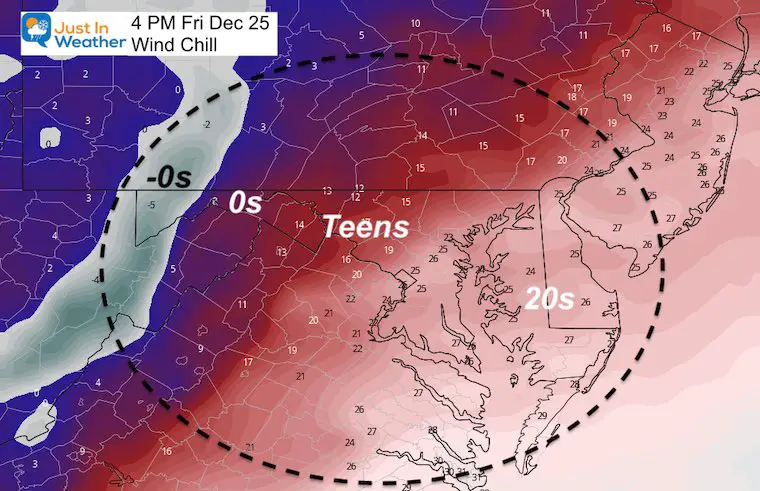 Temperature Outlook 
Notice the lower 60s for both Dec 24 an 25. This is a function of the timing, as the GFS model has slowed the front passing Baltimore until just after midnight.  That Friday high temperature is deceiving, because most of the afternoon will be in the 20s.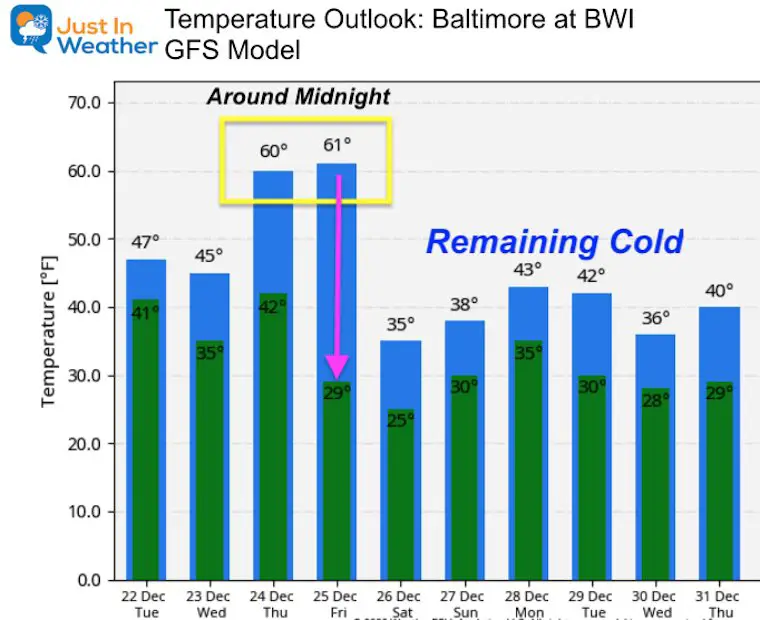 YOUR INTERACTIVE WEATHER PAGES
14 Local Maryland Pages (and York PA)
We have made a page for Maryland Weather which gives you the current conditions for 14 present area locations.
Local Hourly Forecasts and Local Radar
Central Maryland
Delmarva
Pennsylvania

FITF Shop Open
My 'bonus' daughter Jaiden and wife showing off our popular Maryland Hoodies. Unisex and women's items all produced in Maryland.
Click here to see this and many other new items.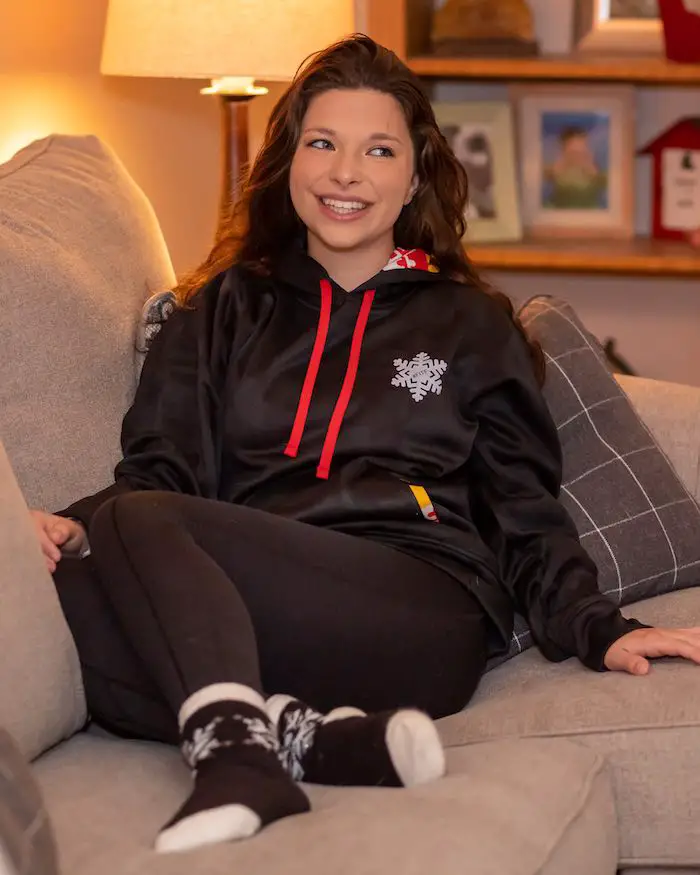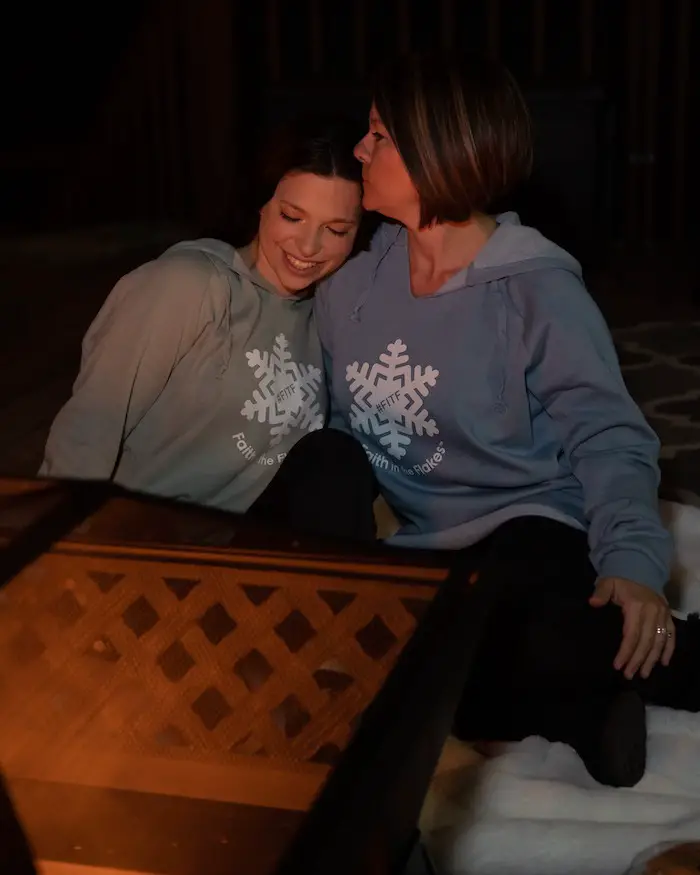 Also see:
Maryland Weather Page
I wanted to keep it simple. Just the basics for a quick view at any time.
Please share your thoughts, best weather pics/video, or just keep in touch via social media
---
Email Updates
Please make sure you sign up (above or click here to sign up for email alerts…. ) for my newsletter. This way you will get an email to make sure you are notified of each post.
---
Just In Power Kids:
A portion of proceeds go to our programs Providing FREE holistic care for kids in cancer treatment and up to 5 years post treatment and caregivers.
New Caps and Hats