Wednesday December 23 2020
A package of weather advisories has been issued across the region. Most prolific is the Flash Flood Watch for heavy rain.  A Winter Storm Watch includes Garrett County MD and into the high mountains for heavy snow.  A High Wind Watch along the coast, and Small Craft Advisory for the Chesapeake Bay.
This does not change anything.  We are still expecting a mix to snow overnight, and very cold air Christmas Day with afternoon flurries and snow showers.  The timing of the arrival will be within a few hours of midnight.
Christmas Eve Weather Alerts
It's important to note that there is still snowpack and snow piles for most areas west and north of I-95. That will add to flooding potential, and blocked storm drains.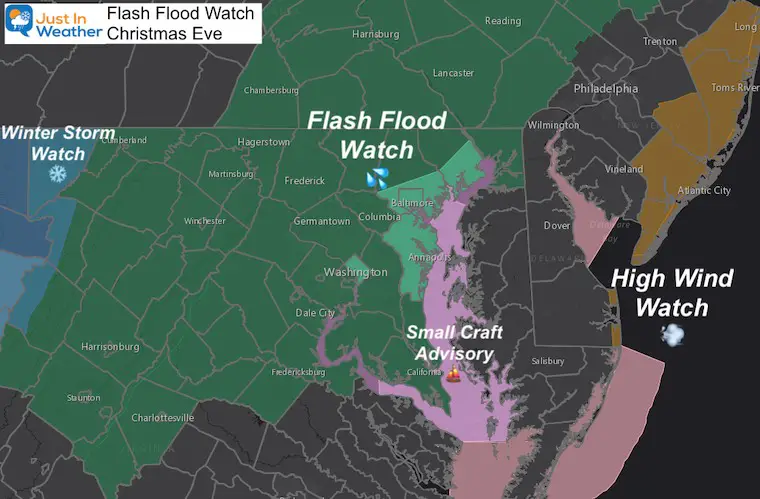 How Much Rain?
The two main computer models have diverged on the timing of the front, but they agree (more or less) on the amount of rainfall.
GFS Model
ECMWF Model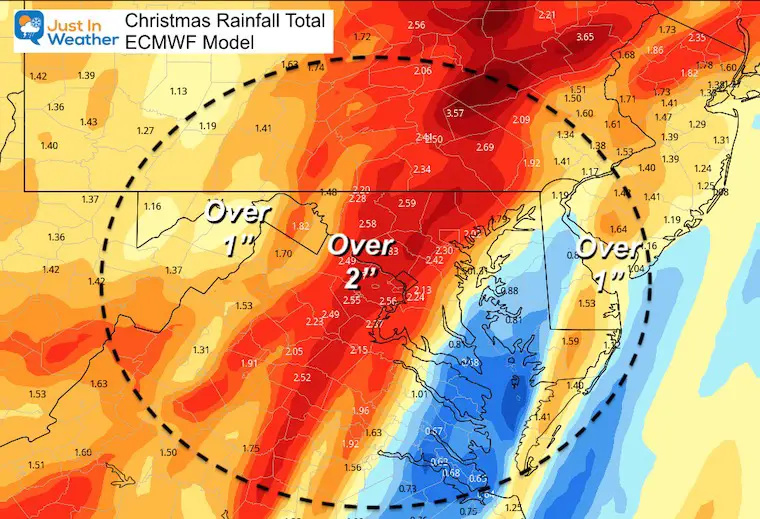 Let's Back Up To The Set Up This Morning
WE have chilly air in place this morning, but a warm up is on the way ahead of the Arctic Front.  That front can be seen on the map this morning.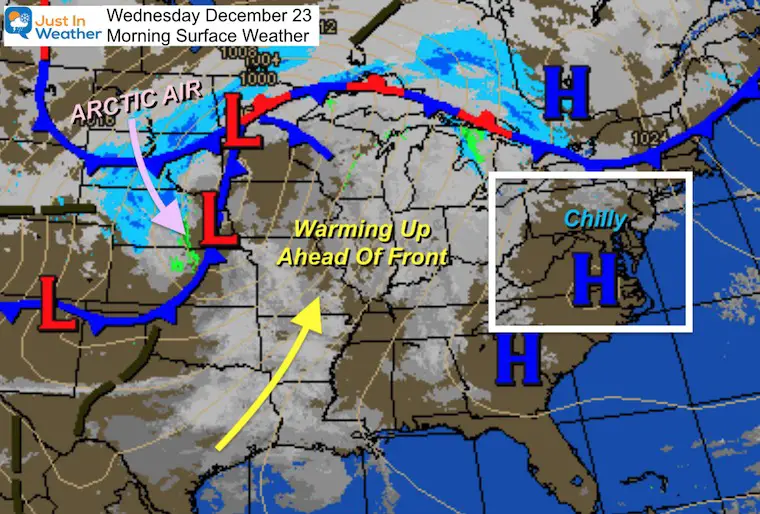 Temperatures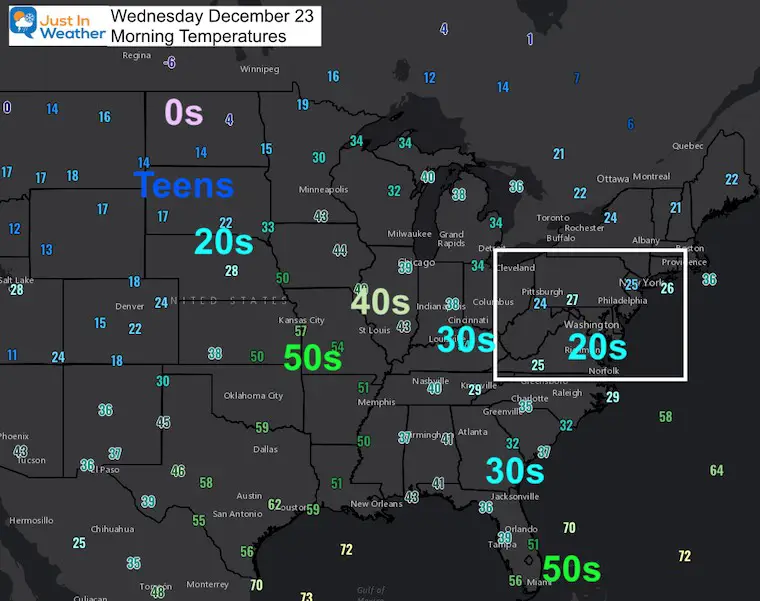 Closer View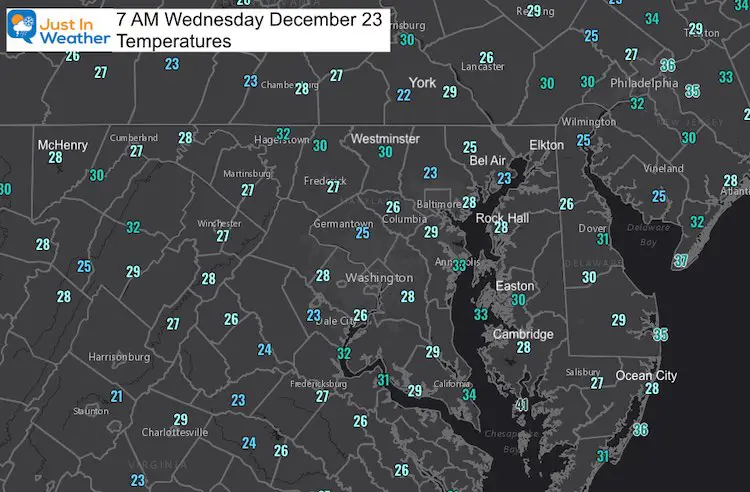 Central Maryland Forecast Snapshot
Storm Animation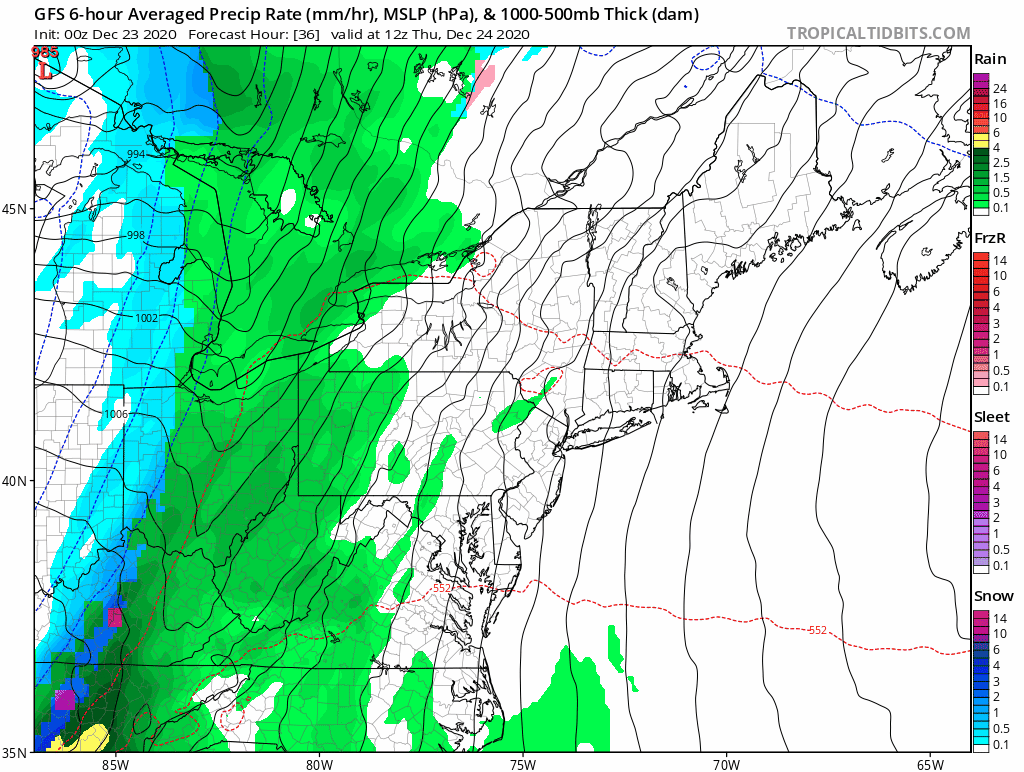 Timeline
Thursday: Rain develops during the morning. Heavy rain by mid afternoon and evening.
The models are pushing the front through central Maryland (metro Baltimore) between 2 AM and 6 AM Christmas Morning.
Rain will mix and briefly change to snow.
You might see snow at daybreak in some areas…
Flash Freeze inland but not in cities.
Friday Afternoon: Flurries and Snow Showers. *This may be the best chance for widespread viewing of falling snowflakes.
Snapshot: 4 AM Christmas Morning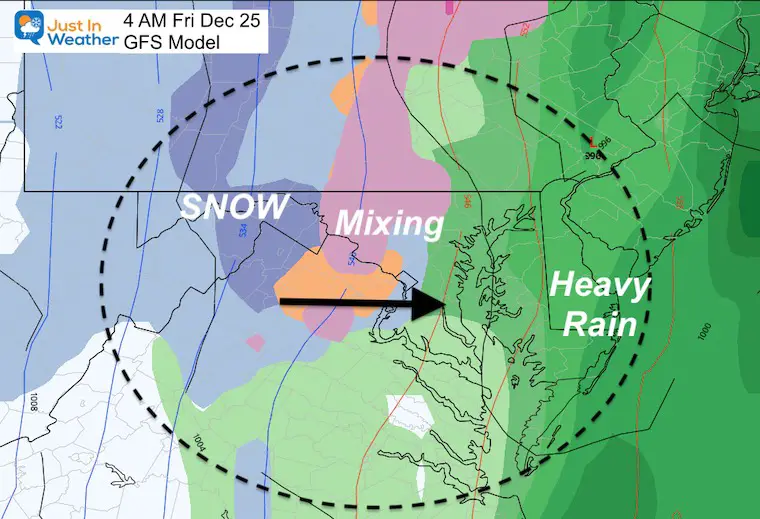 Explore More: Click here for The Case For Christmas Day Snow Showers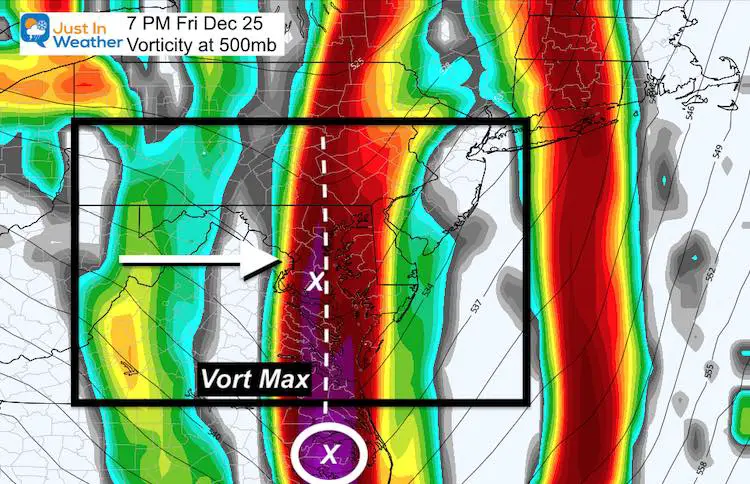 Temperatures 
Early Morning
Will there be a Flash Freeze?  I will focus more on this in the next full report. Temperatures will be dropping with the end of precipitation, and early enough in the day. It will be more likely for the same inland locations that still have snow on the ground this morning, not in the cities or by the Bay.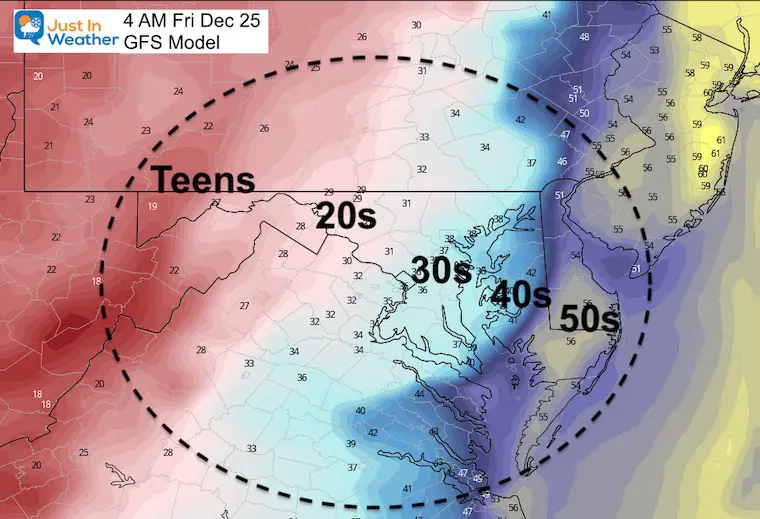 Afternoon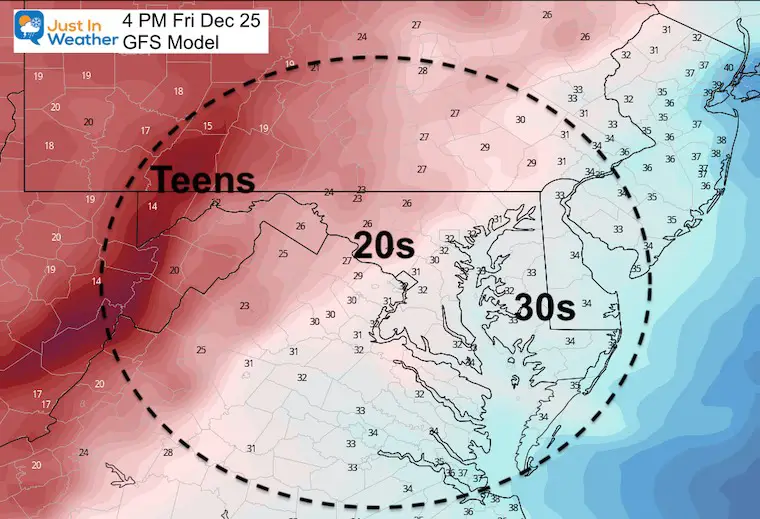 Temperature Outlook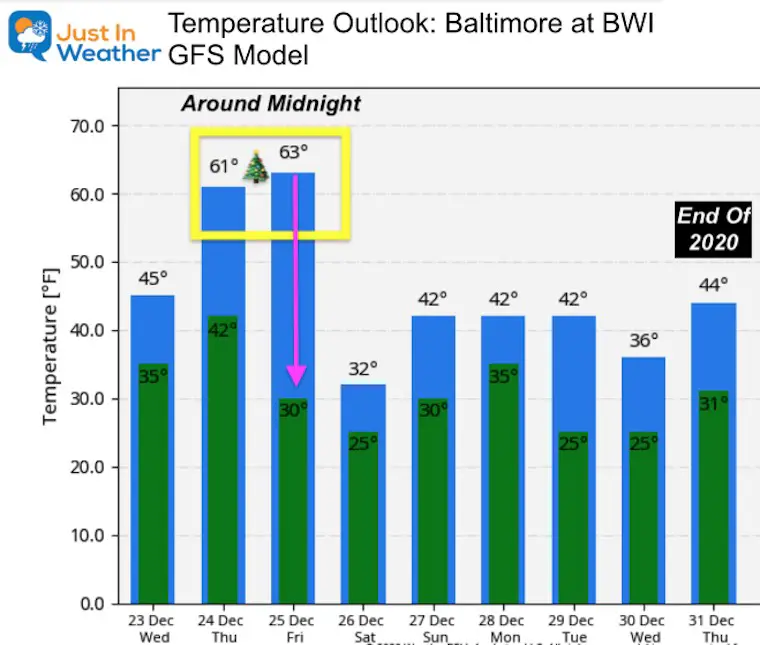 FITF Shop Open
My 'bonus' daughter Jaiden and wife showing off our popular Maryland Hoodies. Unisex and women's items all produced in Maryland.
Click here to see this and many other new items.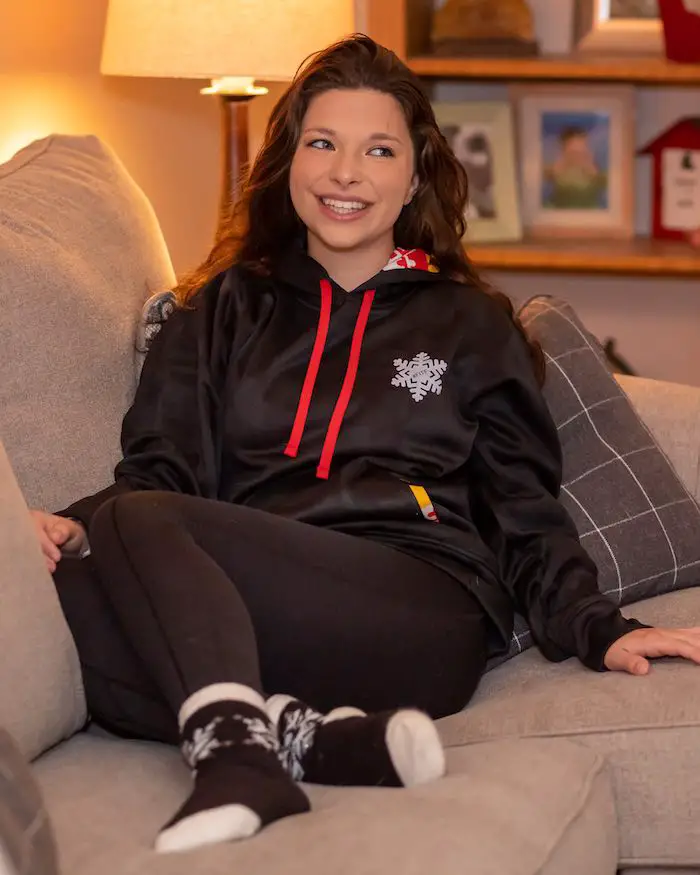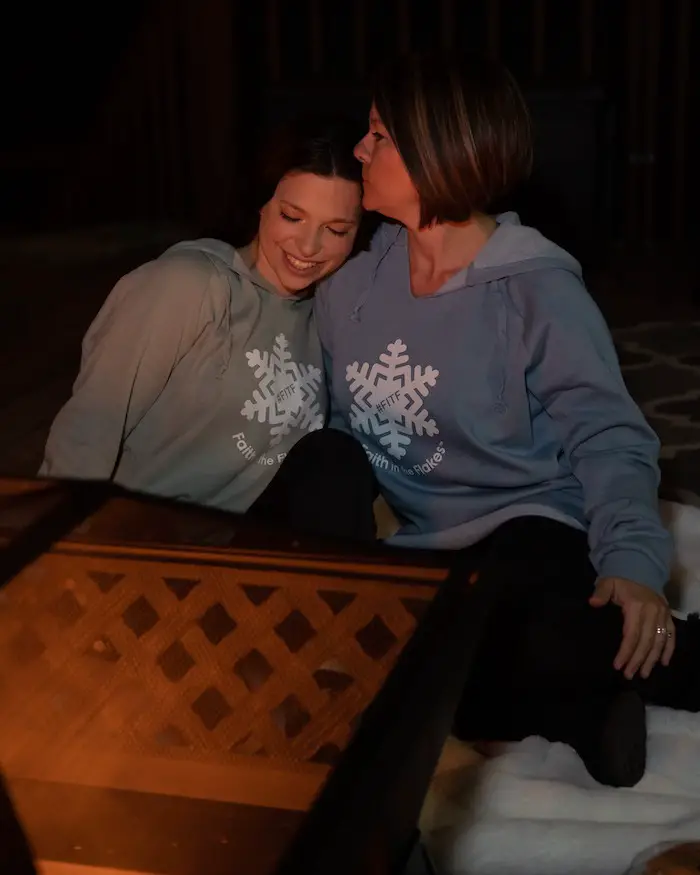 Also see:
YOUR INTERACTIVE WEATHER PAGES
14 Local Maryland Pages (and York PA)
We have made a page for Maryland Weather which gives you the current conditions for 14 present area locations.
Local Hourly Forecasts and Local Radar
Central Maryland
Delmarva
Pennsylvania

Maryland Weather Page
I wanted to keep it simple. Just the basics for a quick view at any time.
Please share your thoughts, best weather pics/video, or just keep in touch via social media
---
Email Updates
Please make sure you sign up (above or click here to sign up for email alerts…. ) for my newsletter. This way you will get an email to make sure you are notified of each post.
---
Just In Power Kids:
A portion of proceeds go to our programs Providing FREE holistic care for kids in cancer treatment and up to 5 years post treatment and caregivers.
New Caps and Hats