Monday December 21 2020
We have been talking about the Christmas arctic front almost since the last storm ended.  I want to try a different perspective now for snow on Christmas.
I know the technical definition of a White Christmas is having at least 1 inch of snow on the ground. Even if it's old snow.  But many want to see snow falling.  The focus so far has mostly been on the front itself. But here I will show you here that there may actually be another chance for snow to fall on Friday while we are in the deep freeze. Also, check out the temps and wind chill forecast maps at the bottom. WOW!
The Arctic Front: Timing?
One thing for sure is that the computer modeling has NOT been reliable. The two main models (among others) that I have shown here has been the GFS (American) and the ECMWF (European).  Both still show the arctic front, but the timing has been spread as much as a full day apart.
Latest GFS Model Simulation —> slider
This still shows the front changing rain to mix and snow in central Maryland on Christmas Eve between 7 PM and 10 PM.
Latest ECMWF Mode (snapshot)
Here we see that same arctic front arriving about 6 hours later.  This is a big difference, but an improvement from the weekend when it was as much as 24 hours later.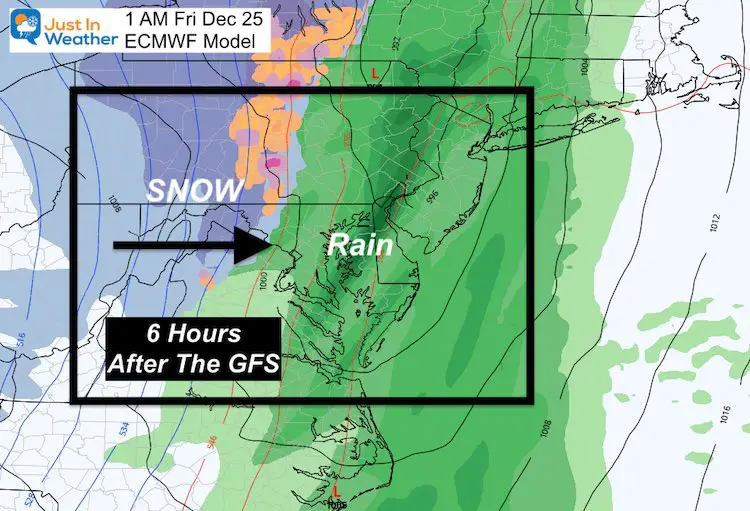 Which Model is Correct?
That is a great question. I am so glad you asked.  At this point, the GFS has been the most consistent, so I lean in that direction. But watching the development of a frontal wave that will enhance the rain on Thursday will determine if the front will slow down longer.
Another Chance For Snow
Honestly, the snow with the front does not look too promising in metro areas for more than a dusting and icing up by morning.
Then we must look at the Jet Stream for upper level energy.
Vorticity
Arctic air can be very unstable when it first arrives. The leading edge of the new air mass can have a lot of little circulations. These pass over the Great Lakes and develop snow showers that can pass over the mountains.  That is what I see on Friday.
The peak 'spin' can be tracked at the 500mb level, roughly 18,000 t above the ground. If we identify the Vort Max to pass over central Maryland or south, then the flurries and snow showers become more likely even in metro areas.
Vorticity Tracking Timeline –> slider
I've highlighted one vort max into Friday afternoon, that spins off another passing over central Maryland (4 PM).
Notice the upper level flow could continue to produce snow showers until Saturday morning.
Vort Max Close Up Snapshot
These does not always reflect as snow on the model projection, but most of the time they produce falling snow.  I've shown it to you many times before, even this season.
I have no reason to try and hype this if I didn't believe it.  It is Christmas and most will remember if it happens or not.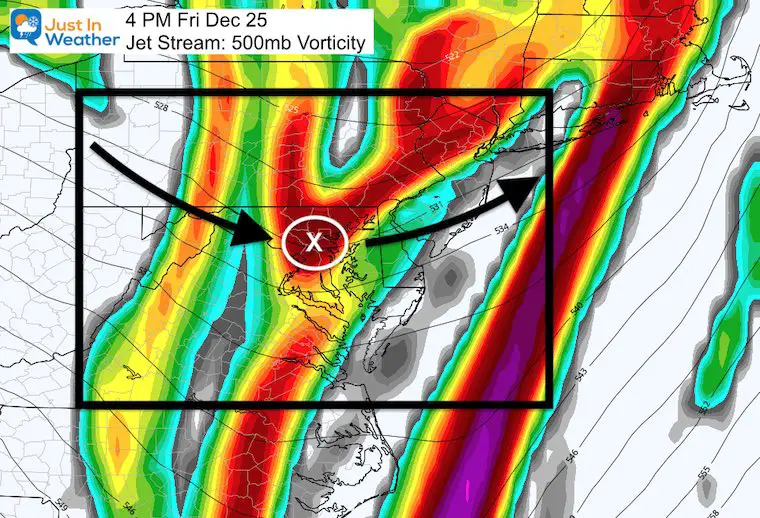 Frozen Christmas: Temperatures 
The cold air is going to happen! Based on the GFS Model timing, it should be deeply intrenched by Christmas morning. That could allow the Flash Freeze and provide the perfect weather to stay in your PJs inside all day.
Morning
Lower 20s to near 30ºF dominating most of the region at daybreak.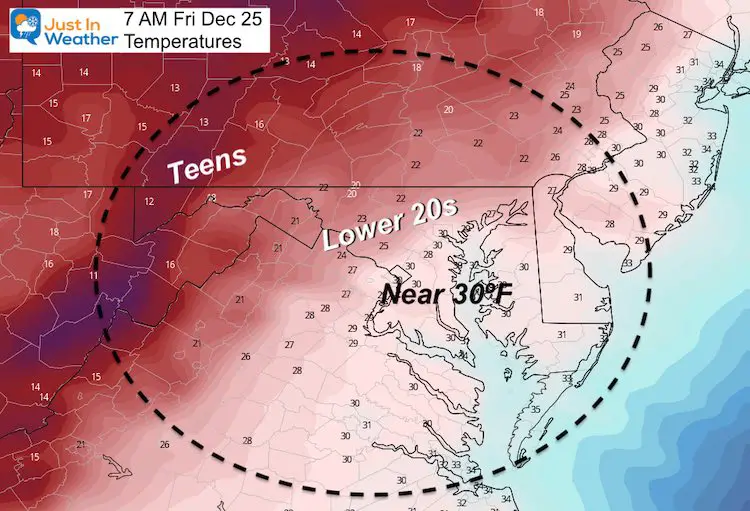 Afternoon
The thermometer may hold steady or drop a little during the day.
Widespread 20s across the state.  The extremes from near freezing in Ocean City and Salisbury to only +9ºF at McHenry in Deep Creek Lake.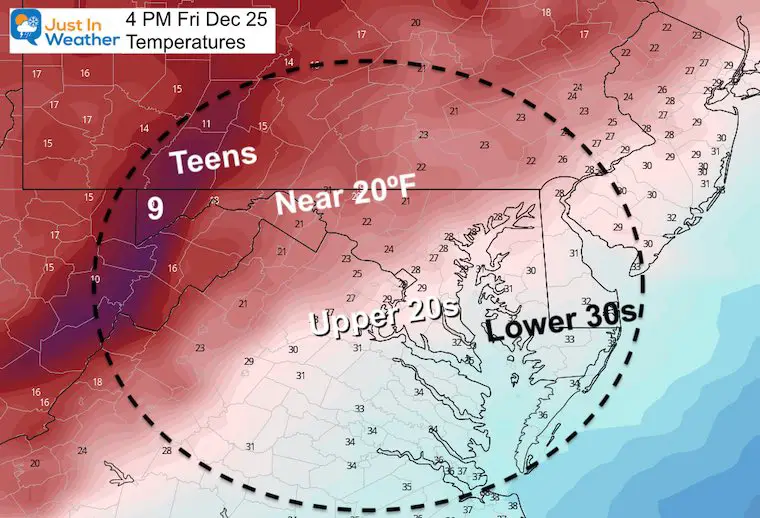 Wind Chill
Teens for Annapolis, Baltimore, and Washington.  Look at those single digits (0s) for most of inland central Maryland!
McHenry Below Zero!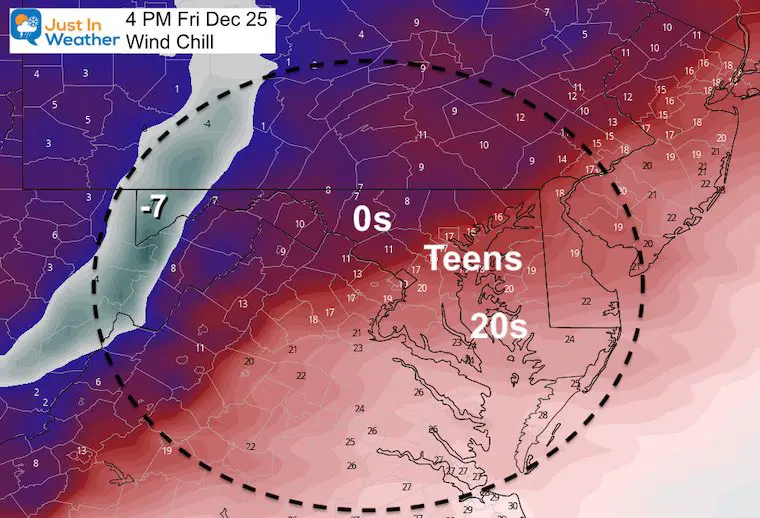 If It Snows:
If we get that vort max to produce a band of snow showers, it would be in the very cold arctic air. It would also be during the day when you and the kids are awake to see it.
This set up would produce the dry, fluffy flakes that do not take have a lot of moisture. So it doesn't take much to produce a quick coating or more.
How Much Snow?
Starting tomorrow I feel a little better discussing what we could get from the front AND the snow showers that follow.
Also See: 

FITF Shop Open
My 'bonus' daughter Jaiden and wife showing off our popular Maryland Hoodies. Unisex and women's items all produced in Maryland.
Click here to see this and many other new items.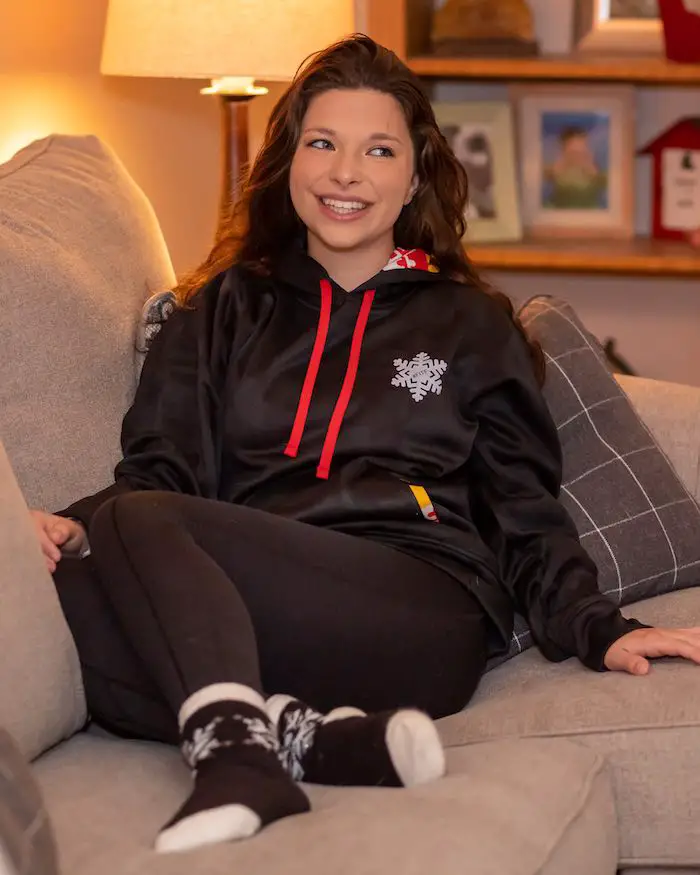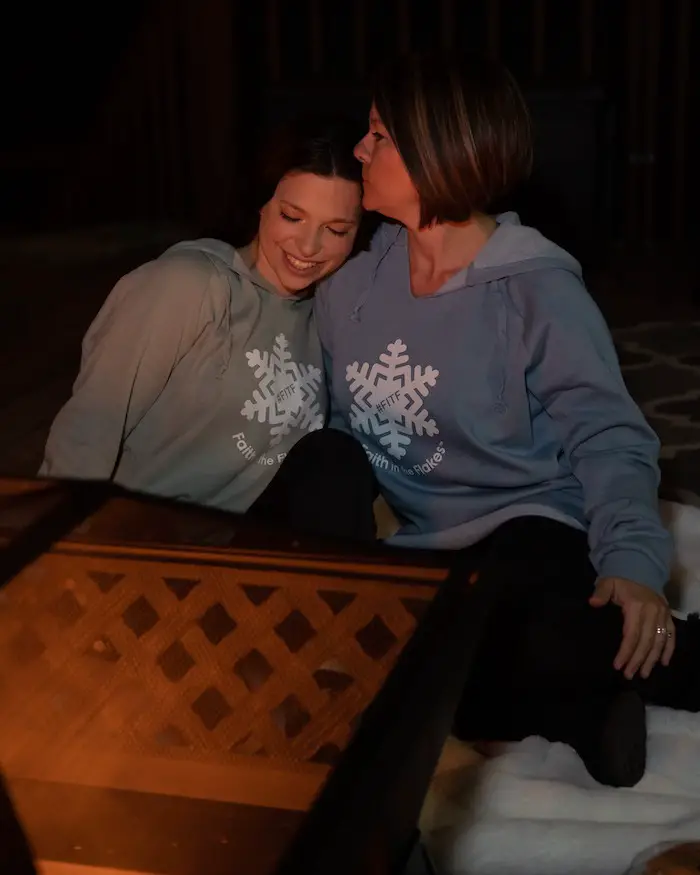 Also see:
YOUR INTERACTIVE WEATHER PAGES
14 Local Maryland Pages (and York PA)
We have made a page for Maryland Weather which gives you the current conditions for 14 present area locations.
Local Hourly Forecasts and Local Radar
Central Maryland
Delmarva
Pennsylvania

Maryland Weather Page
I wanted to keep it simple. Just the basics for a quick view at any time.
Please share your thoughts, best weather pics/video, or just keep in touch via social media
---
Email Updates
Please make sure you sign up (above or click here to sign up for email alerts…. ) for my newsletter. This way you will get an email to make sure you are notified of each post.
---
Just In Power Kids:
A portion of proceeds go to our programs Providing FREE holistic care for kids in cancer treatment and up to 5 years post treatment and caregivers.
New Caps and Hats