December 20 2020
With five days until Christmas, and snow on the ground, we wonder how much stays, or will more be found?
This arctic front will happen, but the timing is still under debate. Below we will explore this timing divergence on the modeling, and how that might impact melting plus any new snow. Also see a cool animation of the forecast change in snow pack.
Arctic Front Passing Christmas Eve Day or Overnight on Christmas?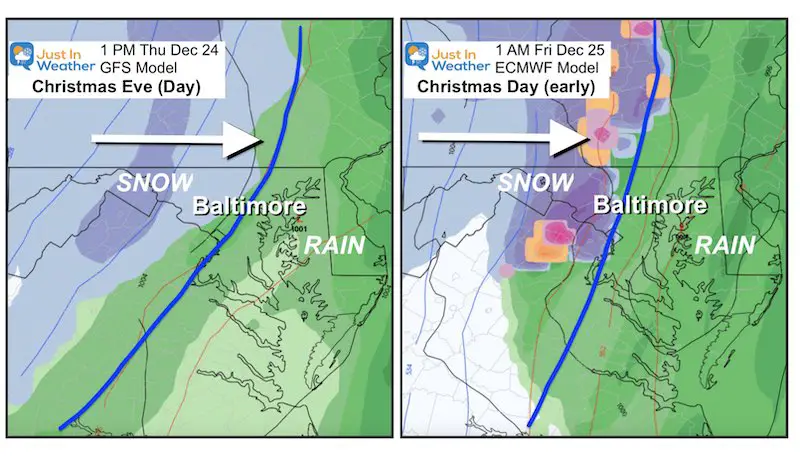 The GFS brings in the front faster on Christmas Eve Afternoon. The ECMWF brings it in after midnight early on Christmas Day. The timing may very well play a role in:
How warm it may get.
How much rain will fall.
How cold the air will be when it arrives.
How much will be left for snowfall.
What is a White Christmas?
What is your definition of a White Christmas? Does snow have to be falling on the holiday? Is it verified only of a certain amount is on the ground? Well, a White Christmas is defined in our weather records as 1 inch of snow on the ground on Christmas Day.
Based on the period of 1980 to 2010, our region has a 25% chance over the colder inland areas, but 10% or less from the city south and east.
Farther west into the mountains and the frequency of snow in the colder climate increases the odds. Western Maryland has it 3 out of every 4 years. Near the Great Lakes, almost 90% of the time.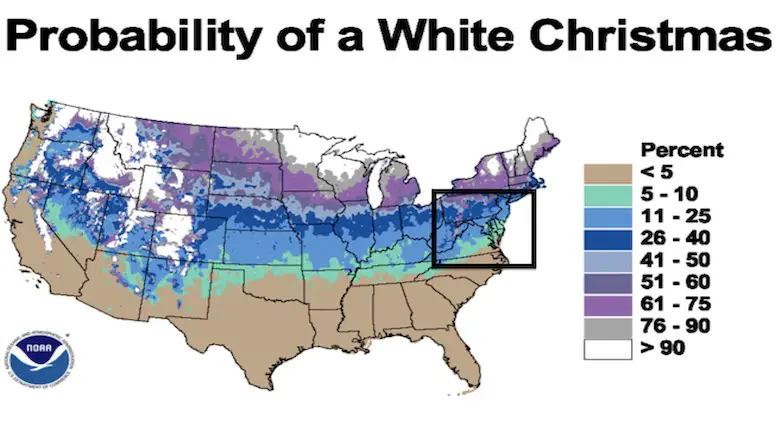 Closer Look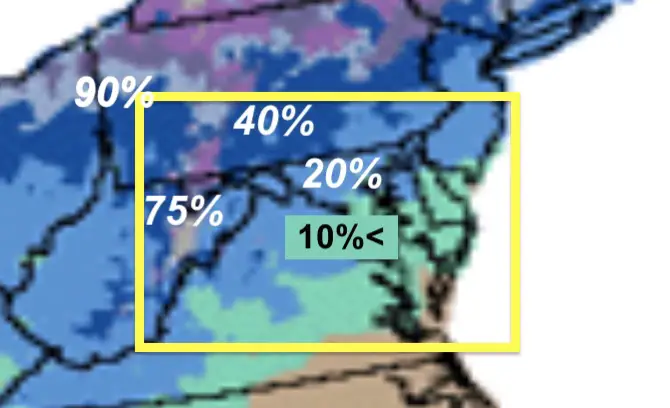 Forecast
This year we have snow from last week's storm. I drove to Annapolis yesterday, where there is no snow. But a dusting was by BWI, an inch near Ellicott City, and still 3 to 6 inches in Carroll County. That's just the span in part of central Maryland.
For simplicity I will only compare the GFS (American) to the ECMWF (European) Models here.
If It Arrives Earlier:
Here we see a solution for the arctic front to arrive Thursday afternoon. This is faster than earlier shown…
GFS Model —> slider
This would allow for less time for warm air and rain to melt the snow.
Temperatures Along The Front
The cold air would be less intense on the way in.
Span in Maryland from 27ºF to 57ºF.
Impressive, but compare to the Euro below.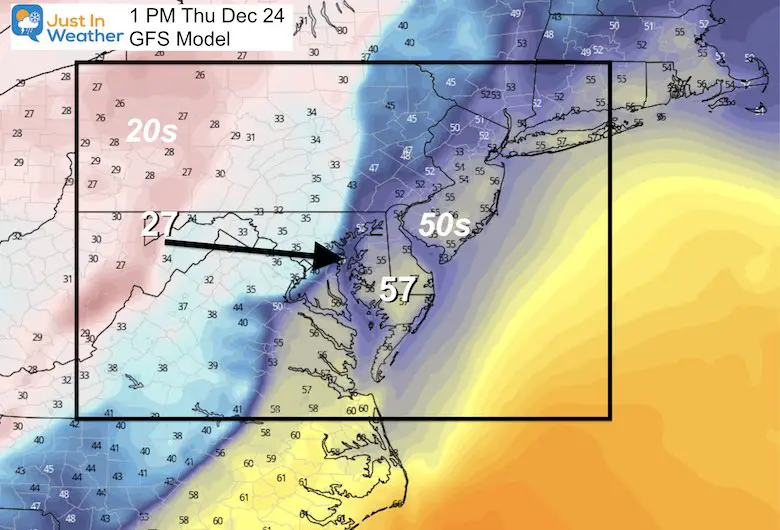 If It Arrives Later:
Here we see the European model bring the front through 'after midnight'/early Christmas morning.
I should point out that for a few runs, this model was pushing the front through Friday evening. It has come back to where it was initially.
ECMWF Model —> slider
This would allow more time for the warm air and heavy rain to melt snow.
Temperatures Along The Front
This would also arrive with the cold if night, and the contrast across the boundary is more extreme.
Span in Maryland from 15ºF to 61ºF.
Close distance from 60s to 30s would assist in Flash Freeze.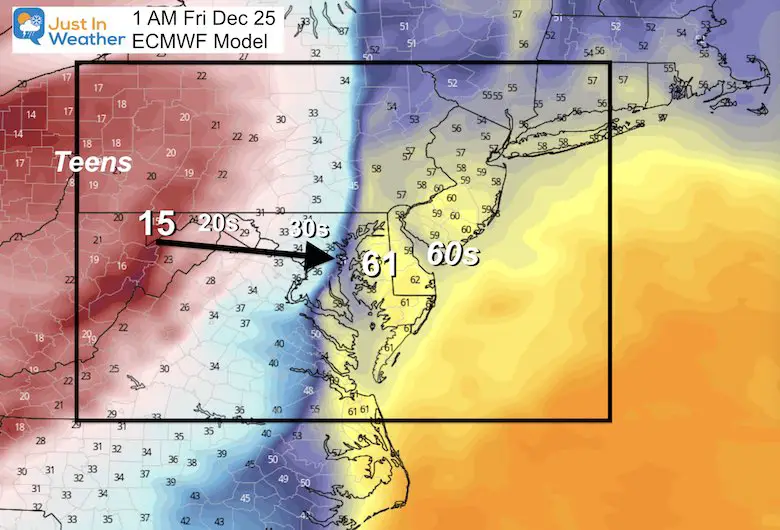 Forecast Snow Pack Into Christmas
Exploring the "Worse Case Scenario" For Snow: ECMWF Model
Just for argument sake.
This model shows the melting snow with heavy rain and warmer air.
Then, the return of a little snow to follow on Christmas Day.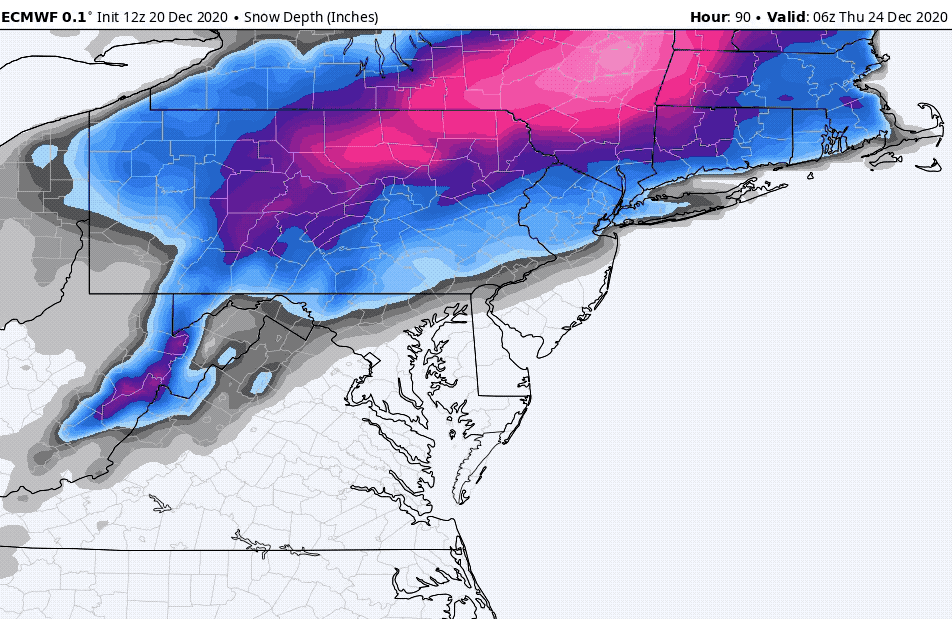 I would expect more snow showers during Friday in the cold air, even if the model does not show it prominently.
NOAA WPC Outlook
Odds of 0.25" of liquid equivalent snow and or sleet in a 24 hour period
Christmas Eve to Christmas Morning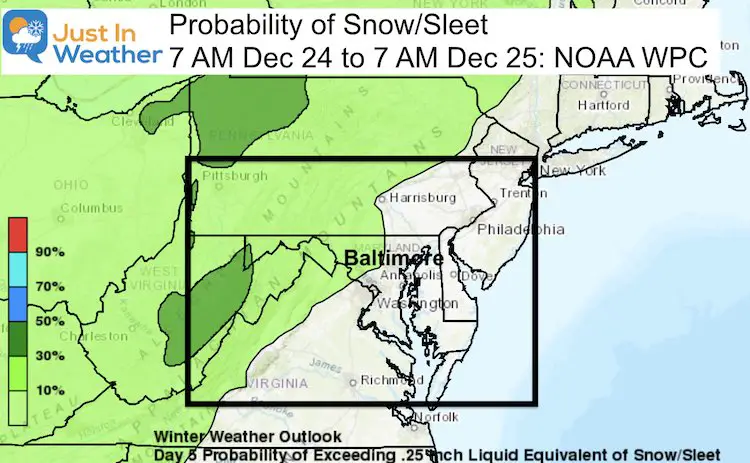 Christmas Day to Saturday Morning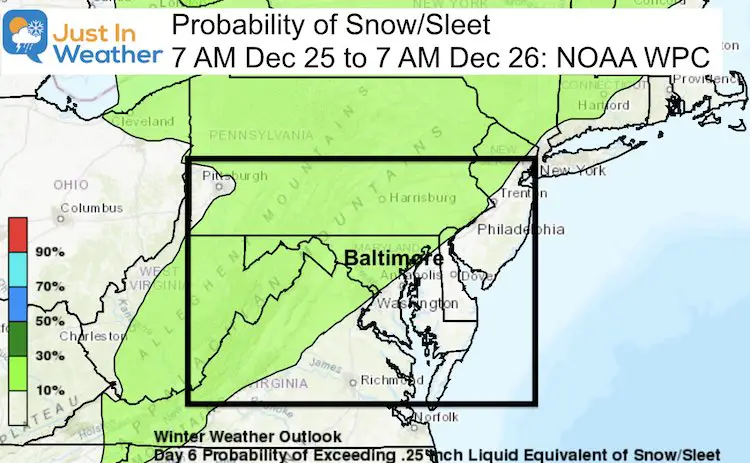 This still looks to follow the classic I-95 boundary. So if you had snow last week, you have a better chance to get more.
If not, then maybe snow showers, flurries, and watch out for icing in the arctic air.
Notes:
If you want a White Christmas, root on the GFS and a faster arrival for the arctic front. That will allow less time for the warmth and less rain. Plus, there may be more moisture left over for more snow on the other side.
But if we follow the slower ECMWF (the worst cast for snow), there is still a chance:
There is a better chance for a standard Definition of a White Christmas in areas that have the snow on the ground now (Sunday).
If your snow melts, there still is a chance to get a fresh coating.
If you don't have snow, you may very well turn icy with the arctic air on Friday.
Flurries and snow showers are still possible on Friday afternoon and Saturday.
FITF Shop Open
My 'bonus' daughter Jaiden and wife showing off our popular Maryland Hoodies. Unisex and womens items all produced in Maryland.
Click here to see this and many other new items.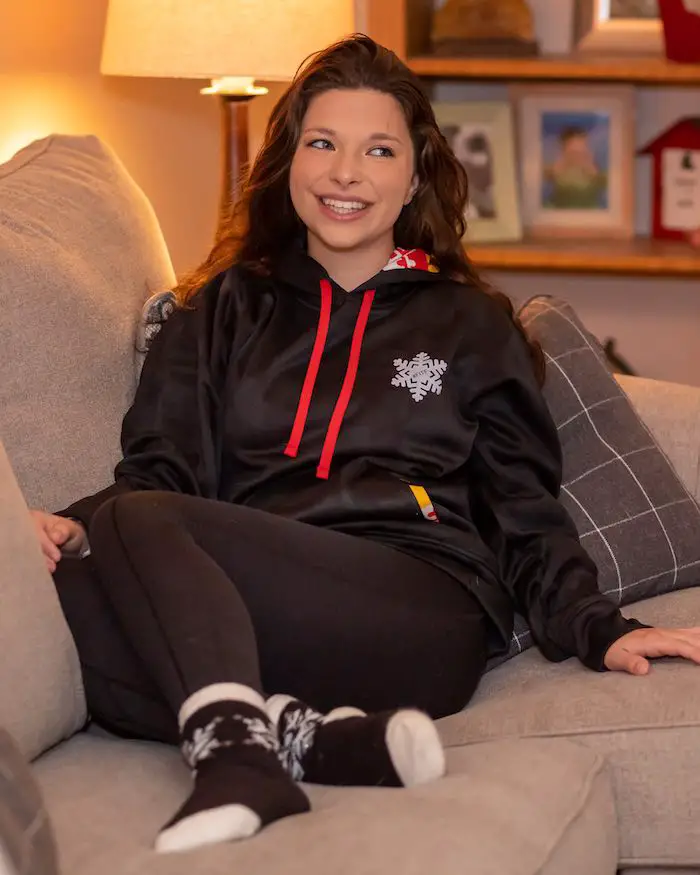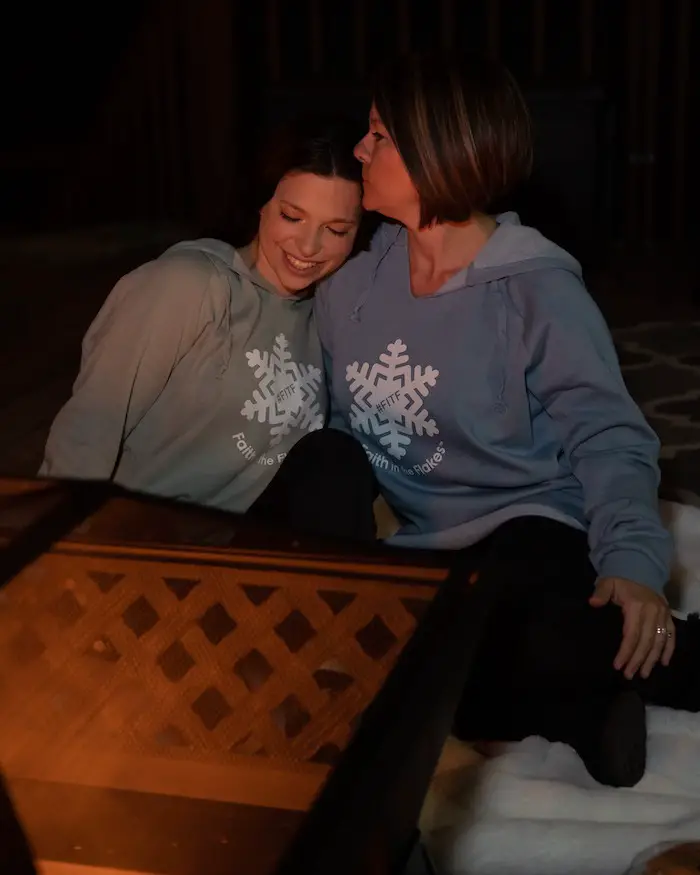 Also see:
YOUR INTERACTIVE WEATHER PAGES
14 Local Maryland Pages (and York PA)
We have made a page for Maryland Weather which gives you the current conditions for 14 present area locations.
Local Hourly Forecasts and Local Radar
Central Maryland
Delmarva
Pennsylvania

Maryland Weather Page
I wanted to keep it simple. Just the basics for a quick view at any time.
Please share your thoughts, best weather pics/video, or just keep in touch via social media
---
Email Updates
Please make sure you sign up (above or click here to sign up for email alerts…. ) for my newsletter. This way you will get an email to make sure you are notified of each post.
---
Just In Power Kids:
A portion of proceeds go to our programs Providing FREE holistic care for kids in cancer treatment and up to 5 years post treatment and caregivers.
New Caps and Hats