December 19 2020
After our first winter storm of the season and frigid temperatures this weekend, the prospects of snow on Christmas have been growing. I want to take this time to focus on the system that is expected to bring is some snow: The Arctic Front.
It is still too early to say how much snow we could get, but one thing I have confidence in is the contrast of air masses and the potential for a Flash Freeze. That is when regardless of rain or snow. the temperatures drop so fast, whatever is wet can quickly freeze making for an icy mess. Since this is expected on the holiday, any travel (although discourage thanks to COVID) could be dangerous.
Christmas Eve Temperatures 
The GFS Model continue to show the arctic front arriving close to Midnight Christmas Eve to Christmas Day.
Here we see the projection at 10 PM Thursday that shows a spread of temperatures in Maryland from 60s by the Bay to Ocean City, and 20s in western Maryland.  The front itself shows a drop from the upper 50s to lower 30s in less than 100 miles.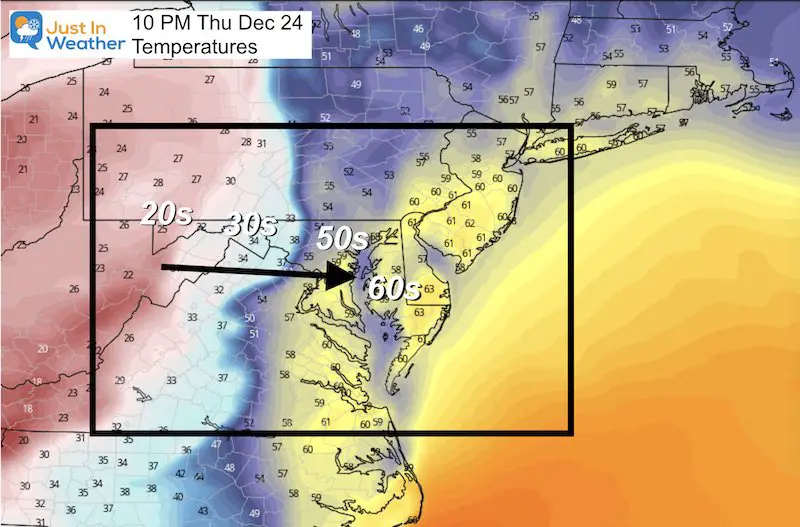 Jet Stream
A quick warm up (orange) just leading up to Christmas Eve, and then the abrupt drop with the core of the cold air arrive on Friday.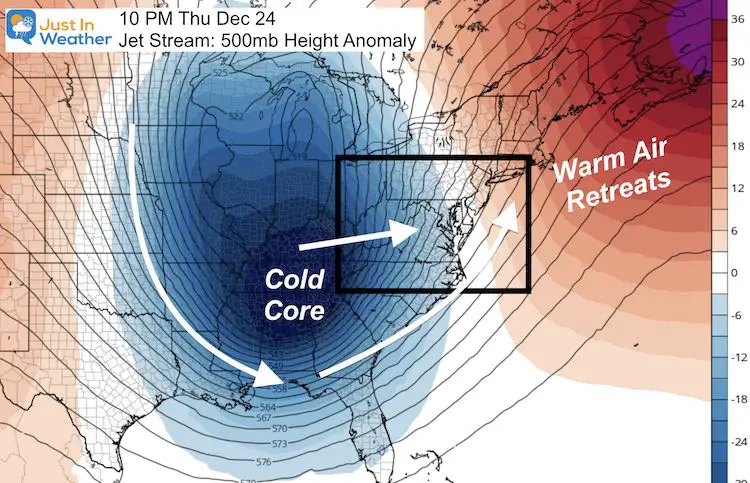 Storm Animation
The GFS Model shows the arctic front passing through around midnight. Notice the yellow and orange, where heavy rain and perhaps some thunder and severe weather rides ahead of the front.
Anafront: The blue represents the snow, behind the front. This may be a set up for an Anafront, where a slow moving front can expand the precipitation 'behind' the boundary in the cold air. This is where the snow would fly.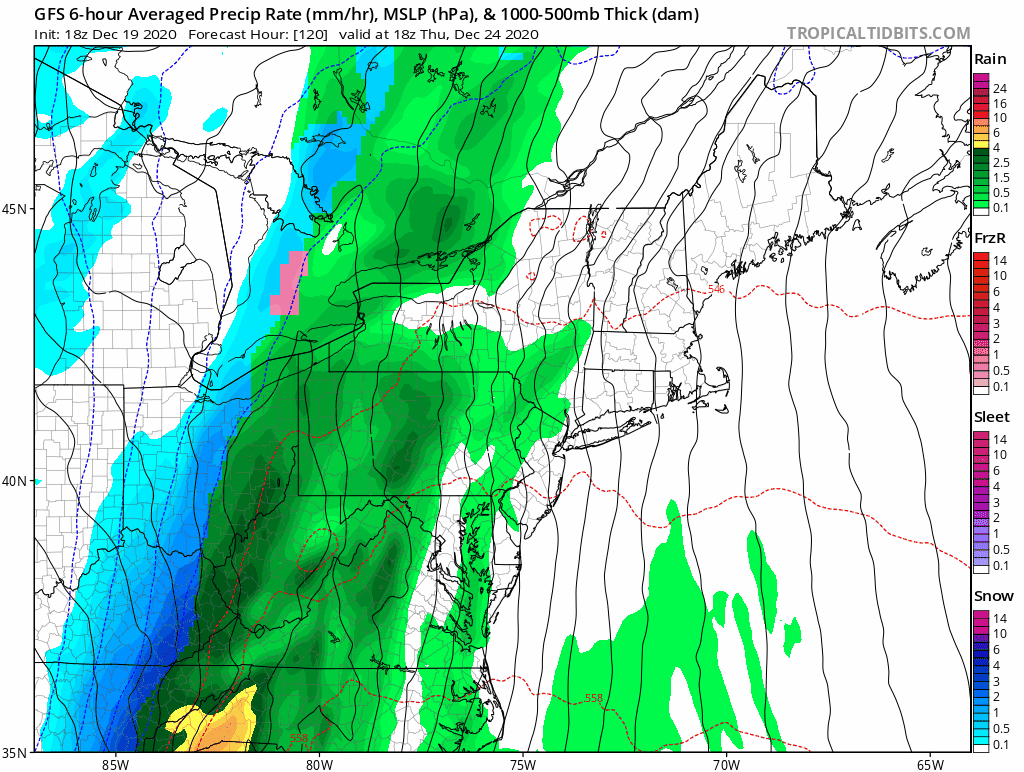 Snapshot: Christmas Midnight 
There may be a very tight gradient from heavy rain to moderate and heavy snow.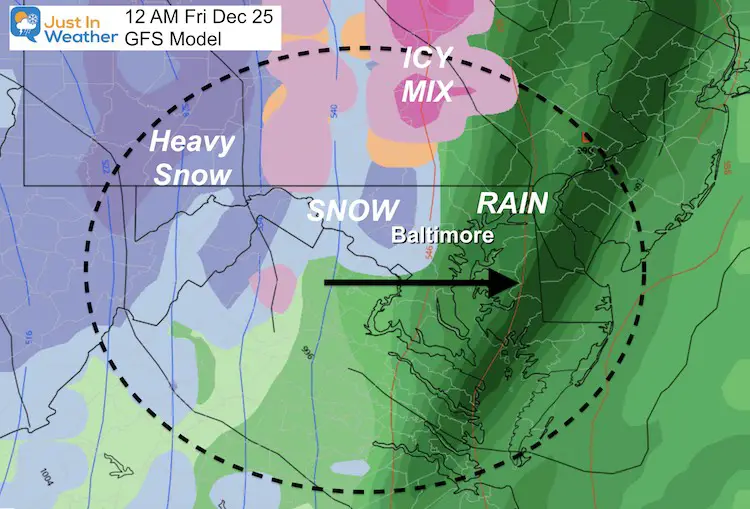 Flash Freeze Potential
Temperatures will be dropping fast, and continuing to drop all day on Christmas.
At this time, this particular model is showing the front through Baltimore around midnight. If this verifies, the high temperature could be close to 60ºF and be recorded on bother the 24th and 25th as the high for each day.  This may show up on your phone app, but may not be a true representation
Temperature  Timeline—> slider
Note:
I will not be the COVID police here.  So, if you have plans for any travel on Christmas, for any reason,  please keep checking on the time of this front. That will determine when the temps tank and wet ground may freeze. Below I will show the European Model that slows the front down to later on Christmas Day.
Also, being the holiday, there may be little or limited road crews to treat the streets for  ice.
Temperature Outlook
The high on Thursday and Friday may be right around midnight.
Friday may actually end up in the 20s during the afternoon for the city.  Temps should remain cold through the end of December.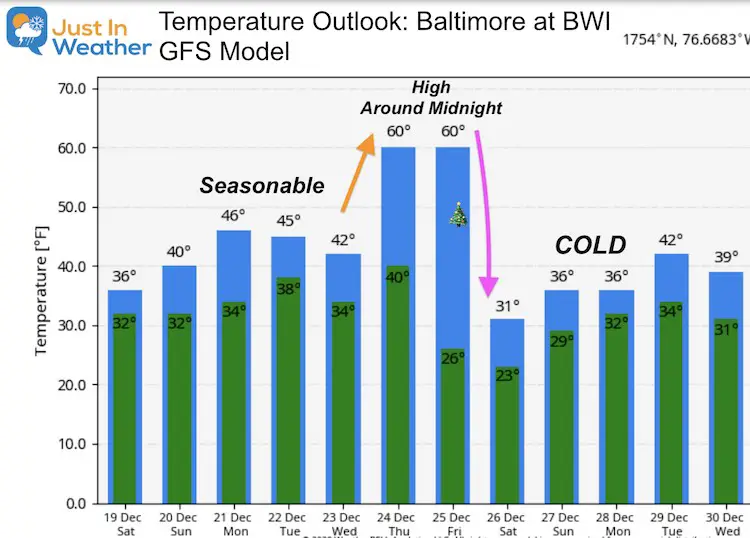 Consider This:
The one big change I saw today is that the European Model has slowed the front down quite a bit. Here it shows the front arriving at 7 PM on Christmas Day (night). I think this may be a little too slow. But with Anafronts, there can be a slow down, which over the course of the next few days may translate to a much later arrival.
So, the timing of the front I will continue to focus on in each report. Especially if any other models show a trend to a later time.  But, it will arrive!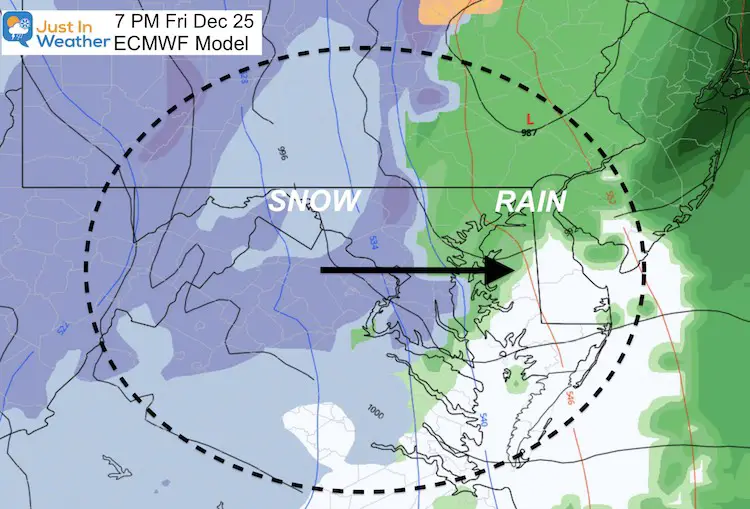 FITF Shop Open
My 'bonus' daughter Jaiden and wife showing off our popular Maryland Hoodies. Unisex and womens items all produced in Maryland.
Click here to see this and many other new items.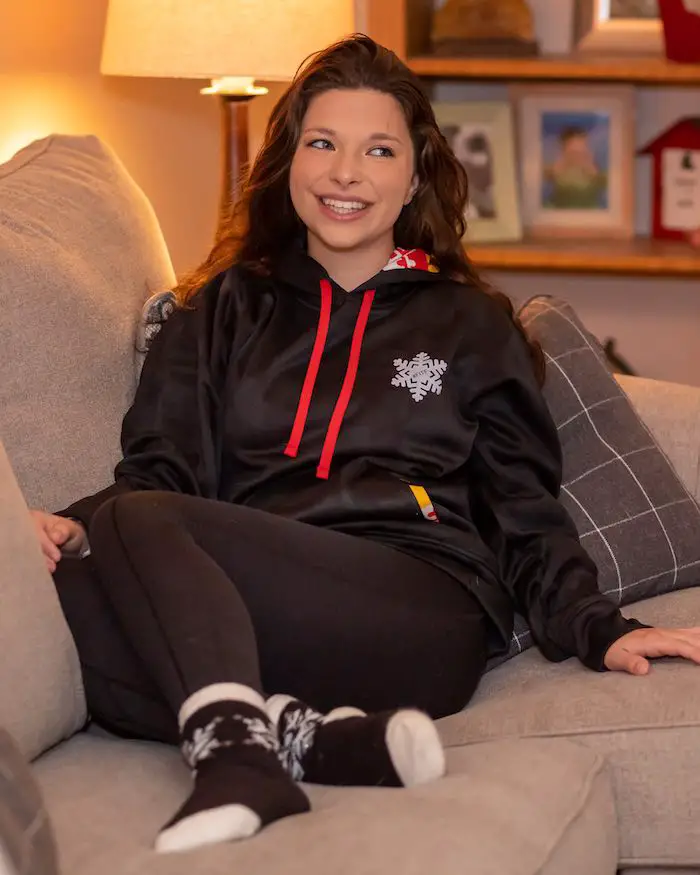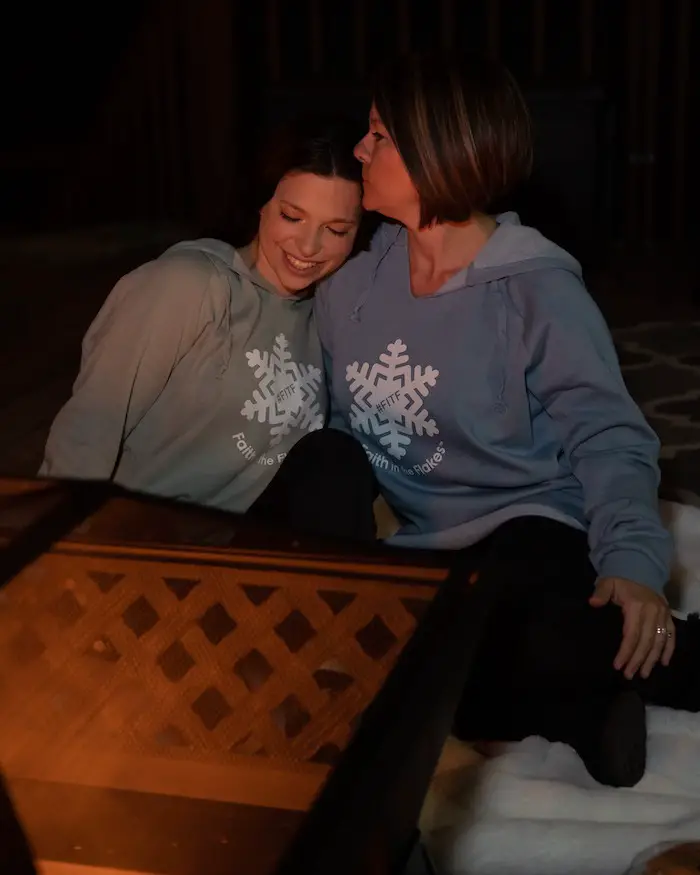 Also see:
YOUR INTERACTIVE WEATHER PAGES
14 Local Maryland Pages (and York PA)
We have made a page for Maryland Weather which gives you the current conditions for 14 present area locations.
Local Hourly Forecasts and Local Radar
Central Maryland
Delmarva
Pennsylvania

Maryland Weather Page
I wanted to keep it simple. Just the basics for a quick view at any time.
Please share your thoughts, best weather pics/video, or just keep in touch via social media
---
Email Updates
Please make sure you sign up (above or click here to sign up for email alerts…. ) for my newsletter. This way you will get an email to make sure you are notified of each post.
---
Just In Power Kids:
A portion of proceeds go to our programs Providing FREE holistic care for kids in cancer treatment and up to 5 years post treatment and caregivers.
New Caps and Hats