December 19 2020
Happy Anniversary! Today is the day we had our first of three blizzards in the winter of 2009-2010. With a final official report of 17″ at BWI, that was the biggest December snow  day for the city. The two day storm total was 21.1″ ranking 9th largest for the area. Most of our region was within a few inches of 20 north and west of the Chesapeake Bay.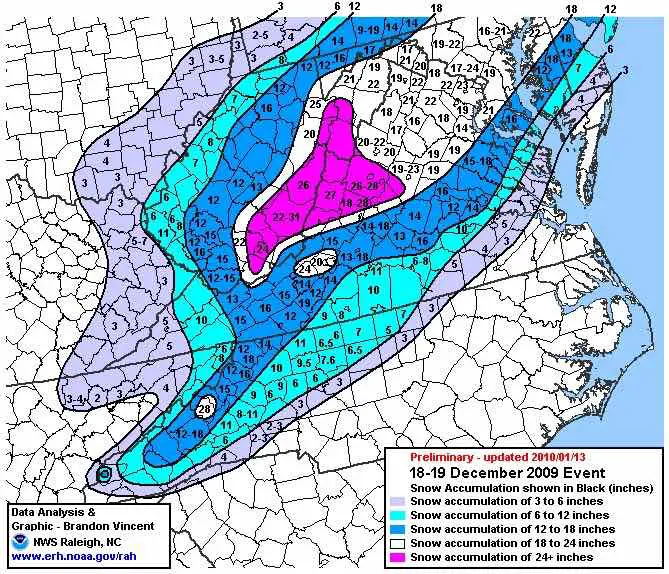 This morning Baltimore dropped to 22ºF. That was the coldest since last February 15th when it was 19ºF. However, there were widespread teens on the map and that pales in comparison to the Tundra of the Mid Atlantic region.
York, PA was down to 1ºF. That is accurate. This location has been explored for extreme cold over many years. The location of the airport is west of the city is in a bowl, where cold, dense air can drain down the nearby hills and tank the thermometer.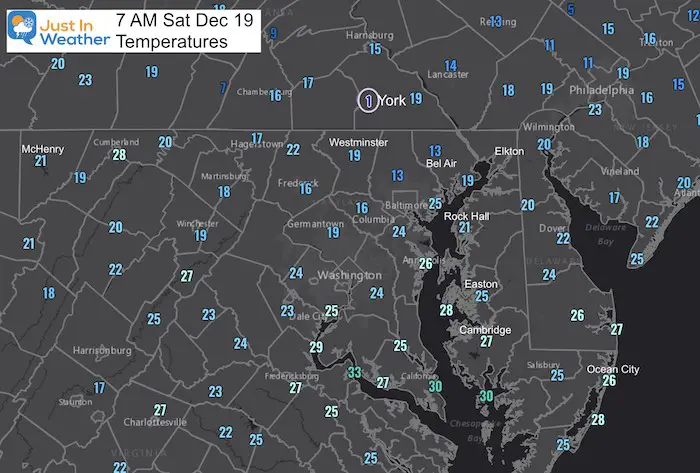 Baltimore Climate Data Today
Normal Low 27ºF
Record Low 6ºF in 1989
Normal High 44ºF
Record High 66ºF in 1931
Record Snow: 17″ in 2009. * This was originally measured higher, which would have made that the snowiest December  on record. It was later lowered by NWS. But it still ranks as the top December storm and
Morning Set Up
The next weather system is a cold front that will arrive on Sunday. This will actually help to lift the jet stream and let us warm up a little for the first part of Christmas week.  That is, before the arctic front, rain to snow, and flash freeze Christmas Eve night.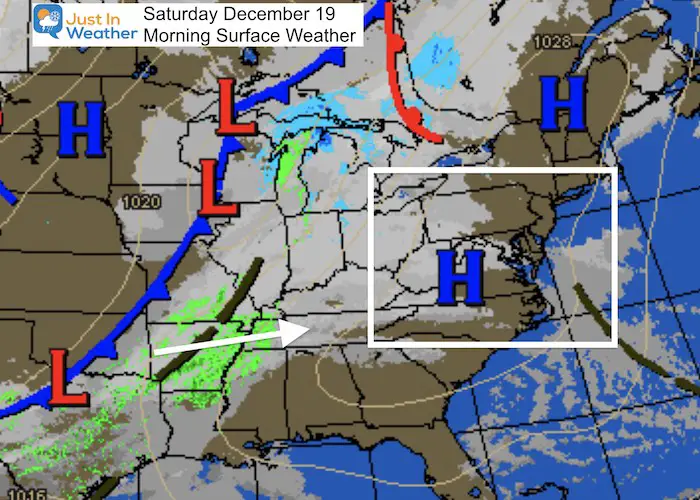 The trajectory is on a path where a lot of moisture can split around the mountains. This has BUST all over it, but we need to still account for the chance of light presentation as it will be spread across the region.
Afternoon Temperatures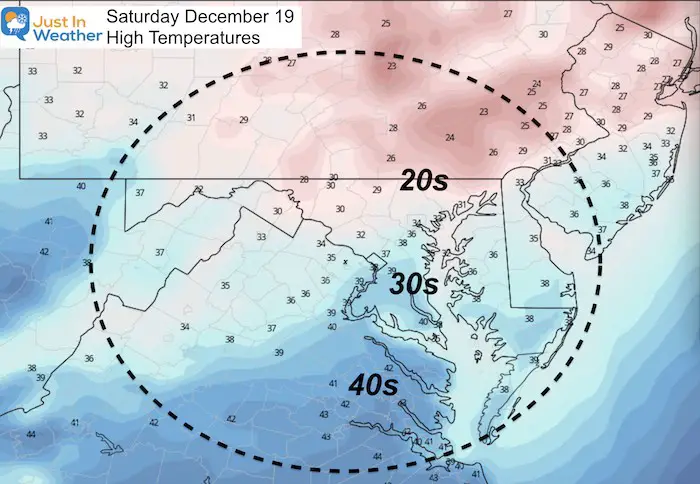 Sunday Weather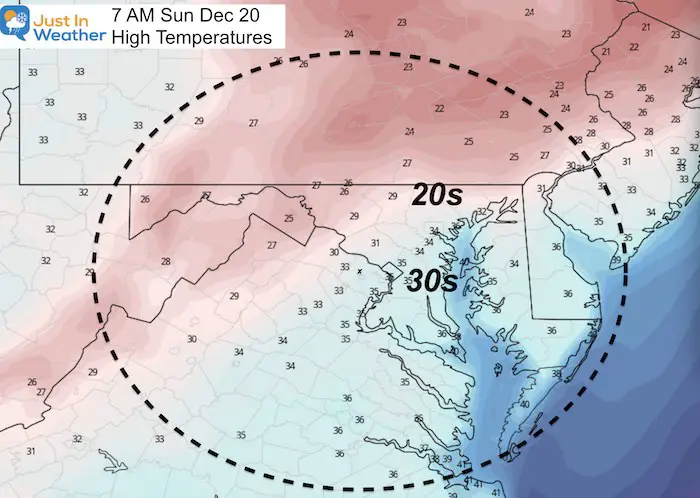 Will You See Snow Or Rain Showers?
At this point, I would give it a 50% chance across central Maryland in the morning. However, the chances increase in southern PA and western Maryland. Also, rain may mix with snow showers on Delmarva in the afternoon- but not stickage is expected there.
GFS Model- Most aggressive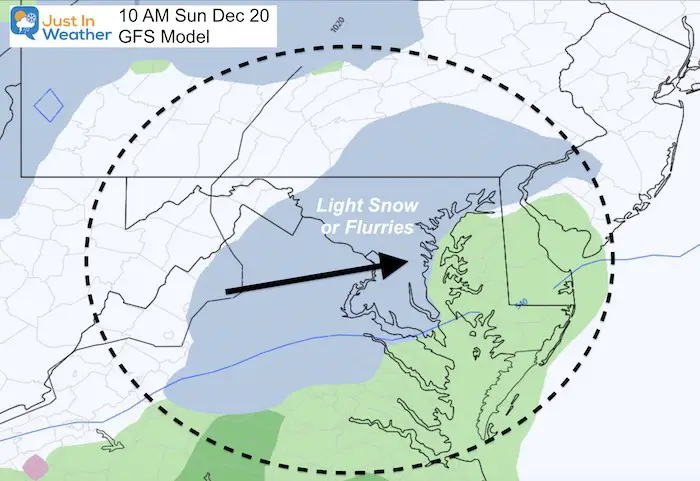 ECMWF Model –
This shows that band of light snow farther north at the same time of morning. This is a more common result of this set up, bringing the flakes between Taneytown and York PA, but missing metro Baltimore.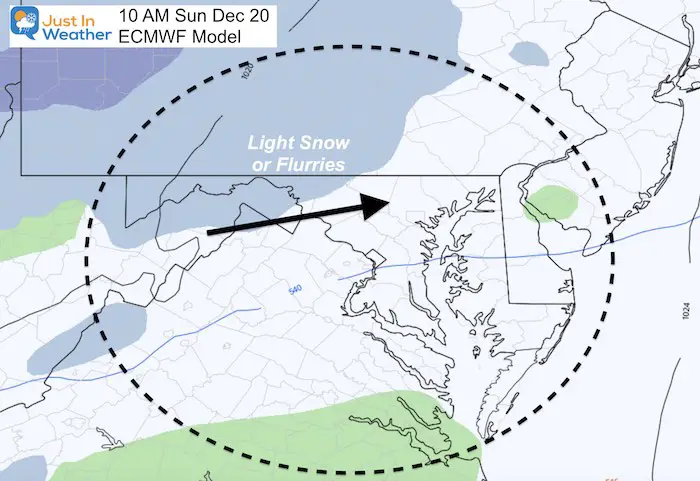 NAM 3 Km Model
This model shows that split I was referring to rather well.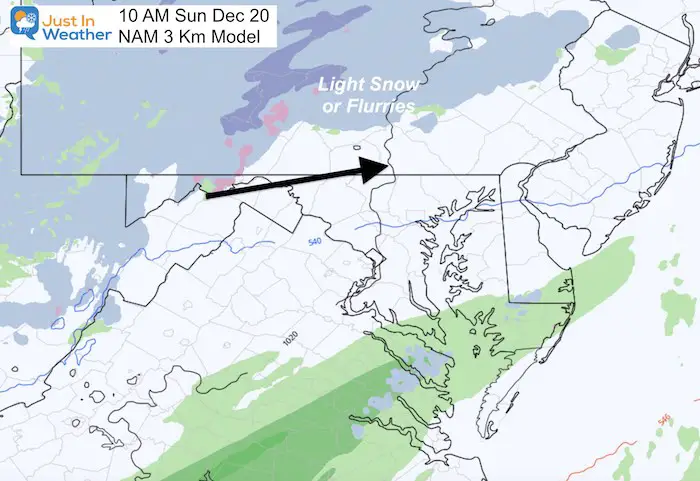 Here is the afternoon set up with the front across Delmarva. Again, no stickage, but this may end with flakes inland from Easton and north of Salisbury.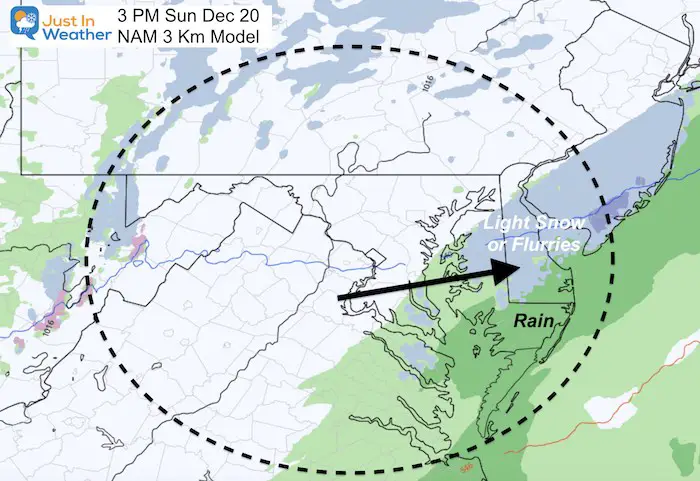 Christmas Weather:
Last night I wrote about an arctic cold front arriving on Christmas Eve Night.  It is OK to get excited for possible snow, but I think it would be better served to focus on the likely flash freeze that will impact more of the region on Christmas Morning.
Click these maps to see that full report.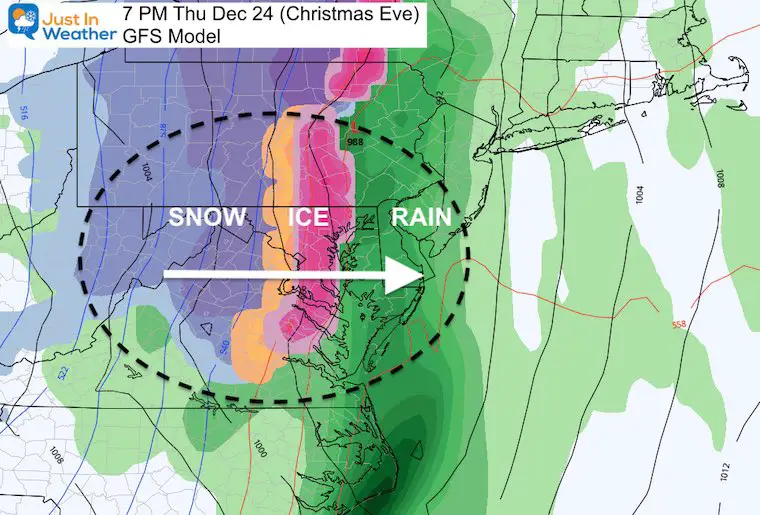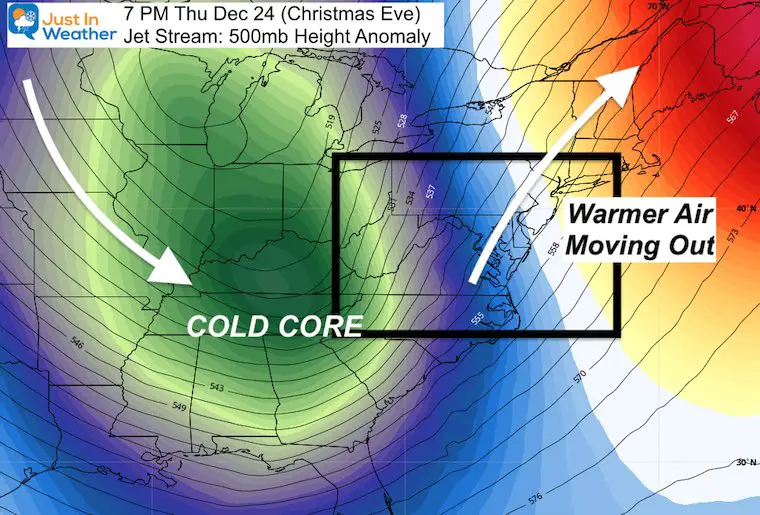 YOUR INTERACTIVE WEATHER PAGES
14 Local Maryland Pages (and York PA)
We have made a page for Maryland Weather which gives you the current conditions for 14 present area locations.
Local Hourly Forecasts and Local Radar
Central Maryland
Delmarva
Pennsylvania

FITF Shop Open
My 'bonus' daughter Jaiden and wife showing off our popular Maryland Hoodies. Unisex and womens items all produced in Maryland.
Click here to see this and many other new items.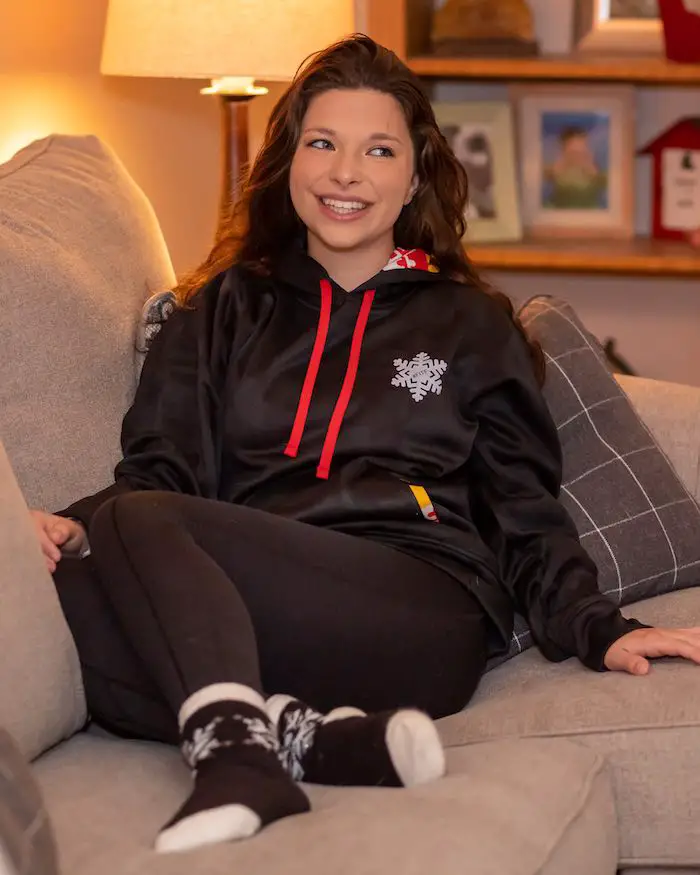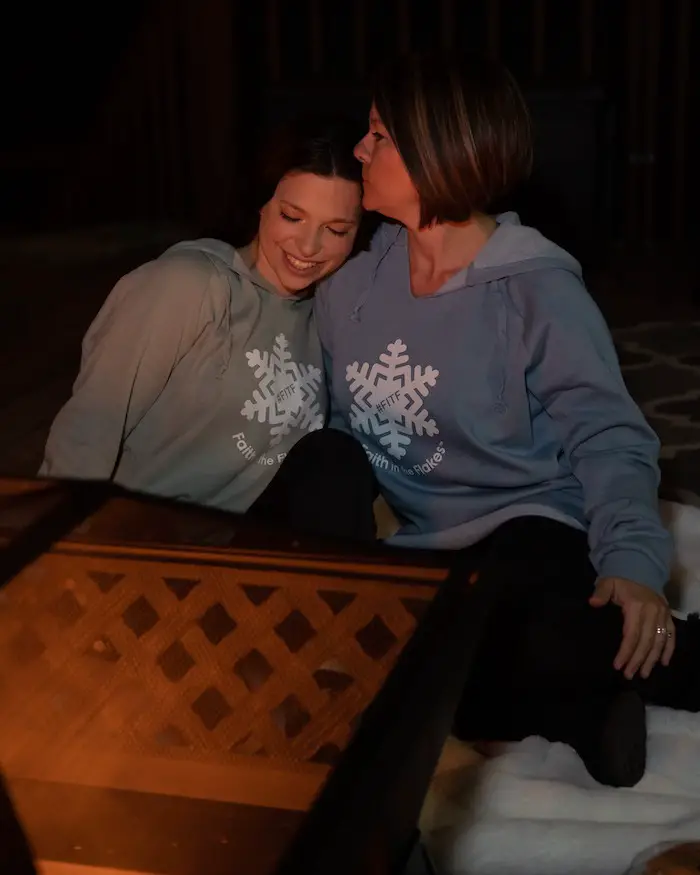 Also see:
Maryland Weather Page
I wanted to keep it simple. Just the basics for a quick view at any time.
Please share your thoughts, best weather pics/video, or just keep in touch via social media
---
Email Updates
Please make sure you sign up (above or click here to sign up for email alerts…. ) for my newsletter. This way you will get an email to make sure you are notified of each post.
---
Just In Power Kids:
A portion of proceeds go to our programs Providing FREE holistic care for kids in cancer treatment and up to 5 years post treatment and caregivers.
New Caps and Hats