Tuesday December 15 2020
I am trying something different here. I wanted to simplify things here because I know there has been a lot of information thrown your way.  I am also getting a lot of comment question, it might be easier to put in one place.  My goal is to explain my thoughts with visuals, and also make sure you know what my forecast is, not to be confused with others.
Quick answers to common questions
What Should Happen?
Start as snow Noon to 2 PM.
End with snow before sunrise Thursday.
The sleet and rain are most likely between 5 PM and midnight.

   

Marginal cold air at the start. Below freezing (icing) at the end.
There will be accumulation, but that depends on a lot of factors.
How Much Snow?
If you had stickage Monday, A good chance for 10"+ snow for the entire event. It will be a lot, but I am staying lower than models and NWS to account for sleet. Less sleet, and it could be big boom!
If you saw snow falling Monday, but did not stick: You will start AND end as snow. Mix/rain for a few hours eve & night. Still a likely total of 6"+
Annapolis/ South and east: May start and end as snow.

  Mostly Rain.

Accumulations: Little to none.
In between = The BIGGEST question. This region within 10 miles of I-95 and around the Baltimore Beltway will get everything. Snow, sleet, rain, and end as snow.
My Final Call For Snowfall Map is Below
UPDATE Wednesday Morning: See more
More Sleet might eat a little into totals. Still snow and a big mess on the way
Why does the Winter Storm Warning start at 7 AM if snow is more likely to start at or after noon?
NWS puts out a broad range for the zone. It's easier to go with the time the first place might get it, and allow other places time to prepare?
As of 2 PM, this was not updated. I will follow up this evening with all alerts and latest simulation.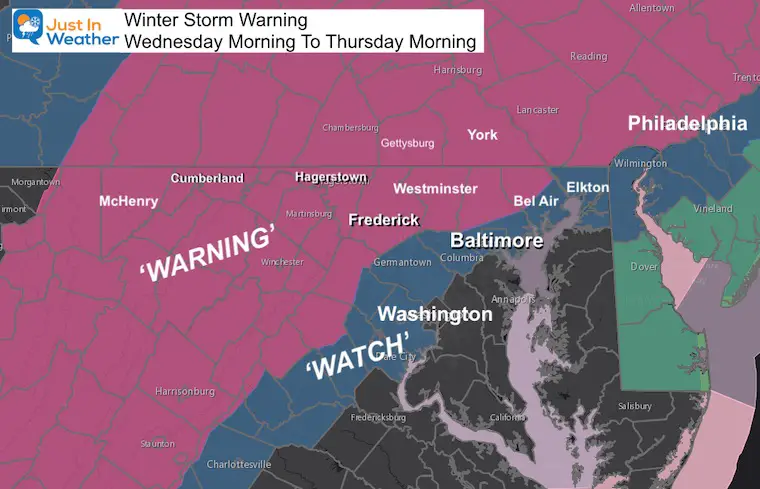 Have you noticed my First Call For Snowfall over the weekend only had a low end number?  I do that on purpose and have not changed that (for most areas).  I do not know where else you are looking for your weather info, but a lot of people have been writing me today to say, "it's trending lower", or "this is going to be a bust".
Not by my account!  I have hedged my forecast bet on:
Respect the Warmth from the water!
The European Model had the best track which included mixing in metro areas.
I start by  showing a low end number. I have explained for years that the most confident number is best to show early in the forecasting event. Too often a high number ends up not verifying. I love snow, but no benefit to hype and disapoint you.
Snowlovers Note:
This event is more than any winter forecast has last month. Even more than my aggressive call on winter. Any snow we get from this is Bonus! We are well ahead of schedule and I have a good feeling about the season ahead.
Now about my Final Call, I have a full range with a high number. Please do not lock on just that, and it is located below.  You can scroll down, but I want to detail how I see this playing out first.
My 'Simplified' storm forecast:
North gets all or mostly snow and sleet.
Central/Metro Areas have 2 Snow Parts!
Start with snow and some accumulation.
Change to sleet and rain Tuesday Evening.
After Midnight: Back to snow. Moderate to heavy with more accumulation. Ending by 5 AM
Southern Maryland and Most of Delmarva:
Some snow at onset and end, but mostly rain. This was never supposed to be your storm.
Noon to 2 PM Wednesday: Snow for the region should begin to move in.
It will start as snow even across parts of southern Maryland and south of DC
'Virga': The air is dry and we could have an hour or two with snow on radar, not reaching the ground (virga). That sublimation will cool the air, and temps will drop a couple of degrees at the onset.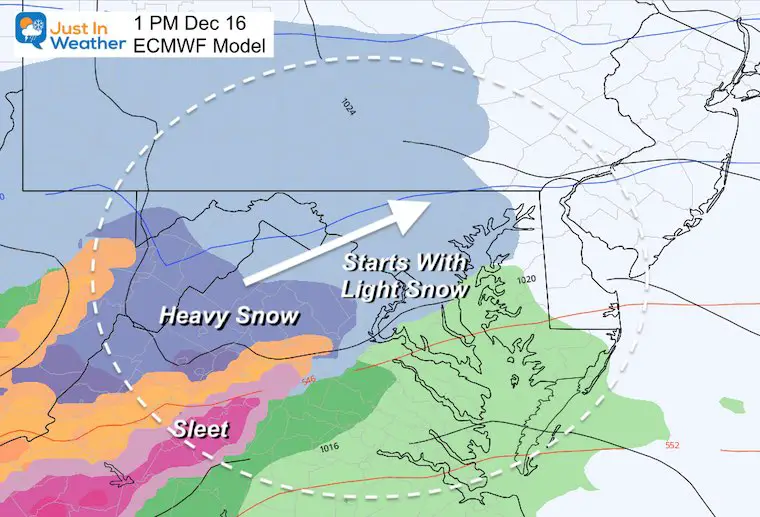 2 PM to 6 PM: 
After the snow breaks through the dry air, there will be a quick transition to moderate and heavy snow for many.
Along I-95 and cities temps will be above freezing (mid 30s).  This may start with wet pavement, but any heavy bursts of snow could overtake the ground with slush in a hurry.
Temperatures: This will determine how much stickage you may encounter on roads or grass.
Treated roads in areas in the mid 30s can still get slushy with snow if the burst is heavy enough.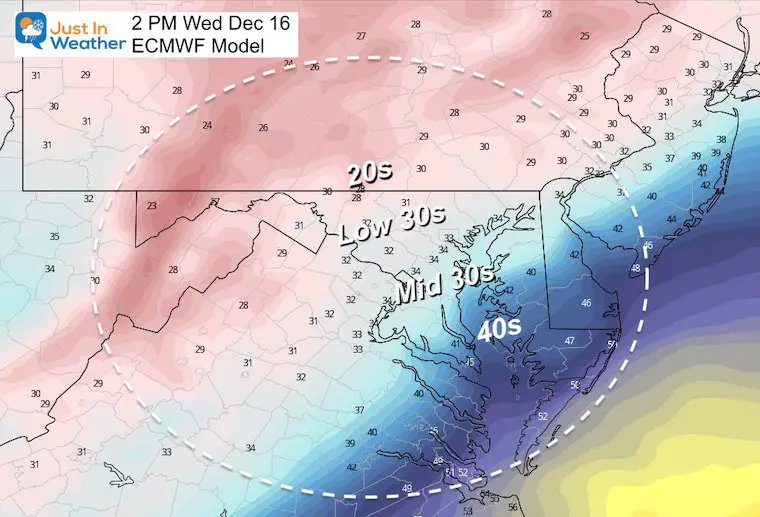 Evening (7 PM) Maps:
Mixing with sleet and freezing rain for many!
In the I-95 transition zone will also be between 4 PM and 7 PM.
Temperatures: These may lock in for a few hours.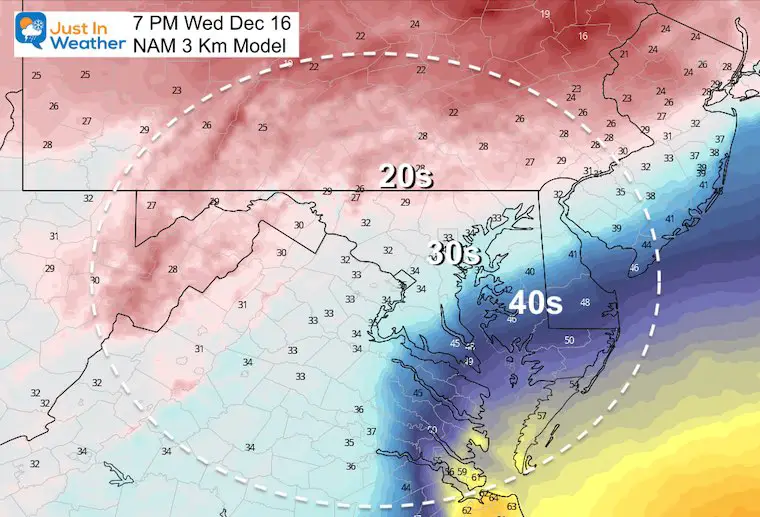 These maps will show why you may have seen so many different forecast.
GFS (American Model):
Most apps and local forecasts are based on it.  I believe it is missing the mix and warm melting snow in metro areas.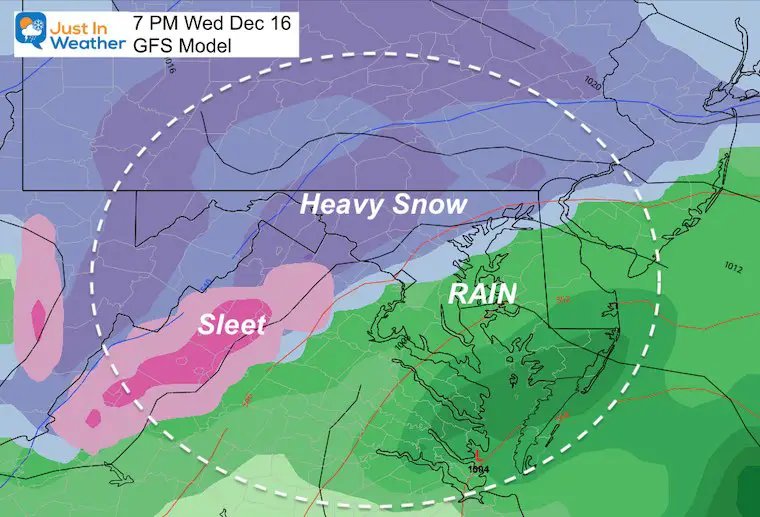 NAM Model:
This a better depiction of the wintry mix, but it may be overdone on the north end at this time frame.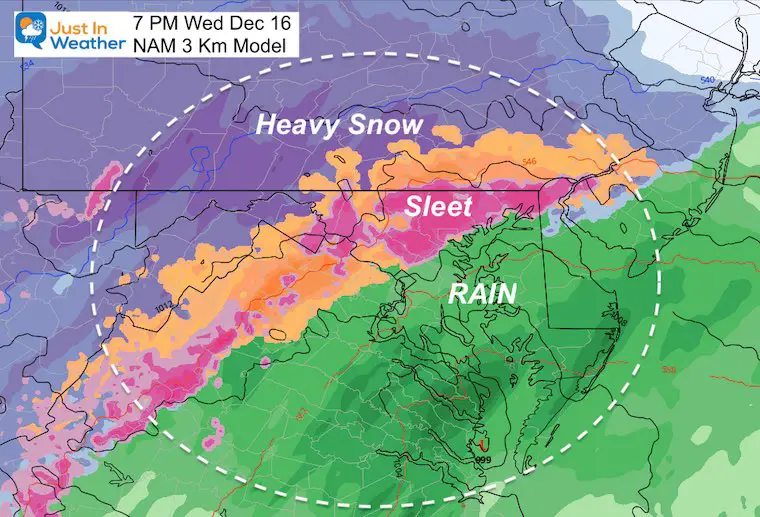 European Model
This is the model that has done the best job. It shows the mixing of sleet in the western suburbs. This will expand to Baltimore, Harford, and Cecil Counties within a few hours of this map.
Rain or changing to rain from Baltimore and south.
Heavy Snow remains in the coldest of zones to the north.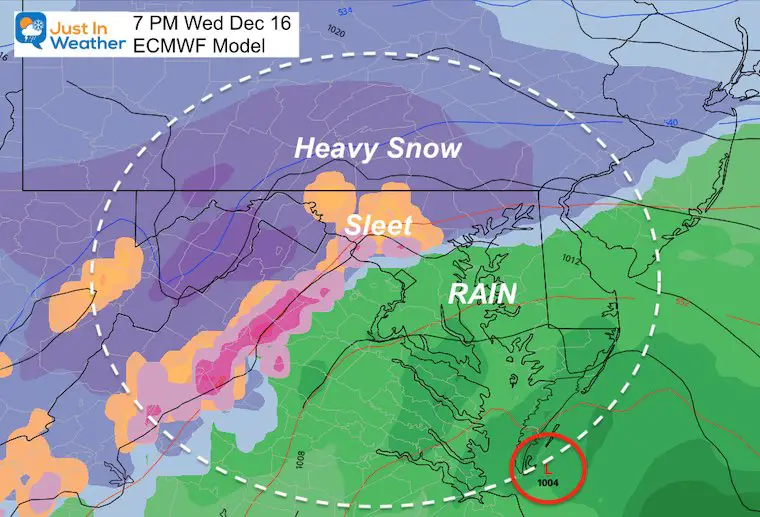 High Winds: 7 PM to Midnight Expect winds over 20 mph and gusts to 40 mph. 
In snowy areas, this would close to blizzard conditions. If there is ice on trees, there could be some power outages.  BGE is aware and prepared.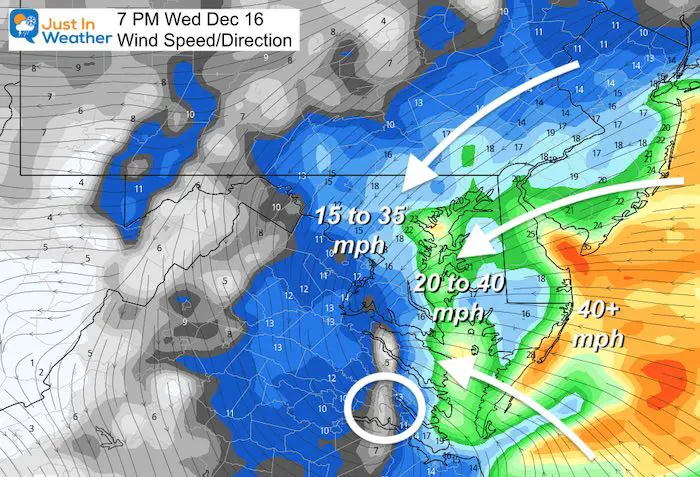 After Midnight Comma Head:
This is the cold air and moderate to heavy snow on the back end of the storm.
That will pass through between midnight and 5 AM.  This will cause Baltimore to end with snow. 
This will be the bulk of accumulation for the Baltimore and I-95 areas.
Some snow coating possible into AACo.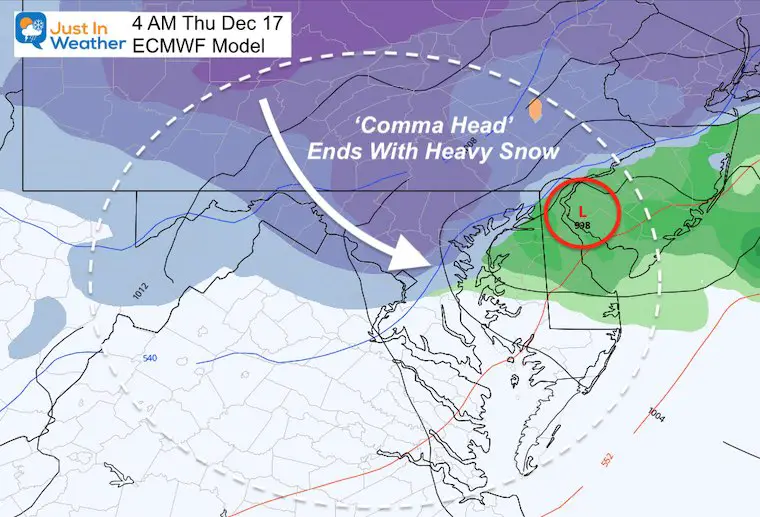 The storm will be done before sunrise Thursday, but temps will be at or below freezing for many in the snow path. So there will be time needed to clean up.
Thursday will be windy and cold, but allow some thawing.
My Final Call For Snowfall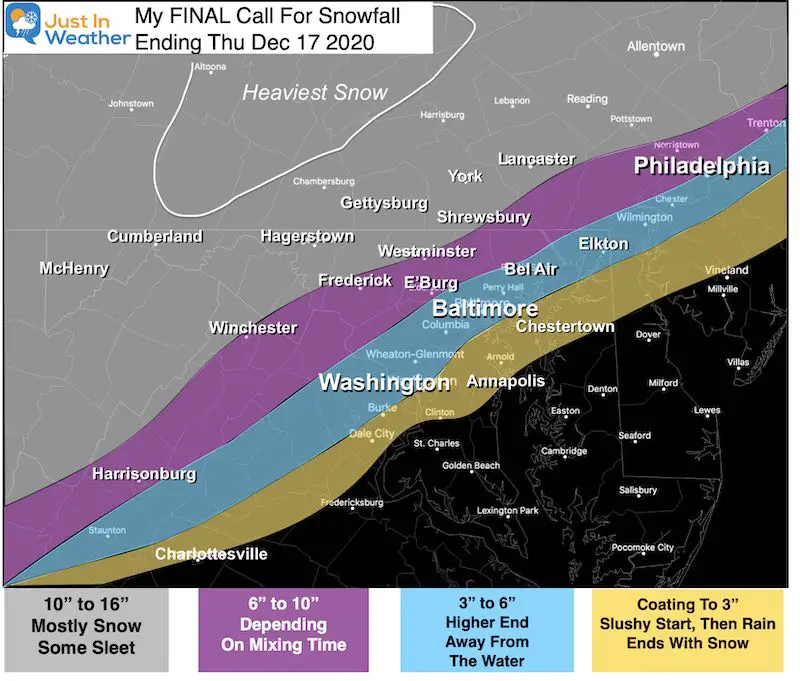 Note: The Heaviest Snow in central PA could 18 to 24 inches. That might include State College.
I went lower than the European Model AND NWS in the heavy snow zone locally. That is to account for sleet. If there is less sleet, there will be a lot more.
Metro areas get two hits of snow, with mix and rain in between.
I will have a new simulation and final wrap up of the models plus NWS maps this evening.
Faith in the Flakes
Also see:
FITF Shop Open
My 'bonus' daughter Jaiden and wife showing off our popular Maryland Hoodies. Unisex and womens items all produced in Maryland.
Click here to see this and many other new items.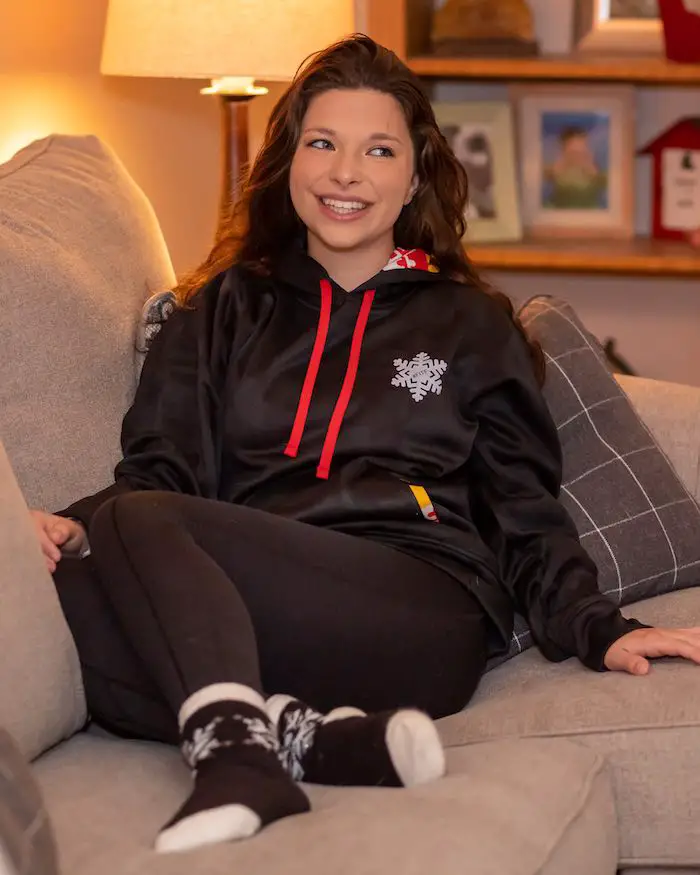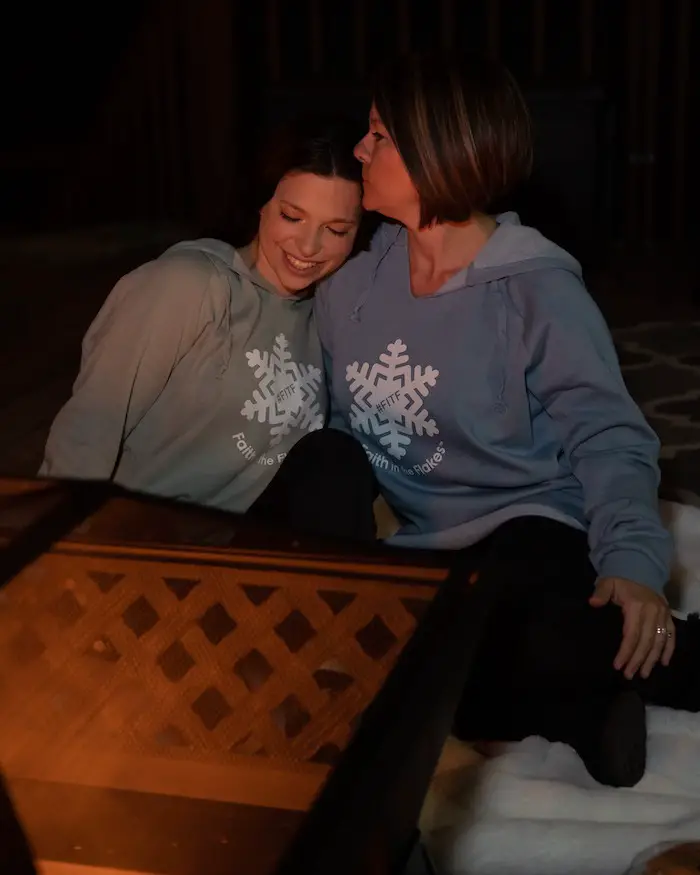 YOUR INTERACTIVE WEATHER PAGES
14 Local Maryland Pages (and York PA)
We have made a page for Maryland Weather which gives you the current conditions for 14 present area locations.
Local Hourly Forecasts and Local Radar
Central Maryland
Delmarva
Pennsylvania

Maryland Weather Page
I wanted to keep it simple. Just the basics for a quick view at any time.
Please share your thoughts, best weather pics/video, or just keep in touch via social media
---
Email Updates
Please make sure you sign up (above or click here to sign up for email alerts…. ) for my newsletter. This way you will get an email to make sure you are notified of each post.
---
Just In Power Kids:
A portion of proceeds go to our programs Providing FREE holistic care for kids in cancer treatment and up to 5 years post treatment and caregivers.
New Caps and Hats