December 15 2020
There has been an upgrade to a Winter Storm Warning for many areas. This is academic as this is a normal transition as we have more confidence of the high snow regions in a time frame less than 6 hours away.  Some areas still under a Winter Storm Watch need a little more scrutiny to determine what level advisory is justified. That update will come today.
As we address the storm here, I will show you some wind maps. On Wednesday night there is a forecast for gusts over 40 mph in the snow zone.  These would be blizzard conditions. More on that below.
You may have noticed some change in snow totals from your other sources.  I am still confident with most of my original call, which I will show again below.
Winter Storm Warning
These are issued by The National Weather Service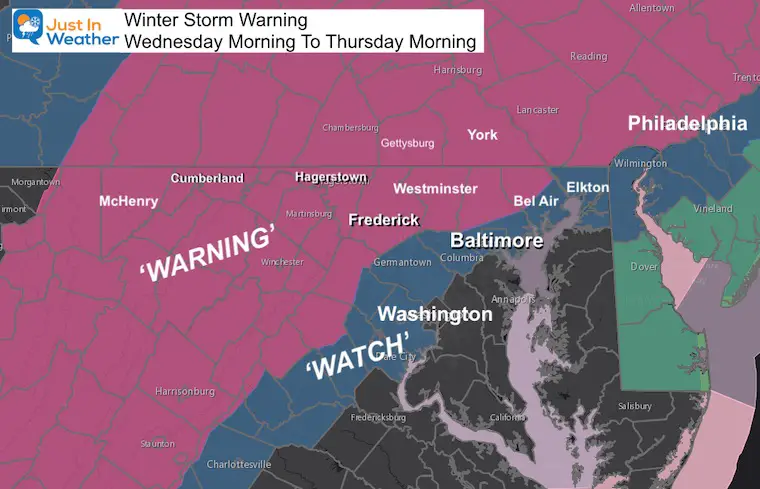 Morning Weather Set Up
The developing storm is in the central plains states. This will drive east and redevelop to our coastal storm from the Southeast US tonight and Wednesday.
You will notice the colder air in place today, but we should have mostly sunny skies.  The high clouds may blur out sunset.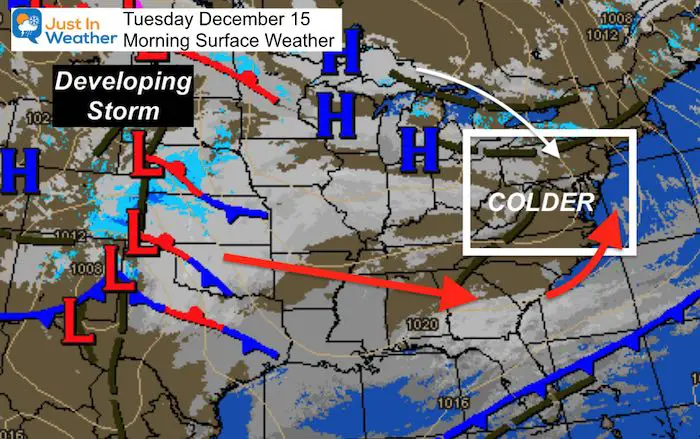 Temperatures 
A lot of areas down into the 20s, where there was snow and rain. If it was wet last night, there might be some ice this morning.  This might mainly apply to sidewalks and driveways.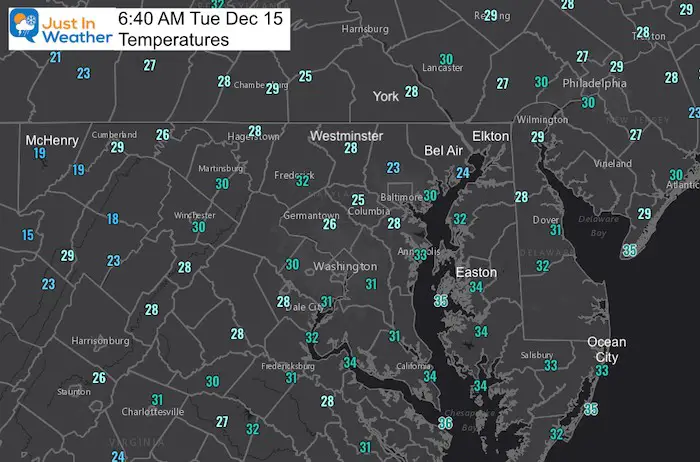 Afternoon Forecast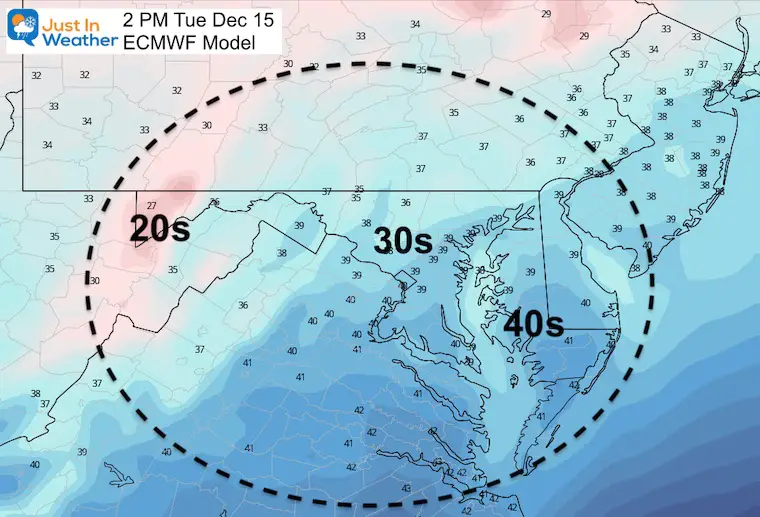 Central Maryland Forecast Snapshot

Click here to see your local weather forecast page
Looking At The Storm
I stand by two things: RESPECT THE WARM AIR and The European Model has done the best job handling this.
Here is a look at the Euro ECMWF Model timeline. Below is that wind snapshot I mentioned above, and a look at the GFS Model animation for comparison.
Note:
Baltimore City to metro Washington may start and end as snow. In between will be the mix and some rain.
The snow, mix, rain line may be separated by less than 30 miles at times.
Storm Simulation —> slider
Blizzard Conditions? Wind Snapshot
A true blizzard is defined as a storm with heavy snow falling at the rate of 1″/hour with 35 mph winds and under 1 mile visibility for 3 consecutive hours.
The forecast wind GUSTS will qualify for inland areas that remain snow in the evening.
Wind Speed/Direction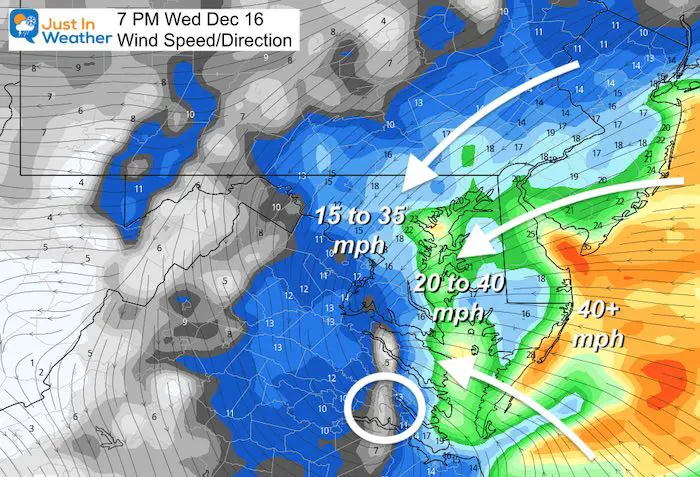 Wind Gusts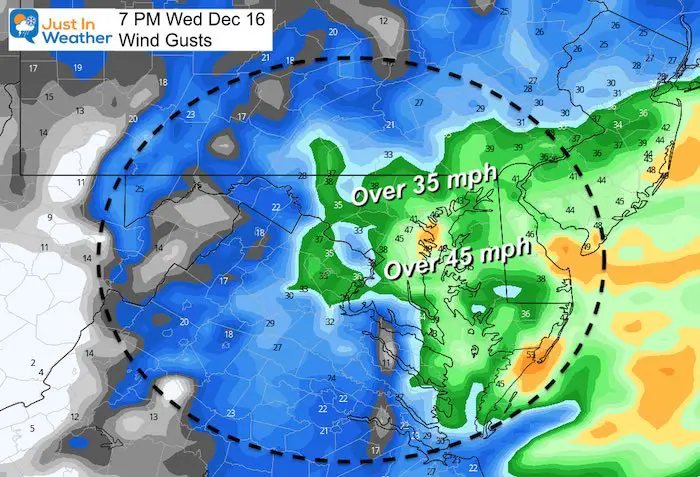 Temperature Timeline –> slider
I zoomed in a little closer to hopefully make the numbers easier to read.
Some inland areas will remain below freezing, but the clouds will warm. That will be the period of sleet and freezing rain mixing in.
GFS Model Animation
This has brought in some warmer air, but still has a colder solution than the Euro. That would reflect in higher snow totals in this product and many of your aps.  But there is less snow for places south of Baltimore to Washington and Annapolis.
My Original Call For Snowfall
I still feel confident in 'most' of this.  The one region I may have to adjust down will be Annapolis and southern Maryland to south of Washington. I will have that update this afternoon.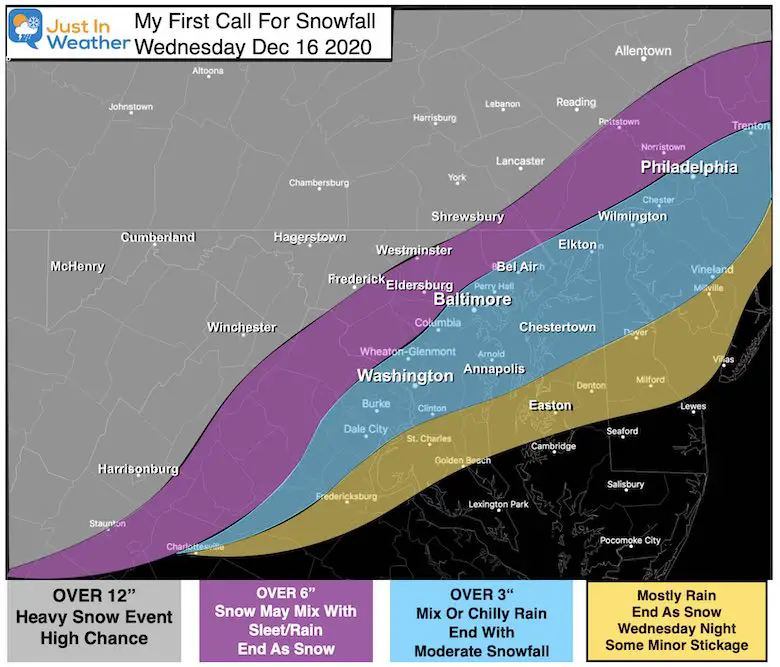 Temperature Outlook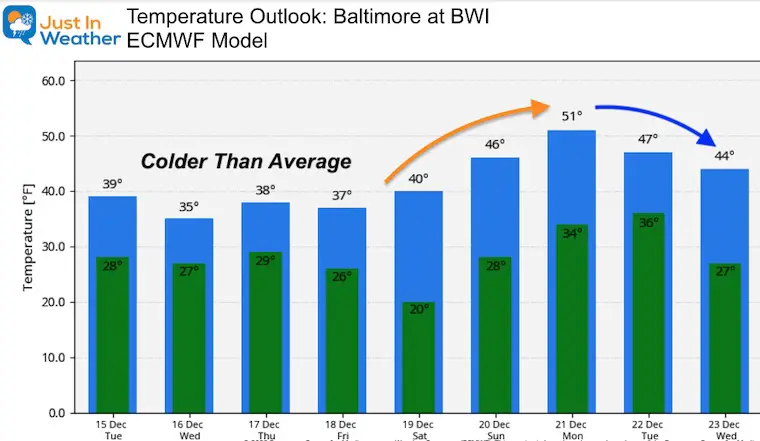 FITF Shop Open
My 'bonus' daughter Jaiden and wife showing off our popular Maryland Hoodies. Unisex and womens items all produced in Maryland.
Click here to see this and many other new items.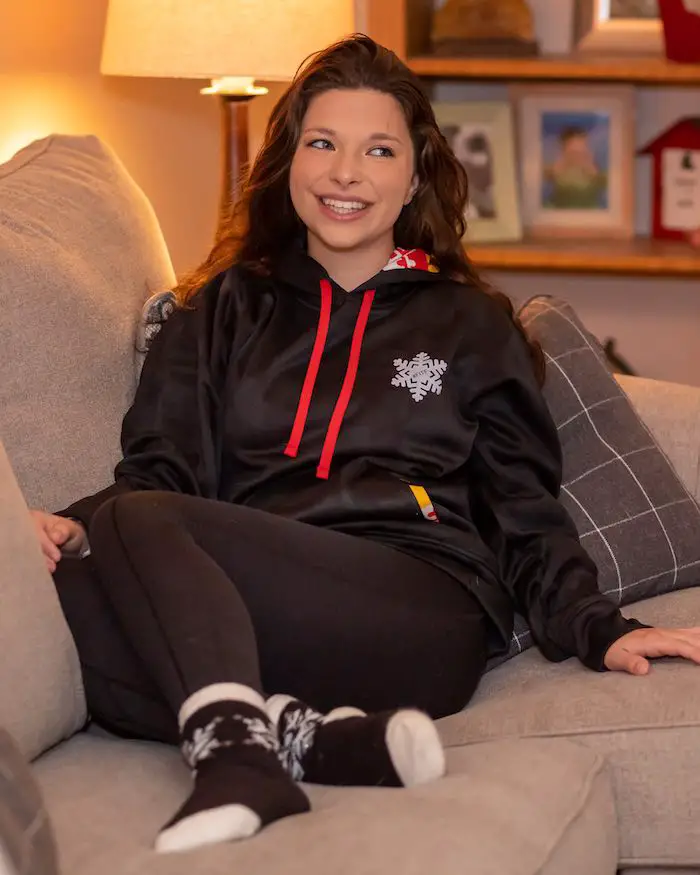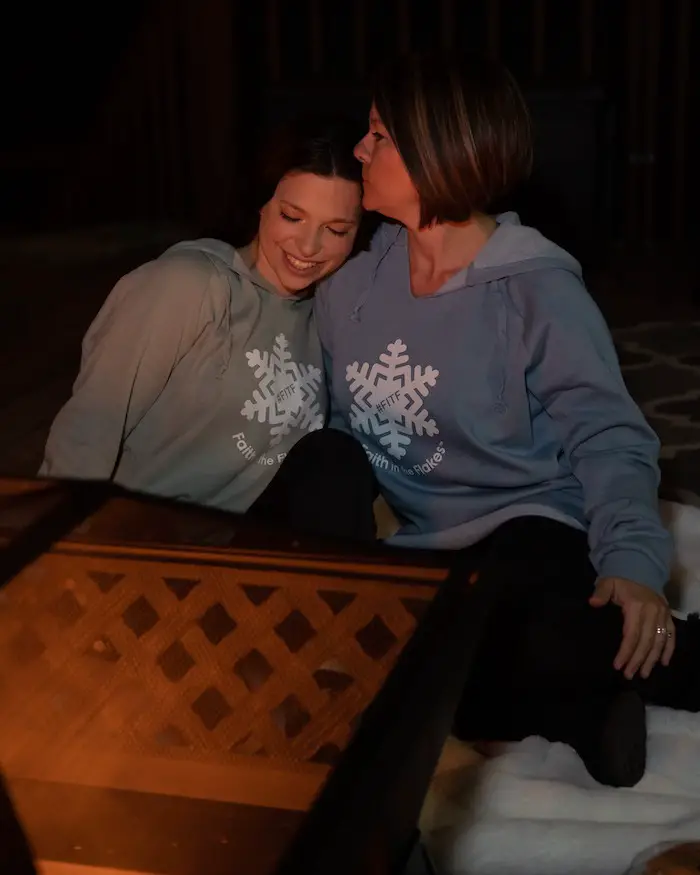 YOUR INTERACTIVE WEATHER PAGES
14 Local Maryland Pages (and York PA)
We have made a page for Maryland Weather which gives you the current conditions for 14 present area locations.
Local Hourly Forecasts and Local Radar
Central Maryland
Delmarva
Pennsylvania

Maryland Weather Page
I wanted to keep it simple. Just the basics for a quick view at any time.
Please share your thoughts, best weather pics/video, or just keep in touch via social media
---
Email Updates
Please make sure you sign up (above or click here to sign up for email alerts…. ) for my newsletter. This way you will get an email to make sure you are notified of each post.
---
Just In Power Kids:
A portion of proceeds go to our programs Providing FREE holistic care for kids in cancer treatment and up to 5 years post treatment and caregivers.
New Caps and Hats