December 14 2020
A Winter Storm Watch has been posted for most of our region. When you look at the map, it jumps out that this is north and west of the Chesapeake Bay. That water will have a warming influence on nearby areas, but how far inland will determine who mixes over to rain or stays all snow with higher totals.
How much snow are 'they' calling for?  I speak for all meteorologists when I say that is out favorite question.  I hope you know I am kidding.  However I do like to show other forecasts with mine and let you compare.  I will show you a few model maps and the National Weather Service. As of the other weather people, you can see that on their sites or on TV. I don't want to take away from their traffic.
Winter Storm Watch
A Winter Storm Watch for our region means a high likelihood of 4 inches or snow or more. But how much more?  I have shared my First Call For Snowfall in previous reports. I start with my low end number. This is what I am most confident with early on, but I think it still may hold. But there are many other forecasts available. Below we will also look at what 'THEY' are saying.
Note: There will likely be more 'Advisories' issued on Tuesday for the event.
NOAA Weather Prediction Center: 
There is a really tight gradient with rapid increase in snow farther away from the water.
Odds on getting 4 inches or more: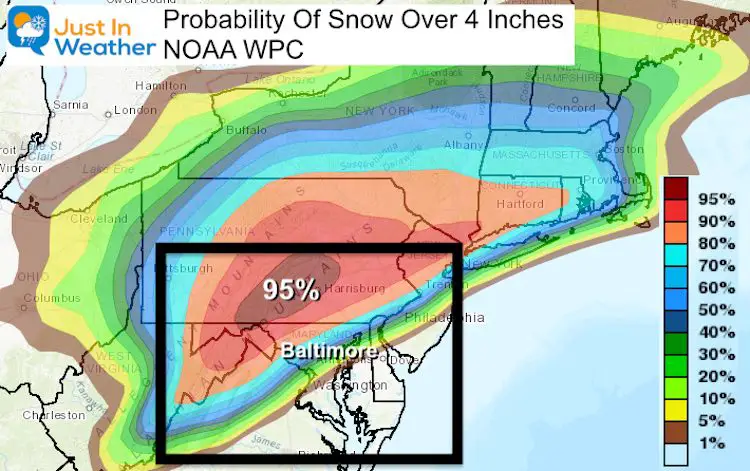 Odds on getting  A FOOT or more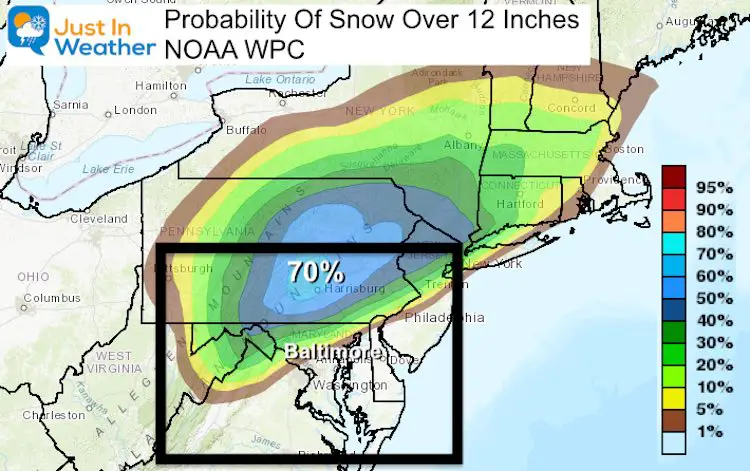 Let's Compare Forecasts: What I'm Saying and What THEY are Saying
Here is my First Call For Snowfall I first issued this weekend (shared first on social media when my website was locked up)
This is my LOW END Confident Number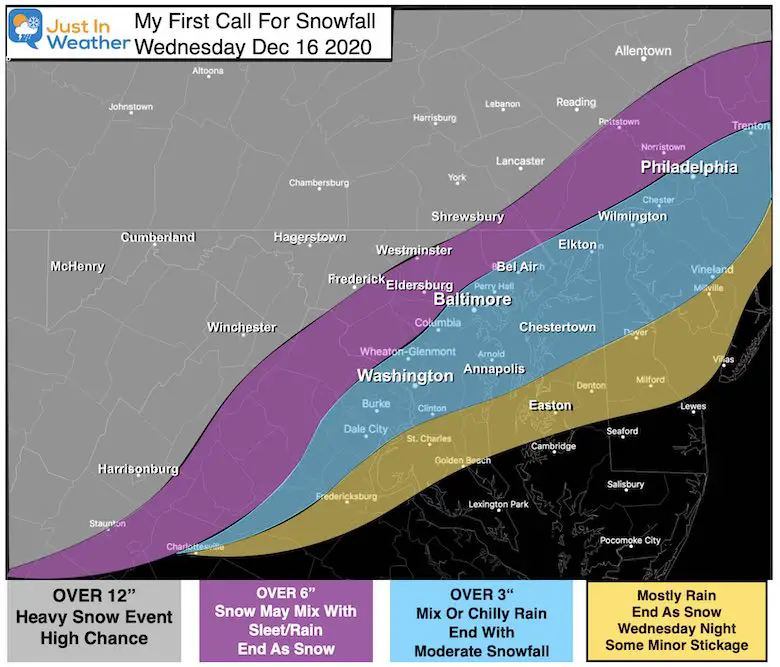 Computer Models
I've highlighted the Over 10″, Over 20″, and the forecast for BWI Airport which is the official climate location for central Maryland.
You will notice a DRAMATIC increase in snow potential just 10 to 20 miles northwest of I-95.  Much less closer to the water and south of the city.
ECMWF Model
This is the model I have been showing since last week that I believe has had the best track and respect for the warming.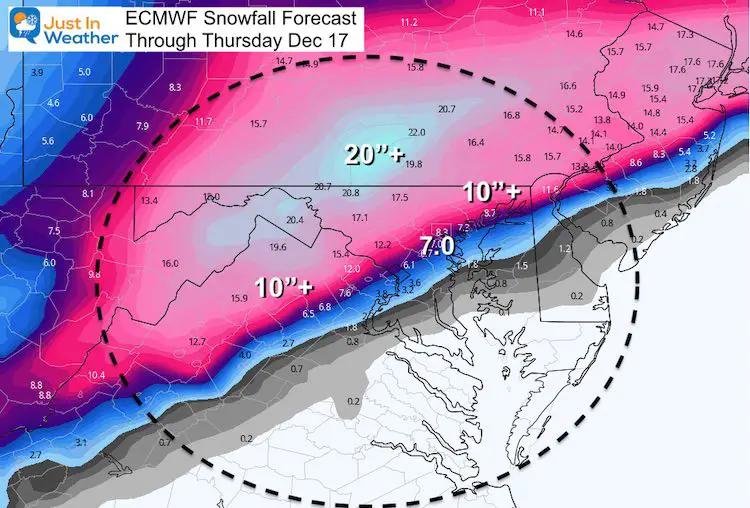 GFS (American) Model
Most weather apps use this model. If you have noticed a high snow total then get lower, this may be why.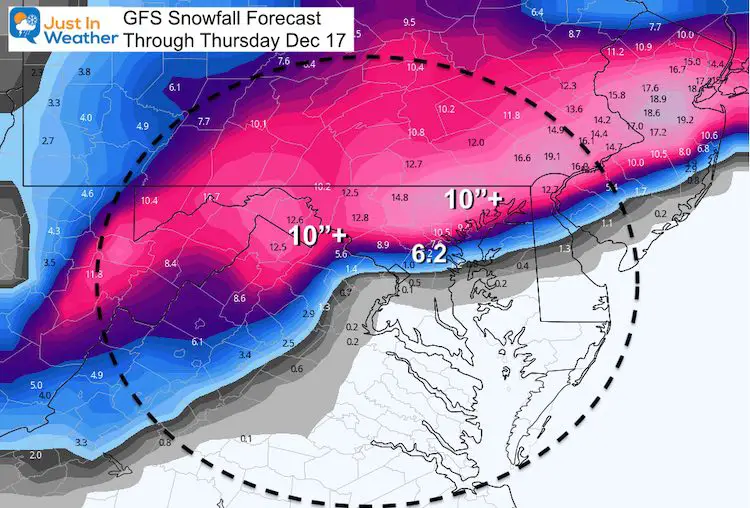 Canadian GEM Model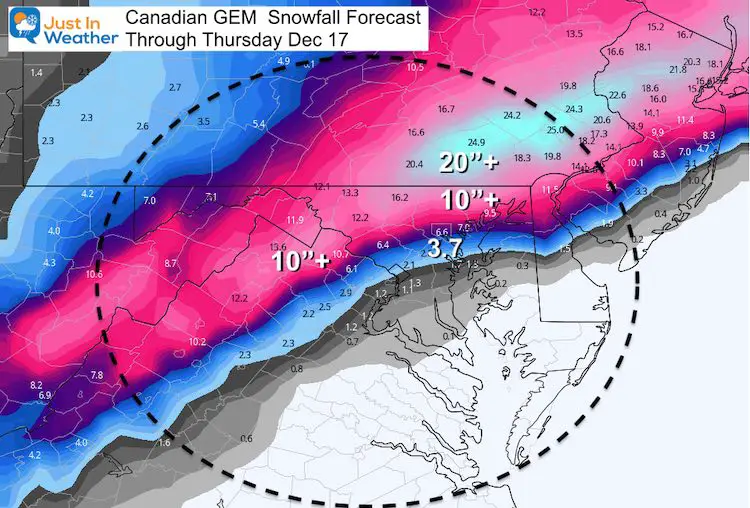 Now, the National Weather Service Office Forecasts
Baltimore Washington located in Sterling VA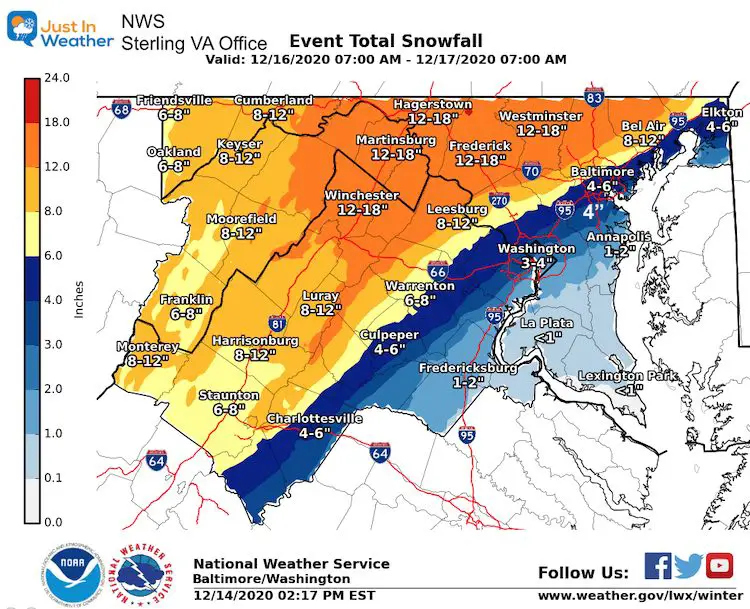 Pennsylvania located in State College PA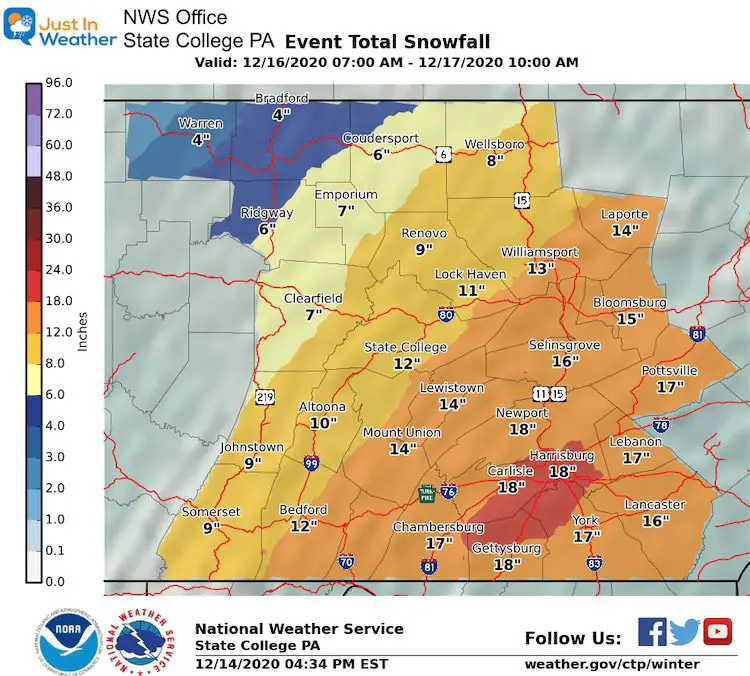 Metro Philadelphia and New Jersey located in Mount Holly, NJ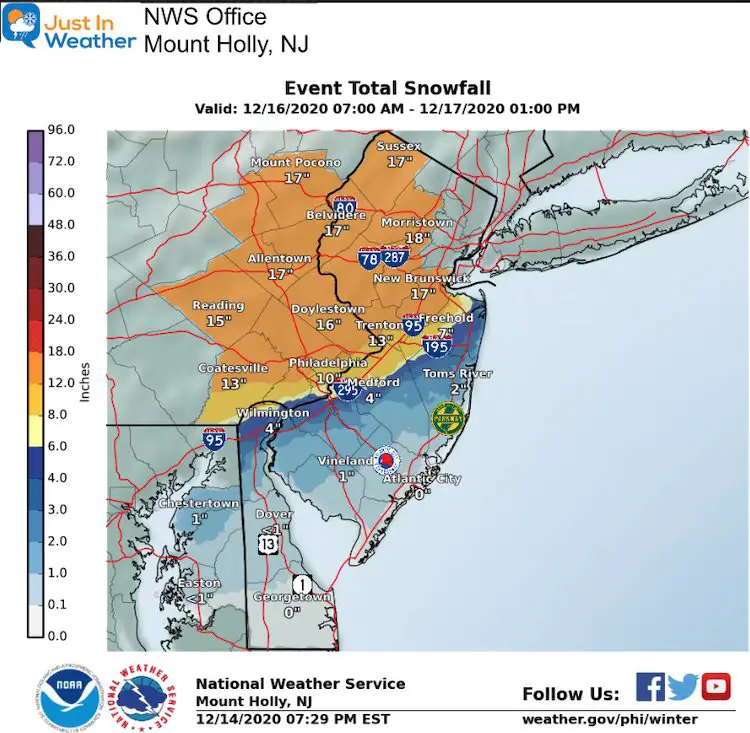 This office went a step further, to break down the snow, mix, and rain zones.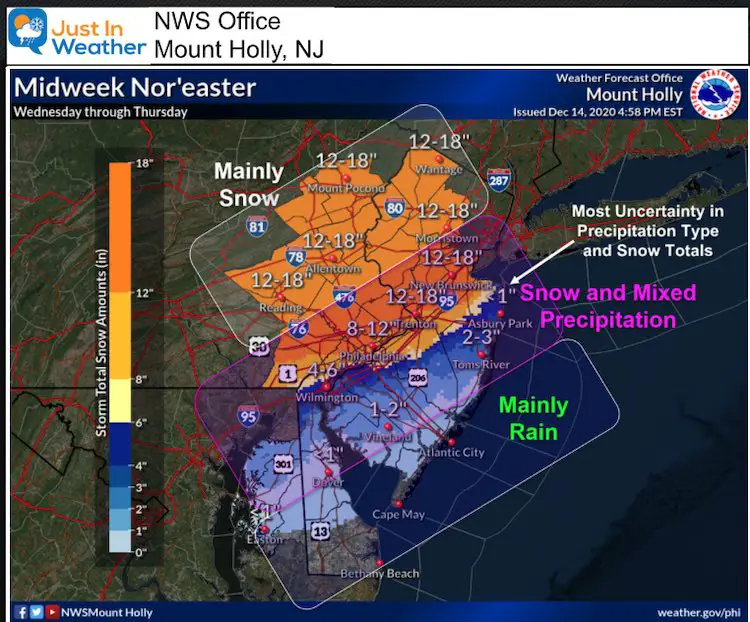 Model Forecast Timelines
Please review the forecast in my prior post. Under normal conditions I would show it here, but they are a demand on the servers which are working overtime now.
Click here to see my snow video from today and 3 Model Forecast Displays
My Quick Notes
We have a good handle on the timing and amount of moisture.
The influence of warming from the Bay and Ocean will depend on Wind Direction.
Have you followed my highlights of a Southeast Bias with verifying storms? It has happened a lot in the Fall. Should that happen here, the GFS would win.  While it would bring in colder air, the wind direction by the warm water will still play a role around I-95 and the cities.
If you get all snow,  good chance you get OVEER 12 FOOT!
If you start with snow and mix over later on Wednesday, you will go back to snow and end with a few inches before Thursday morning.
At most, you may be stuck inside Wednesday and Thursday.  Most areas should have roads handled during Thursday.
I will have a new update in the morning.  Please continue on and explore more below.
FITF Shop Open
My 'bonus' daughter Jaiden and wife showing off our popular Maryland Hoodies. Unisex and womens items all produced in Maryland.
Click here to see this and many other new items.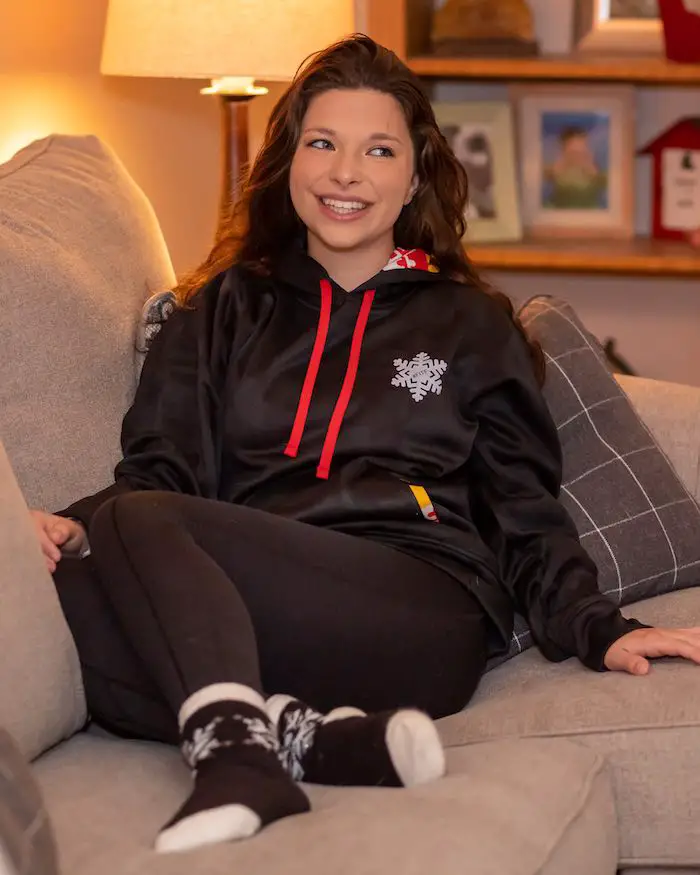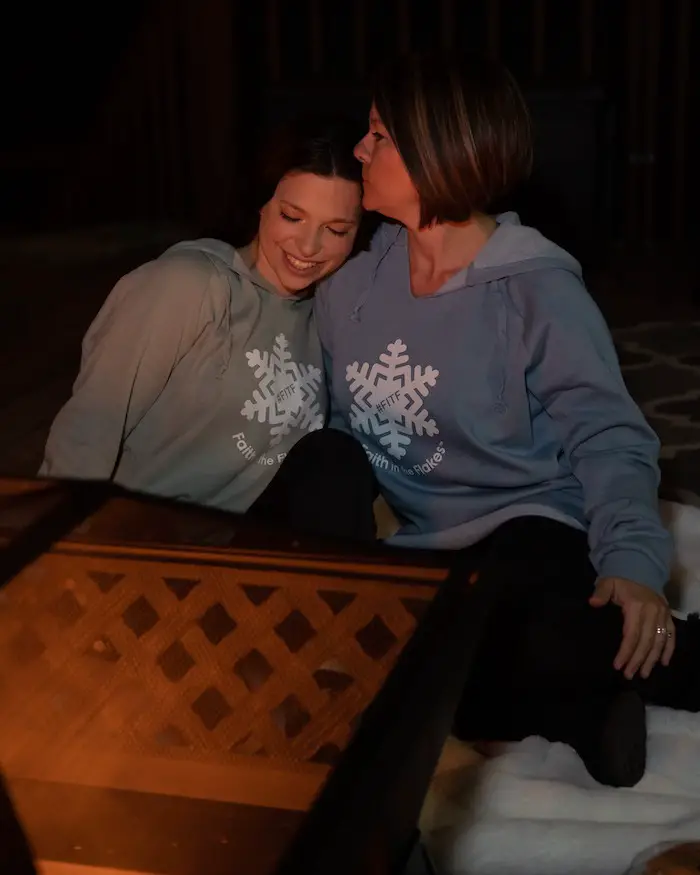 YOUR INTERACTIVE WEATHER PAGES
14 Local Maryland Pages (and York PA)
We have made a page for Maryland Weather which gives you the current conditions for 14 present area locations.
Local Hourly Forecasts and Local Radar
Central Maryland
Delmarva
Pennsylvania

Maryland Weather Page
I wanted to keep it simple. Just the basics for a quick view at any time.
Please share your thoughts, best weather pics/video, or just keep in touch via social media
---
Email Updates
Please make sure you sign up (above or click here to sign up for email alerts…. ) for my newsletter. This way you will get an email to make sure you are notified of each post.
---
Just In Power Kids:
A portion of proceeds go to our programs Providing FREE holistic care for kids in cancer treatment and up to 5 years post treatment and caregivers.
New Caps and Hats