Monday December 14 2020
The first of two storms this week is with us this morning. A chilly rain for most of the region. Snow will mix in where there is a Winter Weather Advisory, but as we have explained for a few days it will be a wet snow. Temperatures will not drop below freezing locally until after dark. So any snow will likely melt on the roads or stick mainly on the grass.
Colder air will follow, and some icing in those northern zones tonight.  Then as the cold air settles in, we have the bigger storm moving in Wednesday afternoon.  A Winter Storm Watch is already up for the colder zones.  More advisories will be expanded as we get closer.
Winter Storm Watch Wednesday Through Thursday Morning
The brighter blue colors represent today's Winter Weather Advisory in addition to the 'Watch'.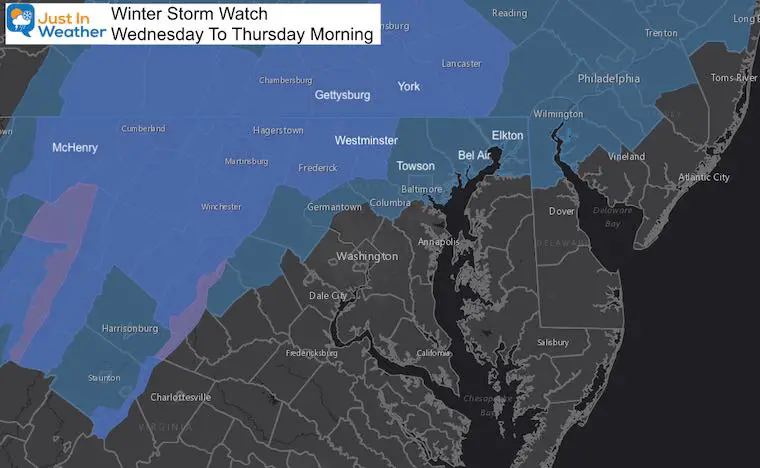 Morning Surface Weather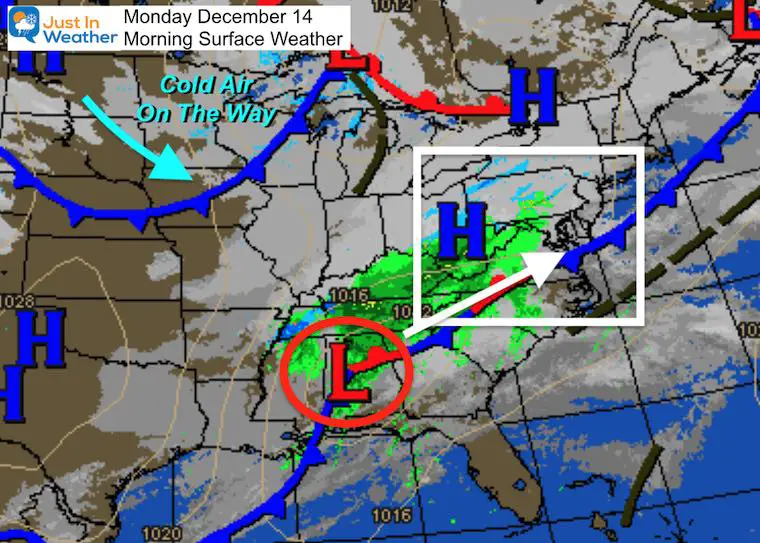 Morning Temperatures 
Radar Simulation Snapshots Today
Colder air will gradually mix in snow, but surface temperatures will remain above freezing locally. If you encounter an issue it would be in the higher mountains in western Maryland and central PA.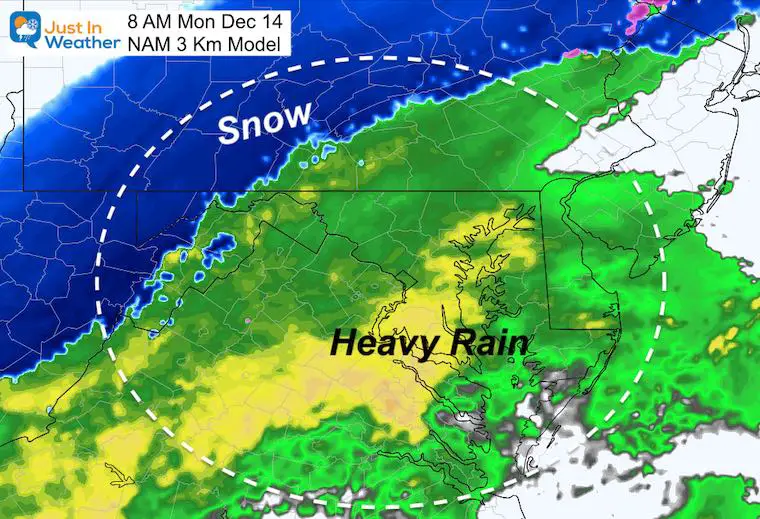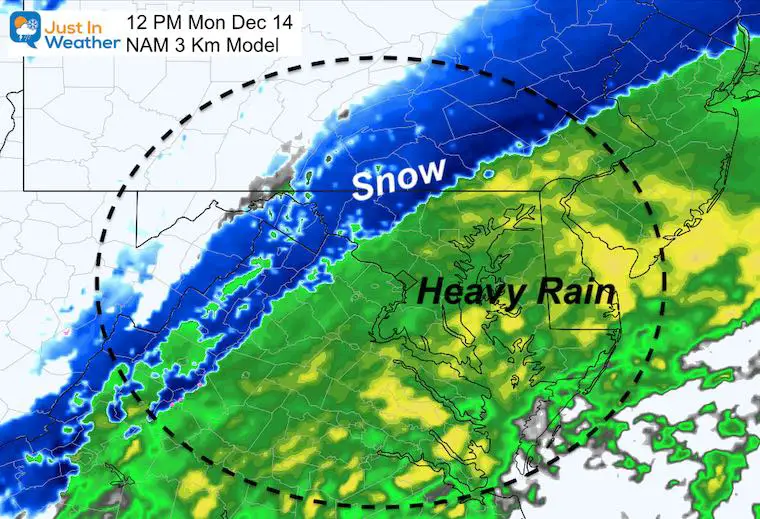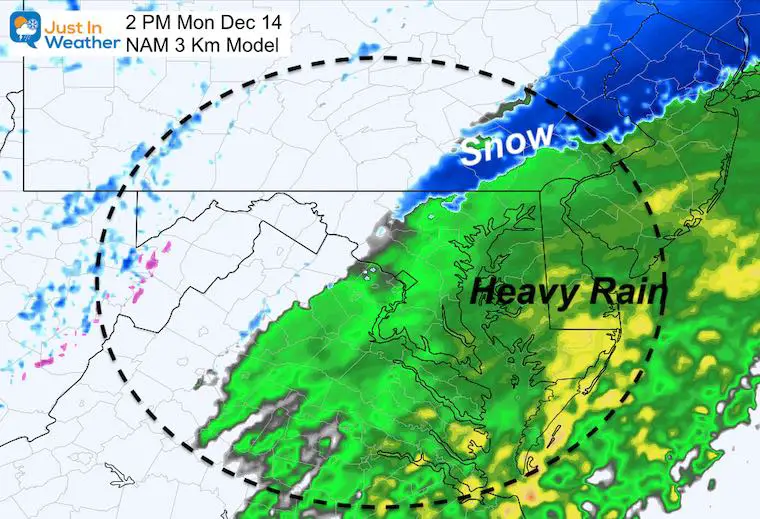 Temperature Forecasts Today
Notice the chill, but not below freezing until after dark.  Some northern zones that are still wet, could have ice develop in the evening.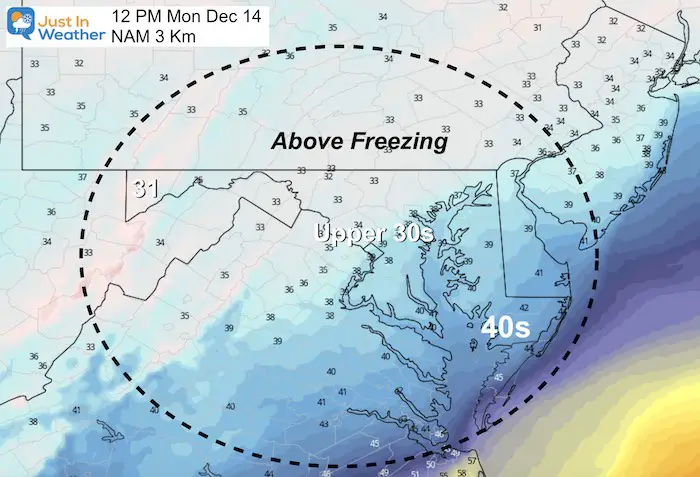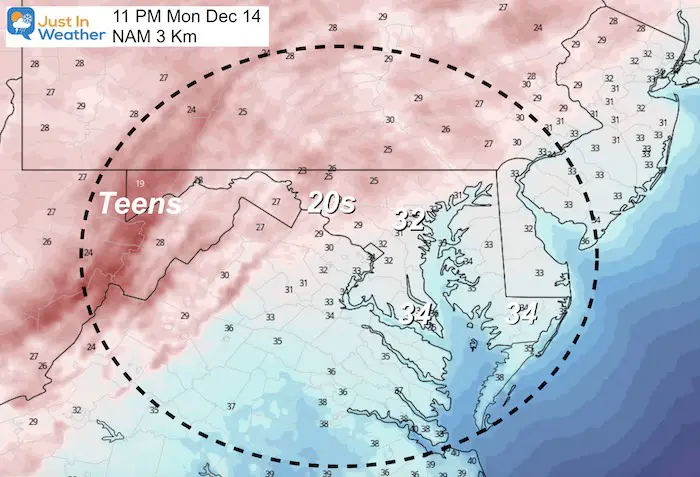 The Big Storm: Wednesday Afternoon to Thursday Morning
Here is a look at the ECMWF Model. This is the best solution I see as it is accounting for warmer air mixing in for central Maryland.
A few people have asked about the bias or SouthEast shift I often discuss. Should that happen, we still have to consider the wind direction bringing in warmer air from the Chesapeake Bay and Atlantic Ocean.
—> slider
My First Call For Snowfall
This will be a big event for the region. Metro areas are more likely to get their burst of snow over Wednesday night into Thursday morning.
This is my low end conservative number. I will fine tune with another update after this first event passes.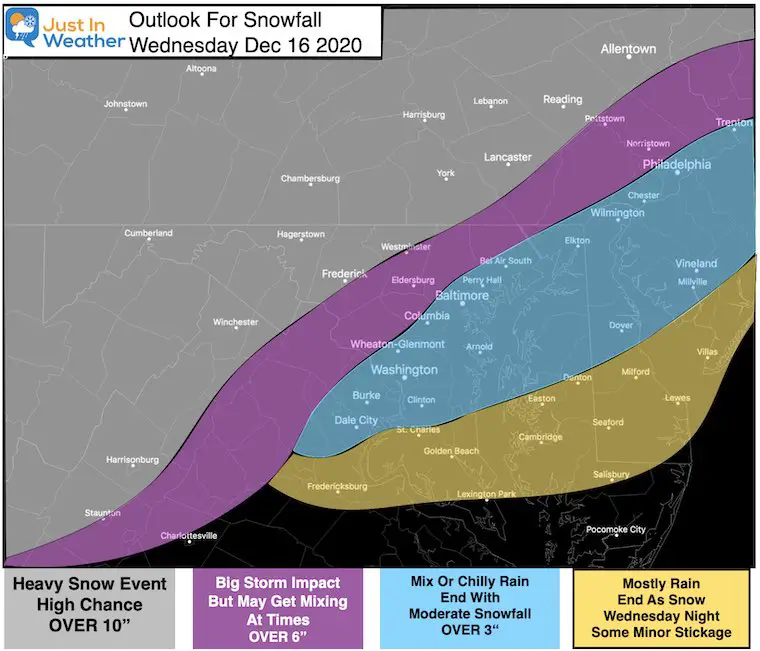 How Long Since The Last Snow at BWI
342 Days Ago: January 7, 2020 = 1.5 inches
654 Days Ago/ 1 year, 9 months, 13 days: March 1, 2019 = 2.3 inches
663 Days Ago/1 year, 9 months, 24 days: February 20, 2019 = 4.5 inches
Only 1.8″ of snow fell all of last winter ( December 2019 to March 2020)
Temperature Outlook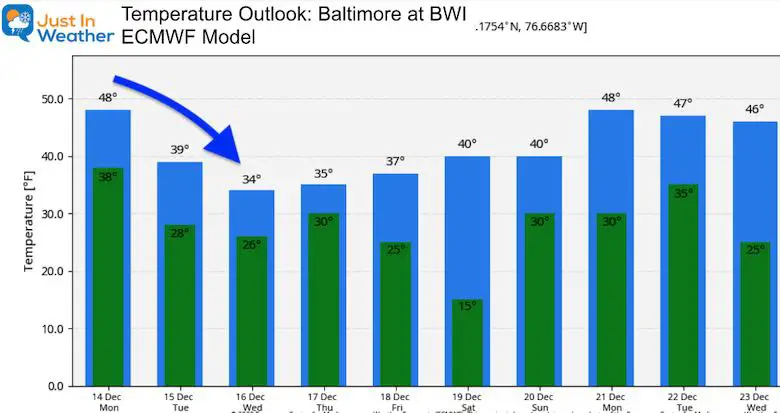 FITF Shop Open
My 'bonus' daughter Jaiden is showing off our popular Maryland Hoodie. Click here to see this and many other new items.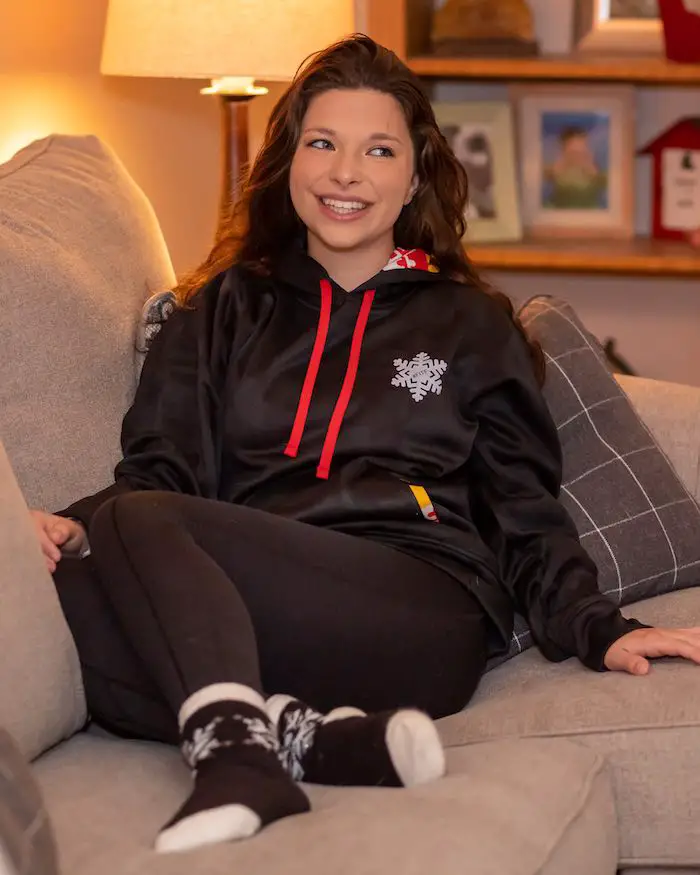 YOUR INTERACTIVE WEATHER PAGES
14 Local Maryland Pages (and York PA)
We have made a page for Maryland Weather which gives you the current conditions for 14 present area locations.
Local Hourly Forecasts and Local Radar
Central Maryland
Delmarva
Pennsylvania

Maryland Weather Page
I wanted to keep it simple. Just the basics for a quick view at any time.
Please share your thoughts, best weather pics/video, or just keep in touch via social media
---
Email Updates
Please make sure you sign up (above or click here to sign up for email alerts…. ) for my newsletter. This way you will get an email to make sure you are notified of each post.
---
Just In Power Kids:
A portion of proceeds go to our programs Providing FREE holistic care for kids in cancer treatment and up to 5 years post treatment and caregivers.
New Caps and Hats