Saturday Night Update: December 12 2020
We have two weather events on the way next week, which will make this the busiest in a few years. But will it be snowy? For real? Yes! Plus, the way the first event behaves will help us understand how the second, larger event may turn out.
How Long Since The Last Snow at BWI
340 Days Ago: January 7, 2020 = 1.5 inches
652 Days Ago/ 1 year, 9 months, 11 days: March 1, 2019 = 2.3 inches
661 Days Ago/1 year, 9 months, 22 days: February 20, 2019 = 4.5 inches
Only 1.8″ of snow fell all of last winter ( December 2019 to March 2020)
Lesson From Monday Will Help Us Understand Wednesday 
The first event has trended north and will up to the approaching cold air.  Cold air aloft will help produce snow flake for the inland (normally colder areas).
But the surface temps will likely remain above freezing during the day. This may result in snow falling, and maybe laying on the grass, but not sticking on the ground.  At night, it will get cold and possibly icy.
This first storm will be a big help in showing us how much influence the warmer water may have on the system.  I see it as a learning event before the big show on Wednesday. More on that below.
Monday Snow and Rain
The NAM  3Km Model (below) has performed well, so I have confidence in this solution.  It's important to note that snow falling, may not all stick:
This weekend had temps between 55ºF and 60ºF to warm the ground.
Surfaces temps on Monday will be above freezing (see below).
Noon Temperatures 
Even in the colder suburbs, the temperatures should be above freezing.
While this is likely to lead to melting on the roads, snow can accumulate on the grass.
Should a heavier burst develop, there may be some slushy stickage on the roads. This is more likely in elevations near and above 1,000 Ft.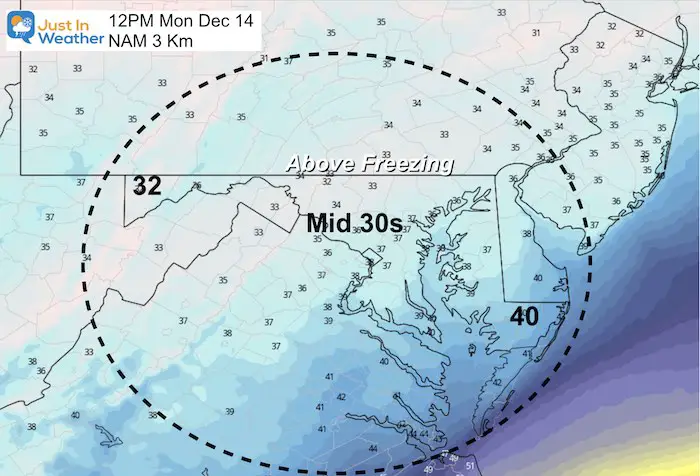 Radar Simulation —> slider
Our colder suburbs may start with rain or sleet, then turn to snow.
First Call For Snowfall:
This is what I see as the most likely results. Any stickage will be determined on the intensity of the snow. That can adjust the line a bit on the map. I will have a final call for snowfall tomorrow.
The timing will be during the daylight, which will help roads stay wet, but it is possible some spots in the blue zone get some slushy stickage on the pavement.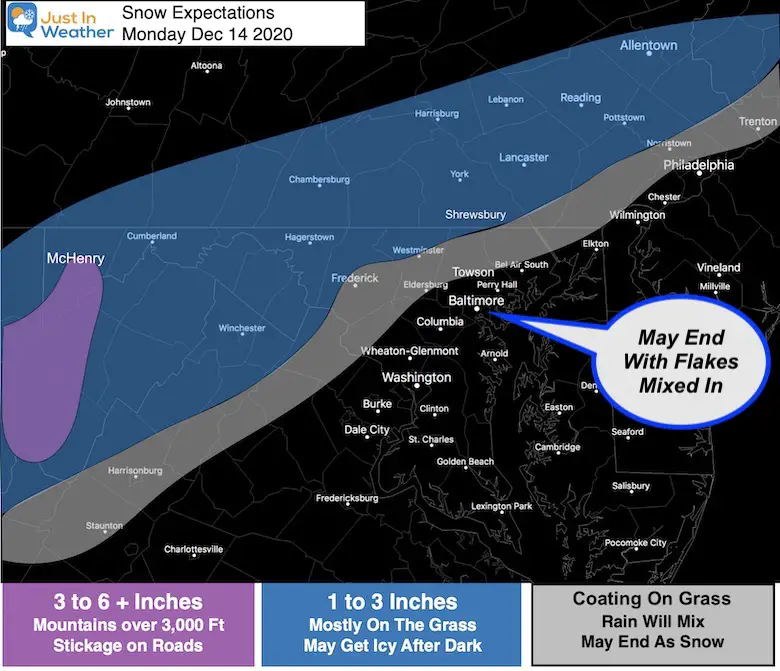 Temperatures At Night
This may be a situation where there is snow on the grass or ground, there could be some ice forming.
I told my clients with properties in the northern zones, that they may need to salt after this event.
This cold air will help to chill the ground more for the big show on Wednesday.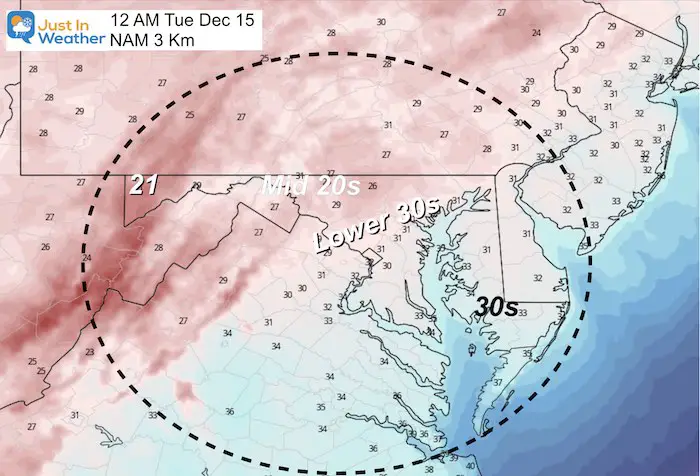 Next Up: The Coastal Storm Wednesday into Thursday
Do you see a weather app on your phone with a big snowflake? Did you read about high accumulation?
I don't believe it!  One concern I have is the wind direction and the warm water on the Bay and Atlantic. That may influence the storm, and east into snow potential. That just happened to Boston with their storm last week. Snow in the city and by the water was a lot less than all models and local forecasters projected.
It's important to take notes from that and how the Monday event behaves for us before making my call for snowfall.
Radar Simulation —> slider
I still think the European Model has the best solution. The American GFS and Canadian GEM are colder and thus showing more snow for the cities. But we must respect the warm water nearby.
Timeline is a little later. Development during the afternoon and evening. The bulk of the snow impact will be at night and early Thursday morning.
There will be snow for the cities and even Delmarva for the back half of the event.
How Much Snow?
I DO NOT believe in giving snow totals more than 72 hours ahead of an event. My first call for snowfall will be ready Sunday evening, but the Monday event might take priority.
Temperature Outlook
The pattern will turn colder, and remain cold after the snow. This will be the result of snow cover on the ground. It will also be thanks to the upper level pattern NOT agreeing with the NOAA warm outlook for this month.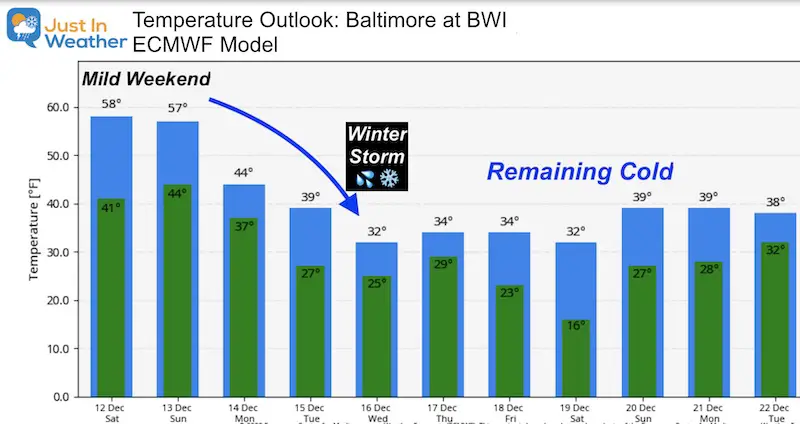 Last Minute Gift Idea
Special on SnowStix until Noon Sunday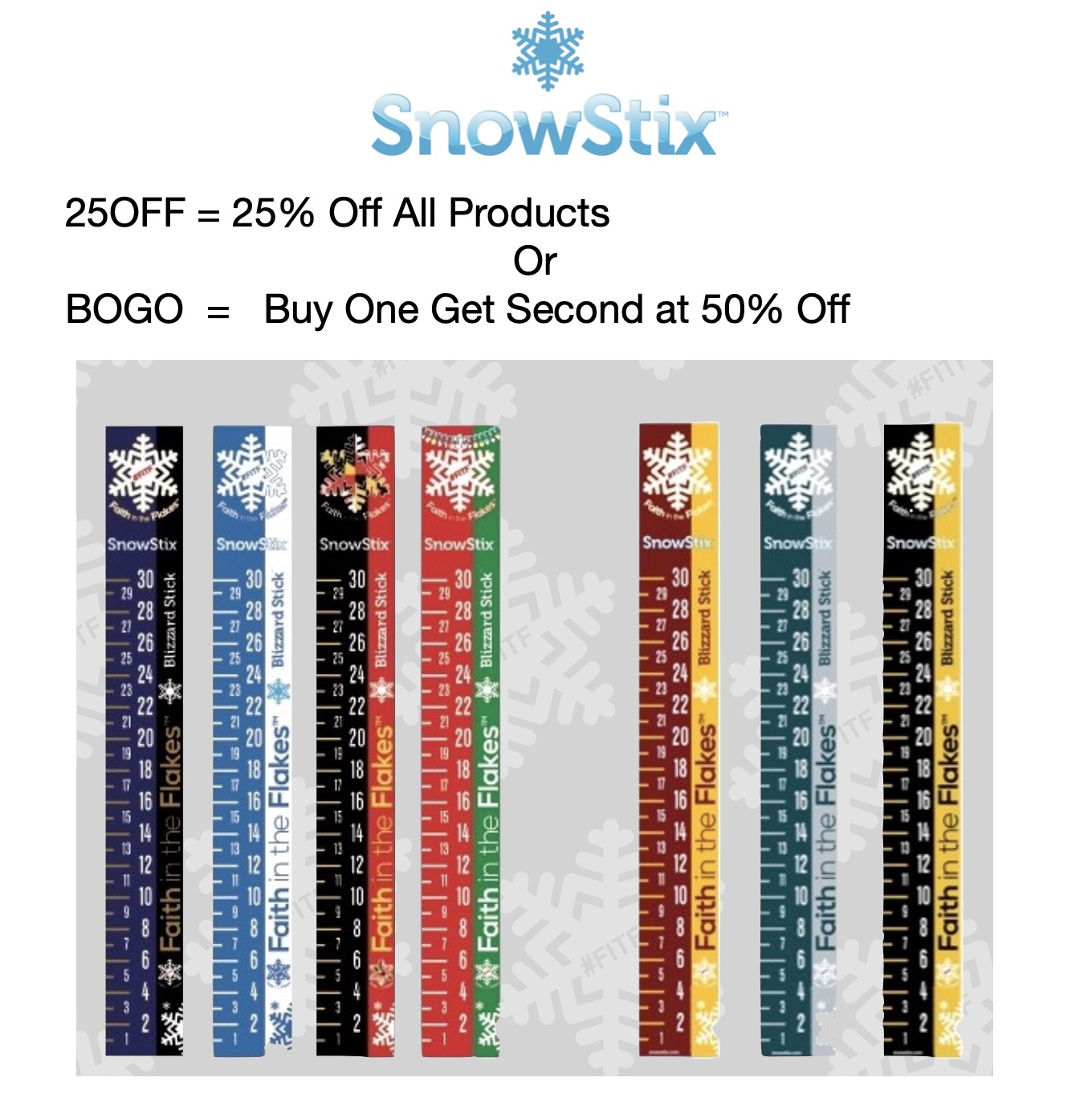 FITF Shop Open
My 'bonus' daughter Jaiden is showing off our popular Maryland Hoodie. Click here to see this and many other new items.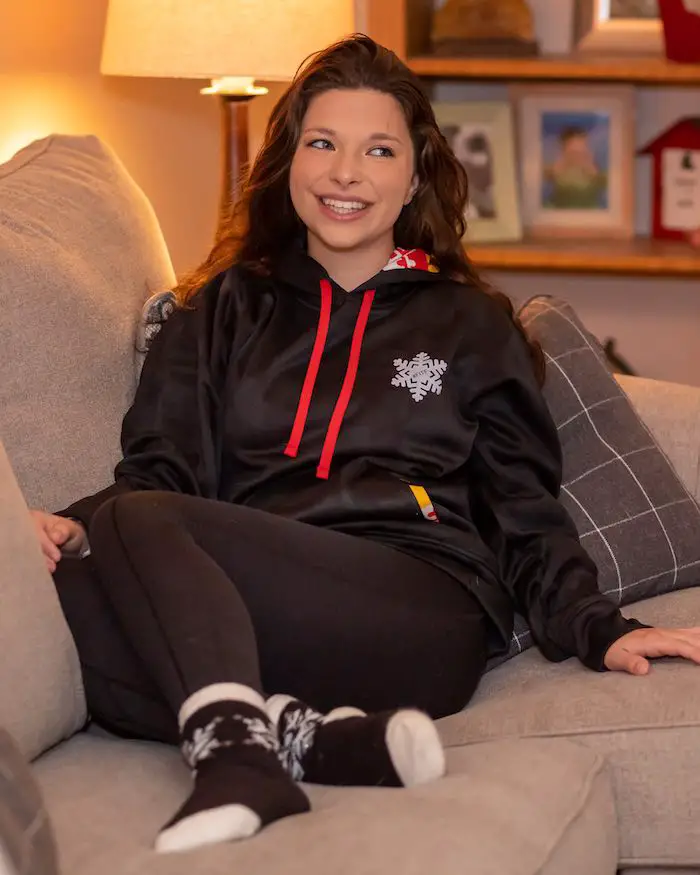 YOUR INTERACTIVE WEATHER PAGES
14 Local Maryland Pages (and York PA)
We have made a page for Maryland Weather which gives you the current conditions for 14 present area locations.
Local Hourly Forecasts and Local Radar
Central Maryland
Delmarva
Pennsylvania

Maryland Weather Page
I wanted to keep it simple. Just the basics for a quick view at any time.
Please share your thoughts, best weather pics/video, or just keep in touch via social media
---
Email Updates
Please make sure you sign up (above or click here to sign up for email alerts…. ) for my newsletter. This way you will get an email to make sure you are notified of each post.
---
Just In Power Kids:
A portion of proceeds go to our programs Providing FREE holistic care for kids in cancer treatment and up to 5 years post treatment and caregivers.
New Caps and Hats