Thursday December 10 2020
For the past couple of days I have included a small glimpse at a possible winter storm next week.  I did this to shed some light that the computer modeling in long range has an error, which would result in each new forecast (to a certain point) shifting the storm track farther south and east.
Should a storm initially have snow inland and track over our region, it may end up verifying east with the snow possibly affecting our region.  That is what we see now, with the potential for accumulating snow and ice impacting our region next Wednesday. Tonight we have a Hanukkah gift to make up for the diminished northern lights opportunity.
Below you can see how 2 out of 3 computer models agree. (Cue the old Trident commercial)
But this is 6 Days away, and there will be more adjustments.  In fact, this is the 3rd event in line over the next week, with each one playing a role in the one that follows.
Busy Week Ahead
Storm 1: Friday to Sunday this will track well north, and help to bring us temps in the 60s.
Storm 2: Sunday to Monday will track well south and miss us.
Storm 3 : Wednesday we 'could' see development off the coast after phasing with the northern Jet.
There are a lot of 'IFs' to get this to happen.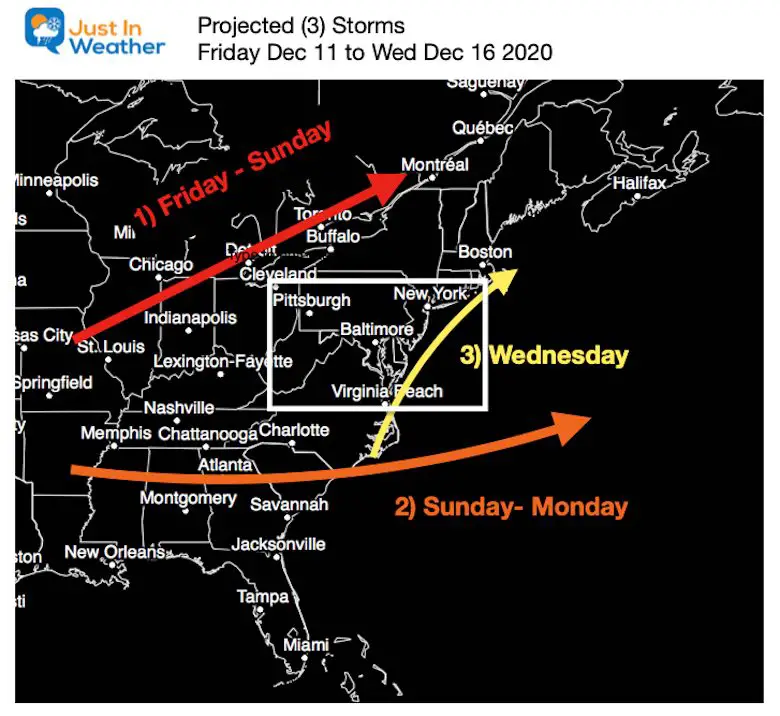 Storm Animation: GFS Model
Here is a look at the storms in motion. Note that this is just the GFS Model, and not all models have the same results.
Below we will take a closer look at the GFS timeframes, and compare to the European ECMWF and Canadian GEM Models.
Friday Evening To Wednesday Night
The Jet Stream Next Wednesday 
A vigorous and deep trough is what is expected to allow some 'phasing' for the 3rd storm as a strong coastal.
Closer Look at the GFS Model —> slider
This is the most aggressive solution for this storm.
See the development of steady, and even heavy snow (dark blue) that includes Baltimore, Washington, eventually Annapolis and northern Delmarva.
Compare this to the two other models below.
European ECMWF Model
In a perfect world, this is a more likely result of a coastal storm in this environment and this time of year.
One thing I will watch as we get closer, besides if this track holds… will be the temperatures on the Chesapeake Bay. Most of the early winter events it can play a big role in warming nearby area away from snow.
ECMWF Forecast for 7 PM Wed Dec 16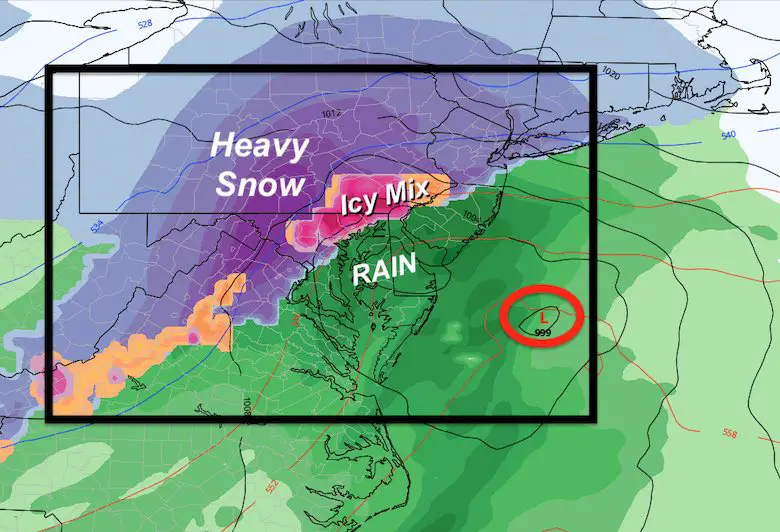 Canadian GEM Model
Meanwhile, our winter friend The Canadian doesn't show the storm at all. At least on this morning's run.  It will likely catch up in come capacity over the next few days.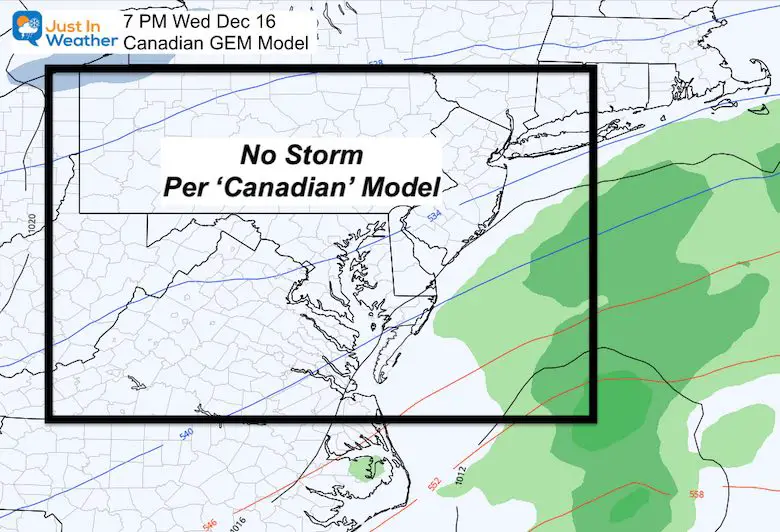 My Take
While this is under 6 days away, it is still a medium to ling range forecast.
Is it OK to get excited? Sort of!
I got excited with the agreement and trend.  However, I would NEVER promise anything at this juncture in time.
I will NEVER give suggestions of snow totals this far away.
I will not show snow total products from these models because I do not believe it is realistic at this time.
I will follow this for you with updates and comparative trends each day.
My winter protocol: Snow amounts (when justified) begin as a low end confidence number within 72 hours.  Then Snowfall Ranges within 48 hours of the event.
Faith in the Flakes! We are due this winter.
FITF Shop Open
My 'bonus' daughter Jaiden is showing off our popular unisex Maryland Hoodie. My wife joins her below to show of our new Ladies Hoodies.
Click here to see this and many other new items.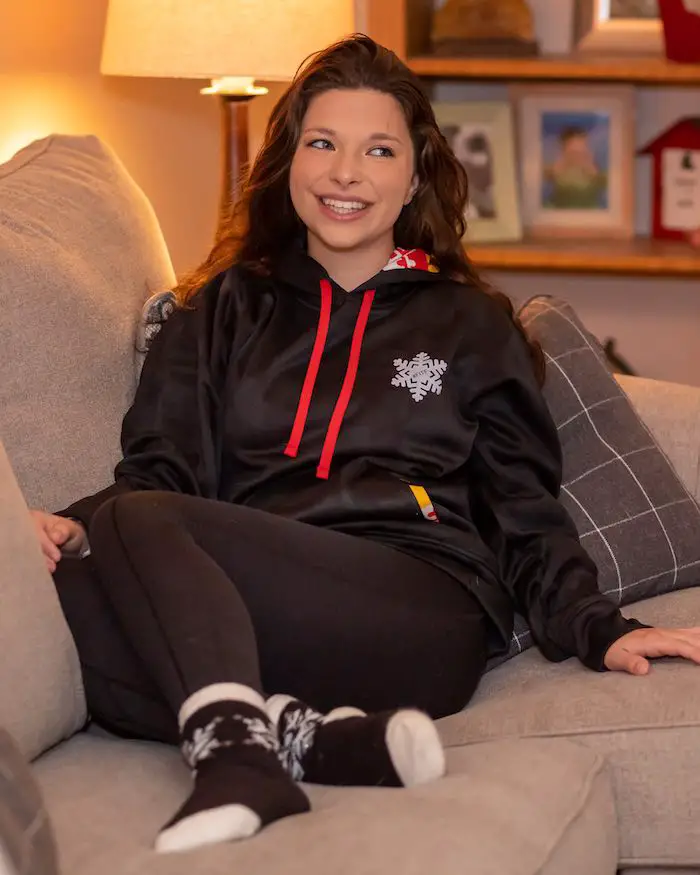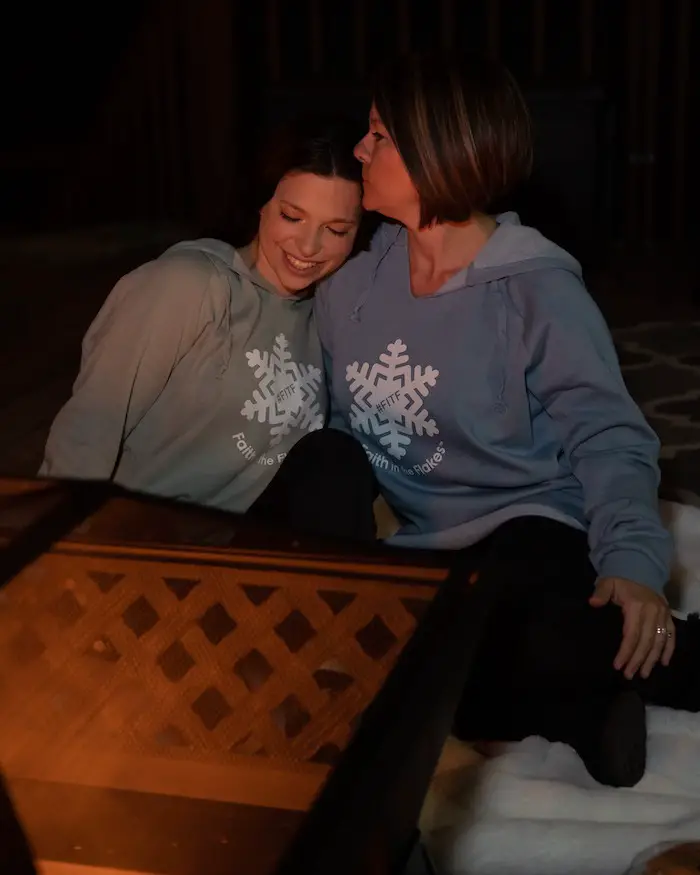 YOUR INTERACTIVE WEATHER PAGES
14 Local Maryland Pages (and York PA)
We have made a page for Maryland Weather which gives you the current conditions for 14 present area locations.
Local Hourly Forecasts and Local Radar
Central Maryland
Delmarva
Pennsylvania

Maryland Weather Page
I wanted to keep it simple. Just the basics for a quick view at any time.
Please share your thoughts, best weather pics/video, or just keep in touch via social media
---
Email Updates
Please make sure you sign up (above or click here to sign up for email alerts…. ) for my newsletter. This way you will get an email to make sure you are notified of each post.
---
Just In Power Kids:
A portion of proceeds go to our programs Providing FREE holistic care for kids in cancer treatment and up to 5 years post treatment and caregivers.
New Caps and Hats