Thursday December 10
The weather will be clear and turning warmer for a few days. This will make the afternoons more comfortable, and allow the opportunity to view the potential northern lights tonight.  Even if we miss the aurora, the view of Jupiter and Saturn should be great as they approach their closest conjunction in centuries.
This weekend will bring some rain showers, but the timing may be mostly overnight.  Of bigger curiosity is the European Model now showing a coastal storm with snow and a wintry mix next week. Below is a 6 Day forecast and this is close enough now to take seriously.
Morning Surface Weather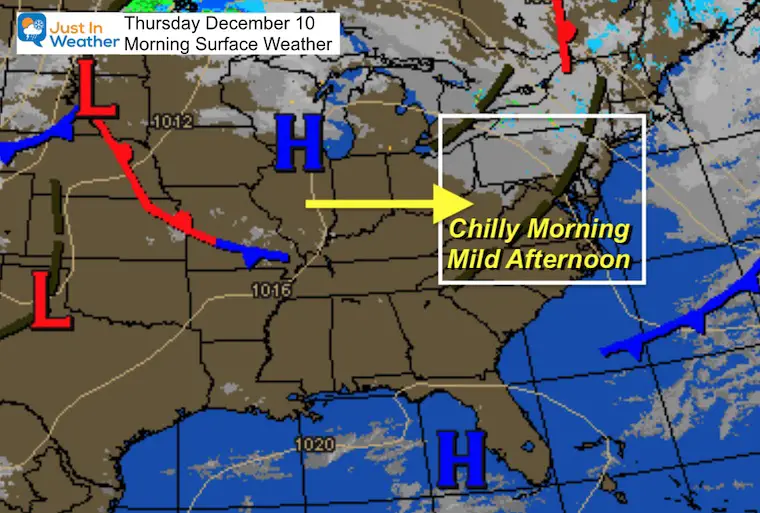 Morning Temperatures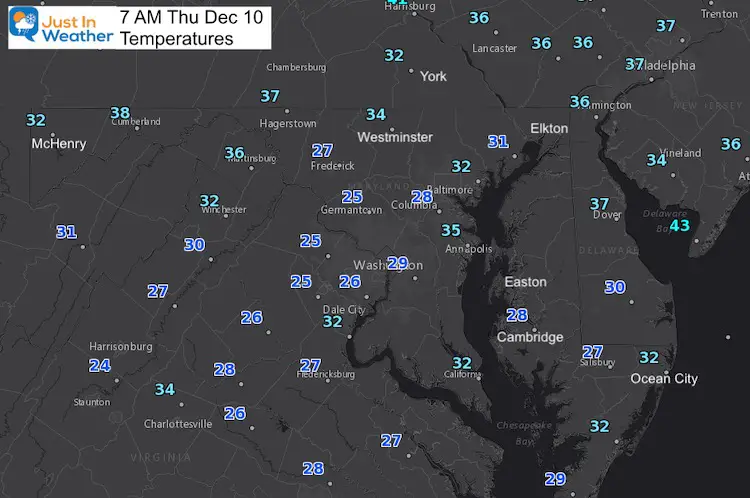 Afternoon Forecast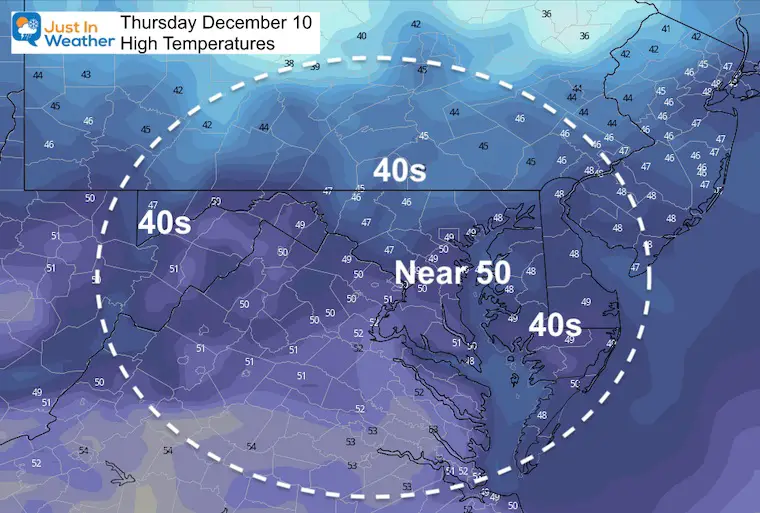 Tonight Clear: 'Possible' Northern Lights and Festival of Lights
The sky will cooperate, but will the space weather?  After posting this article on the solar flare and Geomagnetic Storm Watch, there has been a lot of interest.
Festival of Lights: Hanukkah begins tonight.
There is no guarantee ever for viewing of the aurora. But our region is on the edge of where it may be possible. I will have an update later today.
The view of Jupiter and Saturn will be visible and a very impressive sight.
Click here to see more: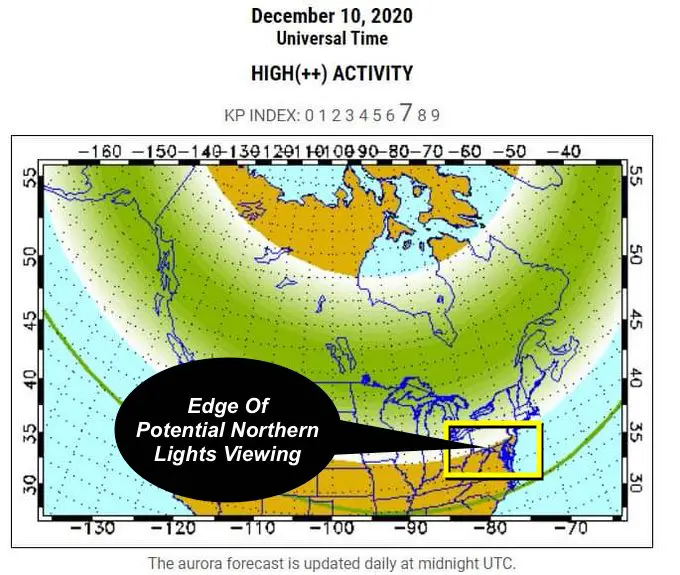 Forecast Snapshot 
Weekend weather: Warming with rain showers Saturday, but steady rain at night.
Sunday will be up near 60ºF, before it turns cold again next week.

Friday Weather:
It will be clear again. Starting chilly and ending warmer.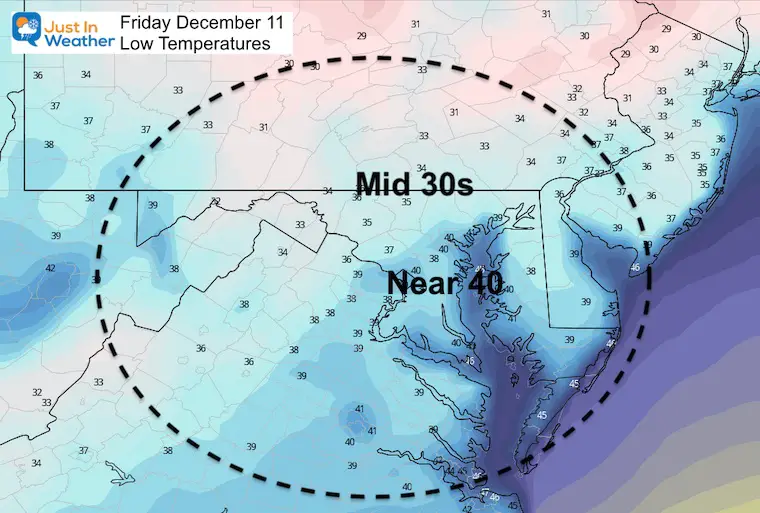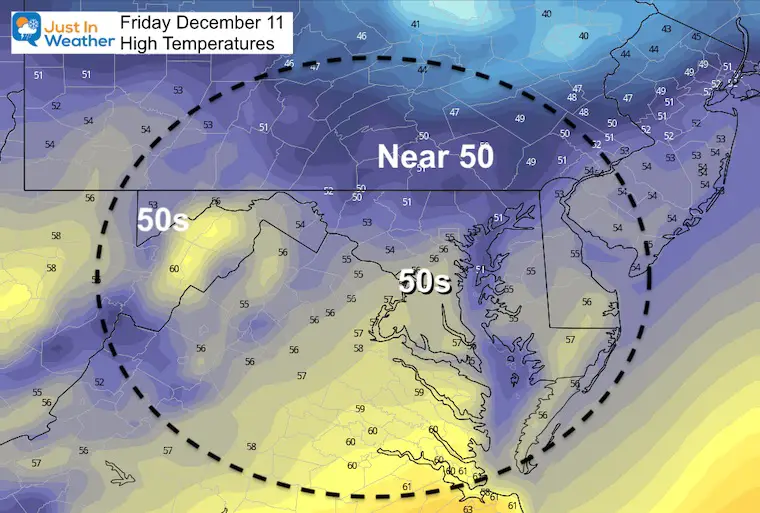 Storm Animation: Saturday Through Wednesday 
This GFS Model shows the Low Pressure well to our west. This will bring some rain showers on Saturday, but the best chance for rain will be Saturday night.  After the storm passes, Sunday will be warming into the 60s. THEN we cool back down again.
Wednesday appears to being a stronger and closer storm. See the European Model below for what looks like a colder solution.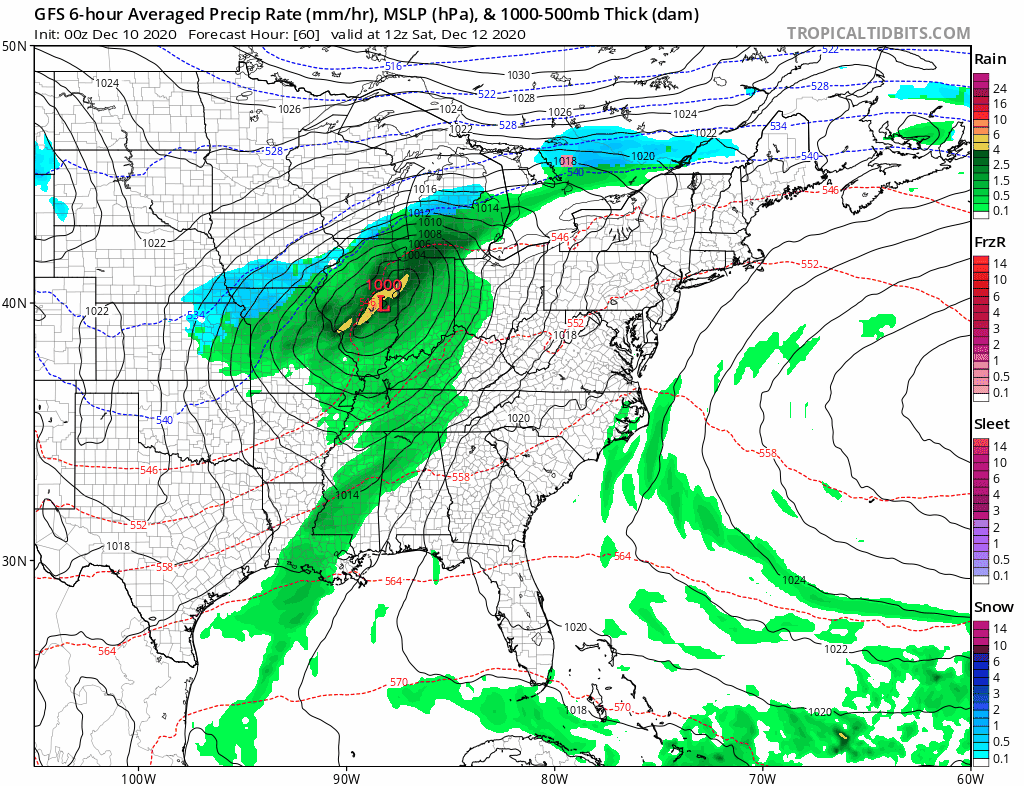 Next Wednesday: European Model
This solution is colder with strong Low Pressure passing across the southern Chesapeake Bay.  It is rare a 6 Day forecast works out precisely, but this is worth our attention. The trend for storms has been to arrive earlier AND move east/south. If so, other models should catch on and this could verify farther south and colder.
Stay tuned…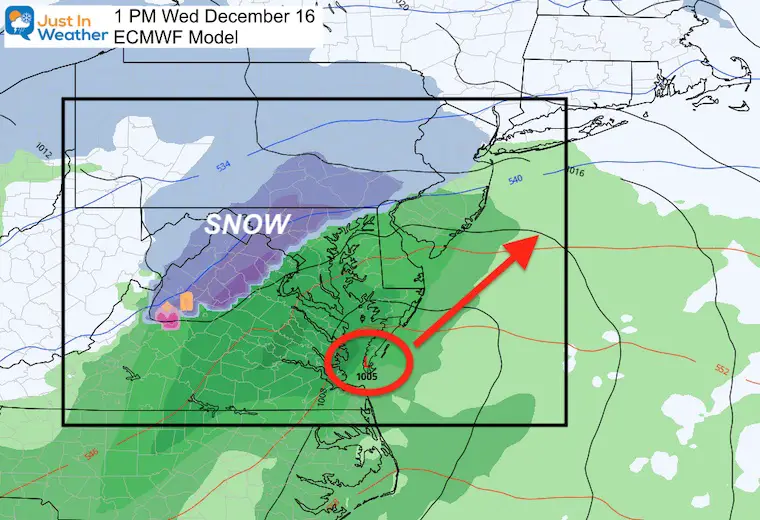 Temperature Outlook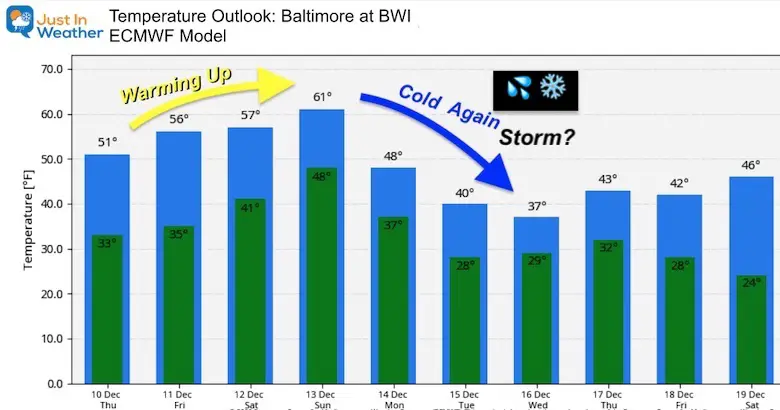 FITF Shop Open
My 'bonus' daughter Jaiden is showing off our popular Maryland Hoodie. Click here to see this and many other new items.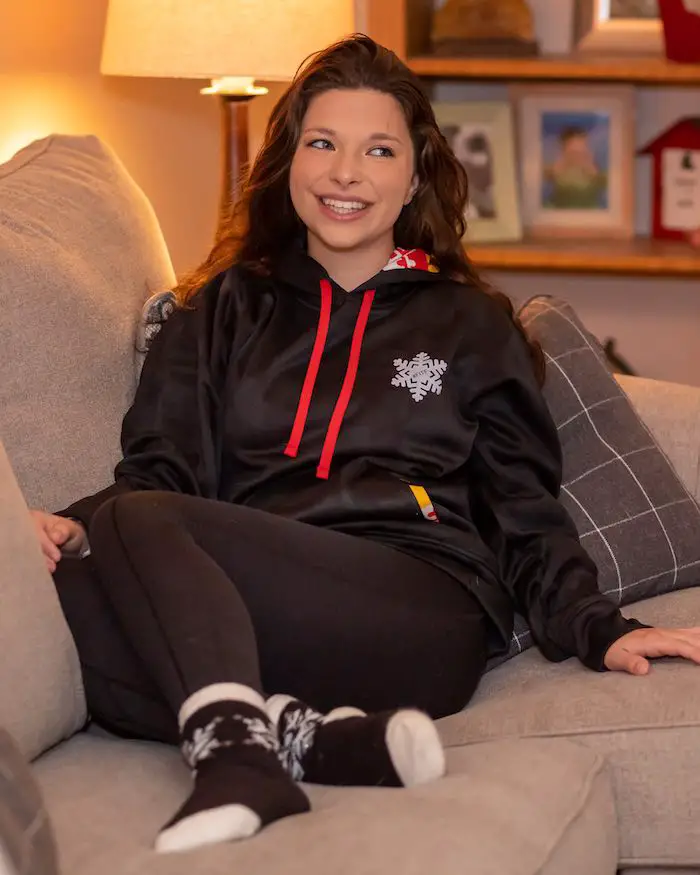 YOUR INTERACTIVE WEATHER PAGES
14 Local Maryland Pages (and York PA)
We have made a page for Maryland Weather which gives you the current conditions for 14 present area locations.
Local Hourly Forecasts and Local Radar
Central Maryland
Delmarva
Pennsylvania

Maryland Weather Page
I wanted to keep it simple. Just the basics for a quick view at any time.
Please share your thoughts, best weather pics/video, or just keep in touch via social media
---
Email Updates
Please make sure you sign up (above or click here to sign up for email alerts…. ) for my newsletter. This way you will get an email to make sure you are notified of each post.
---
Just In Power Kids:
A portion of proceeds go to our programs Providing FREE holistic care for kids in cancer treatment and up to 5 years post treatment and caregivers.
New Caps and Hats