Thursday December 10 2020
The solar flare and Coronal Mass Ejection (CME) on Monday was strong and prompted a Geomagnetic Storm Watch through Friday.  The initial 'shock' was observed last night. This was close to the expected time, but less intense.  Considering 3-D space, the bulk of the energy passed south of Earth.
If you think tracking a snow storm in the Mid Atlantic is difficult, predicting a CME in space and the visual display on Earth is even harder.
Planetary K index
The Kp index was a 4, but a 7 or high was what was predicted and needed for the Northern Lights to reach farther south.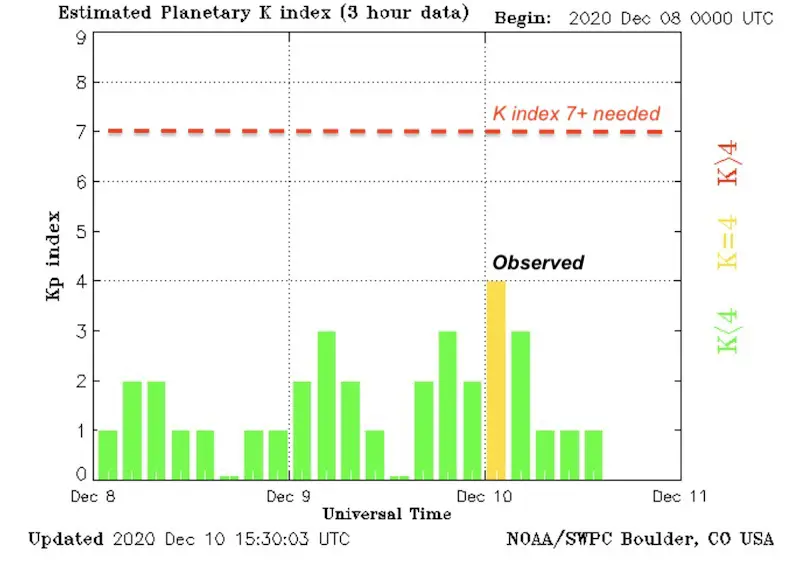 Aurora Borealis Captured
An aurora was witnessed overnight in Iceland, but it was brief as noted by Sophie Carr
As I was heading back to my guesthouse last night there was a massive whoosh of northern lights above me that lasted about a minute. Managed to just capture a bit of it before it disappeared again. No luck later 😕 #Iceland #AuroraBorealis pic.twitter.com/SNbuKLIEnk

— Sophie Carr (@SophieCarrPhoto) December 10, 2020
Offical Statement from the NOAA Space Weather Prediction Center
"Shock was observed by DSCOVR at 10/0132 UTC. It is believed this shock in the IMF was produced by the 07 Dec CME. Total field reached 16 nT while wind speeds topped out near 571 km/s, producing a period of active geomagnetic conditions. The G3 (Strong) and G2 (Moderate) geomagnetic storming  watches for 10 and 11 Dec, respectively, remain in place at this time. However, confidence in storming reaching those levels is diminishing. "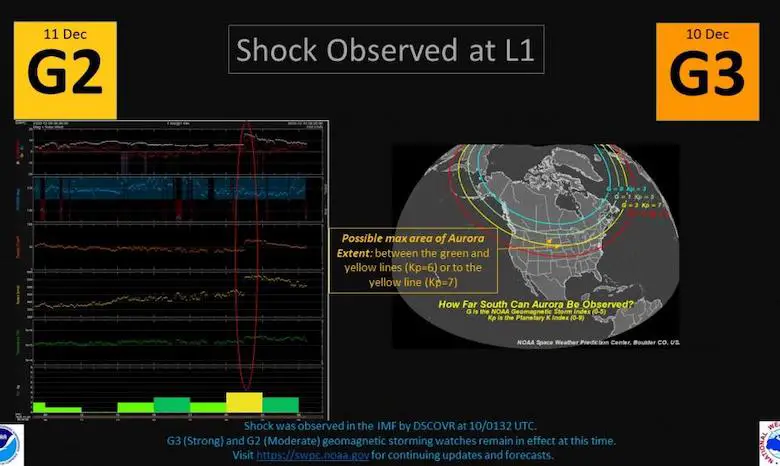 Aurora Forecast Tonight
This is just after midnight. Please note the highlighted region in green is the lights are possible. If verified, it would be visible farther south.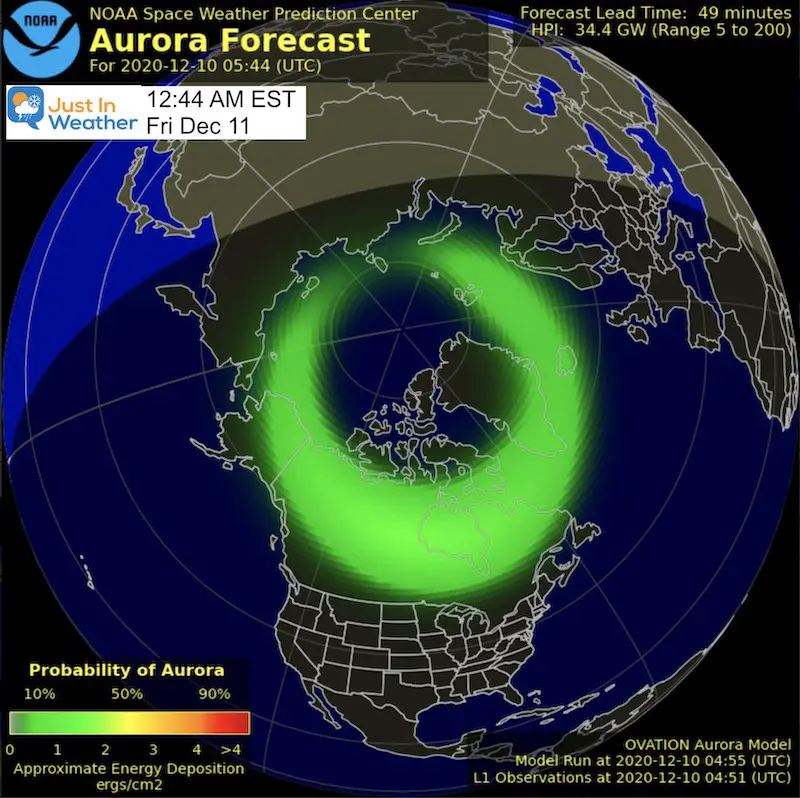 Can We See This?
There is still a Geomagnetic Storm Watch for the Northern Lights, but as noted by SWPC, the odds are diminishing.  The wake of the CME will still produce some lights, but the intensity to be carried farther south has not been shown yet.
Instead of the Pennsylvania/Maryland border, the 'edge' zone is more likely across the Pennsylvania and New York border.  In the image below, the chances increase north of the yellow line.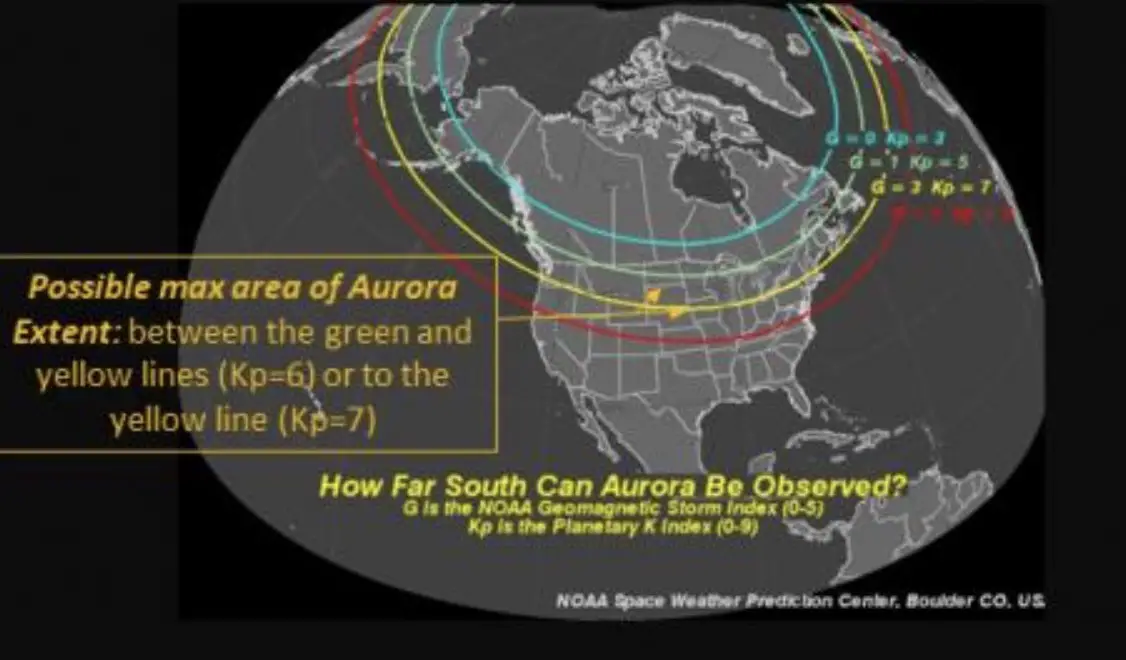 My Take:
Tonight is the start of Hanukkah, which for those celebrating is the Festival of Lights. It would be nice to have a rare treat of the northern lights reaching more in mid latitudes.
At this point, we should see images online, but maybe not outside (Mid Atlantic). I will keep monitoring. However, the clear sky will still provide a great view of Jupiter and Saturn approaching The Great Conjunction. In a few days, we start a big meteor shower as well.
Here's more on the sky shows ahead
December Climate, Sun Data, Solstice, ISS Flyovers, Moon, Planets, and The Great Conjunction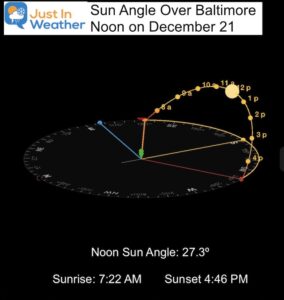 NASA Video: Space Weather and Earth's Aurora
Also See:
FITF Shop Open
My 'bonus' daughter Jaiden is showing off our popular Maryland Hoodie. Click here to see this and many other new items.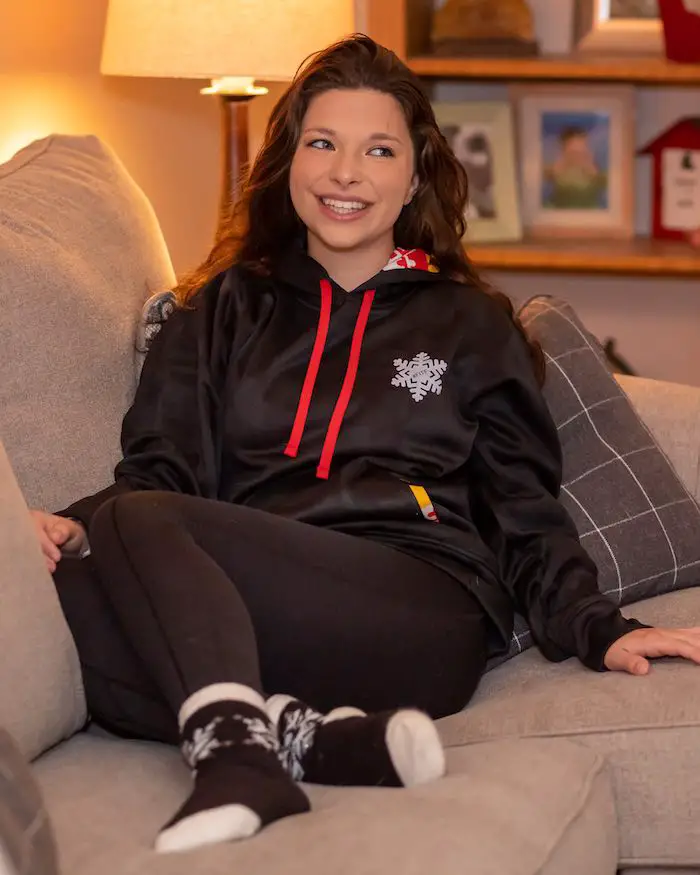 YOUR INTERACTIVE WEATHER PAGES
14 Local Maryland Pages (and York PA)
We have made a page for Maryland Weather which gives you the current conditions for 14 present area locations.
Local Hourly Forecasts and Local Radar
Central Maryland
Delmarva
Pennsylvania

Maryland Weather Page
I wanted to keep it simple. Just the basics for a quick view at any time.
Please share your thoughts, best weather pics/video, or just keep in touch via social media
---
Email Updates
Please make sure you sign up (above or click here to sign up for email alerts…. ) for my newsletter. This way you will get an email to make sure you are notified of each post.
---
Just In Power Kids:
A portion of proceeds go to our programs Providing FREE holistic care for kids in cancer treatment and up to 5 years post treatment and caregivers.
New Caps and Hats