December 8 2020
For the last two days I had written about a chance for light snow or flurries for our northern counties on Wednesday morning. I know some thought I was crazy or even hyping a nothing event. While I still think the light event is possible, the National Weather Service decided to post a Special Statement about it. It has stirred some excitement, and it is a little puzzling.
National Weather Service Snow Statement:
Potential Winter Commuting Hazard Statement For Wednesday Morning Commute
This is their map and was issued for Frederick, Carrol, Baltimore (city and county), Harford, Howard, and northern Montgomery Counties in Maryland.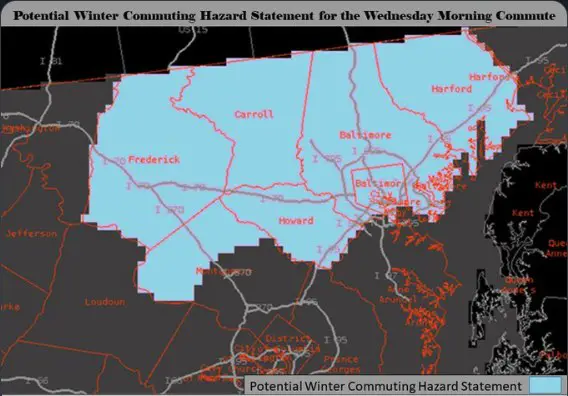 In a post on Twitter, NWS stated:
"A Potential Winter Commuting Hazard Statement has been issued for Wed's morning commute. This covers areas north of DC eastward to the Baltimore Metro up to the PA/MD state line. While confidence is low, a dusting of snow is possible which may impact morning commuters."
UPDATE Wednesday Morning:
Radar at 6:30 AM shows some snow. But is it reaching the ground? Click to see the latest weather report.
If this verifies AND IF it arrives around daybreak for the morning commute, the air should be cold enough.  Here's the forecast for 7 AM temperatures.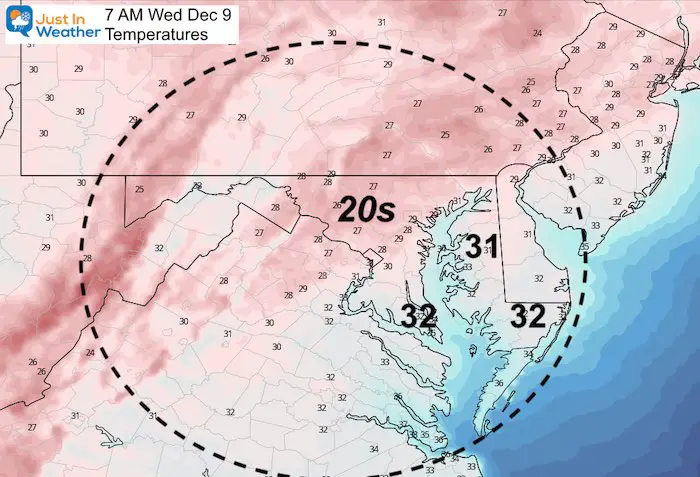 You can read full NWS statement below, but first let's explore this set up. All guidance is pointing to a later time for any chance of snow.
Evening Water Vapor Satellite
This view shows the moisture diving south-southeast from the Great Lakes. Maryland is just right of center on the lower half.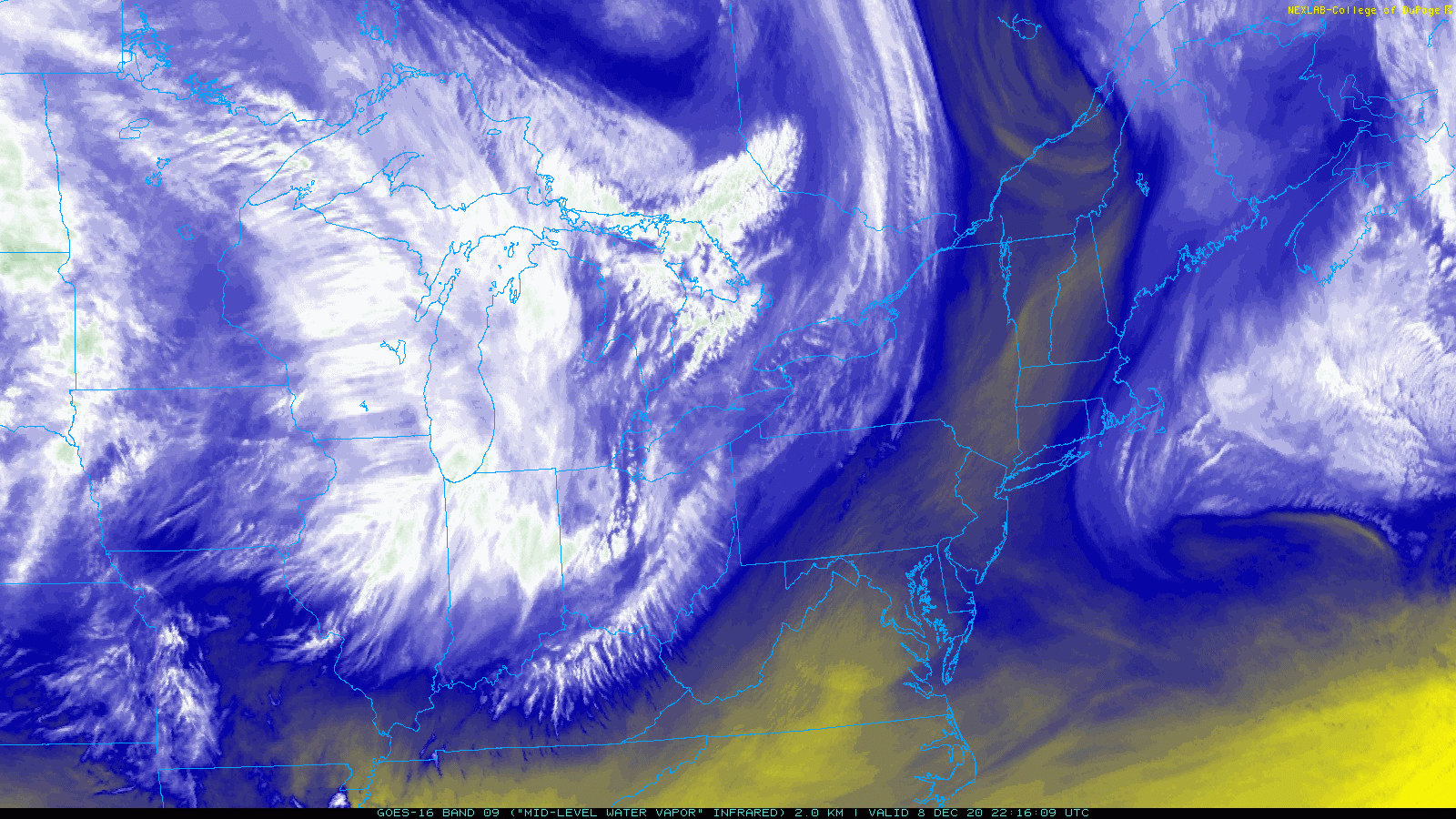 GFS Model
This still shows (as it did yesterday) the Clipper Low Pressure in Canada, with a band of light snow draped across central PA to Maryland and northern Virginia.
But notice the time stamp: 10 AM that snow is just west of the metro areas.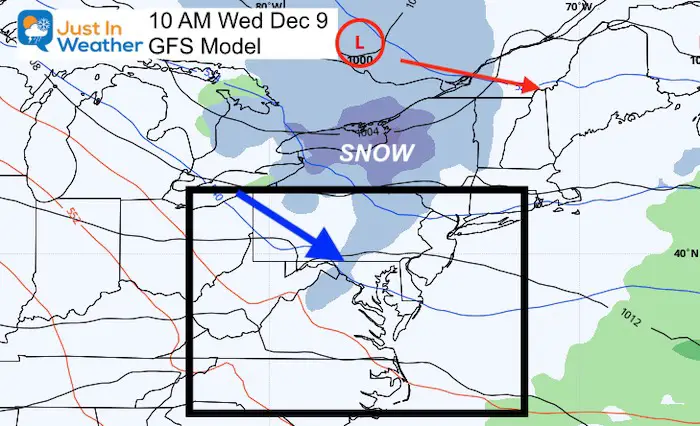 Jet Stream: Vorticity —> slider
I circled the Vort Max in each frame that should be responsible for helping generate the flurries or light snow.
Again, notice the time stamps: 10 AM to 7 PM!  This appears to be after any early morning concerns.
Closer Look At The GFS
This vantage point, again at 10 AM, shows light snow into York, PA, but breaking up that line until south of Frederick.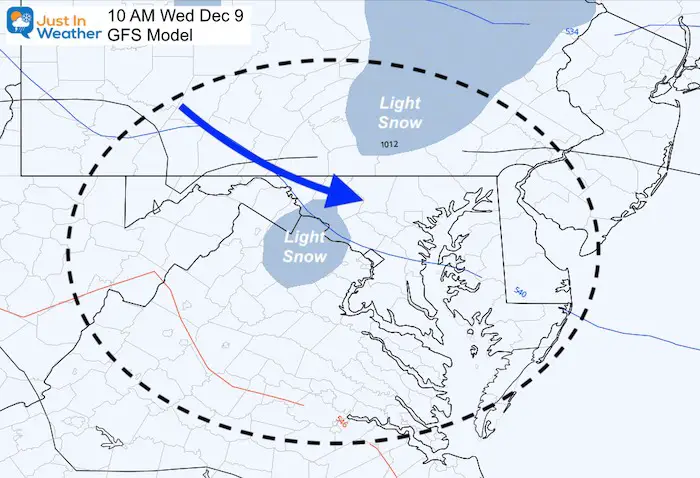 NAM 3Km Model —> slider
This product is a little more aggressive for the northern Maryland counties. But it still has a later time frame between 11 AM and 2 PM.
Temperatures
If the NAM 3Km is to verify, it would bring the band of snow after 10 AM. At that time and later, temperatures should be above freezing.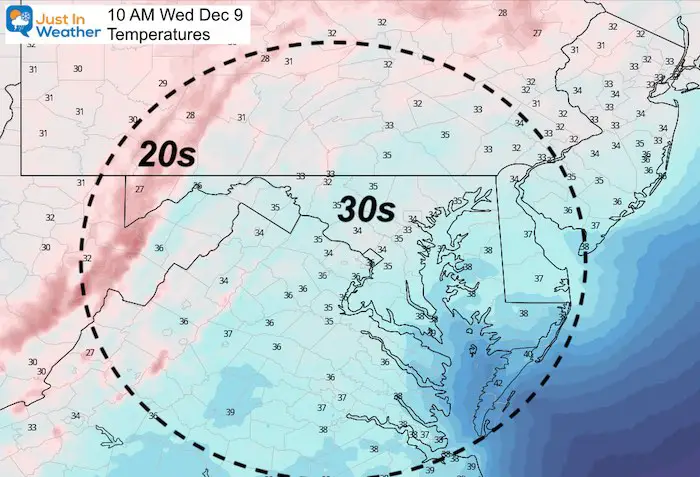 My Take:
We still have that chance for light snow, but all guidance I have seen points to a later time frame. If NWS is correct and this is earlier, they may be seeing a prefrontal convergence aloft the models are missing.
IF this verifies, it will be light.  So for road impact and stickage the timing will be critical. Otherwise we get the ambiance flakes many of us have been waiting for.
I will be up early in the morning to update any progress on radar for you.  Of course this also depends on if you need to leave the house and get to work on location like most of us use to do.
Full National Weather Service Statement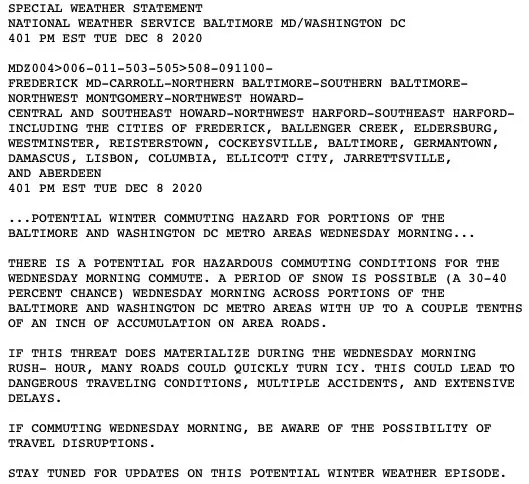 FITF Shop Open
My 'bonus' daughter Jaiden is showing off our popular Maryland Hoodie. Click here to see this and many other new items.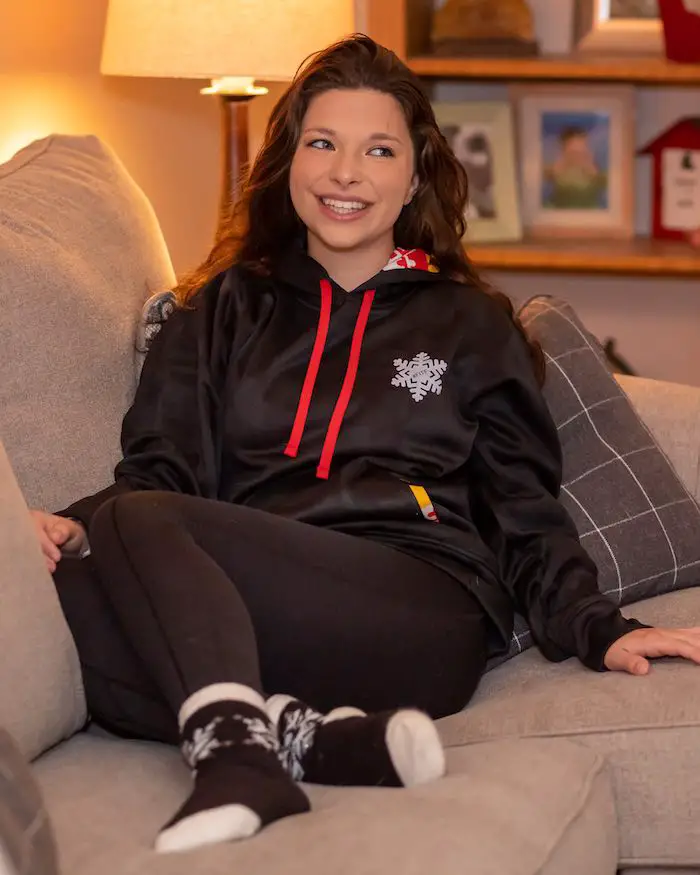 YOUR INTERACTIVE WEATHER PAGES
14 Local Maryland Pages (and York PA)
We have made a page for Maryland Weather which gives you the current conditions for 14 present area locations.
Local Hourly Forecasts and Local Radar
Central Maryland
Delmarva
Pennsylvania

Maryland Weather Page
I wanted to keep it simple. Just the basics for a quick view at any time.
Please share your thoughts, best weather pics/video, or just keep in touch via social media
---
Email Updates
Please make sure you sign up (above or click here to sign up for email alerts…. ) for my newsletter. This way you will get an email to make sure you are notified of each post.
---
Just In Power Kids:
A portion of proceeds go to our programs Providing FREE holistic care for kids in cancer treatment and up to 5 years post treatment and caregivers.
New Caps and Hats