Saturday November 28 2020
I was all set to start applying the new winter pattern and snow to real events next week, plus the chance for flakes to reach central Maryland. We will have two storms to decipher.  But I do need to add some context first. Then the new models maps below.
The Baltimore Ravens have one of the largest outbreaks of COVID-19 in professional sports.  Their Thanksgiving Night game with the Steelers was postponed due a growing list of Ravens players that tested positive. The game was pushed to Sunday, and then again to Tuesday night. That is when the new winter pattern will kick in. With the game in Pittsburgh, there will be snow! (see the maps below).
That game may be in jeopardy. The Ravens have 18 players on the COVID-19 reserve list, including Quarterback and last year's MVP Lamar Jackson. The Steelers just added starting back James Conner to their list of 4.  This is a serious concern for all involved, and should not be dismissed. My focus on this site however is about the weather.
As of this time (Saturday night), there has not been another postponement. So, if the game is on, there should be snow.
Weather:
Let's take a look at the first of two storms.
This is the one building in the Gulf and will reach us on Monday with moderate to heavy rain.  The cold air will follow on Tuesday.
Storm 1 Animation
See the key time frame snapshots below.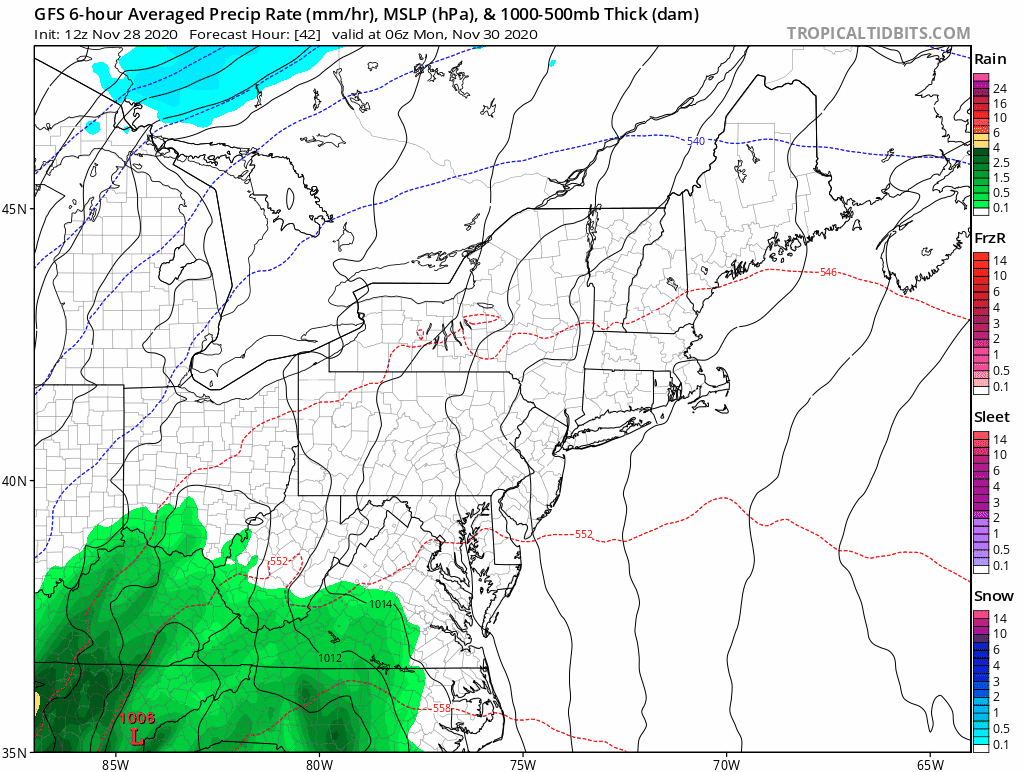 Key Time Frames
Tuesday Morning
I've shown the larger view to highlight the large impact of the cold air. That blue line represents where the expected freezing line at cloud level will reach.
While central Maryland has green (rain) at the end of the storm, the cold air aloft could mix in snowflakes the model is not determining yet.
Blue shading shows moderate to heavy snow showers across the Great Lakes into the mountains of western Pennsylvania, Maryland and WV.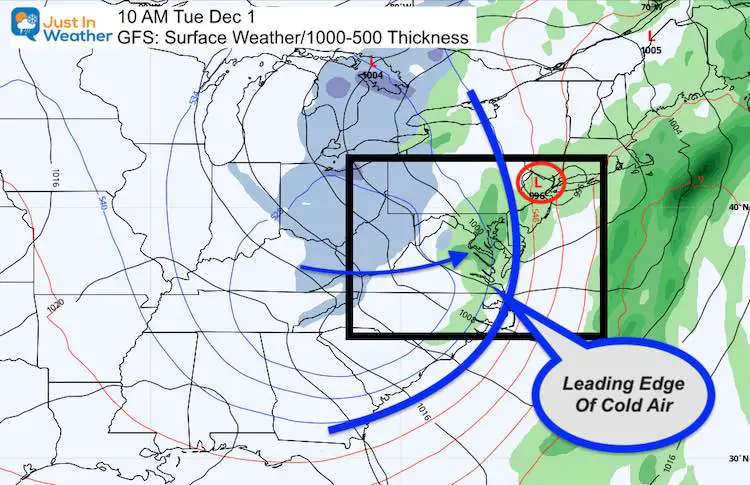 Tuesday Afternoon Jet Stream
This is the 'vorticity' or spin around 18,000 Ft aloft. This is a signal of the energy with the storm.  Here I've highlighted the Vort Max with an 'X'. That suggests a push of energy over the mountains that can support snow showers into parts of central Maryland.  The larger flow keeps the snow streamers from the Great Lakes.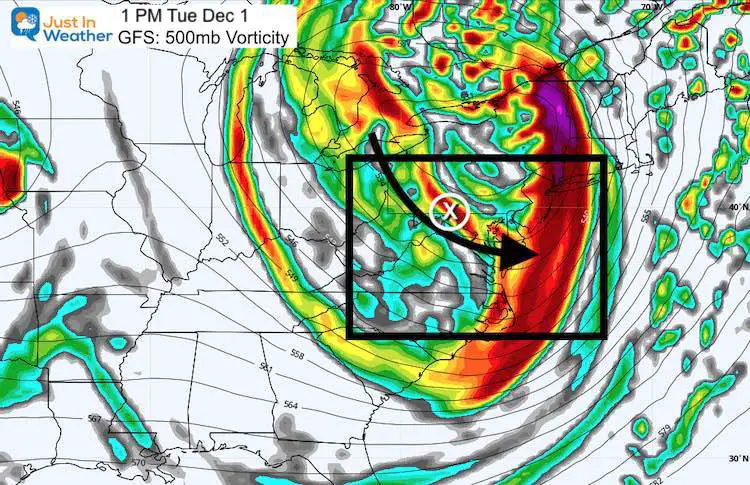 Tuesday Night
This would be close to the game time, and Pittsburgh is still in the influence of Lake Effect Snow showers.
If the COVID-19 situation was not a factor, I would suggest this could be a fun distraction to watch while the Ravens fading season is on the line.
Yes, this time frame could also carry flurries or snow showers into parts of metro Baltimore.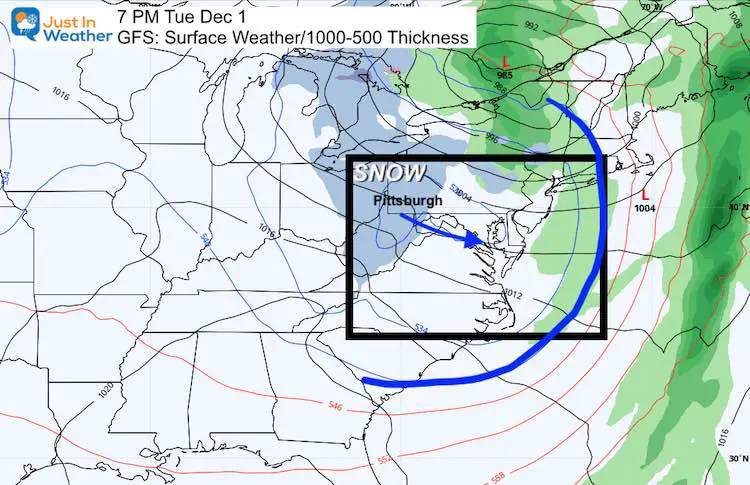 Storm 2 Animation
Let's skip ahead to next weekend, even though there could be some other disturbances with snow showers during the week.
Here is Saturday and Sunday with a storm set up that looks very similar to the first event.  The difference this time is that the core of cold air dives south, after the initial cold surge has been established. I am not sure the models are still able to handle this well, but this is the best we have for now…
See the key time frame snapshots below.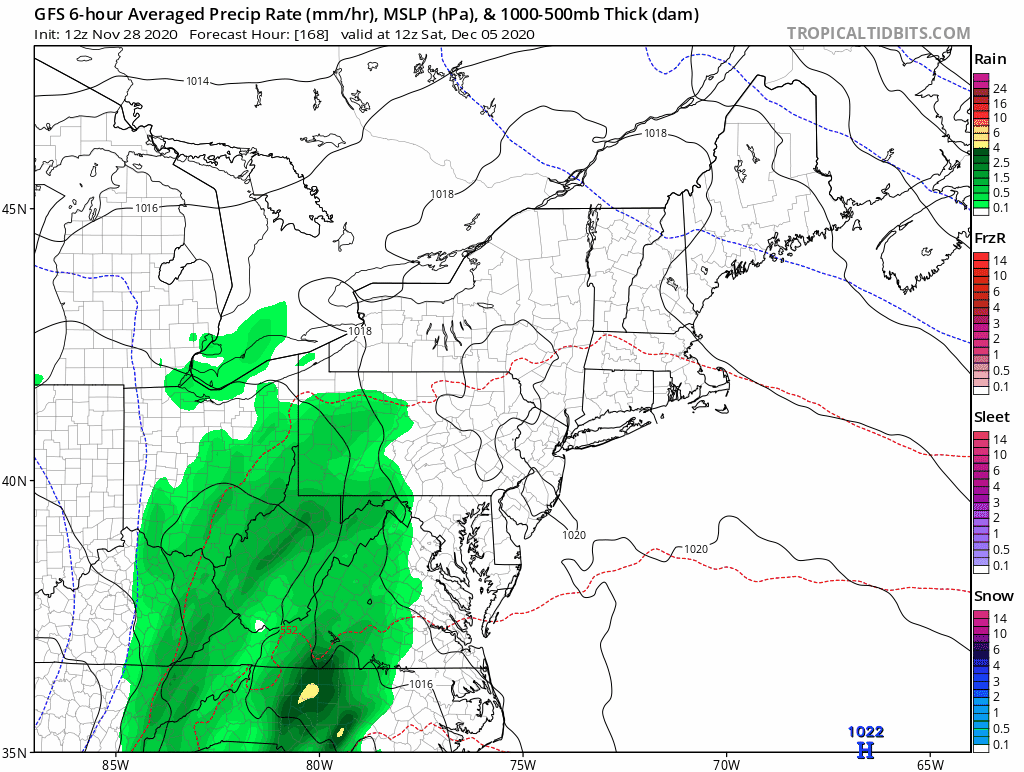 Saturday Afternoon
This will be a complex event. Low Pressure appears to be along the NC coast. This will move east into the Atlantic, but the upper level pattern will appear to pull the main energy back inland. A primary Low should take over in Pennsylvania.
The Cold Core of the upper level Low will be over western Tennessee and moving east to catch up to the storm.
For us: Heavy Rain.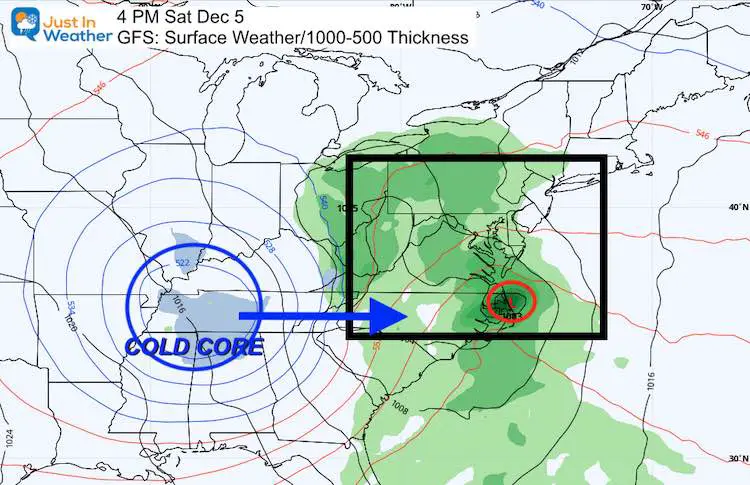 Sunday (early) Morning
The overnight/ pre-dawn set up shows the Cold Core pulling south of the main storm. It could be colder in Charlotte, NC than Baltimore at this time.  But, the upper level cold air will be forcing rain to switch to snow in the mountains.
This will need to be fine tuned as we get closer, but the mix could reach central Maryland.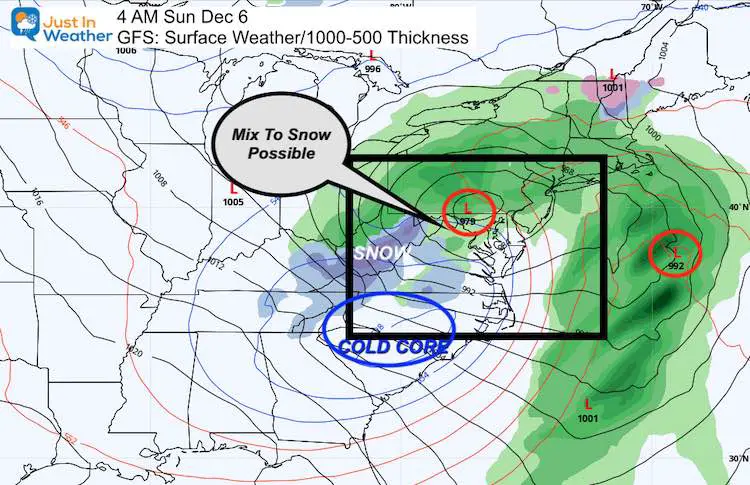 Sunday (late) Morning
After daybreak, the cold core reaches our region. While the GFS shows rain for us, the temperatures at cloud level disagree.  I do suspect this will evolve and be adjusted as we get closer. But, IF this was the set-up that verifies, I would suggest may in metro Baltimore would see a mix with or change to snow at the end of the storm.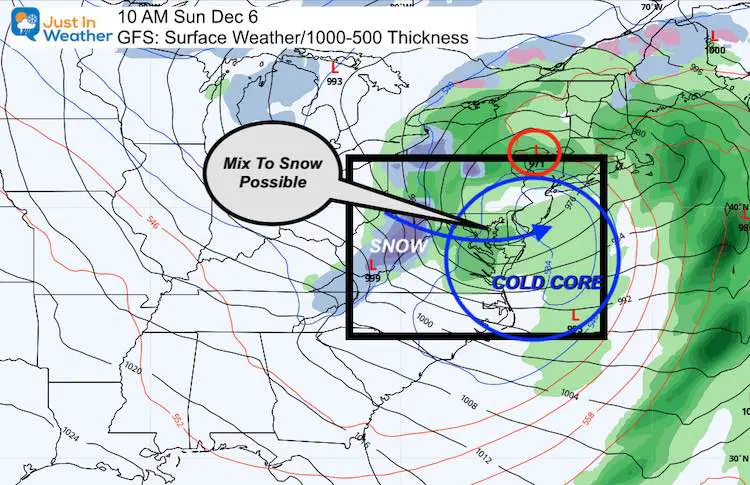 Outlook: There Is MORE In The Pipeline
The pattern really looks good for cold air, and continues to show reinforcements.  It would be hard to not see snow before Christmas for much of our region with this.
Here is the Jet Stream for December 10. This shows a trough dominating the eastern US.  That in December is very conducive to cold air and snow.  Got Faith in the Flakes?  Stand by.
#FITF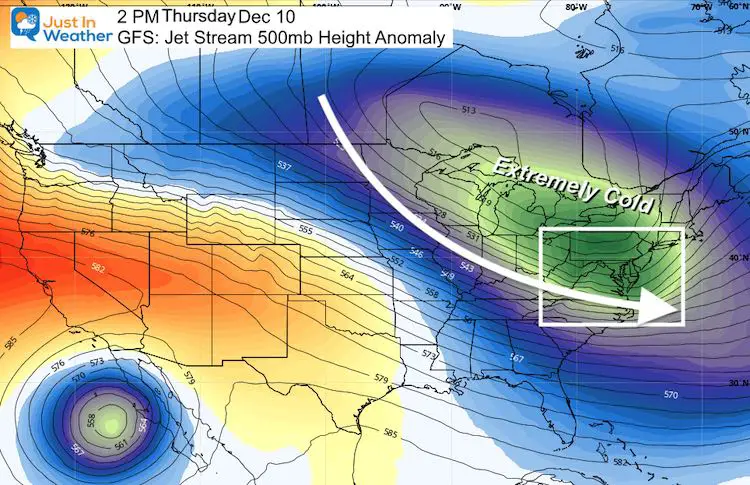 HOLIDAY SALE
ON ALL #FITF Apparel
Now Through December 1  ALL ITEMS are 20% OFF.
At Checkout use promo code:  SNOW20
Explore the site for Hoodies, hats, pants, kids stuff, and Snow Day Kits. This Faith in the Flakes thing began in with my son back in 2009 and you help keep it going. Thank you for your support and the over 300 schools who have invited me in for winter weather education programs.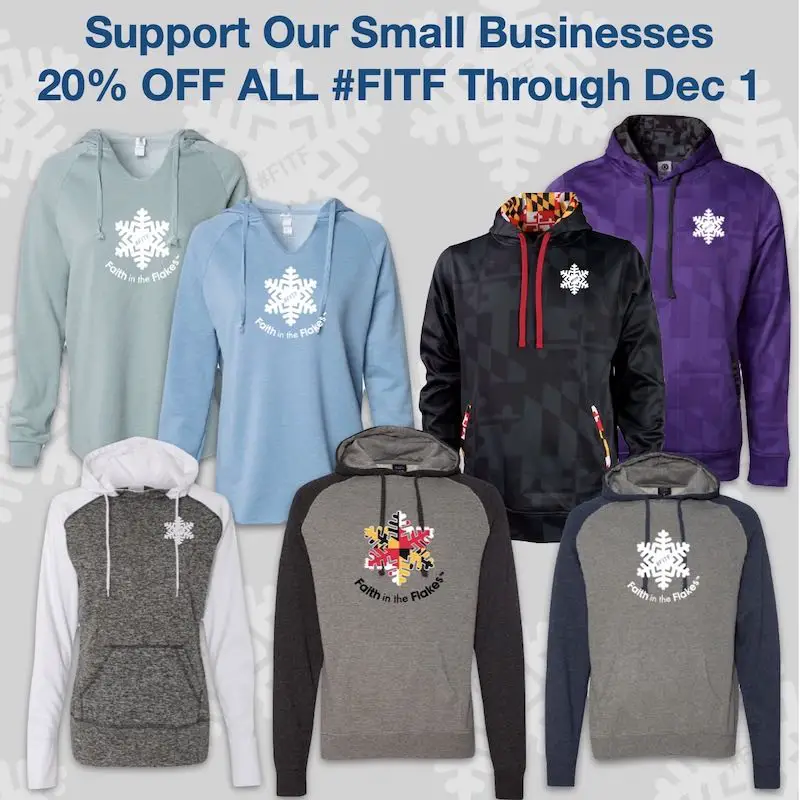 I am a small business. Part of that is selling clothing that is produced and shipped by another small business in Carroll County: Maryland Print House.
We've joined forced and want to thank you for your support.
New Caps and Hats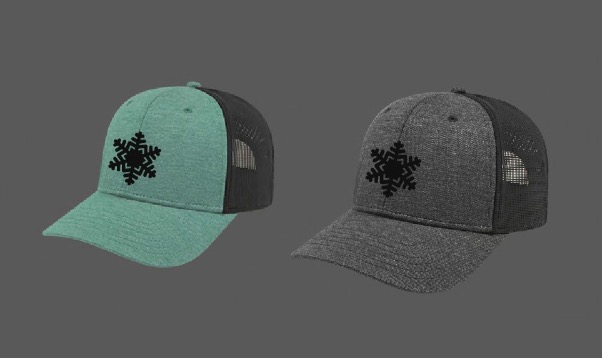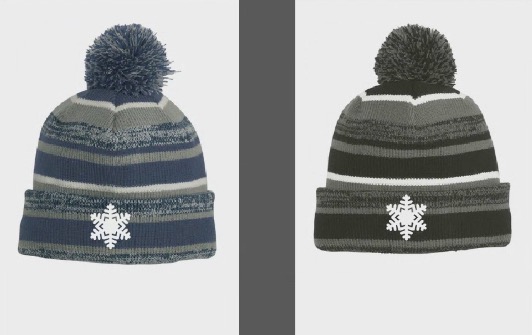 Also See:

My Final Winter Outlook: Snow Forecast

FAITH IN THE FLAKES STORE OPEN
My 'bonus' daughter Jaiden is showing off our popular Maryland Hoodie. Click here to see this and many other new items.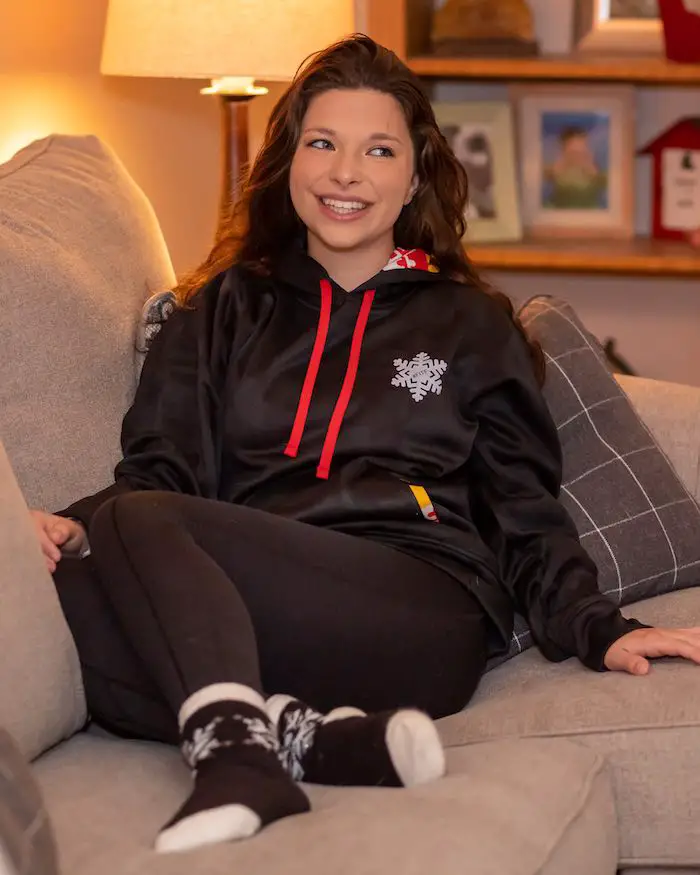 YOUR INTERACTIVE WEATHER PAGES
14 Local Maryland Pages (and York PA)
We have made a page for Maryland Weather which gives you the current conditions for 14 present area locations.
Local Hourly Forecasts and Local Radar
Central Maryland
Delmarva
Pennsylvania

Maryland Weather Page
I wanted to keep it simple. Just the basics for a quick view at any time.
Typical First Frost and Freeze
Please share your thoughts, best weather pics/video, or just keep in touch via social media
---
Email Updates
Please make sure you sign up (above or click here to sign up for email alerts…. ) for my newsletter. This way you will get an email to make sure you are notified of each post.
---
Just In Power Kids:
A portion of proceeds go to our programs Providing FREE holistic care for kids in cancer treatment and up to 5 years post treatment and caregivers.