Sunday November 29 2020
Now we have some shape to the evolving pattern. Here is the Gulf Storm, the first of many (I expect this winter).  This one will have warm air, and bring in a marginal risk for severe storms to our region.  With the contrast of this energy and the cold air to follow, heavy rain will move through. This will mostly be in the morning, then a line with some thunder and severe risk in the afternoon.
A full moon will occur on Monday. I have shown this often coincides with overachieving storms. It will play a role with enhanced tides and some shoreline flooding on the Chesapeake Bay. See the wind highlights below.
Sunday Evening Weather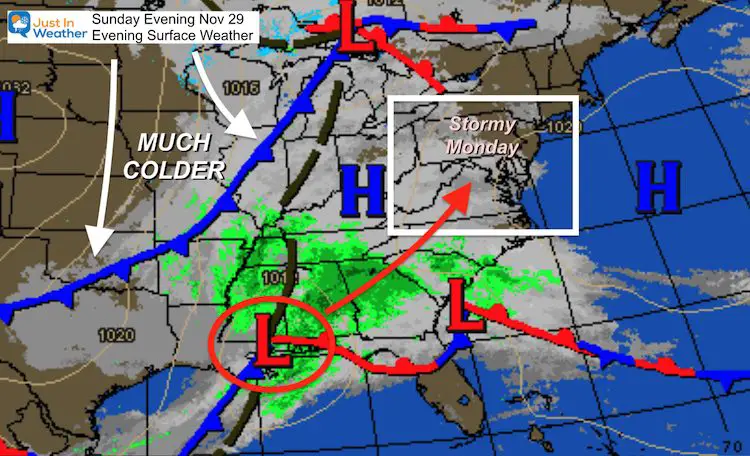 Storm Highlights
Heavy Rain
Most of the region will be within reach of 1 inch of rain during Monday.
The hourly timeline is below.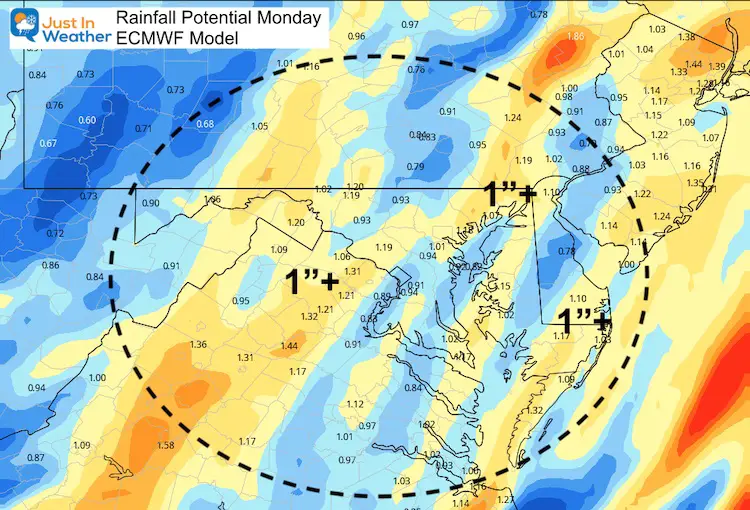 Monday Storm Risk
There will be heavy rain in the morning, then some lines of possible thunderstorms in the afternoon. With temps pushing the 60s and abrupt wind shifts with height (sheer), there could be some low level rotation.
The cold air aloft could also bring low level small hail with the afternoon activity. The Marginal Risk is small, but still worth paying attention to.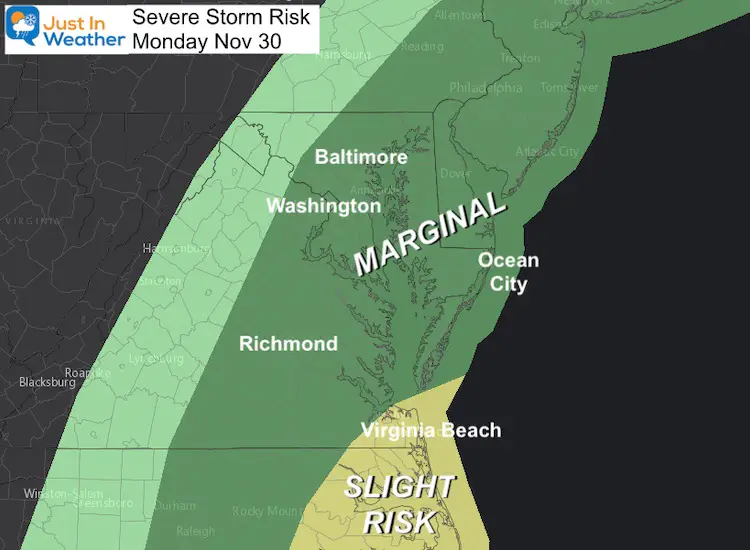 Monday Wind Advisory
Wind Timing Slider Below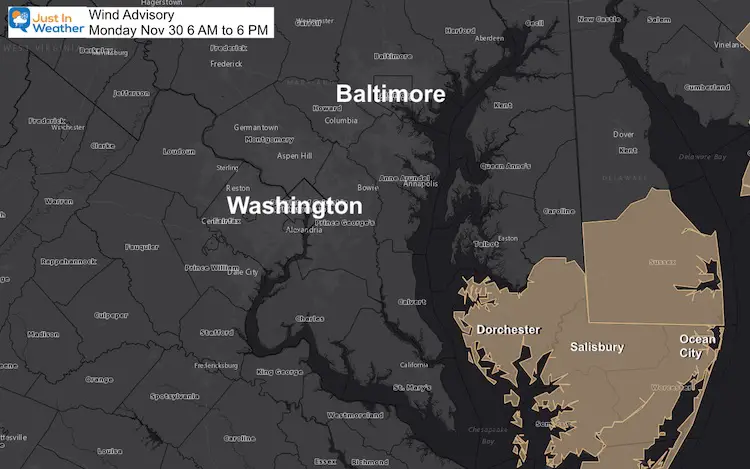 Peak Wind Gusts
Much of the region could see close to 40 mph winds. The Advisory is where winds could exceed 50 mph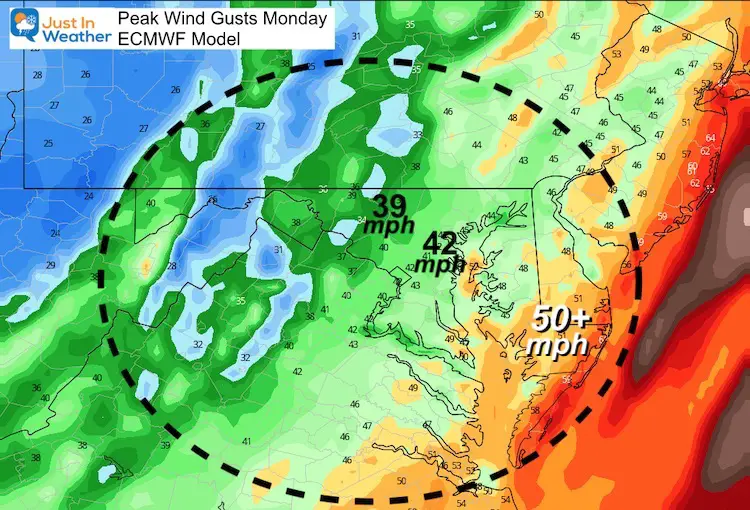 Wind Timeline —> slider
Morning: Wind from the East/Southeast.
Afternoon: Wind from the South.
By Evening: Winds from the West
Rain
Forecast Animation shows Low Pressure passing just west of Maryland. That is why we remain on the warm side, then the cold air fills in after it passes. Heavy snow will fall on the mountains. Some flurries or snow showers not shown here are very possible on Tuesday in central Maryland and PA.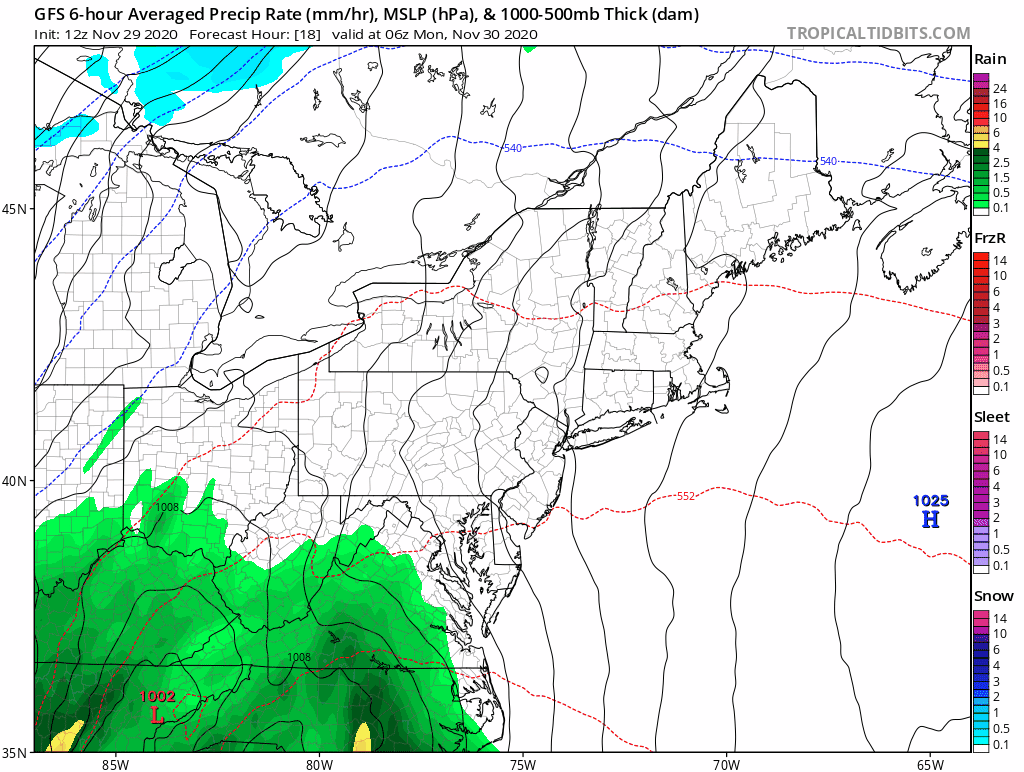 Rain Timeline —> slider
Heavy rain in the morning will be here by daybreak and last for a few hours.
The lines of storms in the afternoon are where the severe risk is possible.
Tuesday
As heavy snow bands set up in the mountains, the first push of rain mixed with snow showers will pass through the northern half of the region.
More snow showers and flurries are possible into Tuesday afternoon.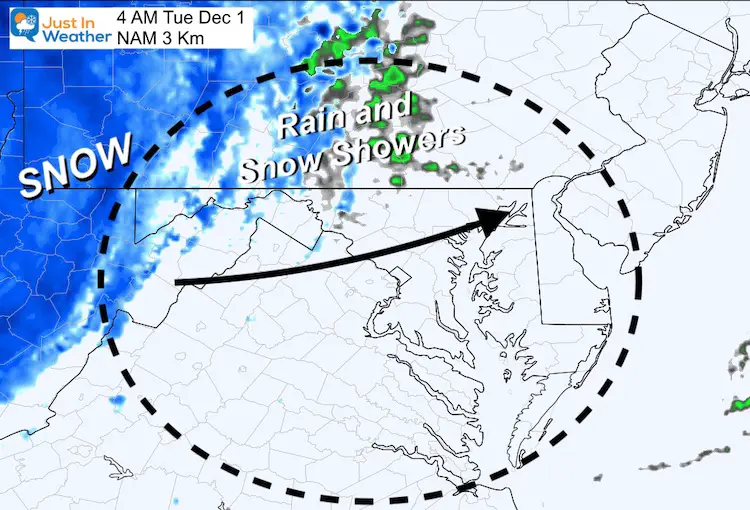 How Much Snow?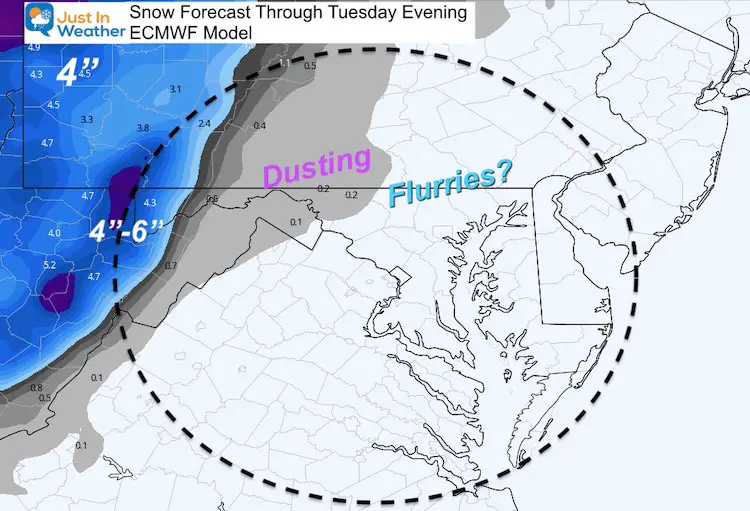 Temperatures 
Monday Morning
Monday Afternoon
The rain will bring in a brief surge of warm air.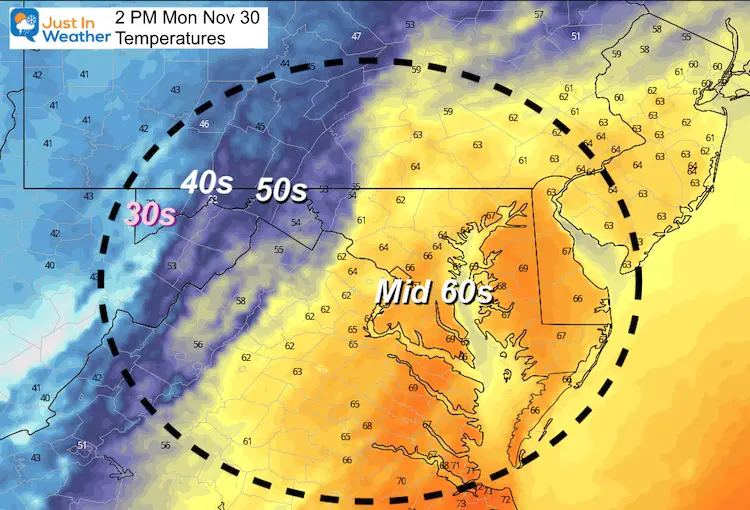 Tuesday Morning
This is when the cold air flows in along with unsettled air.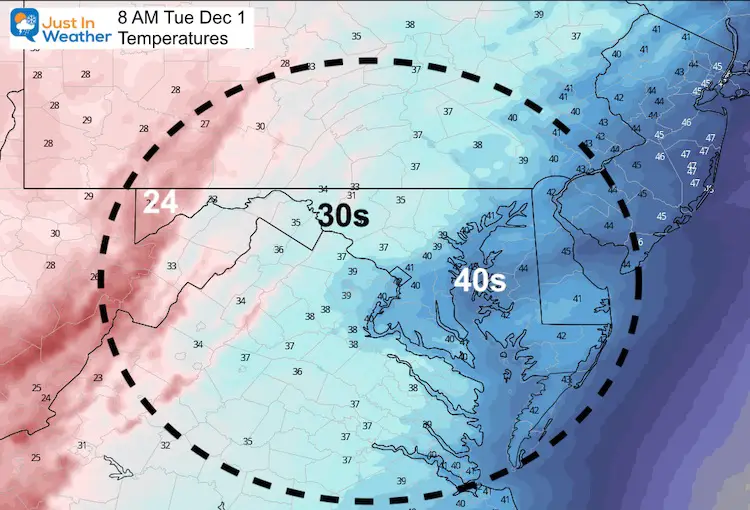 Forecast Snapshot
This is for Carroll County, MD.
Flurries or Snow Showers possible on Tuesday.
We still have another storm for next weekend to track. It may behave similar to this event, with a little colder air and track shifted farther east.
HOLIDAY SALE ON ALL #FITF Apparel
Now Through December 1  ALL ITEMS are 20% OFF.
At Checkout use promo code:  SNOW20
Explore the site for Hoodies, hats, pants, kids stuff, and Snow Day Kits. This Faith in the Flakes thing began in with my son back in 2009 and you help keep it going. Thank you for your support and the over 300 schools who have invited me in for winter weather education programs.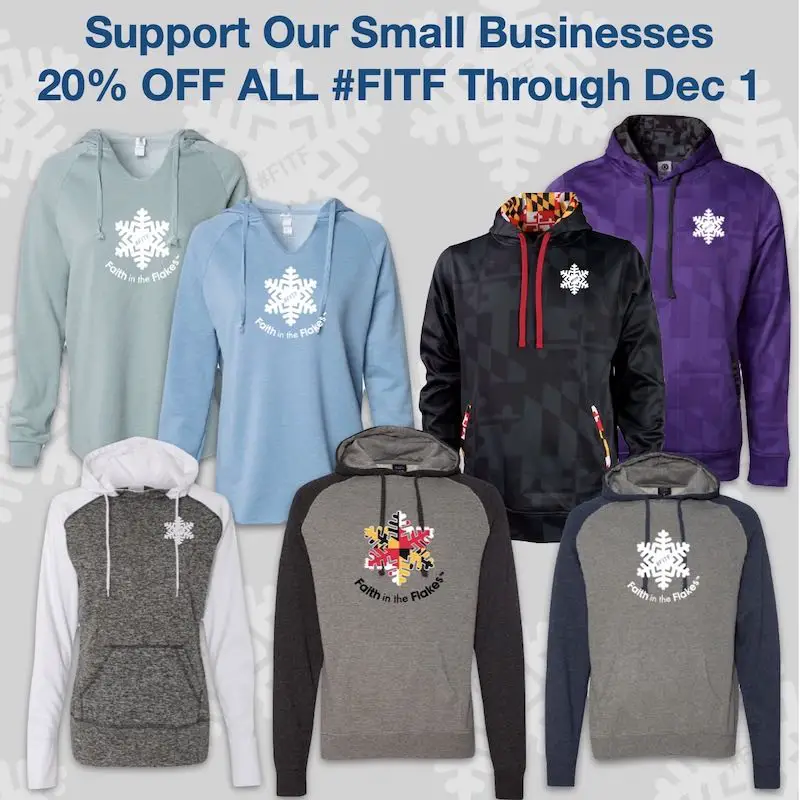 I am a small business. Part of that is selling clothing that is produced and shipped by another small business in Carroll County: Maryland Print House.
We've joined forced and want to thank you for your support.
YOUR INTERACTIVE WEATHER PAGES
14 Local Maryland Pages (and York PA)
We have made a page for Maryland Weather which gives you the current conditions for 14 present area locations.
Local Hourly Forecasts and Local Radar
Central Maryland
Delmarva
Pennsylvania

Maryland Weather Page
I wanted to keep it simple. Just the basics for a quick view at any time.
New Caps and Hats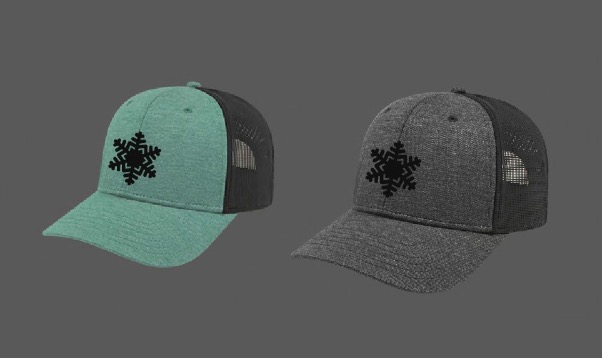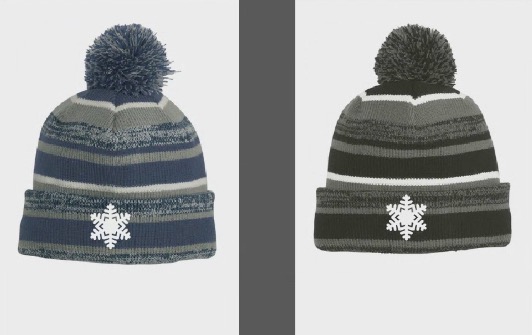 Also See:
My Final Winter Outlook: Snow Forecast

FAITH IN THE FLAKES STORE OPEN
My 'bonus' daughter Jaiden is showing off our popular Maryland Hoodie. Click here to see this and many other new items.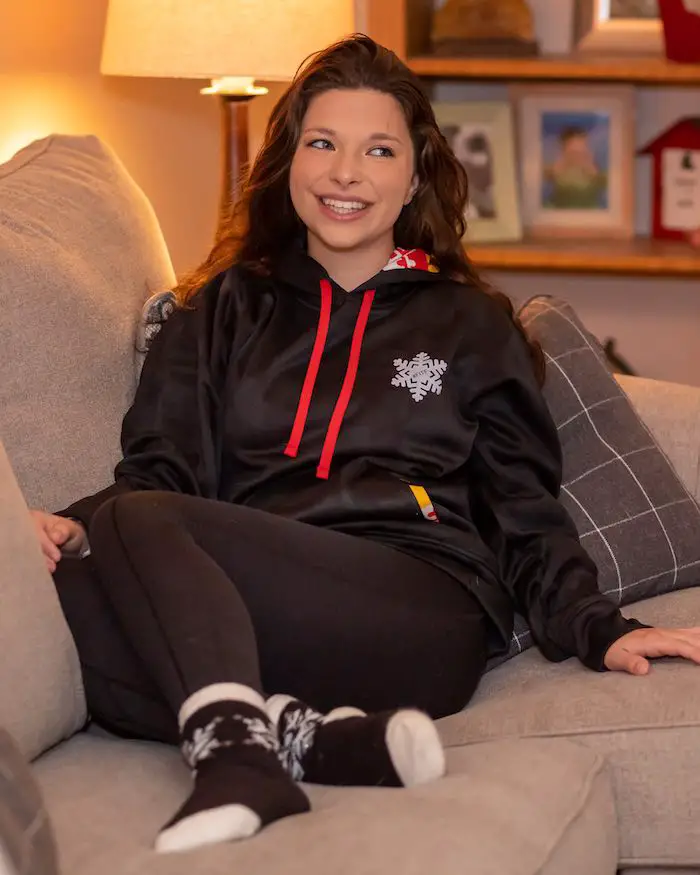 Please share your thoughts, best weather pics/video, or just keep in touch via social media
---
Email Updates
Please make sure you sign up (above or click here to sign up for email alerts…. ) for my newsletter. This way