Friday November 27
I hope you had a great Thanksgiving and now ready for the holiday season. One of the many things I am thankful is the turn back to a winter pattern on schedule next week. I am also thankful for my family, our health, our nonprofit Just In Power Kids crew, and you joining me here. My thanks includes a holiday special on all FITF gear. More on that below.
Weather: It will be noticeably cooler today with more clouds.  The cool temps remain with more sun over the weekend. The storm about to form in Texas will reach us on Monday, and that is the game changer.  Will we get snow next week?  Not all of our region, but the chances are pretty good. I will explain below.
Morning Surface Weather
The map is quiet, but we have a 'dirty High' in place.  There may be some light showers tonight with a disturbance in the cooler air.  But this weekend will be dry, while we watch the next storm developing in the deep south.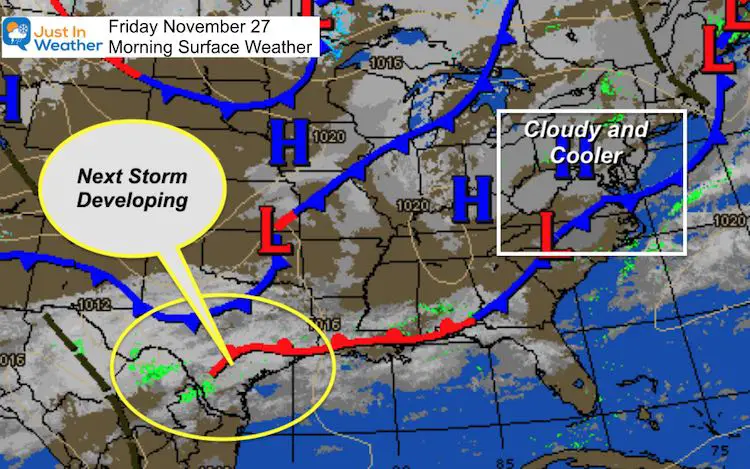 Morning Temperatures 
With clouds and a cool breeze, these numbers may not change much through the afternoon.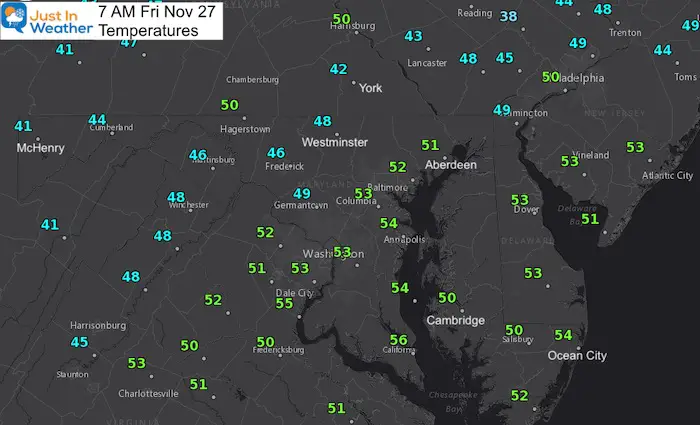 Afternoon High Temperatures 
A far cry from the 70ºF at BWI on Thanksgiving.
Normal High = 52ºF; Record High = 74ºF in 1896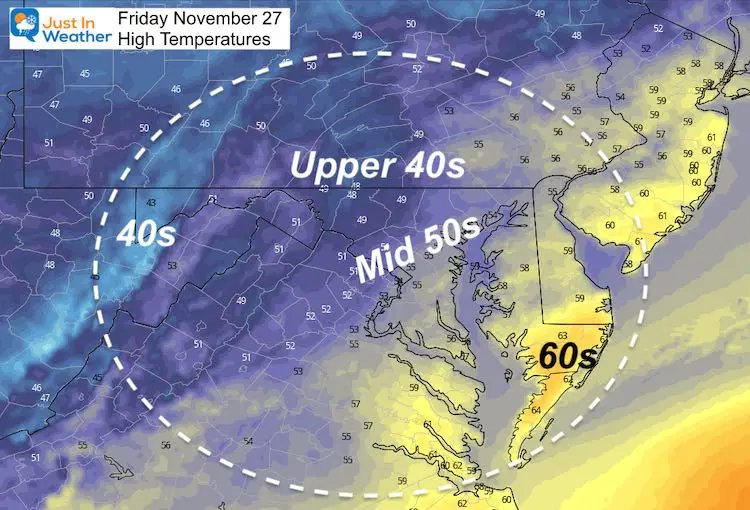 Forecast Snapshot
More sunshine this weekend, but remaining cool. The extended forecast is below.

HOLIDAY SALE
ON ALL #FITF Apparel
I am a small business. Part of that is selling clothing that is produced and shipped by another small business in Carroll County: Maryland Print House.
We've joined forced and want to thank you for your support.
Now Through December 1  ALL ITEMS are 20% OFF.
At Checkout use promo code:  SNOW20
Explore the site for Hoodies, hats, pants, kids stuff, and Snow Day Kits. This Faith in the Flakes thing began in with my son back in 2009 and you help keep it going. Thank you for your support and the over 300 schools who have invited me in for winter weather education programs.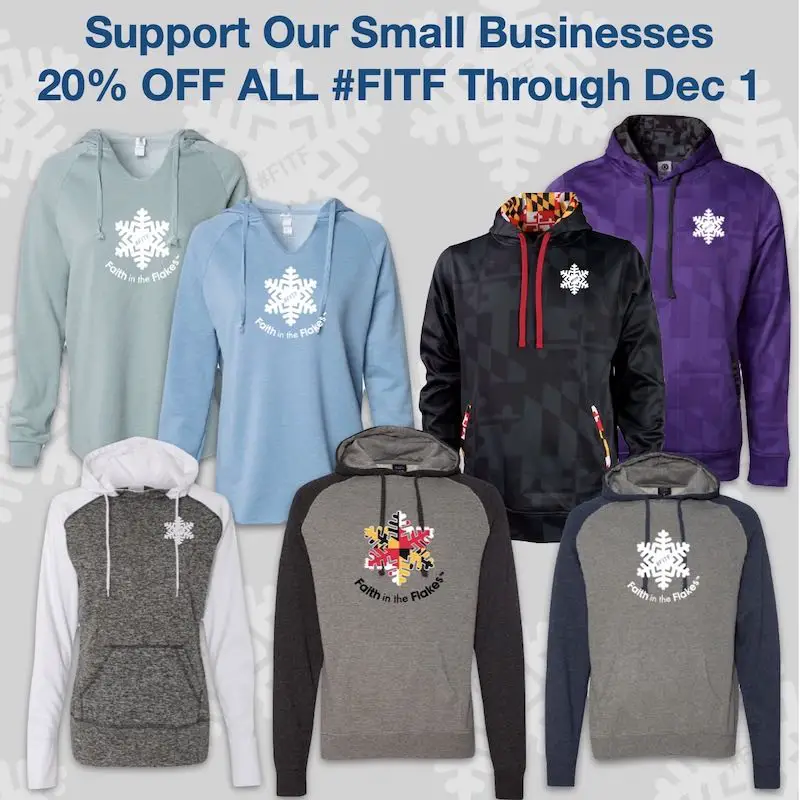 New Caps and Hats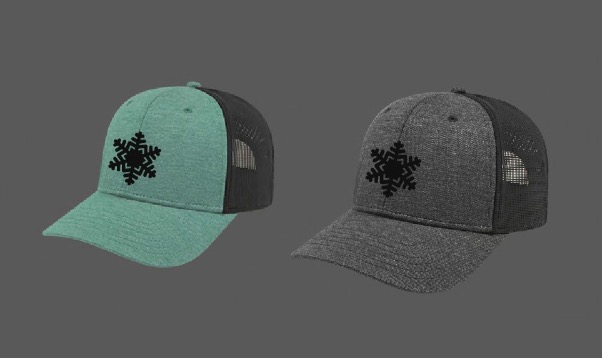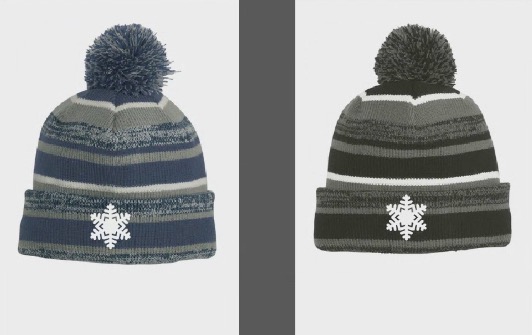 Looking Ahead
Monday brings us our next storm and then THE BIG CHANGE.  Here is a snapshot comparison of the European ECWMF and GFS Models. There is a slight difference in the event, but overall the timing is the same.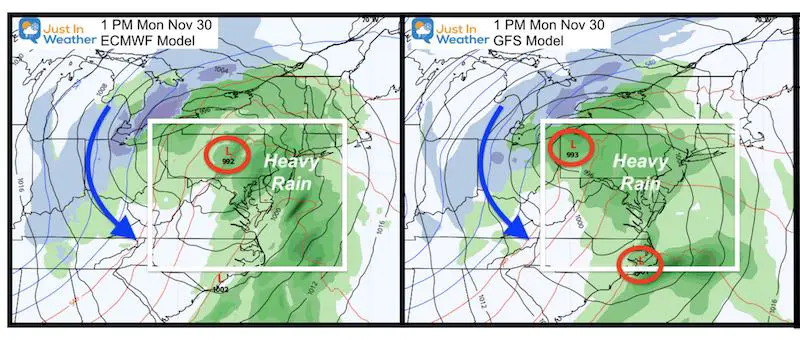 Let's expand to a wider view and see what is coming behind this storm. I am sticking with the GFS as it has been performing better recently.
Monday Afternoon:
While heavy rain is our plan, the core of cold air will be in the Mid West. This will force the transition to snow behind the storm. Not here yet…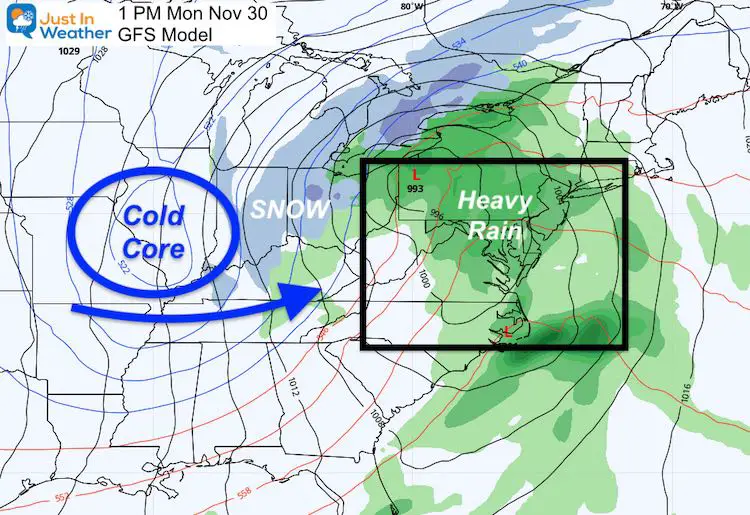 Tuesday Afternoon: 
This is a Lake Effect snow event for the mountains. Noticeable accumulation likely for Garrett County and the high mountains.  While not shown here, this is a pattern that supports snow showers and flurries east of the mountains.  This may bring the first flakes in the inland suburbs and maybe some metro areas, but not a stickage event for us.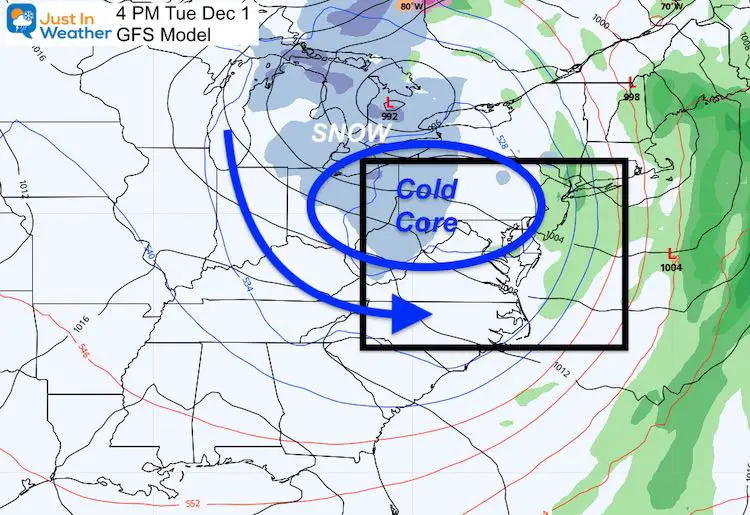 Forecast Animation: Next Monday Through Sunday
This is the Canadian GEM. If you have been following my forecasts for a while, you may recall I am a fan of this model in cold and arctic outbreaks. It is from our neighbor to the north and it has a good handle on air masses from their backyard.
This shows the Monday Storm, then another system at the end of next week. That one taps into the colder air, and includes snow much closer to home.  I AM NOT making a snow forecast, but rather showing you what could be in the pipeline. This is very plausible in the pattern set.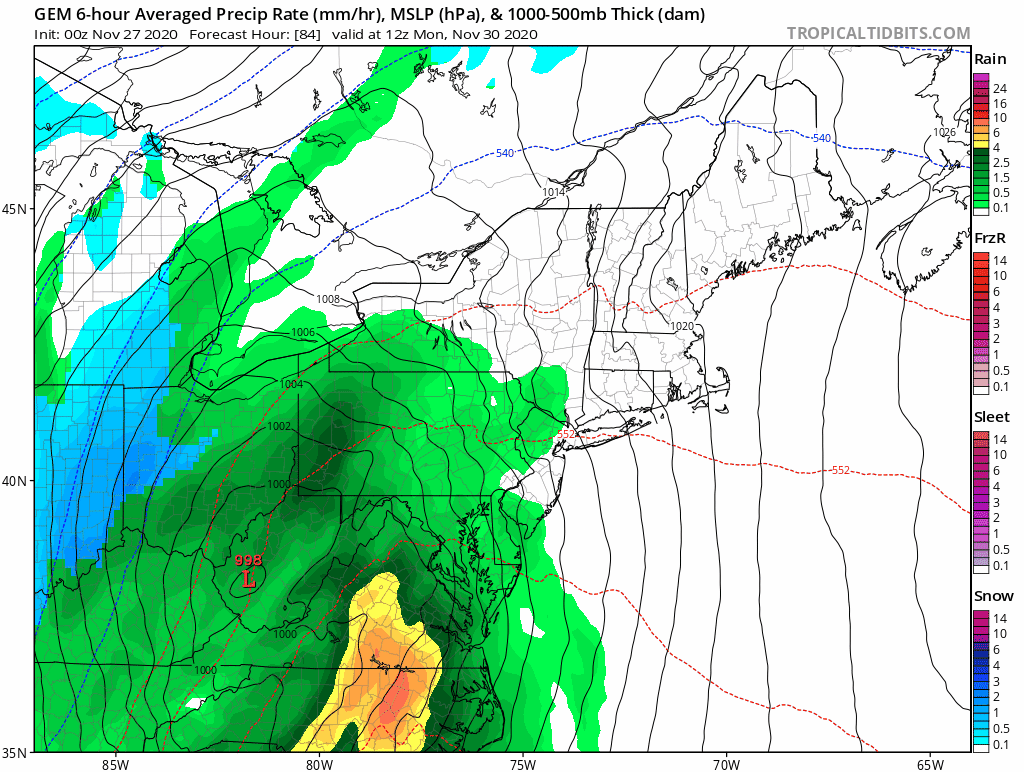 One Week From Sunday: Snow?
The Canadian Model is trying to bring the cold air and turn to snow for inland suburbs.  Look the model forecast time: 225 Hours!
This is NOT a forecast from me, but I want to track this and see how it evolves. There will be adjustments on timing and track, plus either support from other models or this could fade away.   It is however the best looking snow map our region has had presented in a very long time!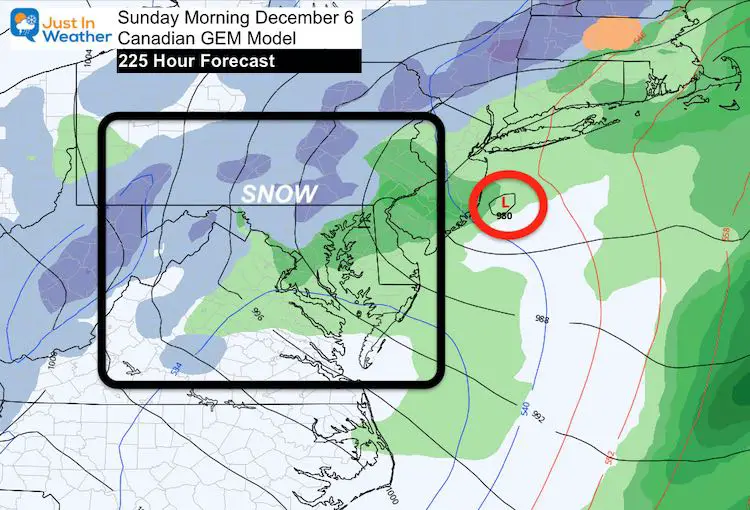 Snow Potential From the Canadian GEM
There will be snow, especially from the Great Lakes into the Mountains. This is how the Canadian sees the snow totaling up over the next 9 days.  I will revisit this map on December 6 to see how it worked out.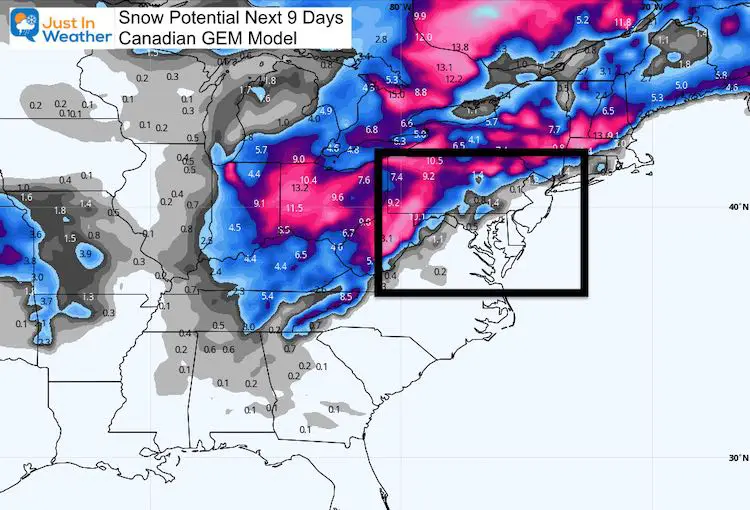 Temperature Outlook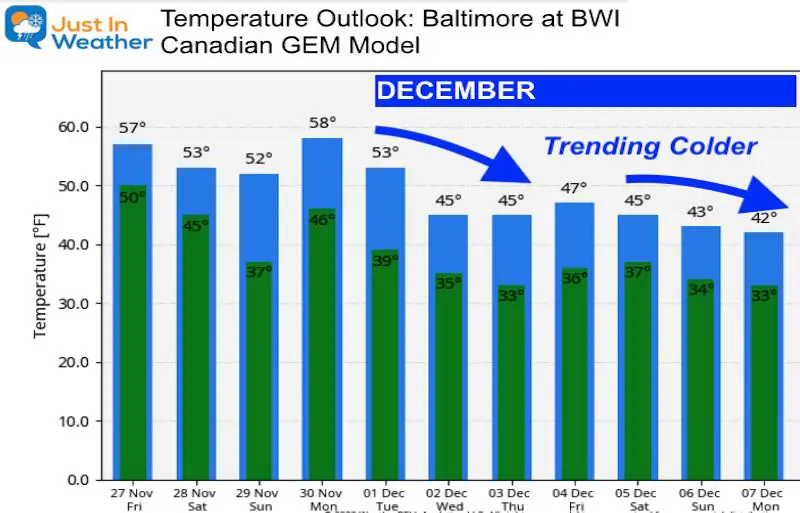 Also See:

My Final Winter Outlook: Snow Forecast

FAITH IN THE FLAKES STORE OPEN
My 'bonus' daughter Jaiden is showing off our popular Maryland Hoodie. Click here to see this and many other new items.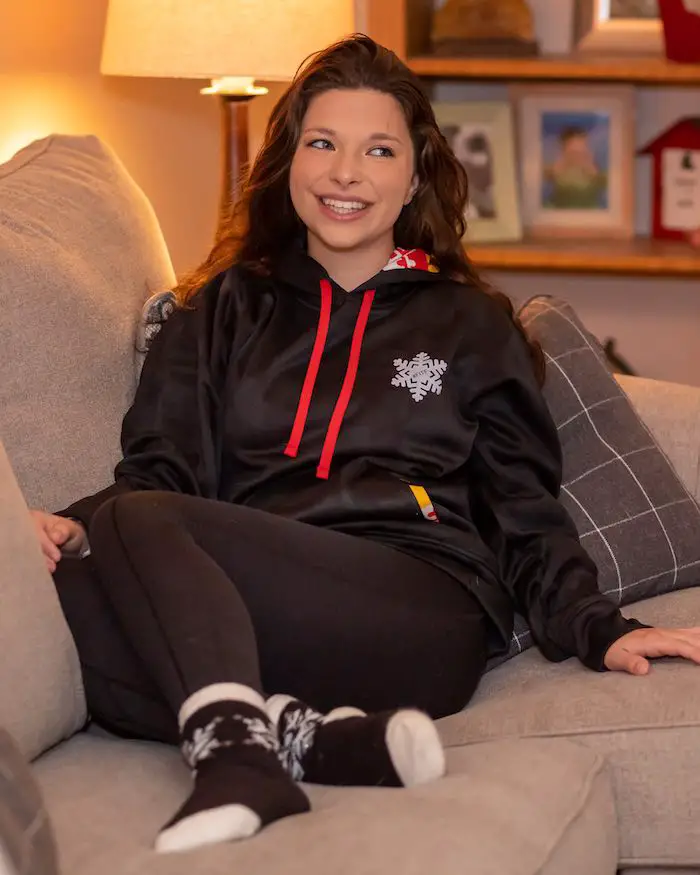 YOUR INTERACTIVE WEATHER PAGES
14 Local Maryland Pages (and York PA)
We have made a page for Maryland Weather which gives you the current conditions for 14 present area locations.
Local Hourly Forecasts and Local Radar
Central Maryland
Delmarva
Pennsylvania

Maryland Weather Page
I wanted to keep it simple. Just the basics for a quick view at any time.
Typical First Frost and Freeze
Please share your thoughts, best weather pics/video, or just keep in touch via social media
---
Email Updates
Please make sure you sign up (above or click here to sign up for email alerts…. ) for my newsletter. This way you will get an email to make sure you are notified of each post.
---
Just In Power Kids:
A portion of proceeds go to our programs Providing FREE holistic care for kids in cancer treatment and up to 5 years post treatment and caregivers.