November 26 2020
Happy Thanksgiving! I am thankful for so many things, but for the purpose of this post, let's stick with the weather.  I am thankful the weather today will be better than I had hoped, and I am thankful that next week will feel more like winter.
Two days ago I had been hedging back on the rain for today. It did rain, overnight. It was heavy and the ground is wet this morning. But two bands of showers are less impressive and fading away.  There is still a chance to get wet if you have a morning (virtual) Turkey Trot or going for a walk.
Morning Radar Snapshot
One band of showers in the mountains may drop some sprinkles in metro areas, but it will be hit or miss through 10 AM.   The Lower Eastern Shore has a more sturdy band of rain, so this region may have to wait a few extra hours to dry out.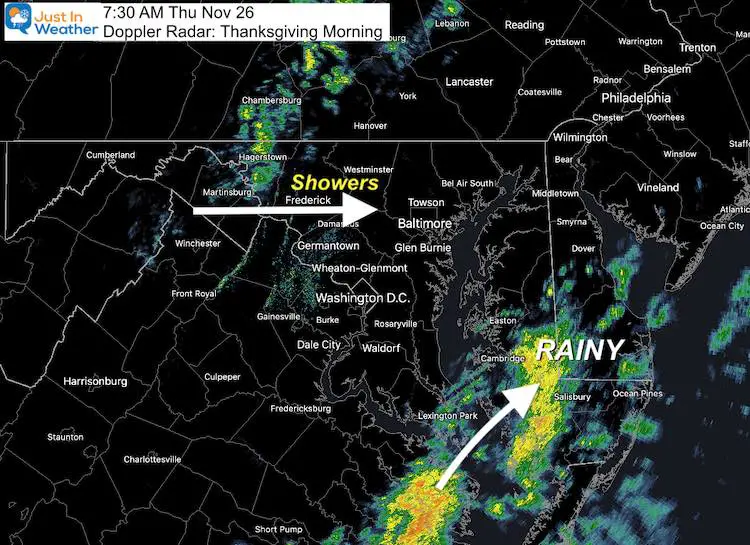 Live Interactive Radar

Morning Temperatures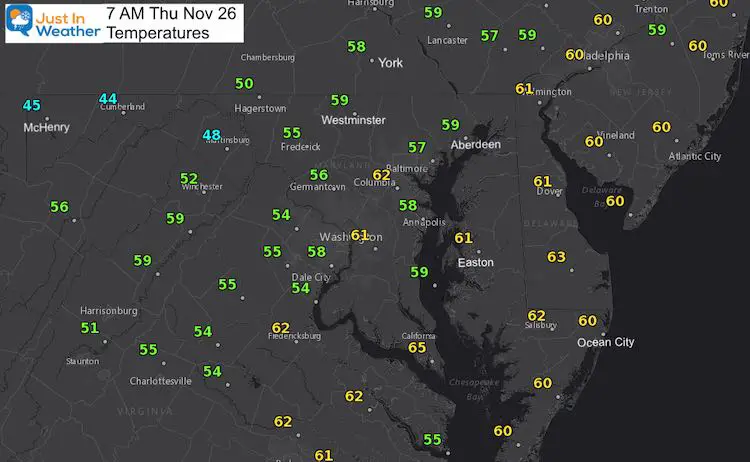 Thanksgiving Morning Surface Weather
The cold front will arrive later, so when the rain breaks up, we will remain in the warm air. A perfect afternoon to be outside or keep the windows open for your inside holiday meal.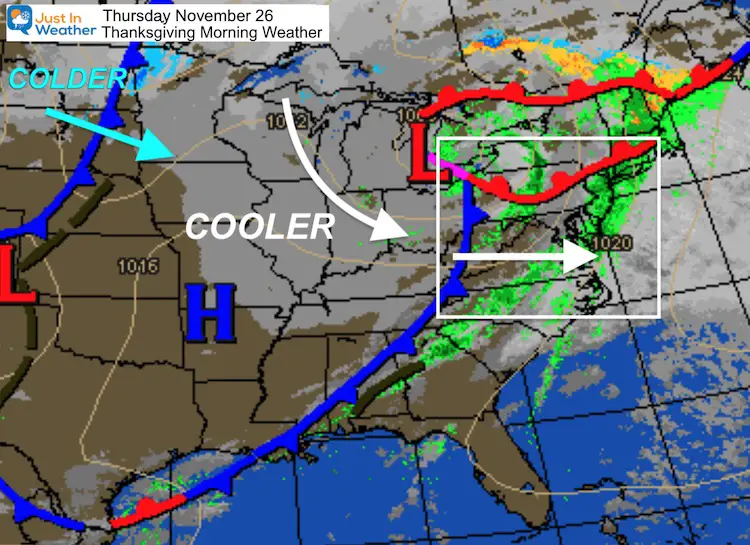 Rain Snapshots
Late Morning
Chance of brief showers or sprinkles up to noon for central Maryland. Better chance for rain on Delmarva.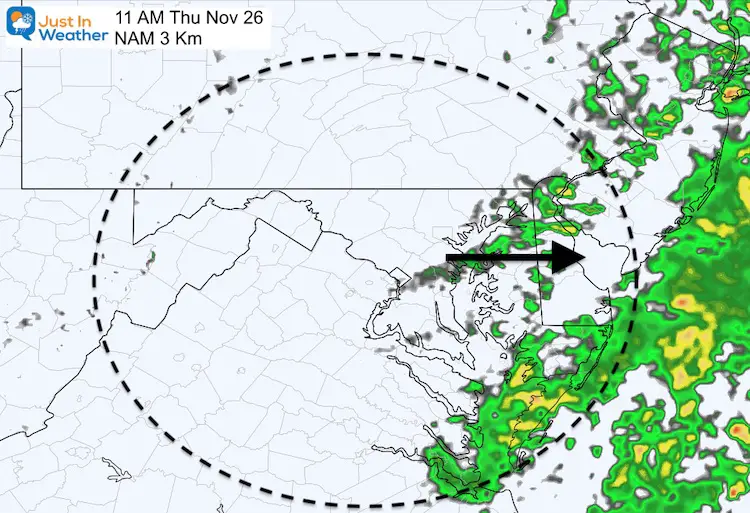 Evening Sprinkle
There will be a brief band of light showers with the cold front passing.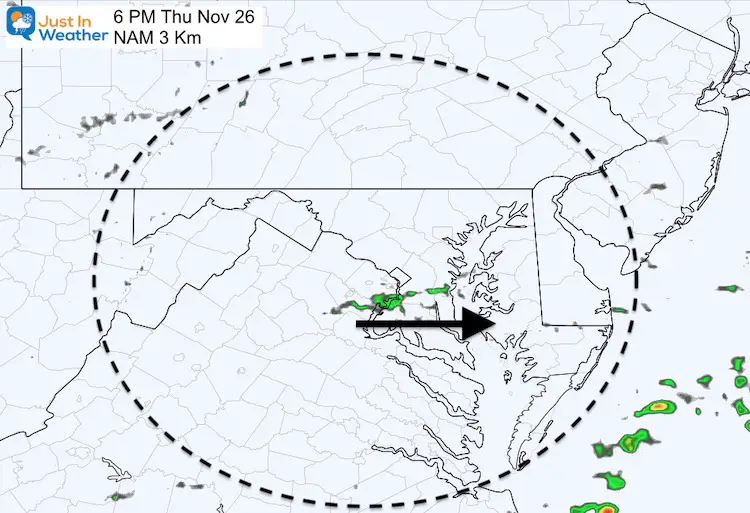 Afternoon Winds
It will be breezy, and gusty at times.  But this will help dry the ground (not your turkey).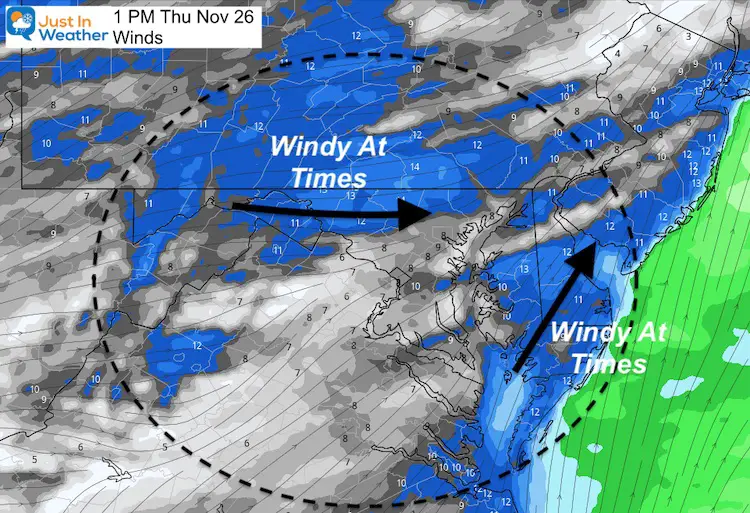 Afternoon Temperatures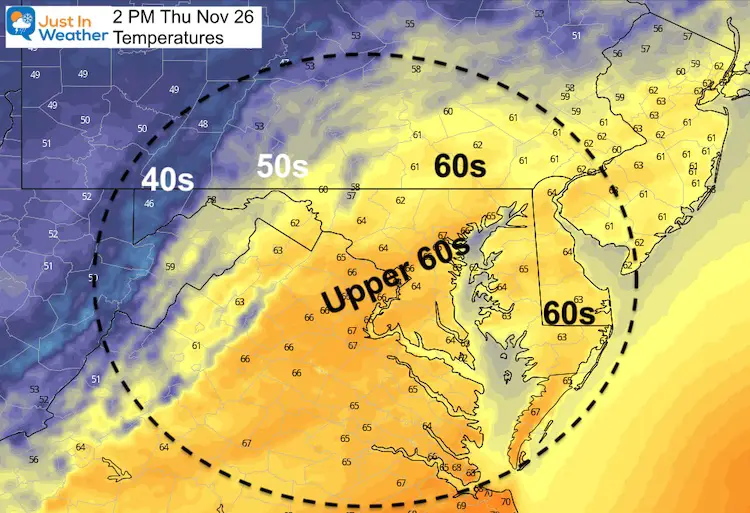 Friday Weather: Dry and Cooler
Morning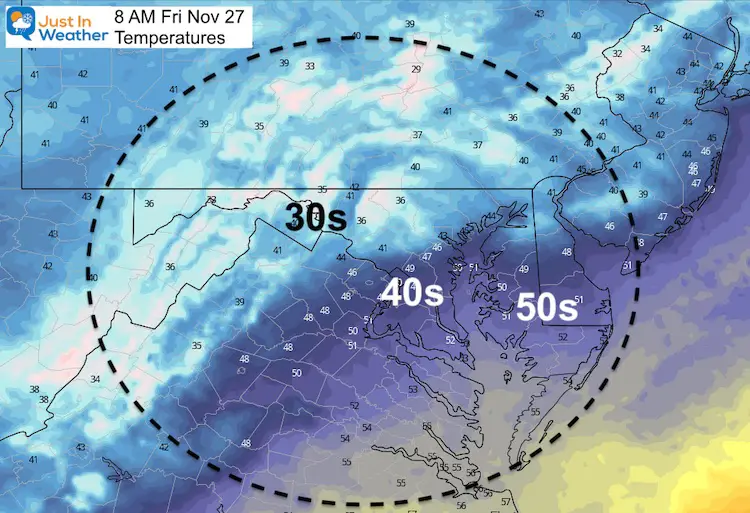 Afternoon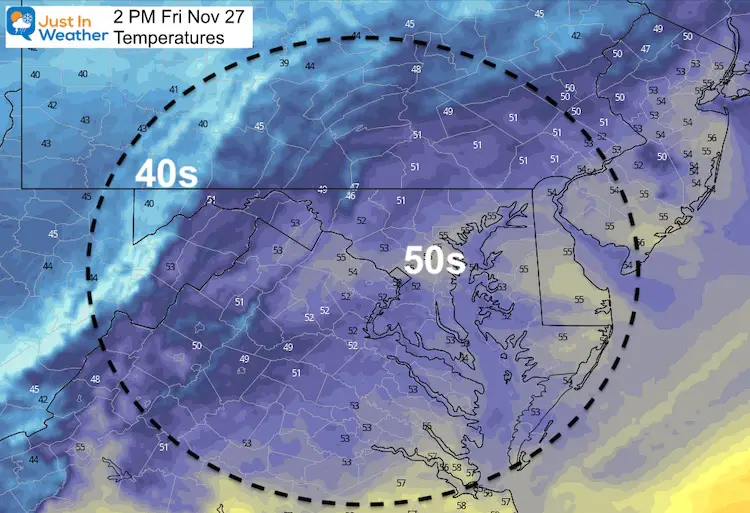 Looking Ahead
The weekend will be dry and seasonably cool.  Then the BIG CHANGE!
The GFS Model is keeping the two storm solution: (This is still subject to change)
Monday-Tuesday: Rain may end with flurries. This Low Pressure crosses central Maryland, then drags in the colder air.
Thursday: Storm 2 passes south and off the coast. This has colder air, and may mix in snow for interior sections. Lake Effect snow hits the mountains hard on Friday as New England gets a snowstorm.  We could get snow showers into metro areas in this pattern.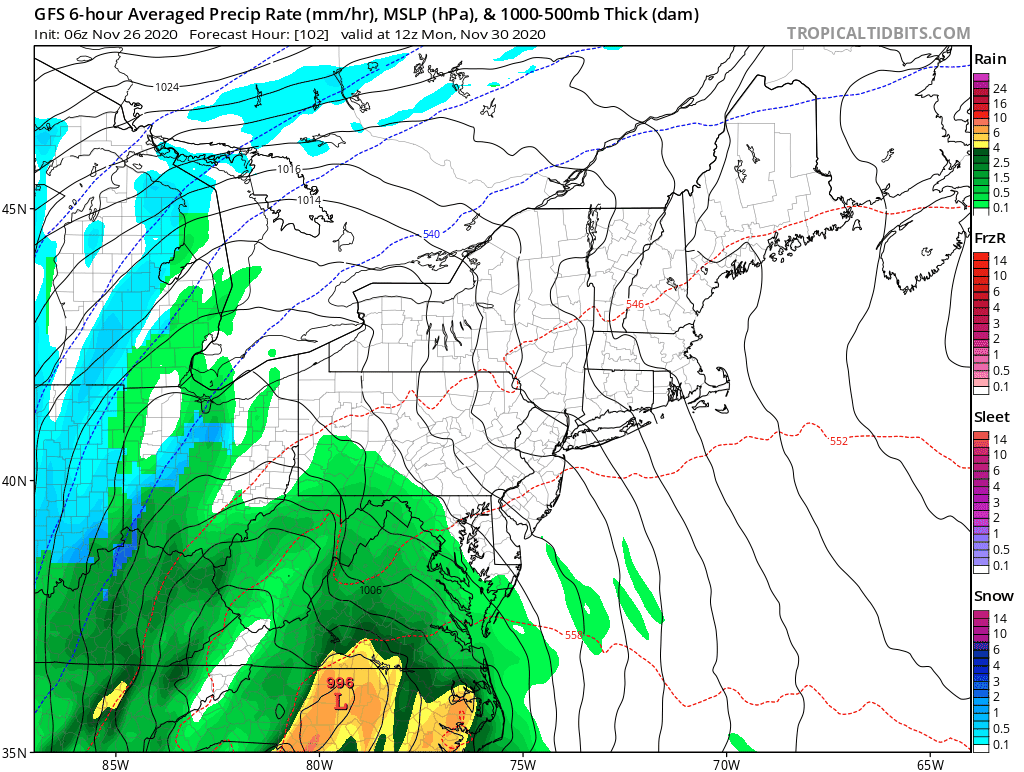 Temperature Outlook
Also See:

My Final Winter Outlook: Snow Forecast

FAITH IN THE FLAKES STORE OPEN
My 'bonus' daughter Jaiden is showing off our popular Maryland Hoodie. Click here to see this and many other new items.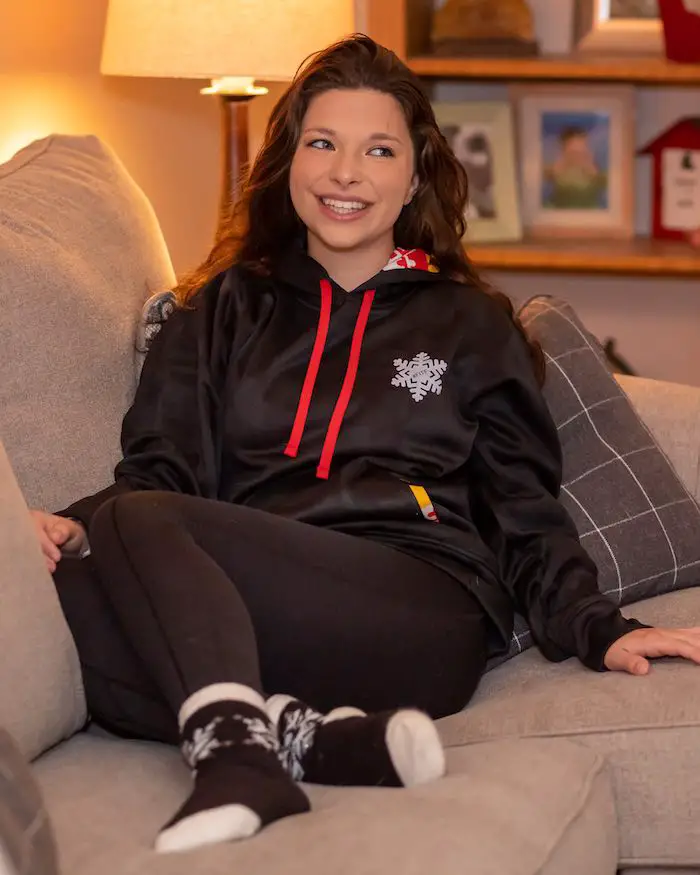 YOUR INTERACTIVE WEATHER PAGES
14 Local Maryland Pages (and York PA)
We have made a page for Maryland Weather which gives you the current conditions for 14 present area locations.
Local Hourly Forecasts and Local Radar
Central Maryland
Delmarva
Pennsylvania

Maryland Weather Page
I wanted to keep it simple. Just the basics for a quick view at any time.
Typical First Frost and Freeze
Please share your thoughts, best weather pics/video, or just keep in touch via social media
---
Email Updates
Please make sure you sign up (above or click here to sign up for email alerts…. ) for my newsletter. This way you will get an email to make sure you are notified of each post.
---
Just In Power Kids:
A portion of proceeds go to our programs Providing FREE holistic care for kids in cancer treatment and up to 5 years post treatment and caregivers.