Wednesday November 25 2020
We are turning the corner today as winds shift from the south to pump in warmer air. Initially it may feel chilly with the breeze, but temperatures will be going up through Thanksgiving Day.  There will be rain as advertised, but it is looking like most will be overnight and Thursday morning.  This holiday may be best remembered for the very warm afternoon.
Did you see my last report: Winter Is Coming And It May Start Next Week?  The next storm at the end of the holiday weekend will be a game changer. This still may track to keep us on the warm and rainy side, but much colder air will follow and try to lock in for the first two weeks of December.
Morning Surface Weather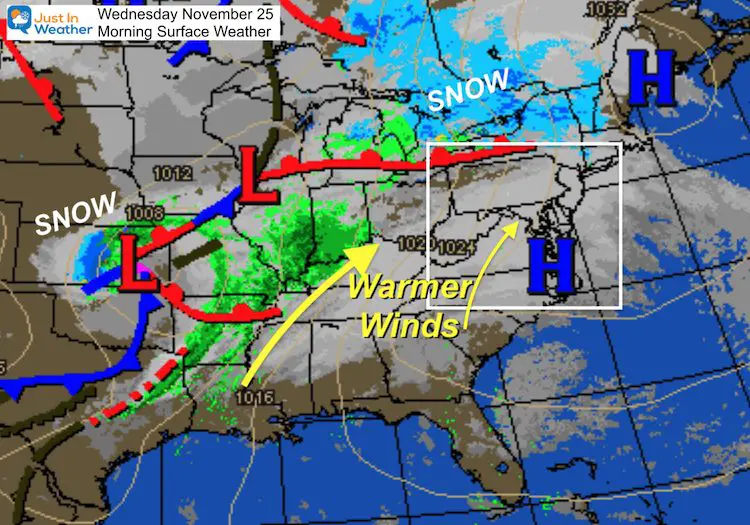 Morning Temperatures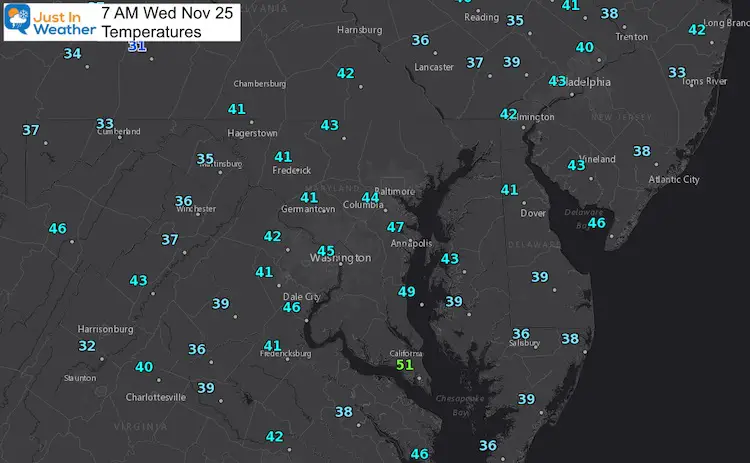 Afternoon Temperatures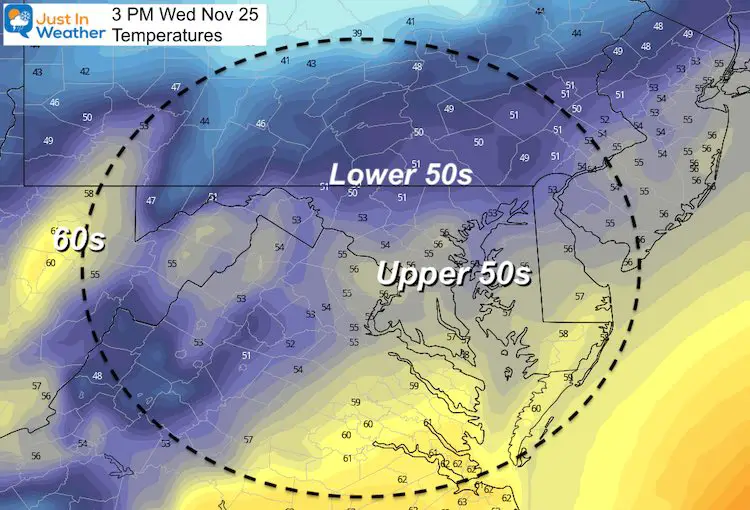 Rain Tonight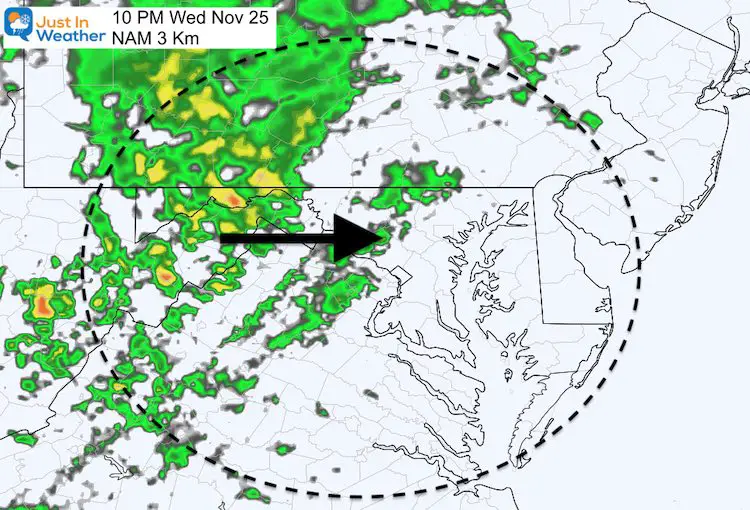 Quick Forecast

Thanksgiving Weather
The rain expected will mostly be in the morning. There is a chance of showers lingering through lunch time.  What will be most notable will be how mild the morning will feel, and the very warm afternoon.
Rain Forecast
Morning: The main band of rain passes through the region just before or at sunrise.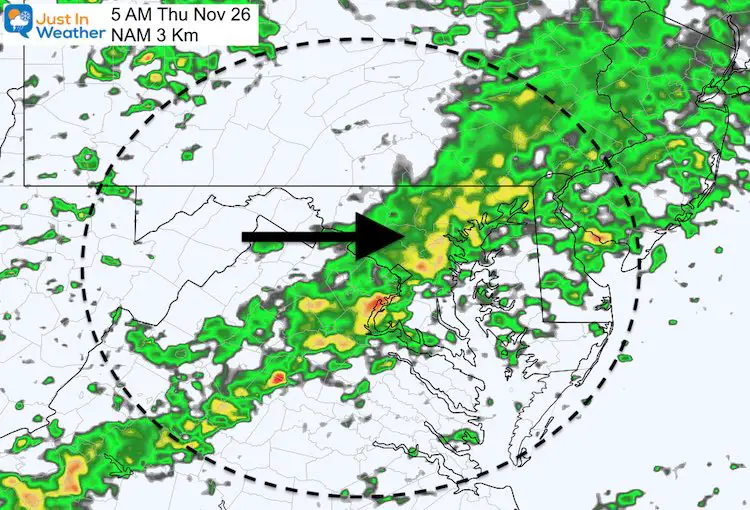 Lingering Showers?
This product shows a 3 hour window of rain potential. In all honesty, it is looking like a marked improvement. The lingering showers will be spotty.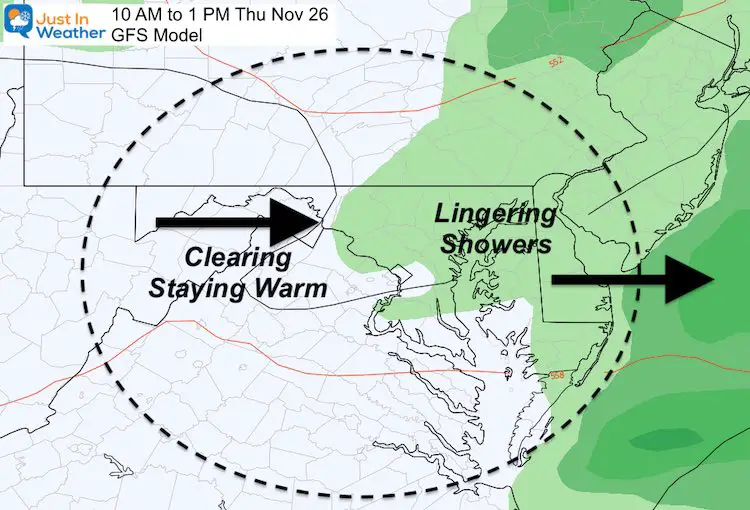 Temperature Forecast
Morning
Normal Low in Baltimore = 34ºF; Record Low = 15ºF in 1950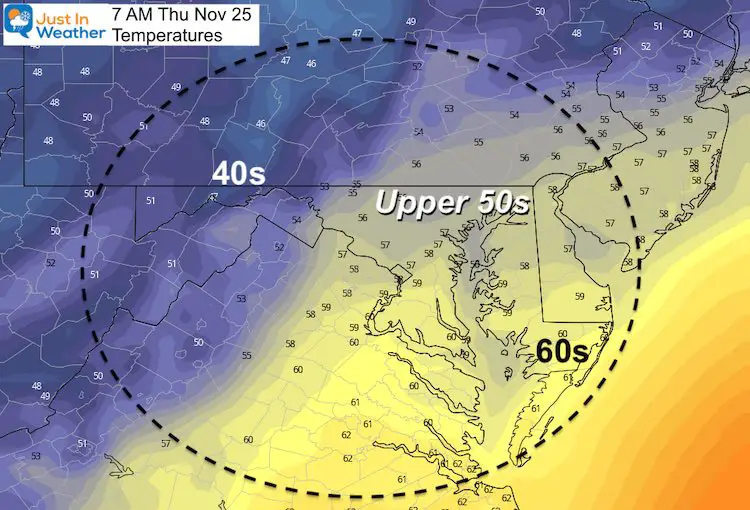 Afternoon
Normal High in Baltimore = 52ºF; Record High = 72ºF in 1979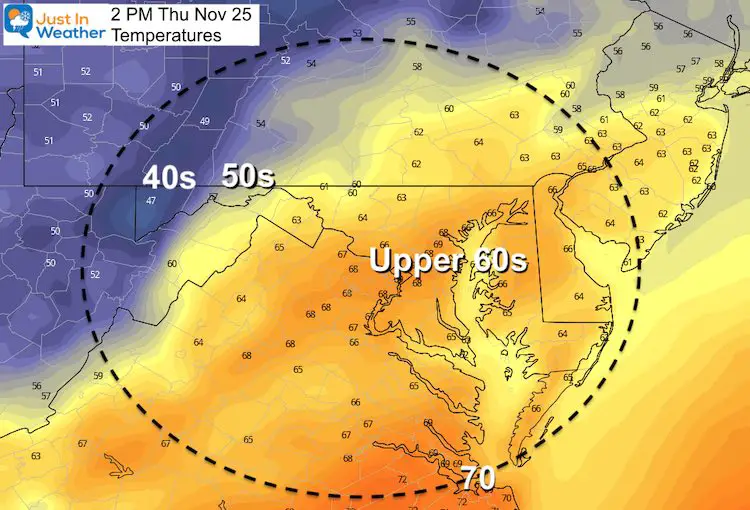 Friday Weather
Are you planning on shopping? I am not sure what in store activity will be like with all of the restrictions. As a small business owner, I encourage supporting Small Businesses!   If you are heading out for sales or just for fresh air, the day will be nice.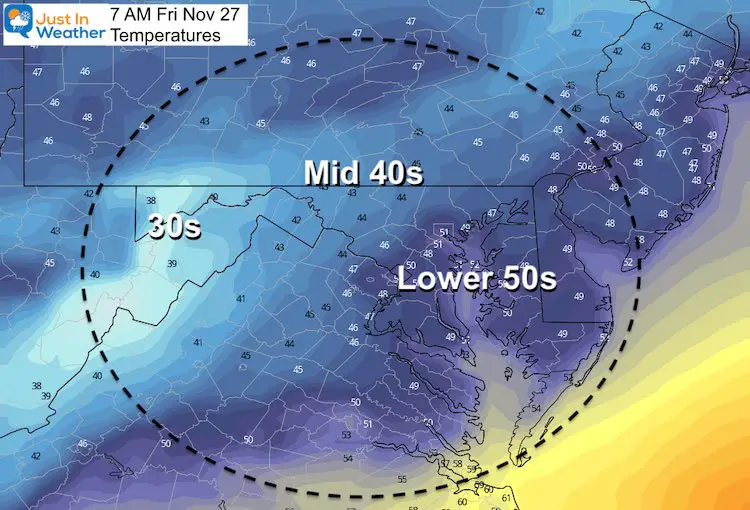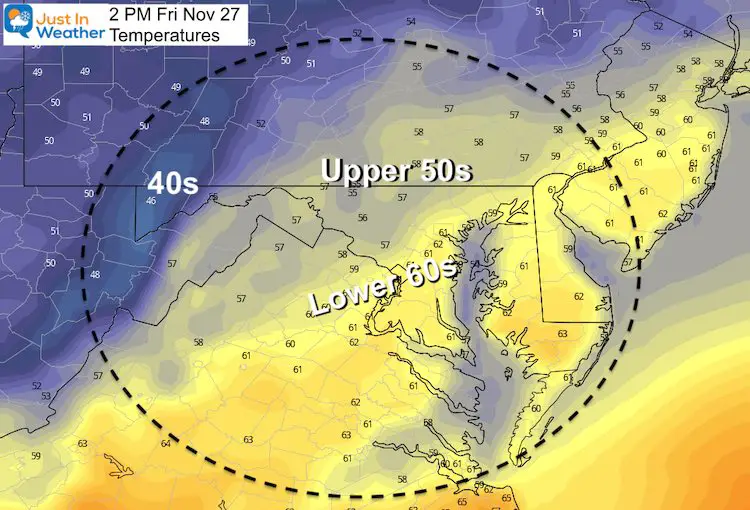 Looking Ahead: Storm Animation
After the Thanksgiving morning rain, the next event will be a larger storm.
Sunday: This will develop in east Texas and along the Louisiana coast.
Monday: Rain arrives in our region. The specific track of the Low (which keeps changing with each model run), will determine how much warm air can get in here.
Tuesday to Next Weekend: Following the storm, colder air will filter in for the rest of the week. This may come with smaller disturbances and rain/snow showers.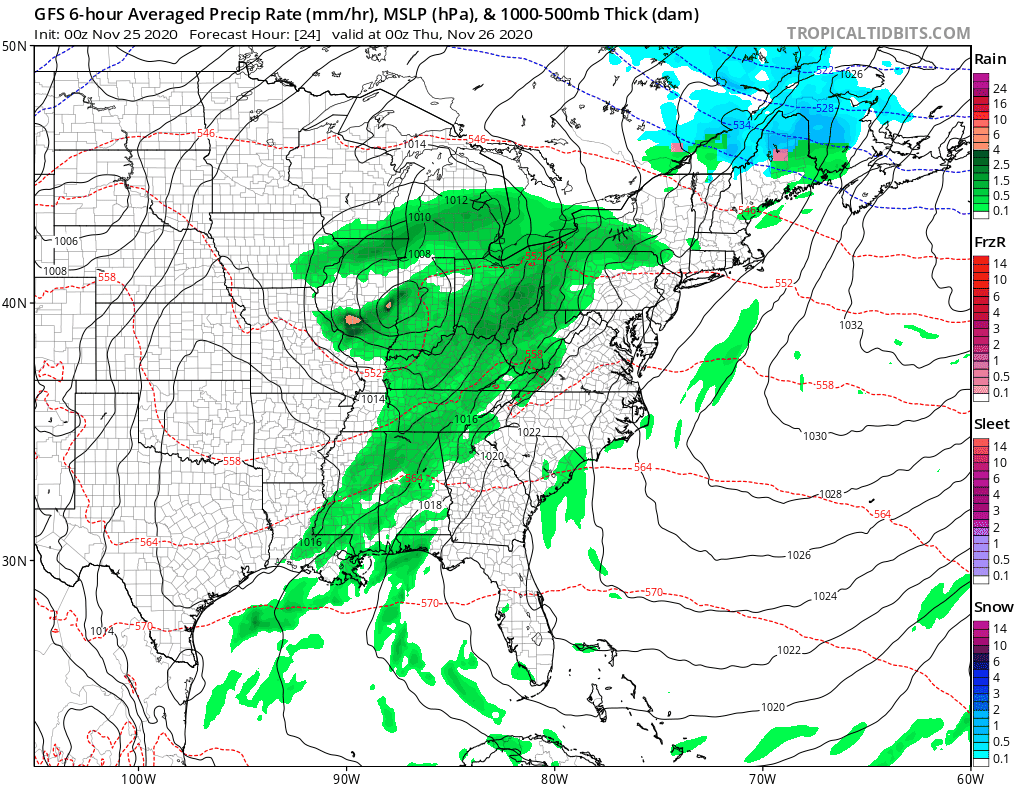 Temperature Outlook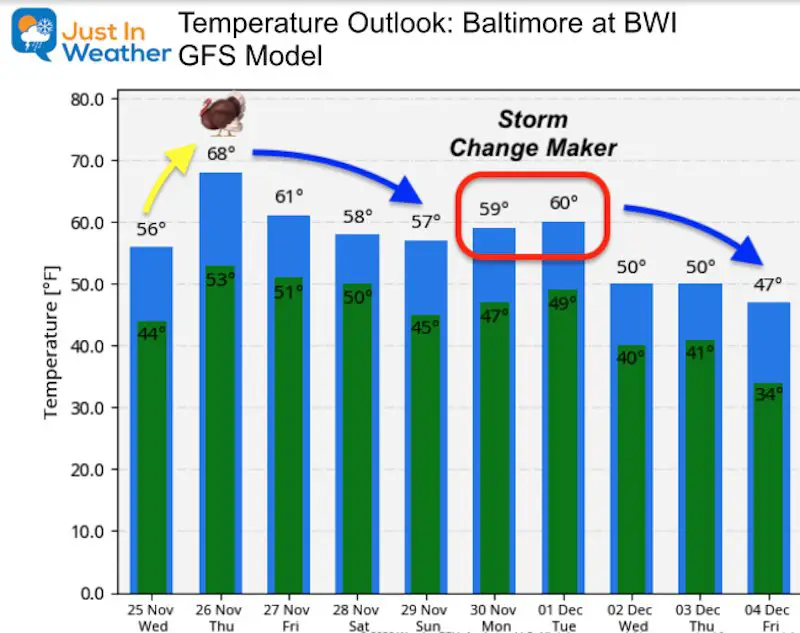 Explore More:
Winter Is Coming And It May Start Next Week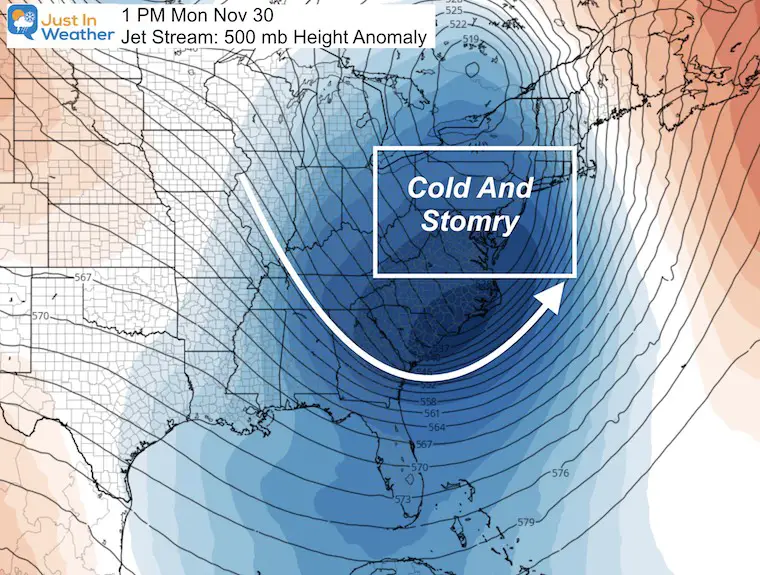 My Final Winter Outlook: Snow Forecast

FAITH IN THE FLAKES STORE OPEN
My 'bonus' daughter Jaiden is showing off our popular Maryland Hoodie. Click here to see this and many other new items.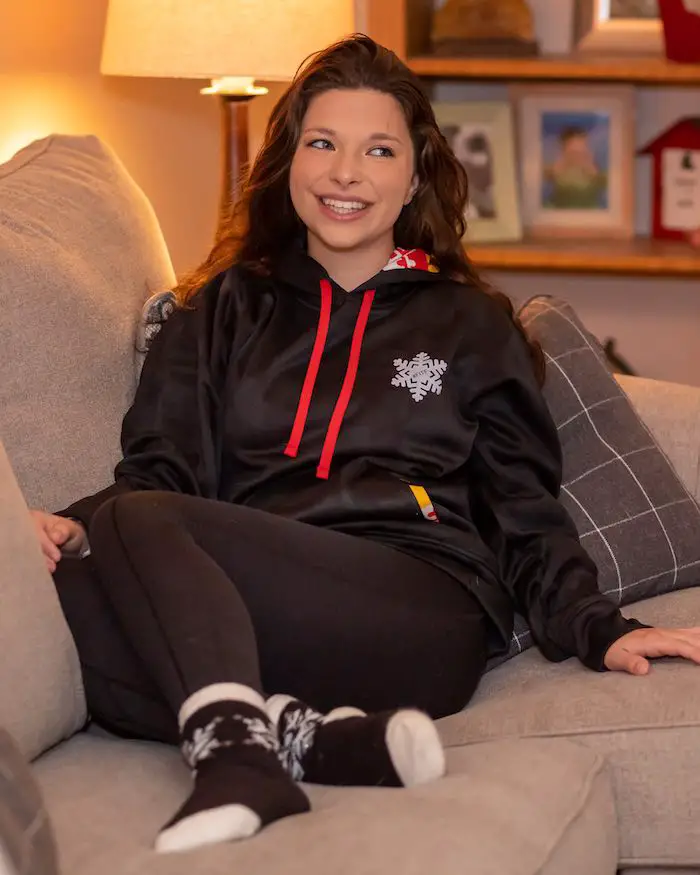 YOUR INTERACTIVE WEATHER PAGES
14 Local Maryland Pages (and York PA)
We have made a page for Maryland Weather which gives you the current conditions for 14 present area locations.
Local Hourly Forecasts and Local Radar
Central Maryland
Delmarva
Pennsylvania

Maryland Weather Page
I wanted to keep it simple. Just the basics for a quick view at any time.
Typical First Frost and Freeze
Please share your thoughts, best weather pics/video, or just keep in touch via social media
---
Email Updates
Please make sure you sign up (above or click here to sign up for email alerts…. ) for my newsletter. This way you will get an email to make sure you are notified of each post.
---
Just In Power Kids:
A portion of proceeds go to our programs Providing FREE holistic care for kids in cancer treatment and up to 5 years post treatment and caregivers.