November 24 2020
Last week I presented my Winer Outlook for 2020-2021 and suggested our trend would turn colder and snow would end up 'near normal'. This was more than most other forecasters had said, and heard suspicion from many people.  A few days ago I showed the apparent early shift in the jet stream for December that supported a cold pattern, and maybe some snow. This was more impressive than I expected this early.
We have not seen a pattern like this in a long time! If I had shown this jet stream forecast last week, you might not have believed it. But it's making believers of even some of the biggest skeptics.
Jet Stream Next Monday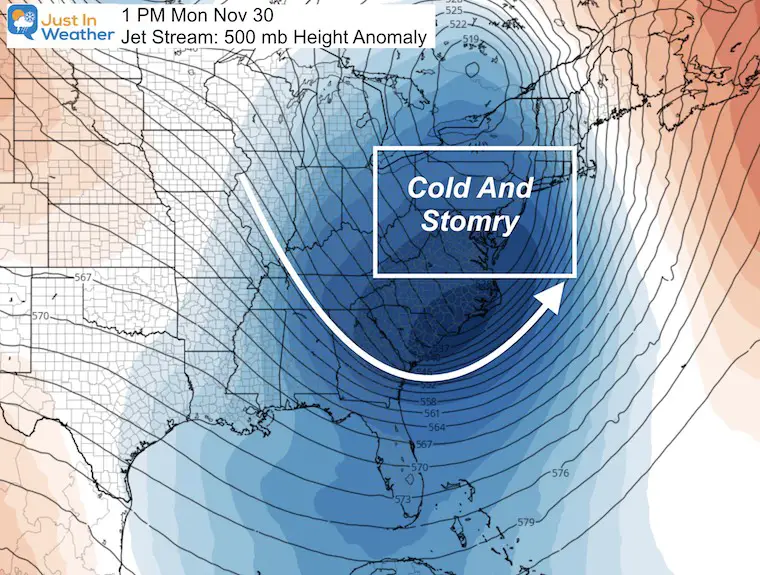 This morning, I read a tweet from the great Dr. Judah Cohen. I mentioned him in my Winter Outlook, as he is well known for long range forecasting of arctic air.  He has also been quite pessimistic on the winter ahead, until recently:
GFS ensembles growing even more confident in a #snowstorm for the Northeastern US in early December, especially in the interior. #WinterIsComing pic.twitter.com/vHXTX89rOe

— Judah Cohen (@judah47) November 24, 2020
Is Winter Coming?
A closer look at that map he showed: This is a suggestion of the chance for snow up to December 4, 2020

Now, the models are locking in on the storms, even with some snow.  Please read through this short report and I will prove why I DO NOT do snow forecasts a week or more away. But what I do like to do is show the pattern change that can support wintry weather, then focus in as we get closer.
Long Range Pattern: Jet Stream Animation
November 27 to December 9: Blue = Colder/Stormy, Orange = Warmer.
The colder pattern seems to be more dominant in the next two weeks.
Please be patient if slow to load.
On a phone: Turn sideways for larger view.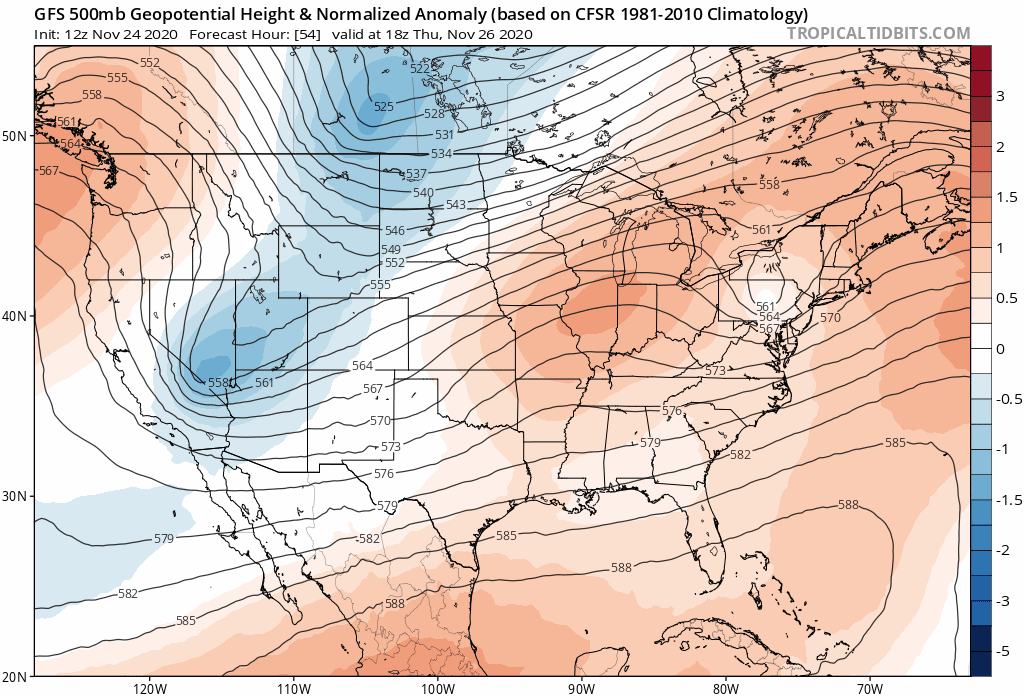 Surface Storm Pattern:
Sat Nov 28 to Wed Dec 2
The net result of the deep trough will be the potential for a storm (or a few storms) in the eastern US.
This animation shows this weekend: The development of heavy rain and Low Pressure between east Texas and Louisiana, then turning up the east coast. Notice the snow (blue) on the back side in the mountains. Then colder air brings in snow showers to metro areas Tuesday.
Green = Rain, Blue = Snow.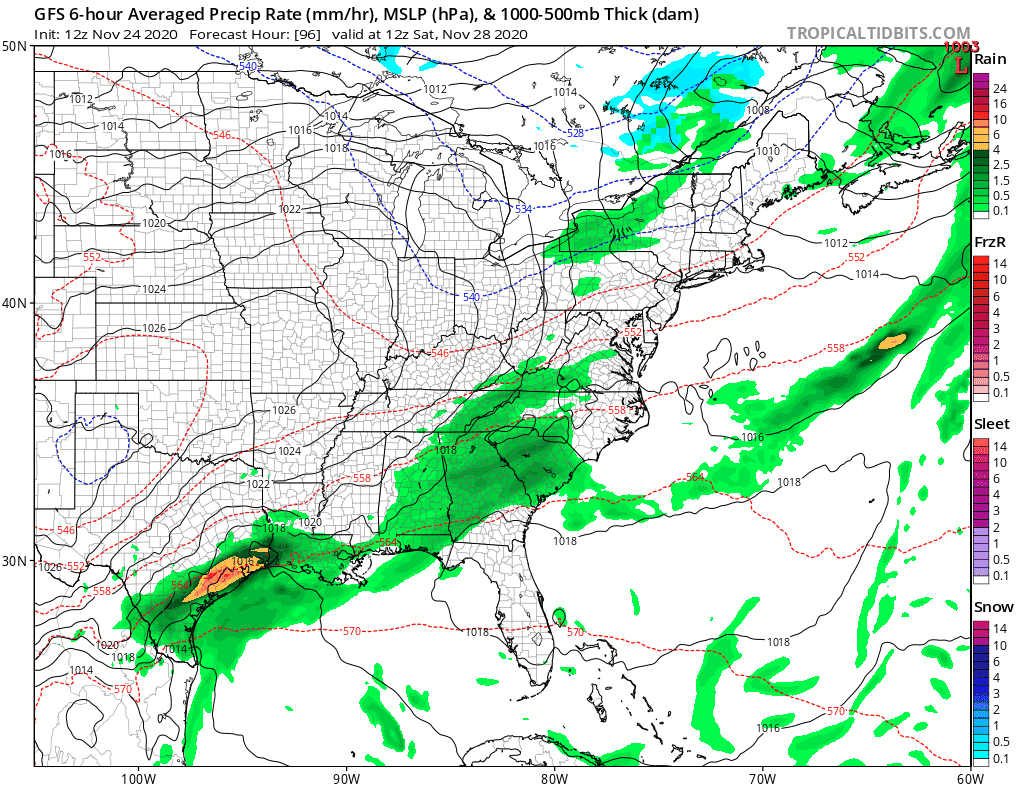 Closer Look At The Storm
Monday Morning to Tuesday Night
Green = Rain, Blue = Snow.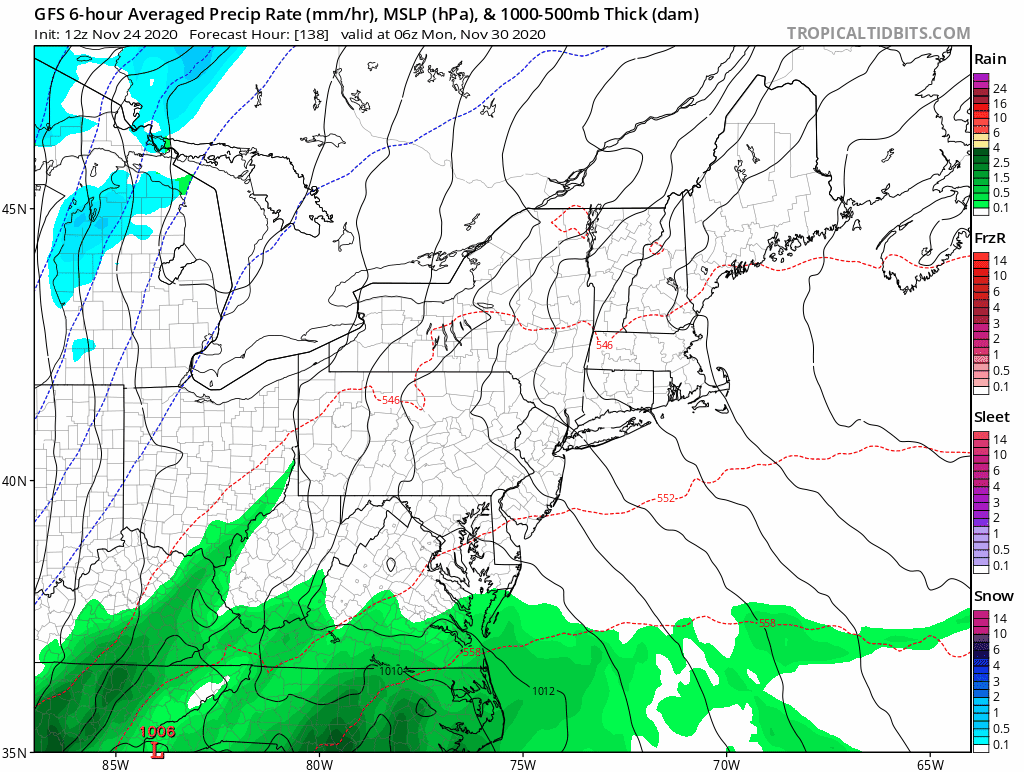 Storm Snapshot: Monday Afternoon
This latest version shows a track of the Low right through Maryland.
*Remember the hot zone I pointed out in my Winter Outlook in Maryland after multiple tropical systems passed through?
Most winter storms have a big spread of temperatures. Any change in track can shift a forecast as much as 30 degrees.
It is important to note that this forecast was 150 hours away (from this morning).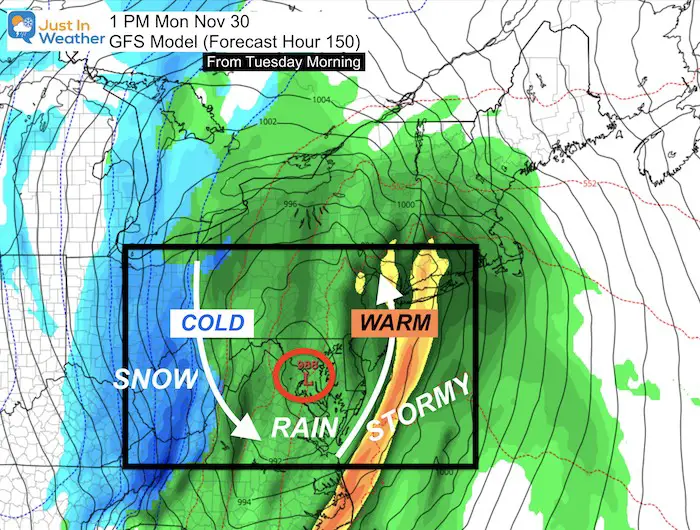 Compare To Prior Forecasts
THIS IS WHY I DO NOT GIVE FORECASTS ONE WEEK AWAY!
Here is the same time of 1 PM Monday November 30, from the same GFS Mode, but from each previous 12 hour forecast made. Notice the variation of storm plots, then the abrupt change to the map shown above.
—> slider
These plots had the Low Pressure already in New England.  Much different than what I showed above.
Temperature Outlook
There will be colder air 'after' our rain on Thanksgiving.
There may be another warm up with the next storm, but that depends on the specific track.
Behind that storm, a winter pattern will really try to establish itself for the first week or two of December.
This outlook forecasts temperatures 5 to 10 degrees below average in early December.
In THAT pattern is when we will have our best chance for flakes to fly.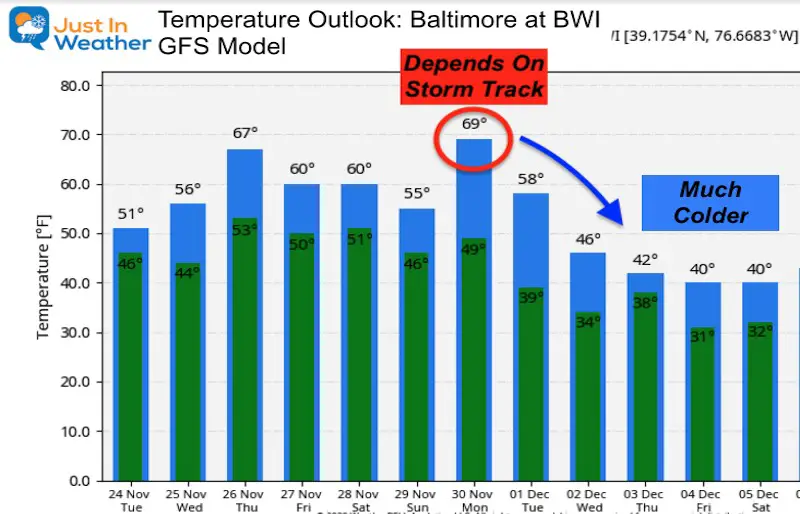 My Thoughts
The models and the atmosphere are telling us something. It wants to turn colder and it may want to snow.  I can not promise this storm will do it. I still hesitate with the model accuracy beyond 4 or 5 days (for surface features). The upper air pattern is trending colder and there will be energy in the pipeline to try and bring us flakes.
Will it be on the back end of this storm?
Will it be another storm?
Will it be snow showers or flurries?
This is what I wanted to share with you. If you have Faith in the Flakes, it is looking like a real possibility in the next few weeks.
If you hear the work snow tossed around, this is why.
If you hear or see a snow forecast on social media, please take that with a grain (or large spoon) of salt.   DO NOT trust computer guidance for specific storms at the beginning of a new season and new pattern until within 3 days.
I will share my thoughts with you, but I will be patient with snow forecasts until I have high confidence.
FITF
My Final Winter Outlook: Snow Forecast

FAITH IN THE FLAKES STORE OPEN
My 'bonus' daughter Jaiden is showing off our popular Maryland Hoodie. Click here to see this and many other new items.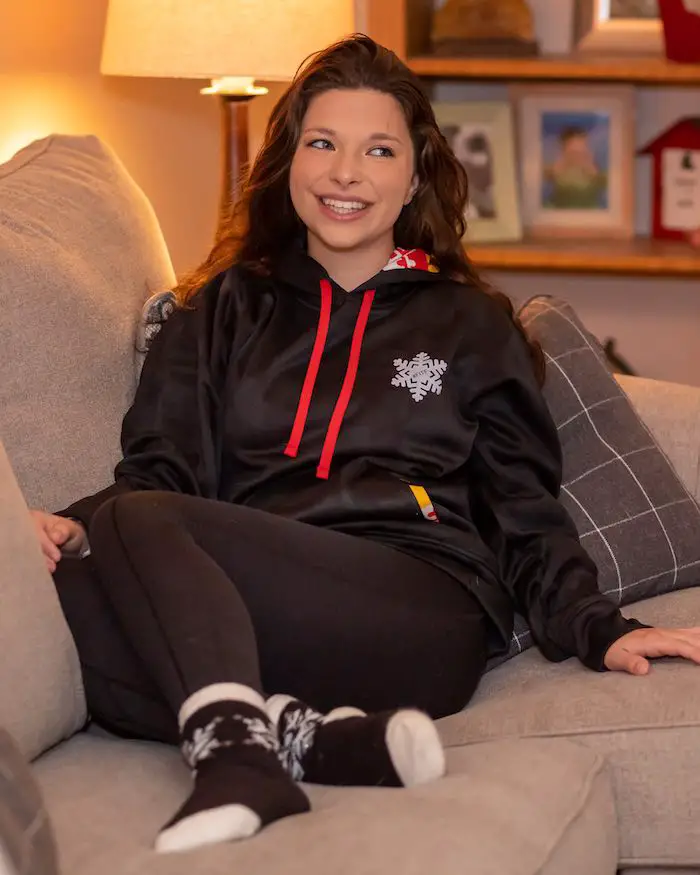 YOUR INTERACTIVE WEATHER PAGES
14 Local Maryland Pages (and York PA)
We have made a page for Maryland Weather which gives you the current conditions for 14 present area locations.
Local Hourly Forecasts and Local Radar
Central Maryland
Delmarva
Pennsylvania

Maryland Weather Page
I wanted to keep it simple. Just the basics for a quick view at any time.
Typical First Frost and Freeze
Please share your thoughts, best weather pics/video, or just keep in touch via social media
---
Email Updates
Please make sure you sign up (above or click here to sign up for email alerts…. ) for my newsletter. This way you will get an email to make sure you are notified of each post.
---
Just In Power Kids:
A portion of proceeds go to our programs Providing FREE holistic care for kids in cancer treatment and up to 5 years post treatment and caregivers.