November 22 2020
I wanted to show you some information that suggests the change in our weather pattern going in to next month.  I just shared my Winter Outlook a few days ago.  My thoughts are cooler and more snowy than many others. But most agreement has been that December is likely to be mild. That does not mean we can't see burst of cold air or early snow.
Computer models are showing the weather pattern to start December be colder. This is sooner than even I expected, and a good sign if you are hoping for snow. That doesn't mean it will happen right away, but it is promising if you have Faith in the Flakes.
This week has a few rain events and it is important to try and lock down the rain for Thanksgiving. So please understand that when I look farther ahead, I look for trends rather than specifics. So let's skip ahead to next weekend and I will explain what I mean.
Next Weekend: Sunday
Looking ahead one week, there may be another storm in the pipeline.  This will be forming in the Gulf of Mexico near Louisiana, one of may I expect as I discussed in my Winter Outlook.
This one should track to our west, keeping us on the warmer and rainy side.  Cold air will open up Lake Effect snow again for the mountains. What follows for us is what I find interesting.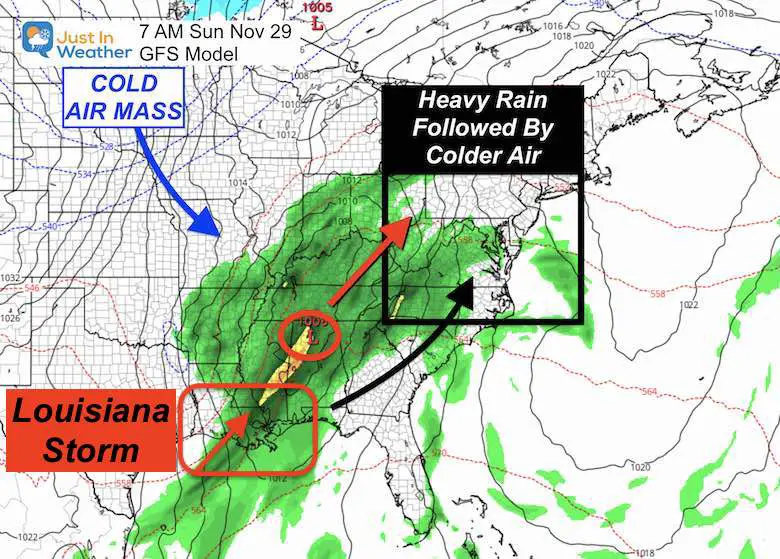 Jet Stream 
The upper level wind pattern will bring a deep trough into the eastern US. This will bring in colder air, following that storm.
This pattern is is a good sign for a disruption to the colder air aloft.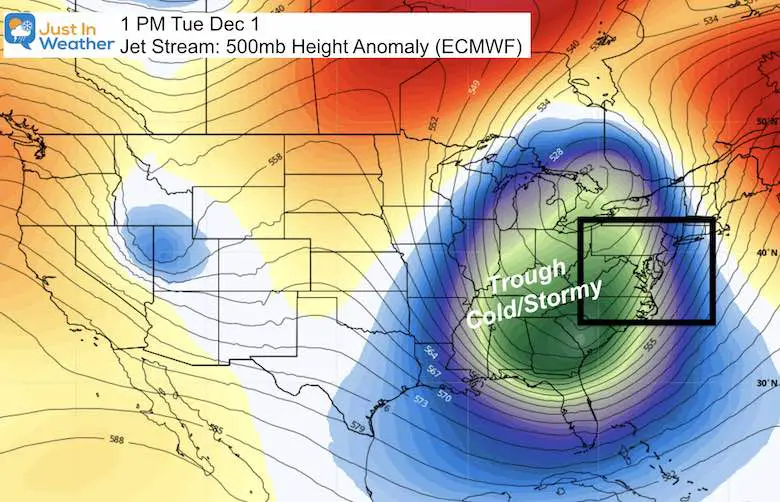 Polar Vortex and Arctic Oscillation
In prior reports I explained about the core of cold air around the North Pole. That is the Polar Vortex. Last year it was very strong, which kept the cold air locked up and we remained mild.
A weak Polar Vortex is what is needed for cold air intrusions and the chance for snow storms in the winter.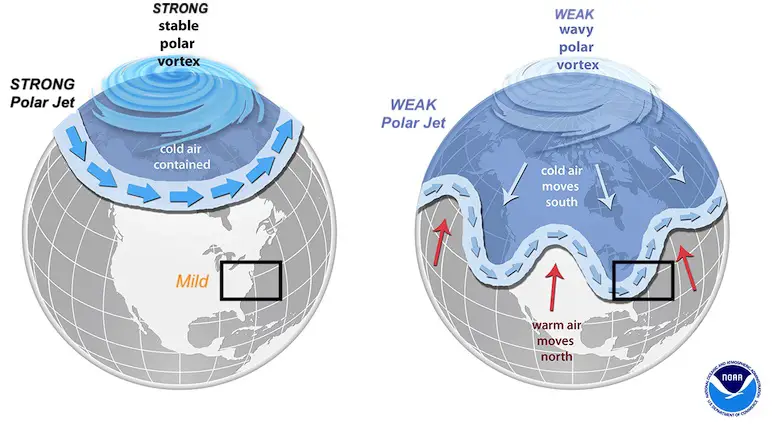 Arctic Oscillation Forecast
One signal of a weak Polar Vortex is measuring the Arctic Oscillation (AO).
Positive AO often means we remain warm.
Negative AO means a weak Polar Vortex and colder air can drop south and develop more storms.
The latest forecast below shows that AO has been positive (above the black line), but expected to trend to neutral or negative (red line) as we enter December.

North Atlantic Oscillation
Another measurement we look for for long range winter weather is the cold air pattern in the North Atlantic (NAO).  This follows the same general rule as above: Positive = Warm for us, Negative = Colder and stormy.
The forecast below (red lines) also show an abrupt drop around the beginning of December.

Jet Stream Animation
This animation shows the jet stream from Wednesday November 25 to Monday December 7.
Orange = Ridge and warmer temps.
Blue = Trough, stormy and colder.
Here we can see the trough matching the image above on December 1, but it does not last long.  That should be the first push of cold air, but warming back quickly.
The longer range pattern appears to bring in a deeper trough December 6 and 7.  These last frame look more like winter with a sustainable cold air. You can see a snapshot of that below.
Jet Stream December 7 Snapshot
This patten of old air is more widespread and sustainable. 'IF' this works out, it would be a favorable sign for early season winter weather events. I say 'IF' because this is two weeks away. I would not look at any specific weather events that far away, but the pattern and trend can be easier to plot this far out.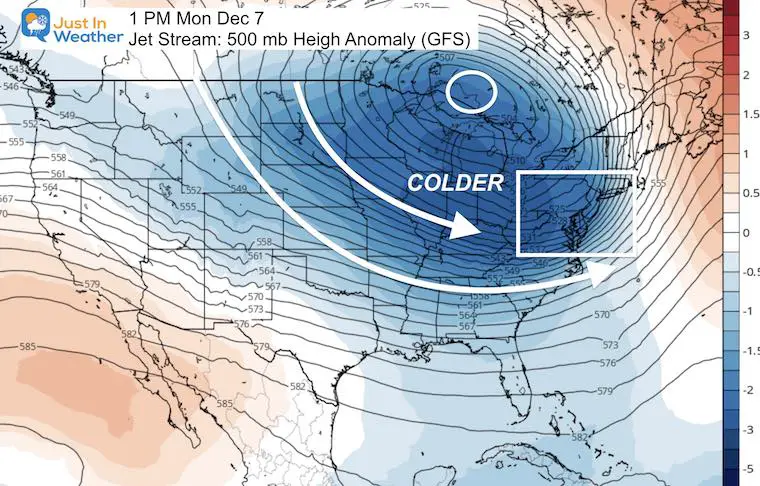 Temperature Outlook
At this point, the long range numbers do reflect the colder trend. This only bring us to December 3rd, so not the full outlook jet stream I showed above.
Notice we get a warm up with each rain event, then followed by colder air. We see that on Thanksgiving, then again with the rain Sunday-Monday November 29-30.
These numbers are subject to change as we get closer. But that long range is promising.
#FITF- We have hope if you want winter.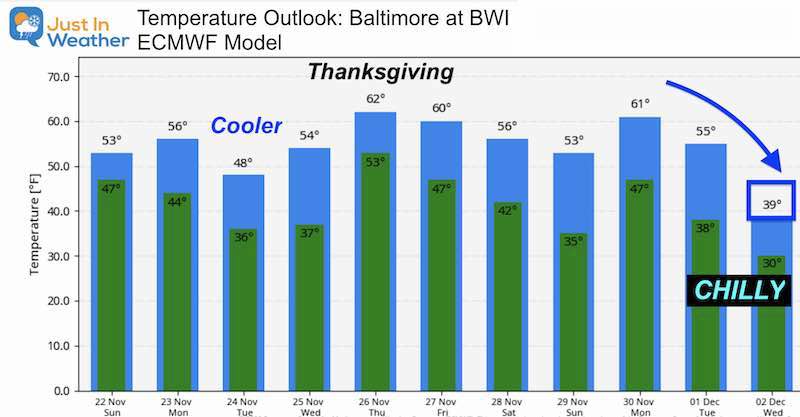 My Final Winter Outlook: Snow Forecast

FAITH IN THE FLAKES STORE OPEN
My 'bonus' daughter Jaiden is showing off our popular Maryland Hoodie. Click here to see this and many other new items.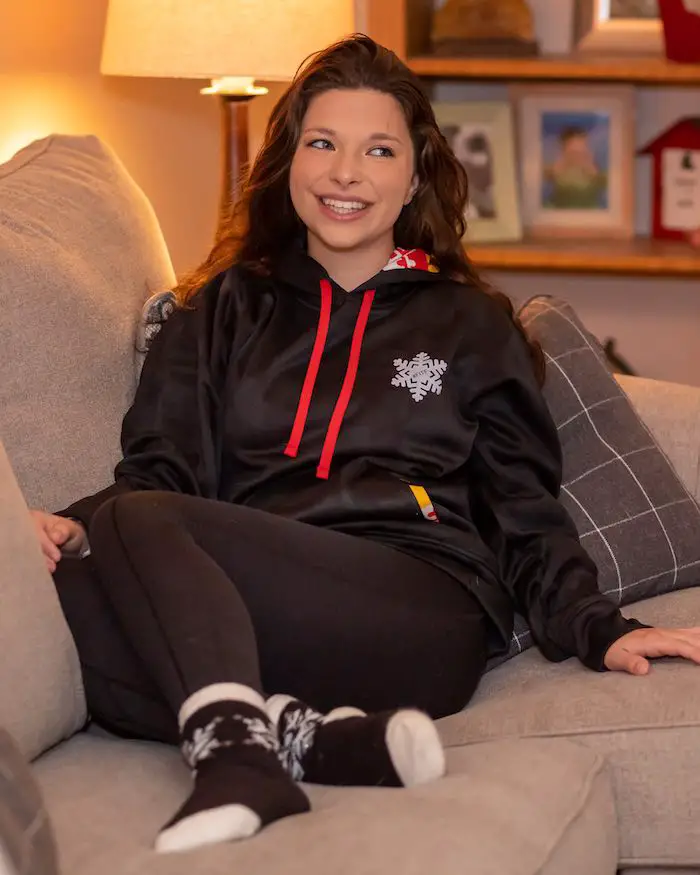 YOUR INTERACTIVE WEATHER PAGES
14 Local Maryland Pages (and York PA)
We have made a page for Maryland Weather which gives you the current conditions for 14 present area locations.
Local Hourly Forecasts and Local Radar
Central Maryland
Delmarva
Pennsylvania

Maryland Weather Page
I wanted to keep it simple. Just the basics for a quick view at any time.
Typical First Frost and Freeze
Please share your thoughts, best weather pics/video, or just keep in touch via social media
---
Email Updates
Please make sure you sign up (above or click here to sign up for email alerts…. ) for my newsletter. This way you will get an email to make sure you are notified of each post.
---
Just In Power Kids:
A portion of proceeds go to our programs Providing FREE holistic care for kids in cancer treatment and up to 5 years post treatment and caregivers.