Wednesday November 11 2020
On November 10, 2020 both Garrett County and Cecil County weather forecast and warning responsibilities officially moved under the Baltimore/Washington National Weather Service Office in Sterling, VA.  That is the same office that covers central Maryland, DC, and northern Virginia.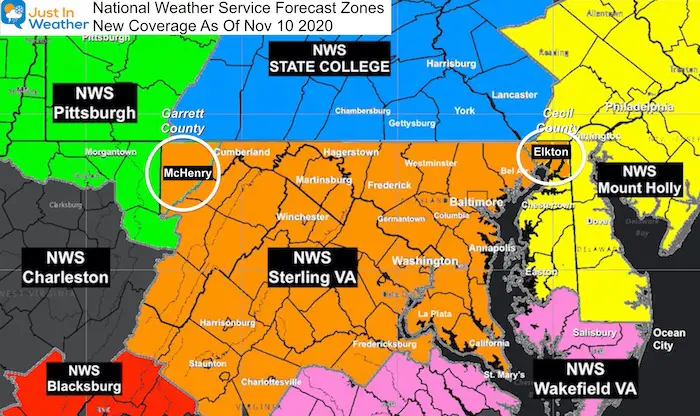 NWS Zones Coverage Counties:
Sterling VA (LWX): Most of central Maryland west of the Chesapeake Bay, to Cumberland and Frostburg; plus north central Virginia.
Now adding Garrett County in far western Maryland, and Cecil County in northeaster Maryland.
DELMARVA REMAINS SPLIT
Mount Holly NJ: Cecil, Kent, Queen Annes, Talbot, and Caroline Counties in Maryland; plus all of Delaware.
Wakefield VA: Maryland's Lower Eastern Shore. This is for Dorchester, Wicomico, Somerset, and Worcester Counties. 
Pennsylvania
State College PA: Southern Pennsylvania including Adams, York, and Lancaster Counties.
What does this mean?
One Office for weather forecasts for ALL of western Maryland.
One Office for weather forecast along ALL of the I-95 corridor within Maryland.
This will provide more fluid watches and warnings as needed.

 

In the past, the three difference offices may not have put out their alerts at the same time, causing confusion with local residents.
Statement From NWS
This change is being implemented in coordination with the Maryland Emergency Management Agency, Garrett County Emergency Management, and Cecil County Department of Emergency Services.
This change will enable the NWS to provide more efficient weather services to the State of Maryland by having a single NWS office provide forecast and warning services for all of western Maryland and the entire Interstate 95 corridor within Maryland.
Water Forecasts
NWS Baltimore/Washington will take over river forecast along the Susquehanna River at Conowingo Dam.  Also, tide forecasts and warnings for the Chesapeake and Delaware Canal at Chesapeake City.
In Depth
Central Maryland: Split NWS Weather Zones
Even under the same NWS Sterling VA office, the counties are broken down and some are split to account for the climate zones.
These county zones are split in the 'north and west' areas of Baltimore are based on the elevation factor and proximity to the Chesapeake Bay.
Harford and Baltimore have a a 'northern' split.
Howard and Montgomery have a 'western' split. This follows the higher elevation from the geologic feature called the Fall Line.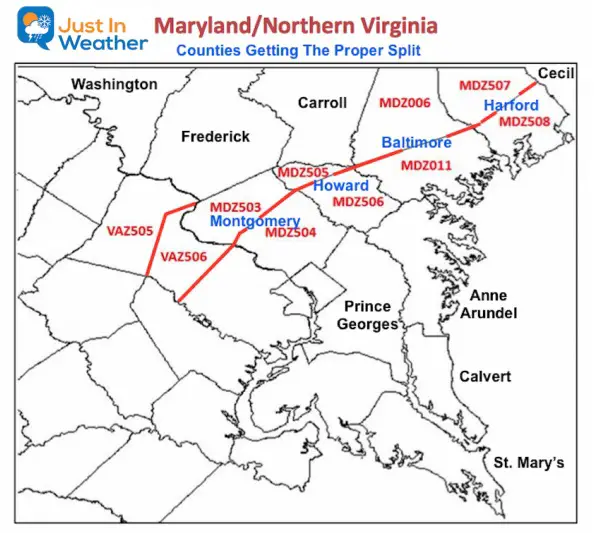 School Delays/Closings (before COVID19)
Maryland issues school closings and delays on a county wide basis. Pennsylvania, like many other states actually break the responsibility down to individual districts. The makes for much longer lists on active winter weather days, but caters better to that local area.
The Hereford Zone in Baltimore County accounts for the colder climate with more snow and ice.  Those schools have been featured, but many other counties could benefit from something similar.
It is possible that snow or ice cover part of these counties while other parts are wet. It's pretty common in Harford County, with the change over with a few miles of I-95. But that county has charter schools and bus routes with larger areas that make it more difficult to enact a similar policy to Baltimore's Hereford Zone. So sometimes that county will close, while it is wet in Abington or Haver de Grace. Or the county can be open but it is snowy and icy in Fallston, Jarrettsville, Pylesville, or Whiteford.
Wide Range Of Weather Across Small Area
I show this Average Annual Snowfall Map in every FITF school assembly. It is fascinating how much the weather can change in the winter just a few miles inland from the Chesapeake Bay and in the higher hills Northwest of I-95.
Yes, McHenry and Oakland get around 104 inches of snow in an average winter. This is going to add more fun to our local NWS office.
I will be updating our snowfall history in a new Winter Weather Page. That will be ready soon. FITF
YOUR INTERACTIVE WEATHER PAGES
14 Local Maryland Pages (and York PA)
We have made a page for Maryland Weather which gives you the current conditions for 14 present area locations. Many of these match up with the spots on our route.  Please use this list below are reference. I will include them daily with my articles on the kids.
NEW
Local Hourly Forecasts and Local Radar
Central Maryland
Delmarva
Pennsylvania
Maryland Weather Page
I wanted to keep it simple. Just the basics for a quick view at any time.
Please share your thoughts, best weather pics/video, or just keep in touch via social media
---
Email Updates
Please make sure you sign up (above or click here to sign up for email alerts…. ) for my newsletter. This way you will get an email to make sure you are notified of each post.
---
FITF and SnowStix Stores are now OPEN
FITF GEAR
Thanks to my wife Shannon who wanted to bring these hats to life.
The Maryland Hoodie is high quality and a new way to show off our love of Snow and State.
New items will be added soon.
FITF Store


Sunflower Season: Millers Farm Photos And Info
Help Solve The Mystery
UFO, Meteor, Or Something Else Caught On Cam In Owings Mills MD This Week?
Explore More:
Autumnal Facts and Weather Stats
Record Low Tied at BWI and Frost Photos Sep 20
Typical First Frost and Freeze
Also See:
July 2020 The hottest on record. Will it hint at snow this winter?
Comet NEOWISE Viewing All July (photos/video)
Other  Links:
Baltimore Weather At BWI May Not Be As Hot As Reported
Construction at the airport close to the weather station may be added artificial heat. Click here or the image for the details.
Also See:
Just In Power Kids:
Proceeds go to our programs Providing FREE holistic care for kids in cancer treatment and up to 5 years post treatment and caregivers.