Sunday November 8 2020
Enjoy this warm weather, but the same pattern will bring us heavy rain in a few days. I strongly encourage you to take advantage and catch up on yard work. Hint, hint…
Record high temperatures were reached yesterday. Baltimore hit 77ºF at BWI, which tied the mark set in 1938 and 1975. We could get that warm again today, but the record today was 80ºF set in 1975.  That will be harder to reach.
On the weather map, High Pressure remains in control, but will help to bring in some heavy rain.  That will be from Tropical Storm Eta. After crossing Cuba this morning, that storm is expected to curl past south Florida and get stuck in the Gulf of Mexico all week.  The rain it sends us will arrive well ahead of it by Wednesday.
Morning Surface Weather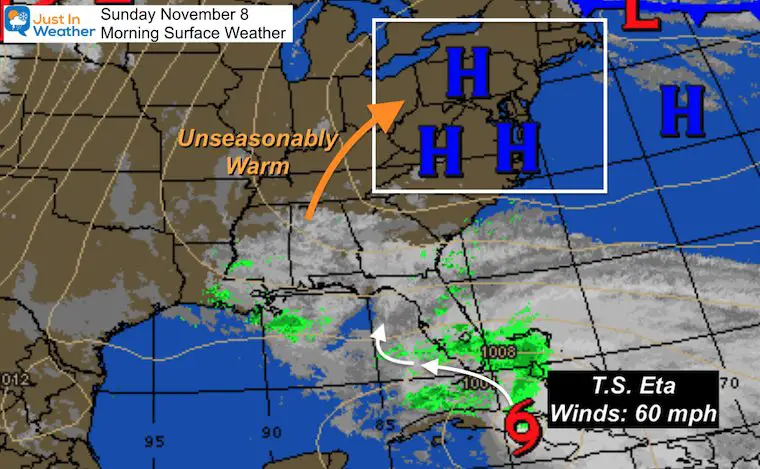 Tropical Storm Eta
I am spending time on this storm for two reasons:
This is a rare event for November, which will last for a while.
This will indirectly send us heavy rain mid week, and possibly again next weekend.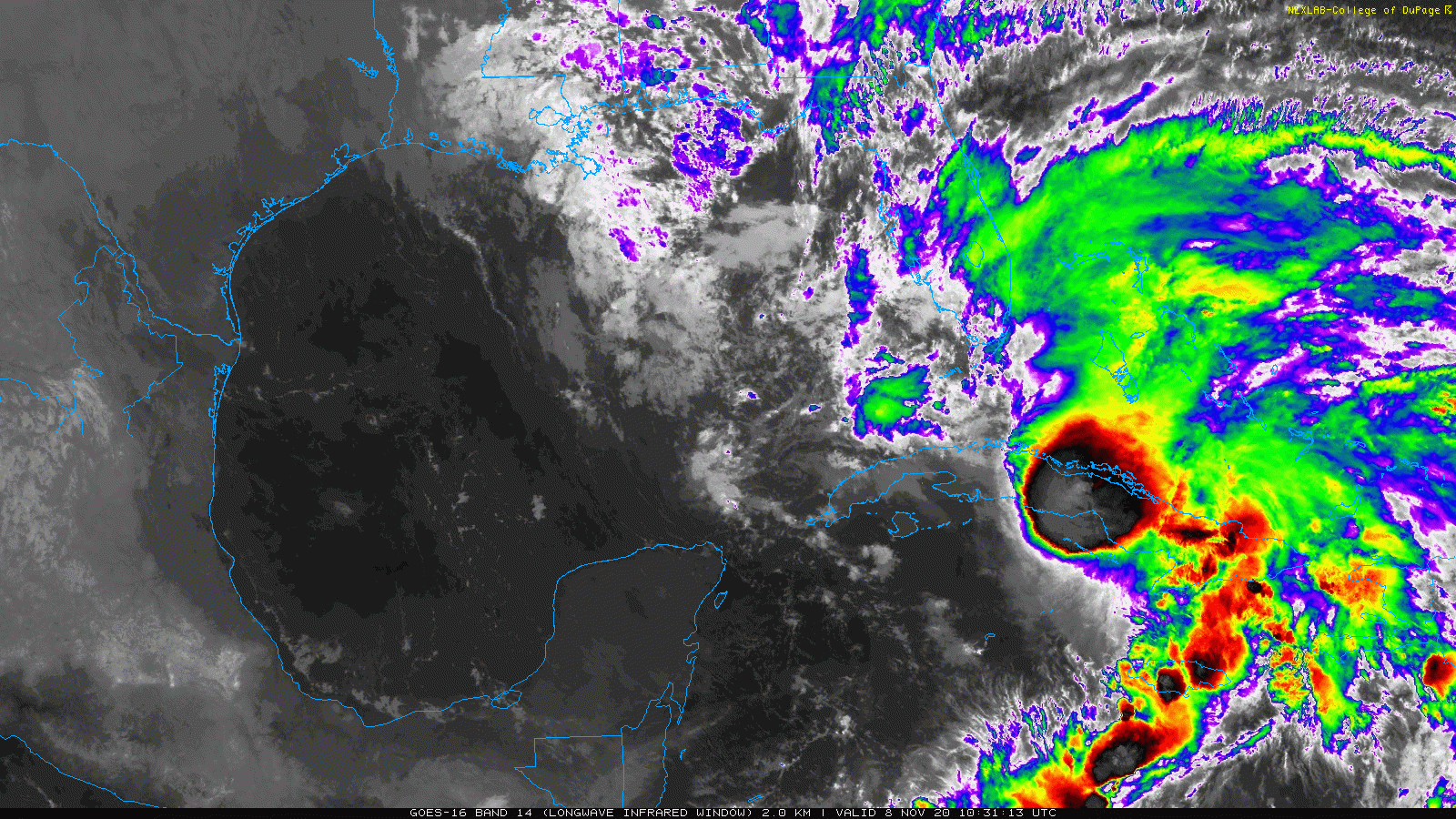 National Hurricane Center Update: 7 AM EST
Winds: 60 mph
Moving: NNE at 12 mph
Tropical Storm Warnings for all of South Florida and The Bahamas.
Getting Stronger
The latest spread of computer model forecasts does show the potential for reaching hurricane intensity. Some of this will depend on the path over land or just south of South Florida.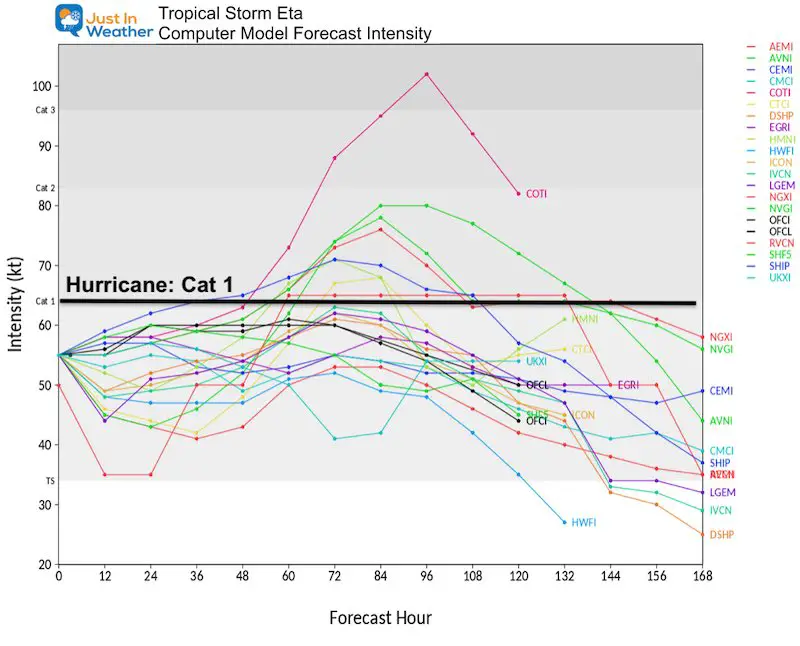 Eta Forecast Track/Cone
This new map from the National Hurricane Center shows the S-turn again around Florida and then getting nearly stalled in the eastern Gulf of Mexico.
This does NOT show a track to our region. That is NOT the forecast for us. But watch the forecast maps below to see how this will play a role.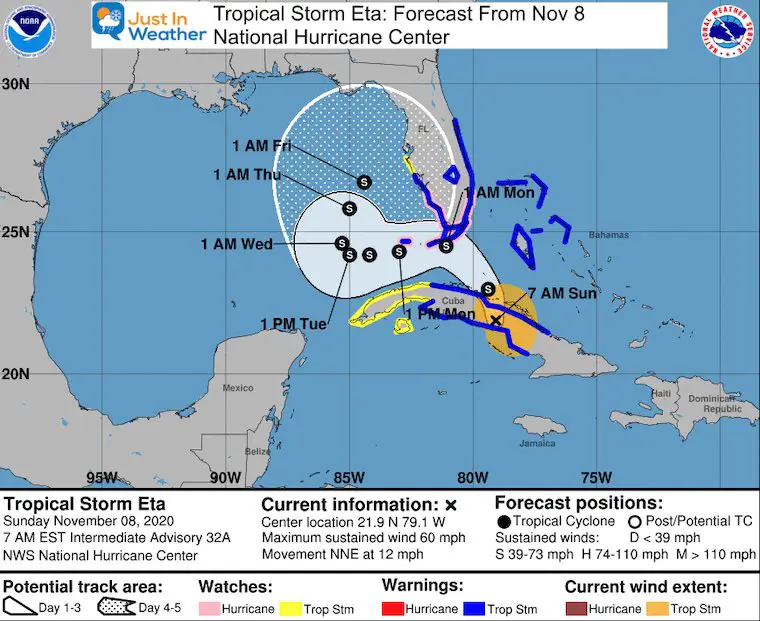 Eta Forecast Animation
Here is the GFS Model showing the core of Eta at the bottom of the view. This will stay near Florida.
But watch the moisture from it shoot north ahead of a cold front that will reach us on Wednesday!  Keep watching and it appears to do it again next weekend.  The storm will remain in the Gulf and still be an influence on our weather Wednesday through Sunday.
Wednesday Snapshot
That tropical  moisture will meet up with a cold front and result in heavy rain Wednesday. This may also bring some strong thunderstorms. A rarity for November.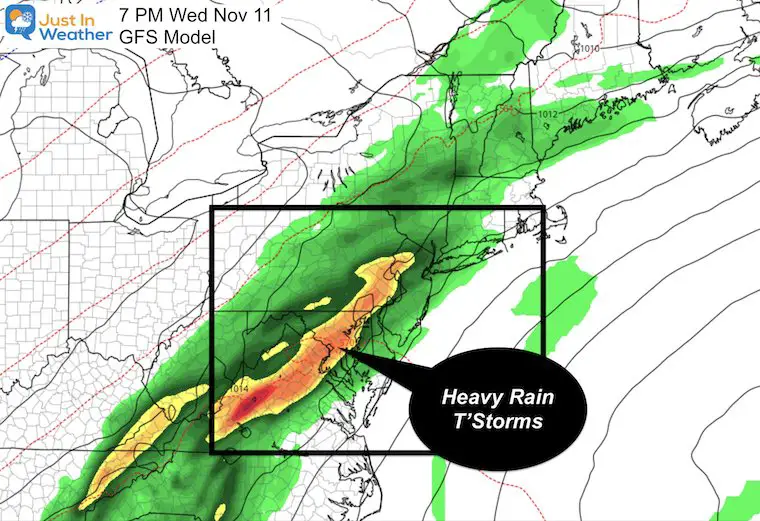 How Much Rain?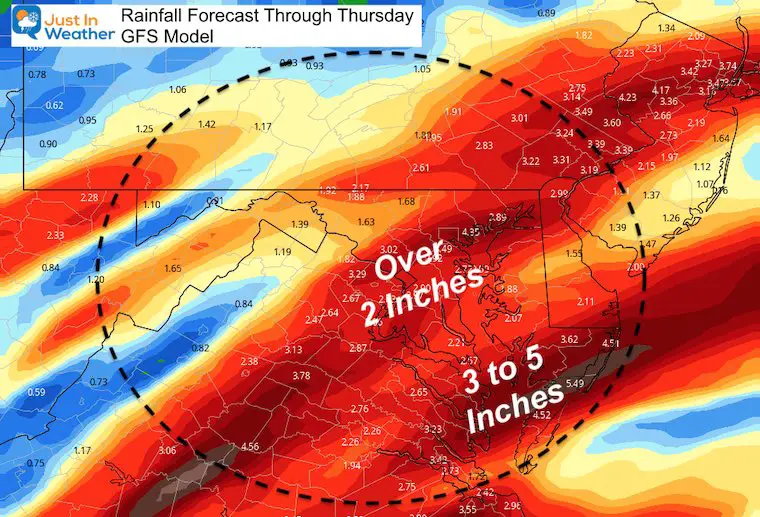 Temperature Forecast
Today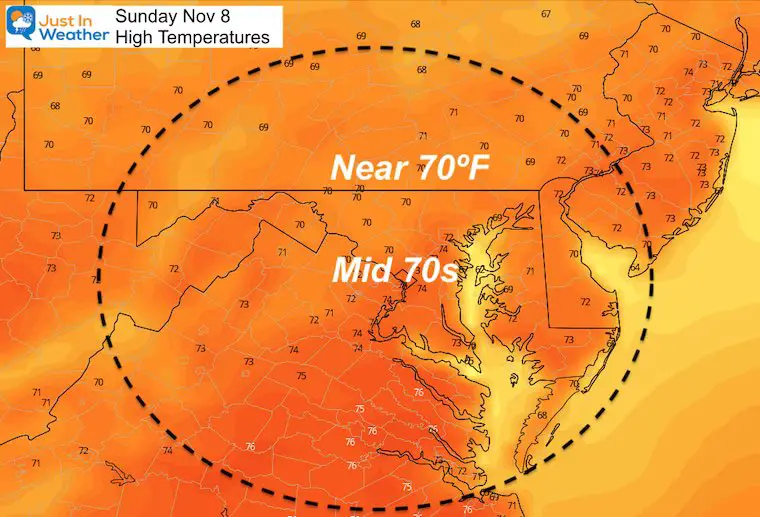 Monday Morning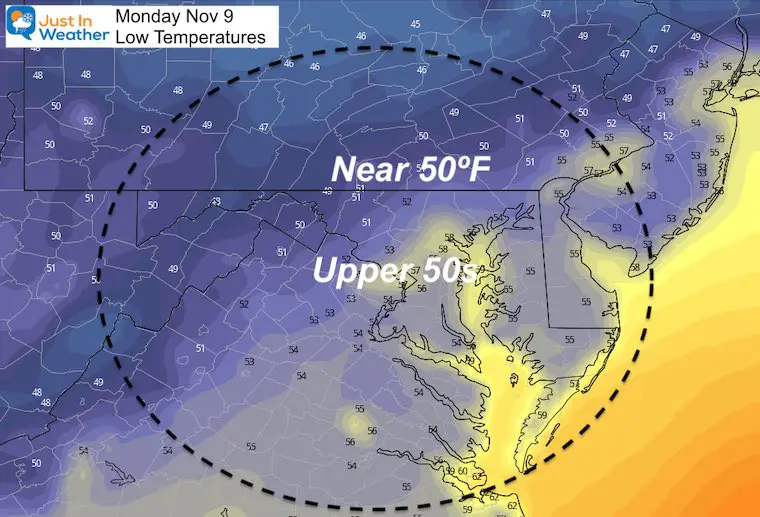 Looking Ahead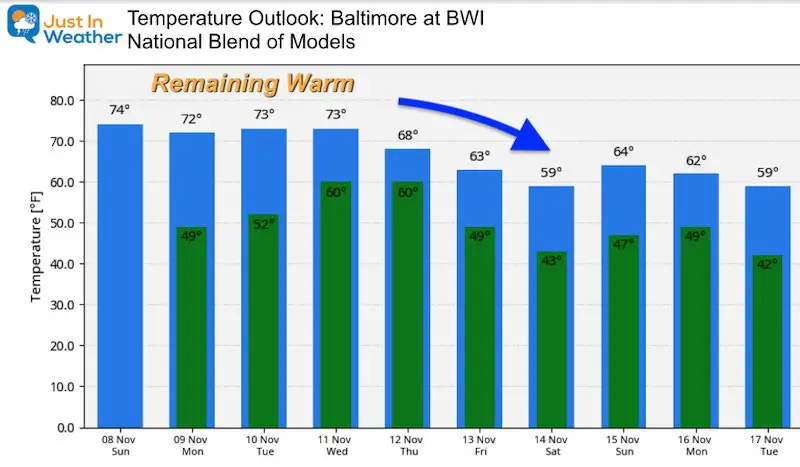 YOUR INTERACTIVE WEATHER PAGES
14 Local Maryland Pages (and York PA)
We have made a page for Maryland Weather which gives you the current conditions for 14 present area locations.
Local Hourly Forecasts and Local Radar
Central Maryland
Delmarva
Pennsylvania
Maryland Weather Page
I wanted to keep it simple. Just the basics for a quick view at any time.
Please share your thoughts, best weather pics/video, or just keep in touch via social media
---
Email Updates
Please make sure you sign up (above or click here to sign up for email alerts…. ) for my newsletter. This way you will get an email to make sure you are notified of each post.
---


Help Solve The Mystery
UFO, Meteor, Or Something Else Caught On Cam In Owings Mills MD This Week?
Explore More:
Autumnal Facts and Weather Stats
Record Low Tied at BWI and Frost Photos Sep 20
Typical First Frost and Freeze
Also See:
July 2020 The hottest on record. Will it hint at snow this winter?
Comet NEOWISE Viewing All July (photos/video)
Other  Links:
Baltimore Weather At BWI May Not Be As Hot As Reported
Construction at the airport close to the weather station may be added artificial heat. Click here or the image for the details.
Also See:
Just In Power Kids:
Proceeds go to our programs Providing FREE holistic care for kids in cancer treatment and up to 5 years post treatment and caregivers.