Sunday November 8 2020
This is one of the strangest storm tracks I've seen. Last week Tropical Storm Eta went from 40 mph to 150 mph in 36 hours. It hit Nicaragua as a Cat 4. After snaking through Honduras and back east to Cuba, it is now making a turn again to pass through the Florida Keys.
Eta History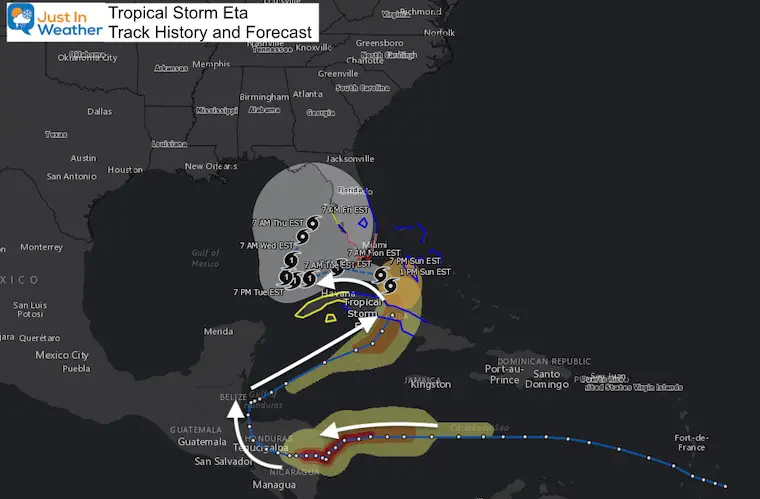 Since Eta will pass south of the Florida mainland, it has a better chance to become a Hurricane, and warnings have been issued for the Keys.  This new path takes it father out into the Gulf of Mexico, before slowing turning north and lingering for the week.  This will have two opportunities to send heavy rain and flooding our way.
See the new forecast maps and interactive widgets below.
Close Up Forecast Map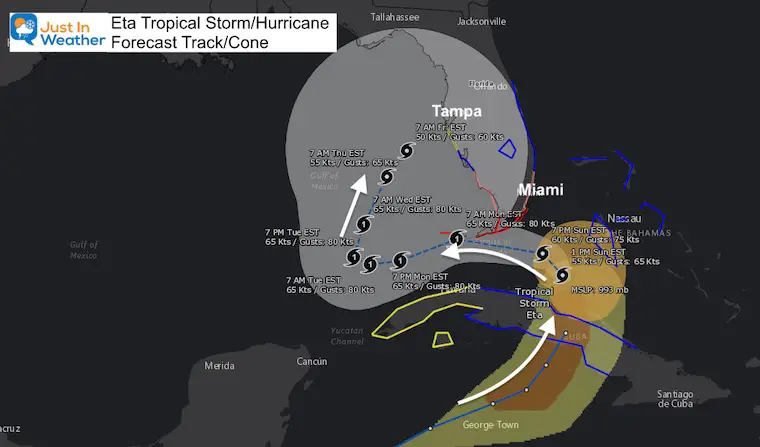 Tropical Satellite Loop
At 1 PM EST
Winds = 65 mph
Moving: NNW at 17 mph
Pressure: 993 mb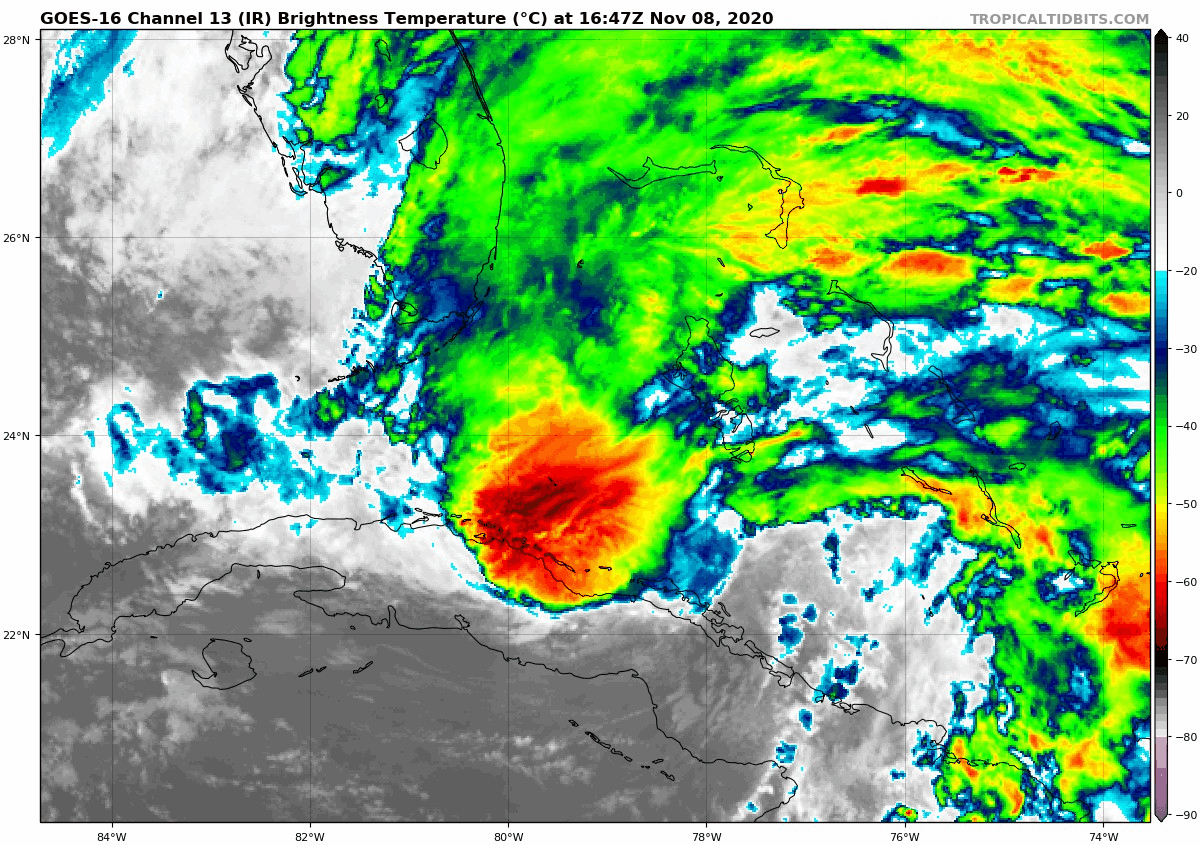 National Hurricane Center Forecast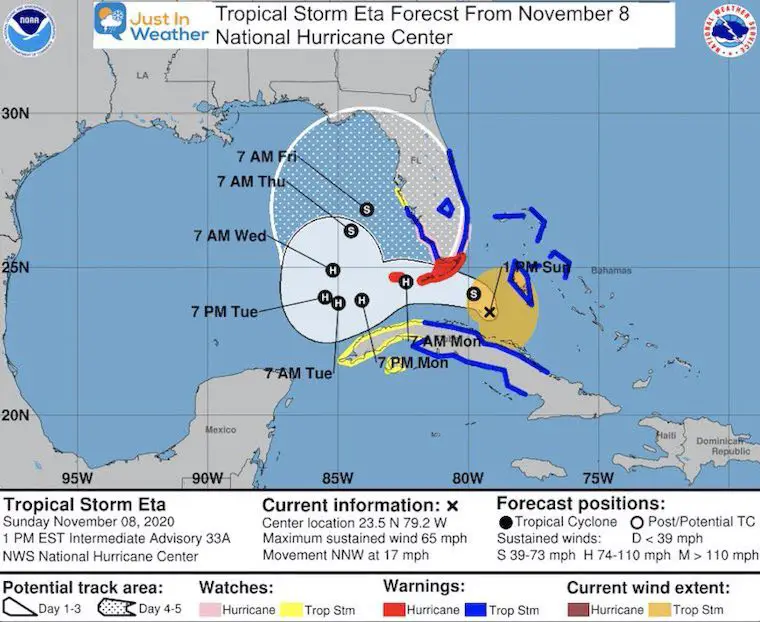 Storm Surge
A wide impact zone includes the entire east coast of Florida. This is because of the broader easterly wind in place and enhanced by being pulled in to Eta.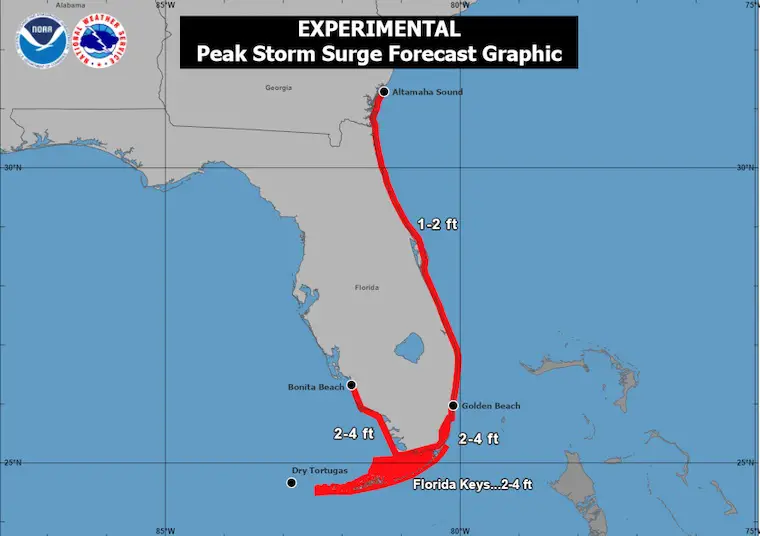 A Storm Surge Warning is in effect for...
* Florida Keys from Ocean Reef to the Dry Tortugas, including
Florida Bay

A Storm Surge Watch is in effect for...
* Florida coast from Golden Beach to Bonita Beach, including
Biscayne Bay
Interactive Forecast Widget
Forecast Animation
Eta is at the bottom of the screen.  Two times it will send heavy rain north our way.
Wednesday rain teams up with a cold front, but Eta remains in the Gulf.
Saturday/Sunday the remains of Eta get pulled into the next front.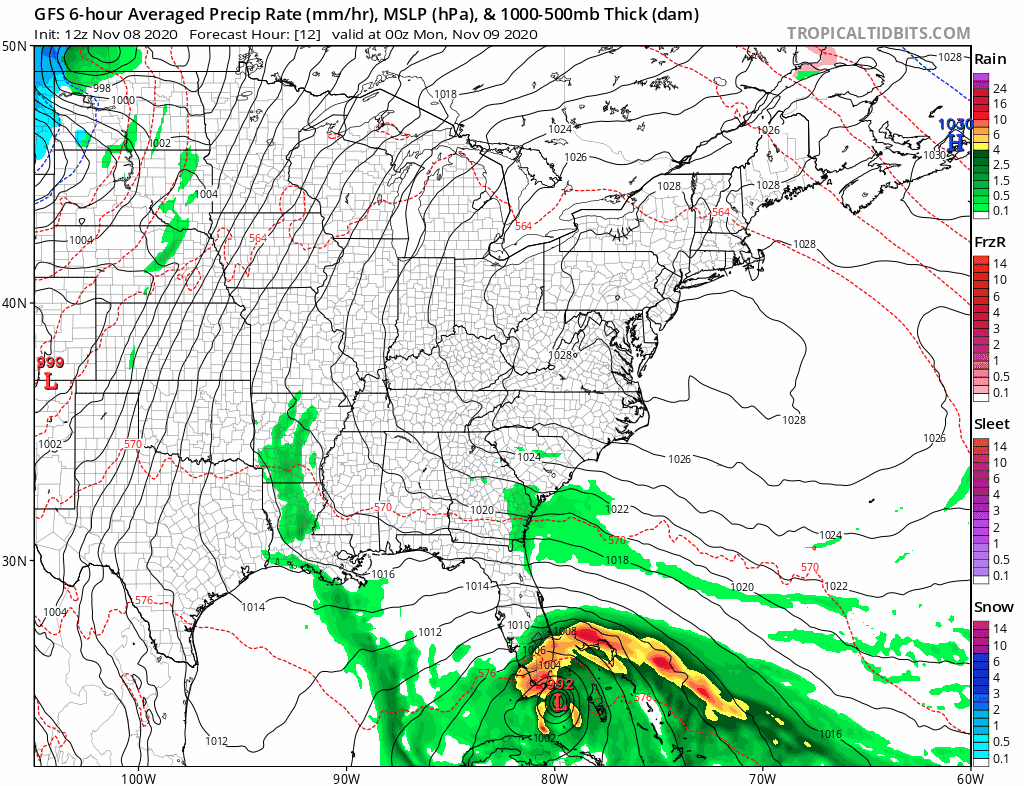 Rainfall Forecast Through Thursday
This changed a little bit.  The GFS has lowered the rain with a slight delay of the arrival and shift of the heaviest precipitation south and east.  The ECMWF Model has been holding more steady.
Again, more rain is likely next week as well.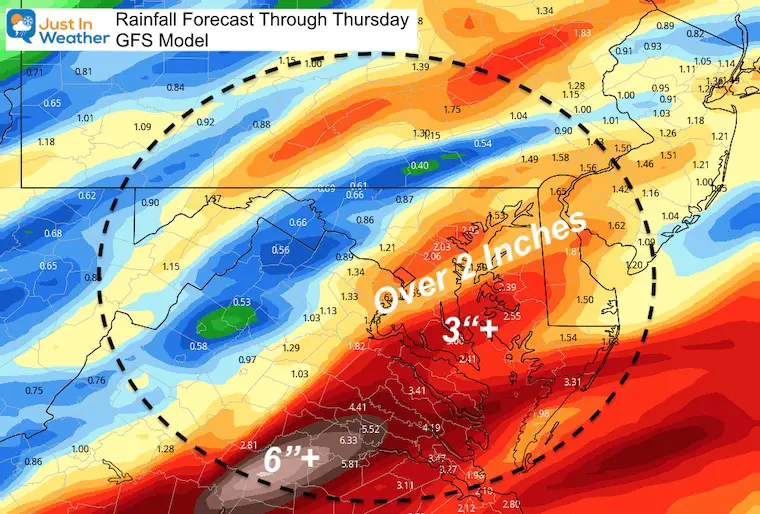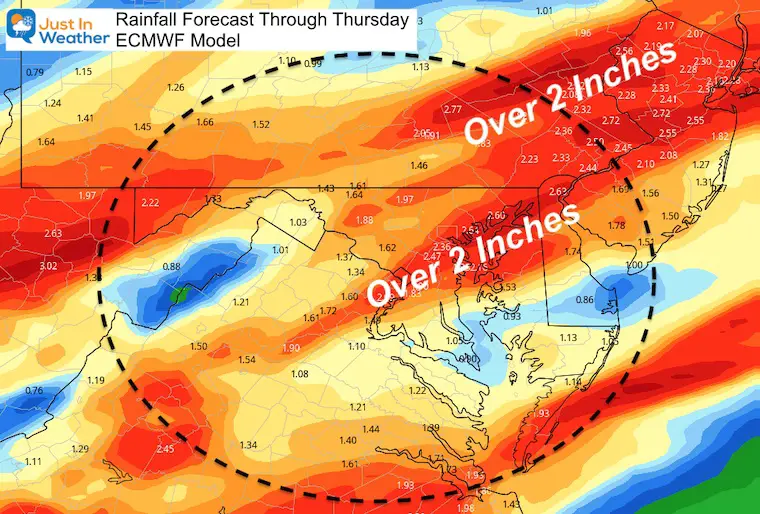 Related Posts
2020 Tropical Storm and Hurricane Names and Naming History
Atlantic Tropical History: Maps of Origin Regions Every 10 Days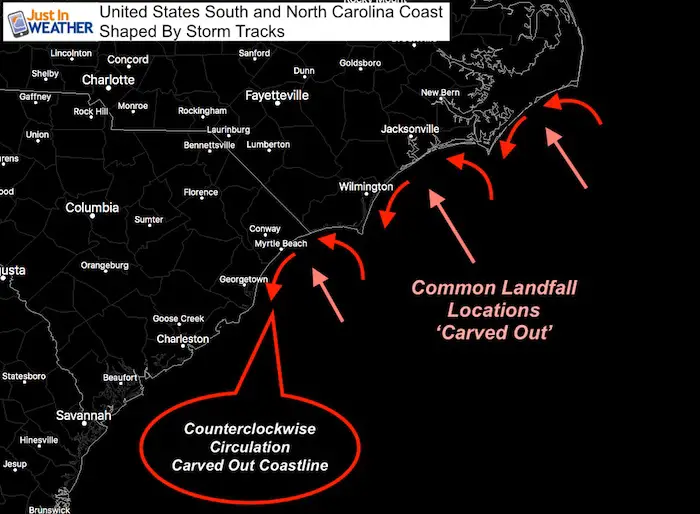 YOUR INTERACTIVE WEATHER PAGES
14 Local Maryland Pages (and York PA)
We have made a page for Maryland Weather which gives you the current conditions for 14 present area locations.
Local Hourly Forecasts and Local Radar
Central Maryland
Delmarva
Pennsylvania
Maryland Weather Page
I wanted to keep it simple. Just the basics for a quick view at any time.
Please share your thoughts, best weather pics/video, or just keep in touch via social media
---
Email Updates
Please make sure you sign up (above or click here to sign up for email alerts…. ) for my newsletter. This way you will get an email to make sure you are notified of each post.
---


Help Solve The Mystery
UFO, Meteor, Or Something Else Caught On Cam In Owings Mills MD This Week?
Explore More:
Autumnal Facts and Weather Stats
Record Low Tied at BWI and Frost Photos Sep 20
Typical First Frost and Freeze
Also See:
July 2020 The hottest on record. Will it hint at snow this winter?
Comet NEOWISE Viewing All July (photos/video)
Other  Links:
Baltimore Weather At BWI May Not Be As Hot As Reported
Construction at the airport close to the weather station may be added artificial heat. Click here or the image for the details.
Also See:
Just In Power Kids:
Proceeds go to our programs Providing FREE holistic care for kids in cancer treatment and up to 5 years post treatment and caregivers.