Saturday November 7 2020
The short version of our weather is that it will be very nice this weekend.  We've already seen some morning fog, and a quick warm up. The afternoon will be back to the 70s for most of the region, and more fog will develop overnight. Then repeat on Sunday. BWI hit 75ºF yesterday, and it should be able to do that again, and again.
We need to focus on that 'Zombie' Storm Eta in the Caribbean Sea.  It is growing and should be declared a Tropical Storm 'again' today.  Warnings are in place for Cuba and Watches for south Florida.  That storm will play a role in our weather during the work week.
Saturday Morning Surface Weather
We get quiet weather and warm afternoons.
Eta just showing up on the map (bottom) and will send rain well ahead of the center. That is what we need to watch this into next week.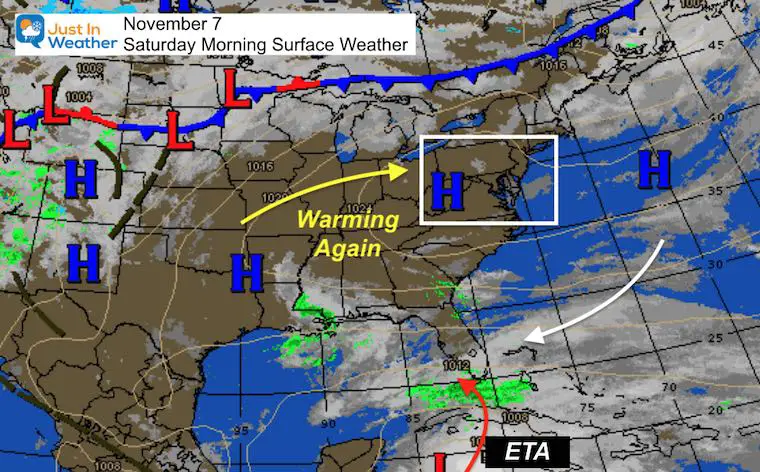 Eta Tropical Satellite Loop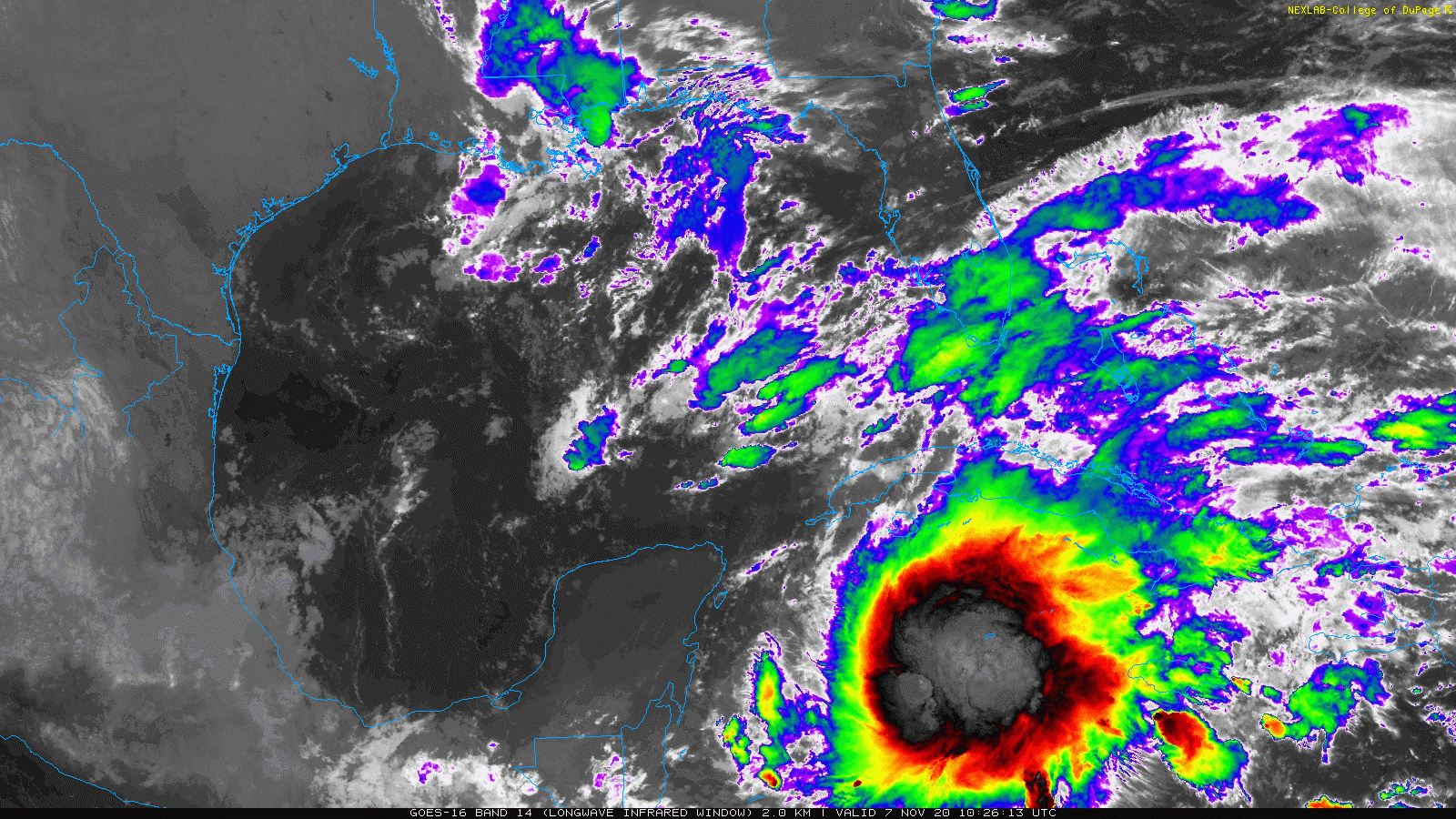 National Hurricane Center Update: Saturday Morning
Winds: 35 mph
Moving: East-Northeast at 13 mph
TS Warning in Cuba
TS Watch in South Florida
Forecast Animation
Watching the center of the storm, it will pass south Florida then enter the Gulf of Mexico.
Watching the moisture, upper level winds will bring the bulk of rain well north to link up with a cold front right over our region on Wednesday.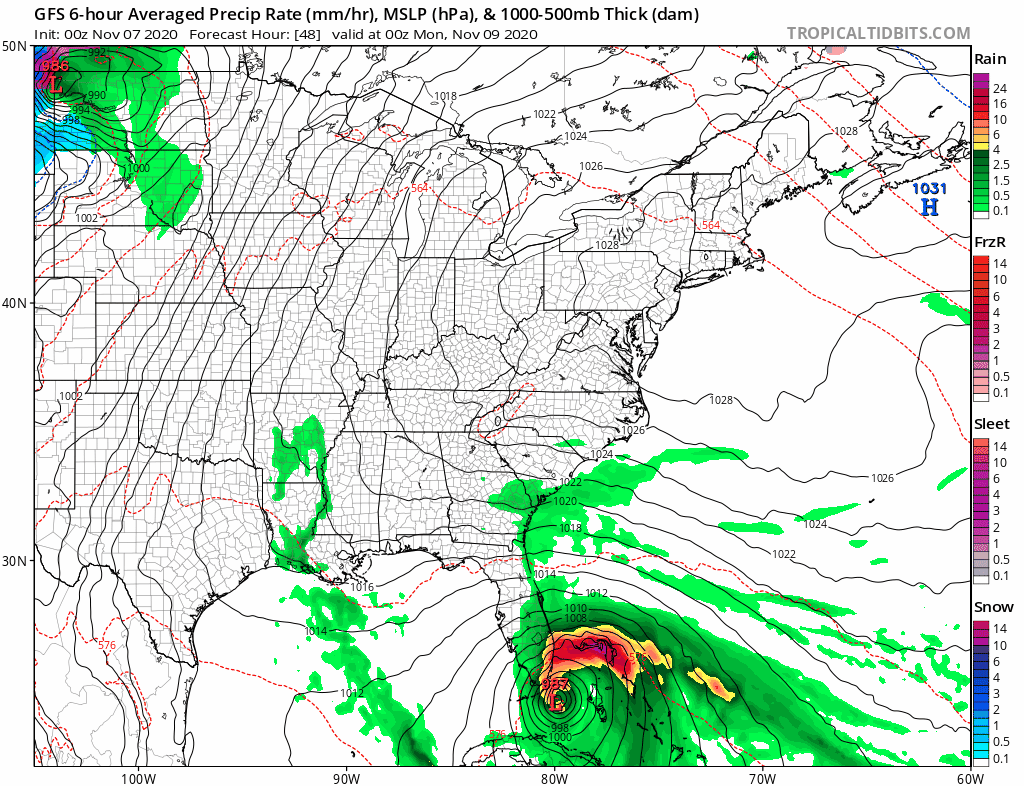 Wednesday Snapshots 
The GFS Model has been doing a pretty good job with these long range systems.  Here is a look at the call for Wednesday morning continuing to bring in moderate to heavy rain for most of our region.  It also suggests there could be some thunderstorms in the southern part of our region and Delmarva.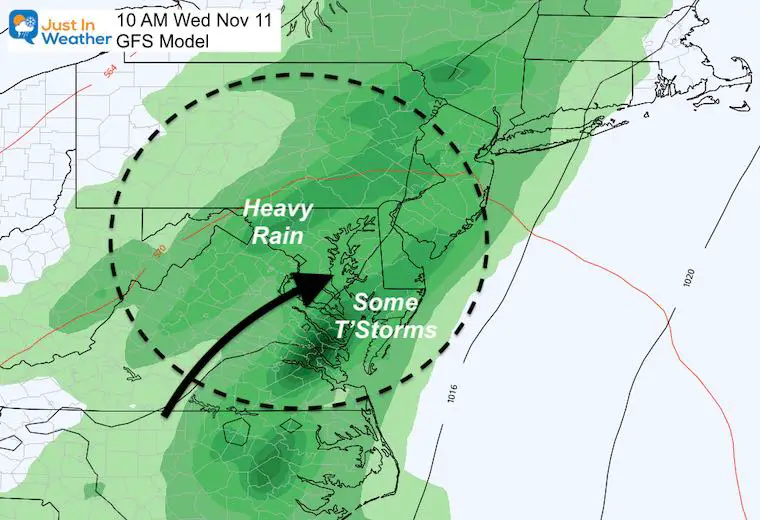 The European Model is showing the rain bulk of the rain a little slower, which is why the plot here for the same time is a little farther west. Both call for Wednesday turning wet and lasting into Thursday.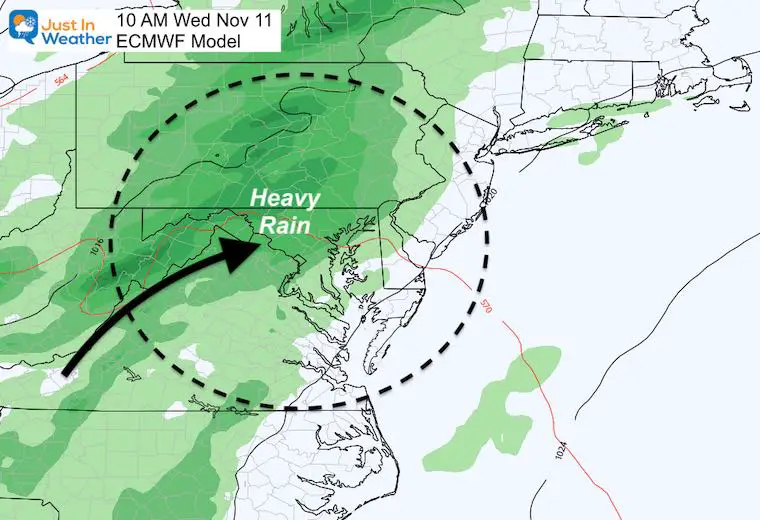 How Much Rain?
It is too early to give specifics, but this pattern brings in the potential for 1 to 3 inches.
I will start posting rain forecast maps tomorrow.
Back To Our Temperature Forecast
Today
We often verify temps WARMER than the models show in late season patterns like this.  That's why 75ºF or higher is possible.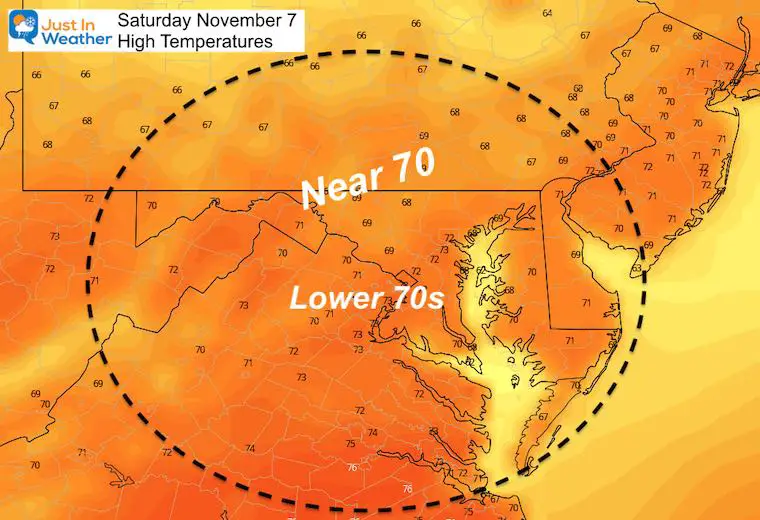 Sunday
Morning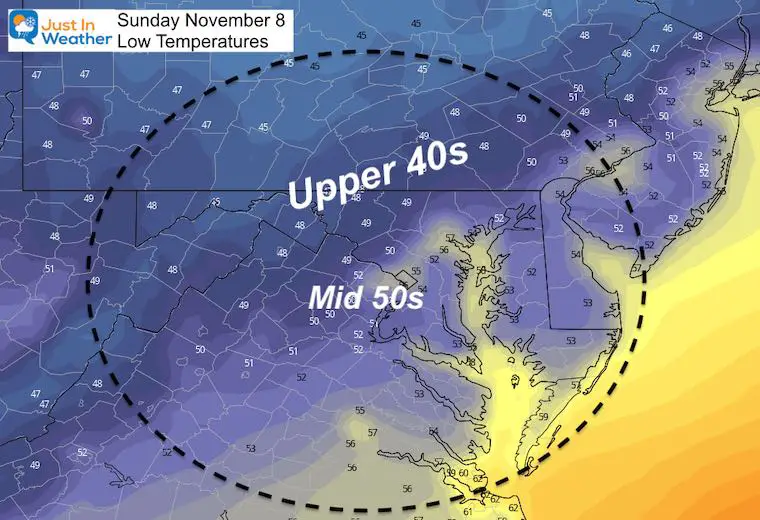 Afternoon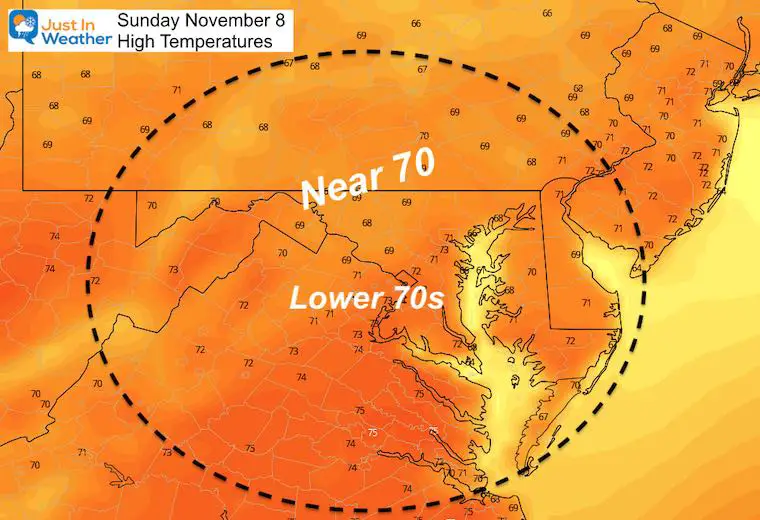 Extended Outlook
While the rain and cold front will be in our region for a few days, the cold air may not fully arrive until Friday and next weekend.  That's when we bring back the pattern for near to slightly below average/seasonal temperatures.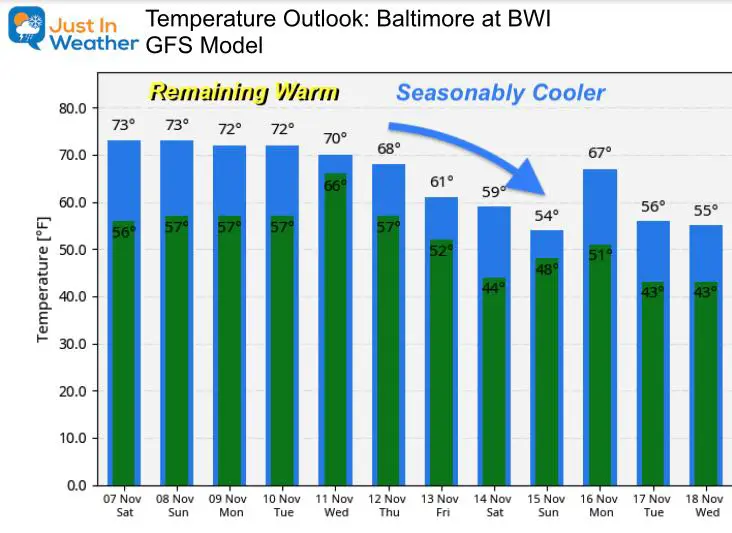 YOUR INTERACTIVE WEATHER PAGES
14 Local Maryland Pages (and York PA)
We have made a page for Maryland Weather which gives you the current conditions for 14 present area locations.
Local Hourly Forecasts and Local Radar
Central Maryland
Delmarva
Pennsylvania
Maryland Weather Page
I wanted to keep it simple. Just the basics for a quick view at any time.
Please share your thoughts, best weather pics/video, or just keep in touch via social media
---
Email Updates
Please make sure you sign up (above or click here to sign up for email alerts…. ) for my newsletter. This way you will get an email to make sure you are notified of each post.
---



Help Solve The Mystery
UFO, Meteor, Or Something Else Caught On Cam In Owings Mills MD This Week?
Explore More:
Autumnal Facts and Weather Stats
Record Low Tied at BWI and Frost Photos Sep 20
Typical First Frost and Freeze
Also See:
July 2020 The hottest on record. Will it hint at snow this winter?
Comet NEOWISE Viewing All July (photos/video)
Other  Links:
Baltimore Weather At BWI May Not Be As Hot As Reported
Construction at the airport close to the weather station may be added artificial heat. Click here or the image for the details.
Also See:
Just In Power Kids:
Proceeds go to our programs Providing FREE holistic care for kids in cancer treatment and up to 5 years post treatment and caregivers.