Wednesday September 16 2020
Sally has been downgraded to a Tropical Storm, continuing inland and slowly losing intensity. Heavy rain along the path will spread ahead of the center. While the storm will remain well south of our region, there is a signal that some of that rain will arrive Thursday. Combine that with the high level smoke layer, and it could bring the smell of smoke to the air tomorrow.
I know this may sound like a stretch, but worth addressing ahead of time so you won't be surprise. I will explain why along with the update on Hurricane Sally below.
Afternoon Satellite
This afternoon there has been plenty of smoke (blurry view) across the northern half of the US seen on the satellite. We still have that haze in our sky today.  Sally is a dominant feature across the Southeast US. That storm may play a role in helping to disperse the particulates in our region.
Weather Features
Sally was downgraded to a Tropical Storm just after this map was made. It is centered inland about 30 miles north of Pensacola FL. On the outer edge, there has been a trough where the ripples of Sally reach.
Meanwhile, High Pressure in the Atlantic has been sending us an easterly wind. This interacting with that trough is helping to produce additional clouds this afternoon in our region.
Smoke Layers
This cross section was posted by the National Weather Service yesterday. It shows the primary layer of smoke particles between 15,000 and 25,000 Ft high.  This was the morning measurement.
Tuesday Morning Cross Section
Wednesday Afternoon Cross Section: Lower
An airline pilot messaged me in the evening saying the smoke layer had lower to 5,000 Ft Tuesday evening. Here is the cross section data from Wednesday Afternoon. The Smoke Level peak has lowered to 10,000FT. Any rain potential tomorrow will drag some of that down to the surface.
Quick Look at Tropical Storm Sally
Visible Satellite Loop
Look closely and you might see the tilted circulation. The clouds aloft are to the northeast of the surface spin.  This is showing the ragged sign of the storm weakening and moving to the Northeast.
National Hurricane Center SUMMARY OF 100 PM CDT 
----------------------------------------------
LOCATION...30.9N 87.1W
ABOUT 30 MI...45 KM NNE OF PENSACOLA FLORIDA
MAXIMUM SUSTAINED WINDS...70 MPH...110 KM/H
PRESENT MOVEMENT...NNE OR 30 DEGREES AT 5 MPH...7 KM/H
MINIMUM CENTRAL PRESSURE...982 MB...29.00 INCHES
National Hurricane Center Maps (auto updating)
Forecast 
The GFS Model shows rain from Sally reaching Maryland during Thursday afternoon.
Smoke Forecast Thursday Morning
The HRRR Model shows moderate to high levels of smoke particles aloft Thursday morning. If this is at a lower level, there is greater chance any rain could drop them down.  Even at the higher altitude, mixing in the air could bring that into the rain drop formation level and drop down to the surface.
Radar Simulation —> slider
The NAM 3 Km model is the most aggressive with drizzle early and rain spreading in during the afternoon and evening.
If this verified, it could bring some smoke particles within the drops down the the surface. That would allow the smell of smoke to reach us as well. But it will be helping to cleans the air in the process.
Forecast Widget- Auto Updating
Wind, Cloud,  and Pressure Levels Projected
This is a forecast view.
You can see the future cast using the button at the bottom of the map.
Pinch to move and zoom in on the map.
All GOES EAST Satellite 'Floater' views
Related Posts
2020 Tropical Storm and Hurricane Names and Naming History
Atlantic Tropical History: Maps of Origin Regions Every 10 Days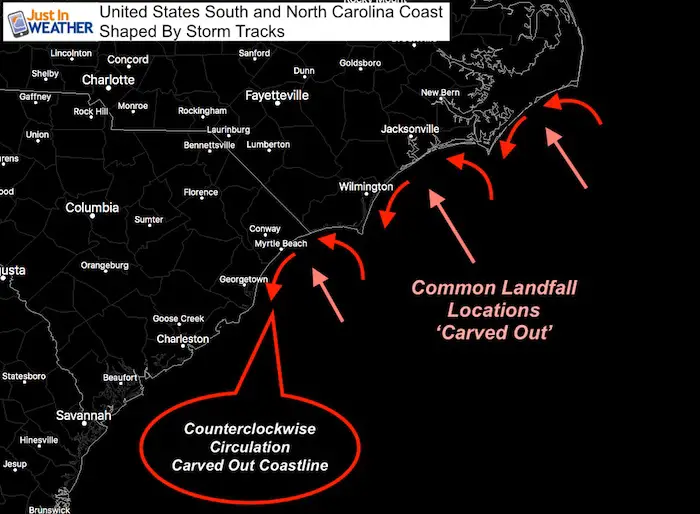 Please share your thoughts, best weather pics/video, or just keep in touch via social media
---
Email Updates
Please make sure you sign up (above or  click here to sign up for email alerts…. ) for my newsletter. This way you will get an email to make sure you are notified of each post.
---
NEW INTERACTIVE WEATHER PAGES
This is still a work in progress, but please check out these interactive pages:
Maryland Weather Page
I wanted to keep it simple. Just the basics for a quick view at any time.
14 Local Maryland Pages (and York PA)
We have made a page for Maryland Weather which gives you the current conditions for 14 present area locations. Many of these match up with the spots on our route.  Please use this list below are reference. I will include them daily with my articles on the kids.
NEW
Local Hourly Forecasts and Local Radar
Central Maryland
Delmarva
Pennsylvania
Other  Links:
Was Your County Not Included?
Click this map for more on the regional forecast zones
Baltimore Weather At BWI May Not Be As Hot As Reported
Construction at the airport close to the weather station may be added artificial heat. Click here or the image for the details.
Just In Power Kids:
Proceeds go to our programs Providing FREE holistic care for kids in cancer treatment and up to 5 years post treatment and caregivers.
Shine On
Proceeds from all sales go to Just In Power Kids. Click the image to shop and show your support.