Saturday Afternoon ay 4 2019
A Flash Flood Watch begins for most of our region tonight and into tomorrow. While some thunderstorms have developed and will try this evening, a steady rain spreads overnight. You may wake up to the heaviest, then staying wet most Sunday. This will bring between 1 and 3 inches to our area.  It will be soggy!
Flash Flood Watch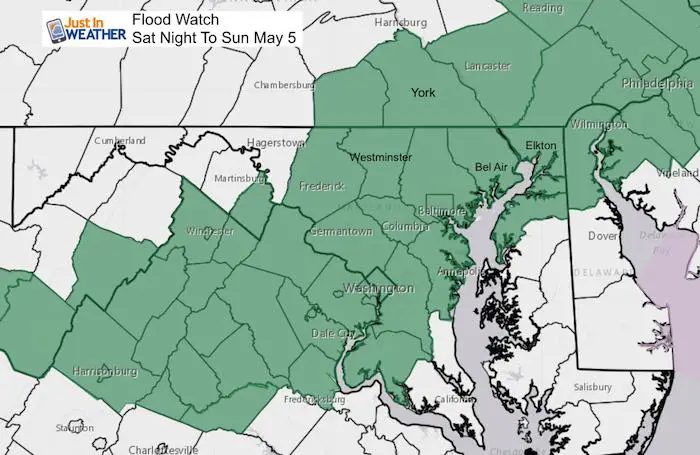 Details based on local NWS Office based watches:
Central Maryland to Virginia: 8 PM Sat to 10 AM Sun
Southern PA: 8 PM Sat to 11 AM Sun
Northern Delmarva to NJ: 8 PM Sat to 4 PM Sun
Set Up Today
The same system that has been responsible for severe storms in the Deep South is forming along this front to an organized Low Pressure system. That will pass right over Maryland Sunday afternoon, which will bring us steady rain overnight and most of Sunday.
Saturday Afternoon Radar (2 Hour Loop 3 PM to 5 PM)
The Kentucky Derby has rain again, but our focus is on the stronger storms in the southern US. That is what will feed along the upper level winds into our storm.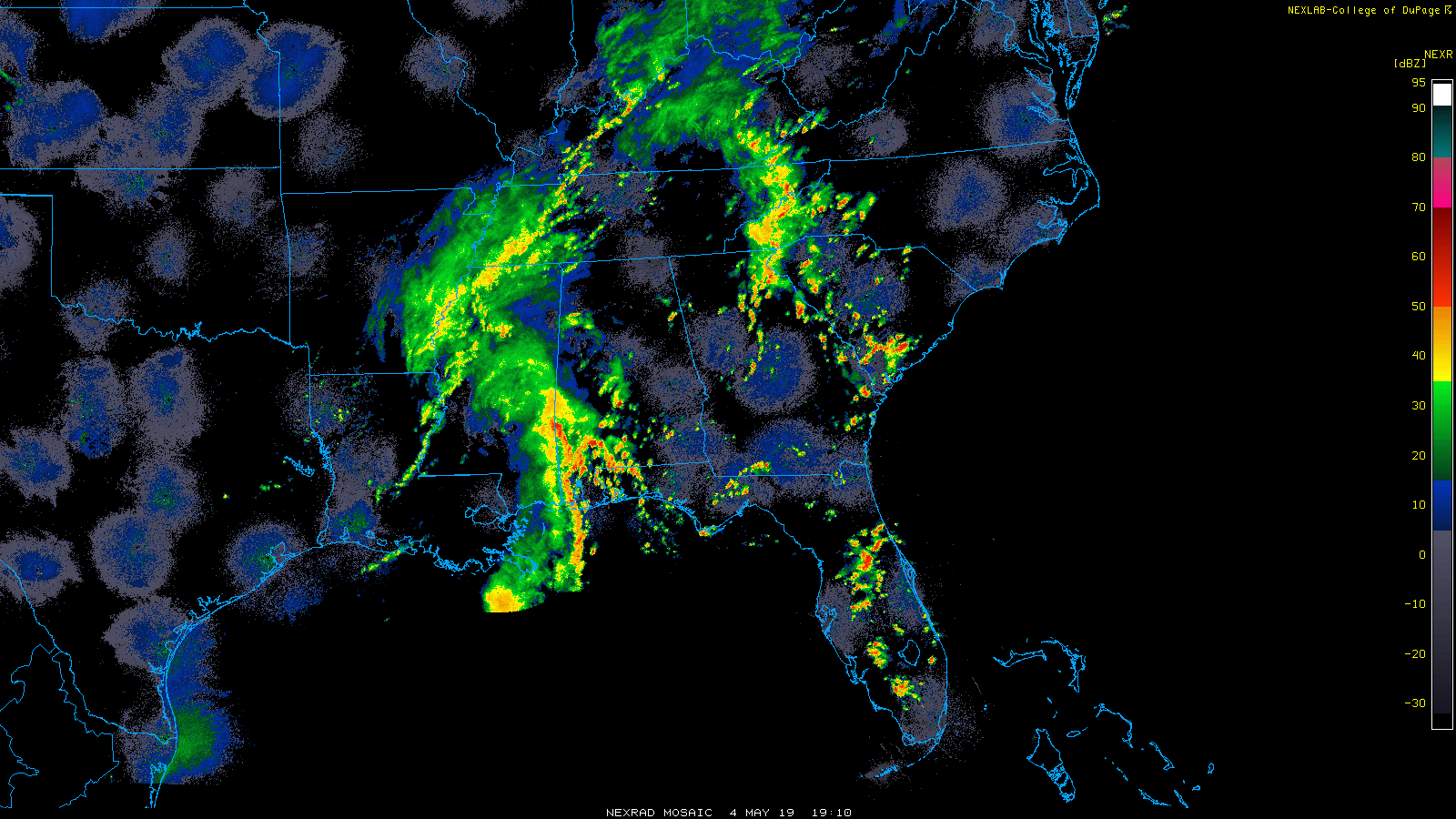 Radar Simulation —> slider
Saturday evening through Sunday morning.
Pockets of heavy rain will be forming in a zone north of the Low Pressure center. The heaviest may be when you wake up in the morning.
[metaslider id=76354]
Storm Animation
Moderate to Heavy rain will be with us Sunday morning, and last into the evening.
Storms may turn severe in the warmer air in Southern Maryland and southeast VA.
A chilly set up across central Maryland and southern PA where temps may drop into the low 60s or upper 50s during the afternoon
Sunday Evening 
I choses this 5 PM Sunday snapshot to show two things:
After a rainy day, it may look like it will be coming to an end in central and northern areas.
Southern MD and SE VA may get into the warmer air to the south. There could be a round of strong to severe thunderstorms during the afternoon and evening. This could included Salisbury and Ocean City.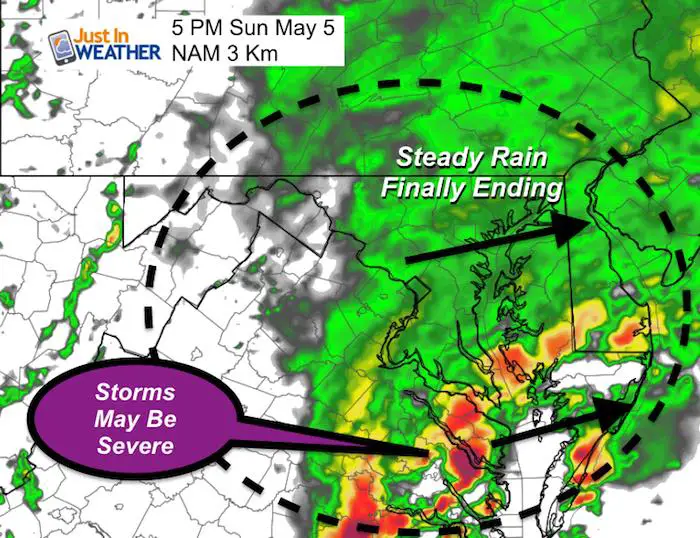 How Much Rain?
That depends on the model and the train of steady rain. Basically there will be a band of moderate to heavy rain just north of the Low Pressure Track. That exact track may vary by 50 to 100 miles, thus the difference between the GFS and NAM 3 Km Models here. Both support the flood potential.
GFS Model Rain Forecast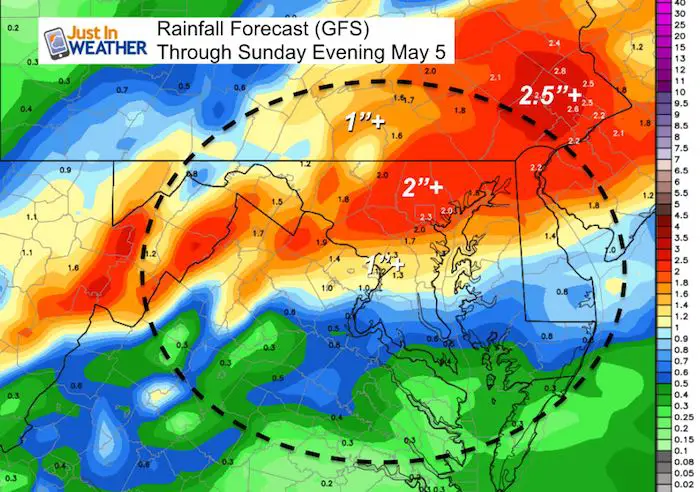 NAM 3 Km Rain Forecast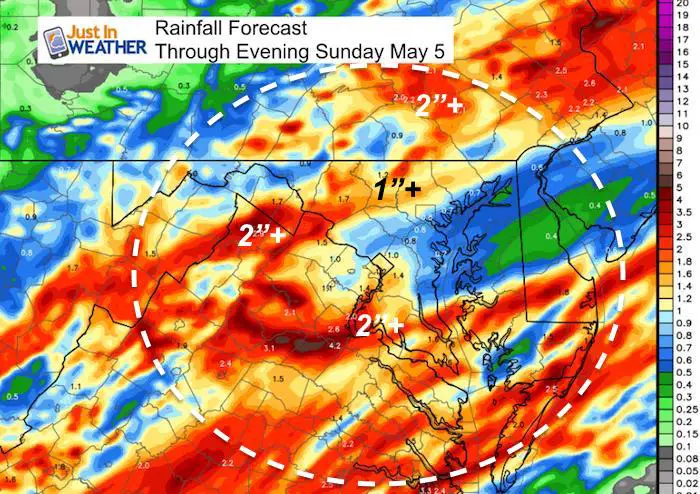 Keep In Touch Every Day
Just in case you don't get all posts on your social media feed, stay up to date with the latest info…
Click here to sign up for email alerts…. Be the first to hear any new weather.
Maryland Trek 6
Our look got an upgrade, but we have the same purpose. Please click the logo take a look at our new page.
Consider joining our team for the week, a single day, or even as a sponsor.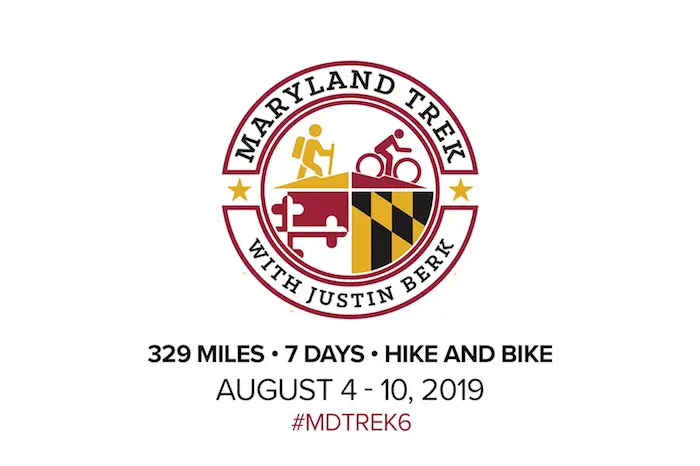 ---
New Partner
Buchanan Kia of Westminster is a supporter of Just In Power Kids and Maryland Trek 6 in August 2019.
---
Please share your thoughts, best weather pics/video, or just keep in touch via social media
Related Links:
Was Your County Not Included?
Click this map for more on the regional forecast zones