Thursday April 18 2019
As the storm approaching from the south gets closer, the data continues to show a similarity to last weekend's storm. As I suggested, the risk for severe storms was expanded north and now Baltimore is in the Slight Risk outlook on Friday.  Looking at the computer guidance, there is more than just whether storms produce damaging winds, large hail, or isolated tornadoes. A much broader area is subject to flooding.
The concern here is that there will be additional traffic to normal Friday mode with the start of Passover and Easter Weekend. Please take this seriously. We just saw what severe storms could do last weekend. Any and all elements are on the table for our region.
Severe Storm Outlook Friday
Storms developing Friday afternoon through Friday night may produce:
Winds over 60 mph
Hail over 1 inch in diameter (size of a quarter)
Isolated tornadoes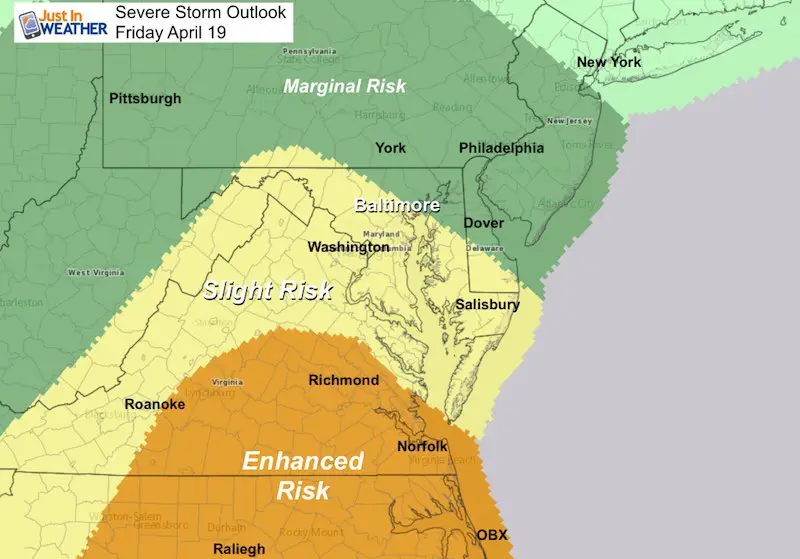 Flash Flood Watch
The broader region may experience training storms. This is when lines of storms set up to pass over the same area. So multiple heavy downpours could produce over 3 inches of rain in some spots. But a large area is still under the threat for between 1 and 3 inches of rain.
This Flash Flood Watch begins noon on Friday and extends to Saturday morning. The area included is most of central Maryland to the eastern half of Pennsylvania.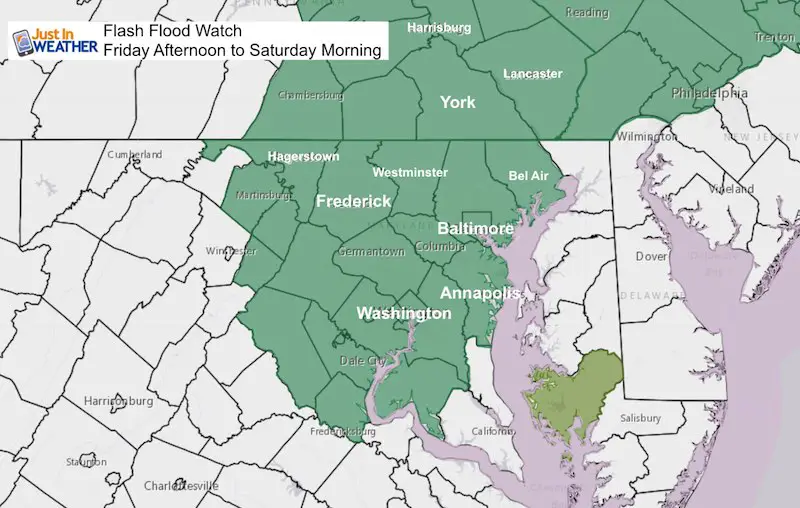 Rainfall Potential
This is the outlook from NOAA's WPC. There are various rainfall projections deepening on which computer model is viewed. Similar to snowfall projections in there winter. I prefer not to get specific yet as this will depend on where the training lines set up. This will depend on the timing of the front with the heating of the day and energy aloft.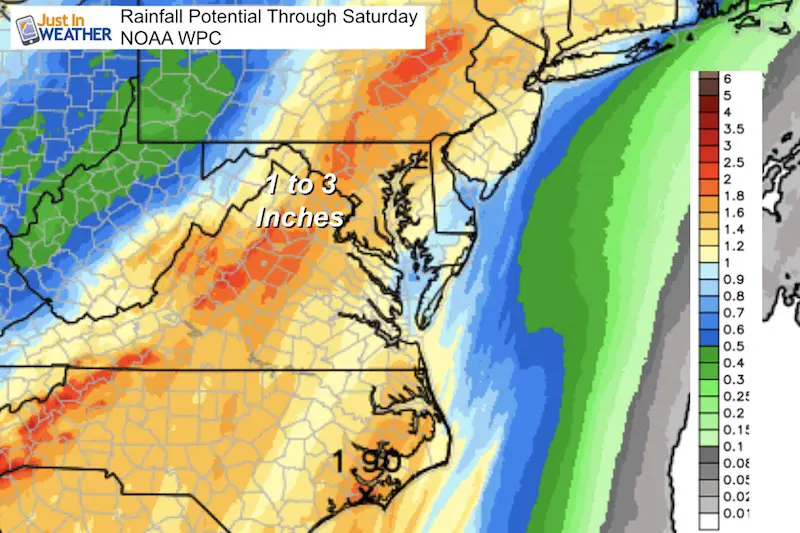 Storm Animation
Here is a sample of the rainfall progress Friday through Sunday. I will show the timeline tonight or tomorrow morning for a better idea of the flooding. Here I wanted to show that the main event will Friday afternoon and night. Saturday morning may start with showers, but dry out.  Then the upper low will produce more rain Easter Sunday. This may begin as soon as morning and last much of the day.
Keep In Touch Every Day
Just in case you don't get all posts on your social media feed, stay up to date with the latest info…
Click here to sign up for email alerts…. Be the first to hear any new weather.
Please share your thoughts, best weather pics/video, or just keep in touch via social media
Maryland Trek 6
Our look got an upgrade, but we have the same purpose. Please click the logo take a look at our new page.
Consider joining our team for the week, a single day, or even as a sponsor.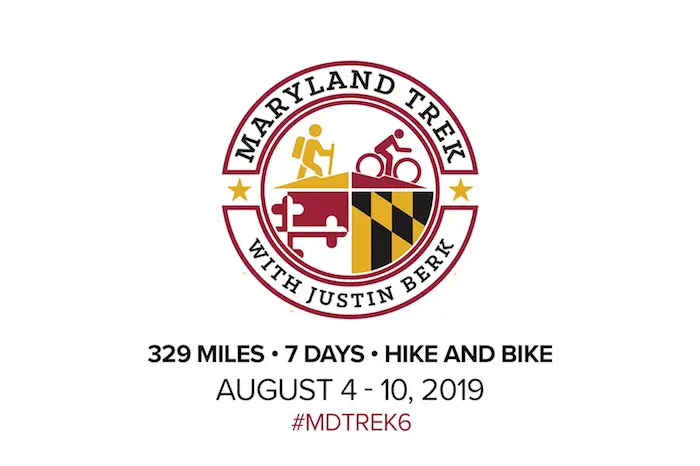 ---
New Partner
Buchanan Kia of Westminster is a supporter of Just In Power Kids and Maryland Trek 6 in August 2019.
---
Related Links:
Was Your County Not Included?
Click this map for more on the regional forecast zones