Sunday April 14 2019
We have a potentially dangerous weather situation for tonight. Please take this seriously and spread the word to your friends at least to just be aware. Our severe storm risk has increased and could be widespread hitting hardest when most are sleeping. The only good news I have to share is that low clouds and earlier drizzle has cut back our chance for showers this afternoon. But that is only delaying the inevitable. There is a lot of energy aloft, combined with storm favorable wind shifting to the southeast along the Bay and we have two rounds of potential severe storms on the way.
I am trying something new in this post. I have an animation of the radar simulation. The will give the idea of how the two waves of storms will develop. Below are the classic sliders you control to see each hour for each storm window I expect is the most concerning.
Enhanced Storm Risk
When: Sunday Evening AND After Midnight
What's Possible:
Winds over 58 mph
Hail over 1 inch diameter
Isolated Tornadoes
Also expect frequent, vivid lightning and loud long rumbling thunder. This can appear louder in the middle of the night.
The Storm Prediction Center has upgraded the risk for severe storms for our region to Enhanced. This means that we can expect a widespread area of storms with numerous reaching severe limits.
Where: Severe Storms are possible for most of our region. This includes metro Baltimore and Washington through central Maryland, northern Delaware, and most of Pennsylvania. This includes and are of over 30 million people and the worst weather may be overnight.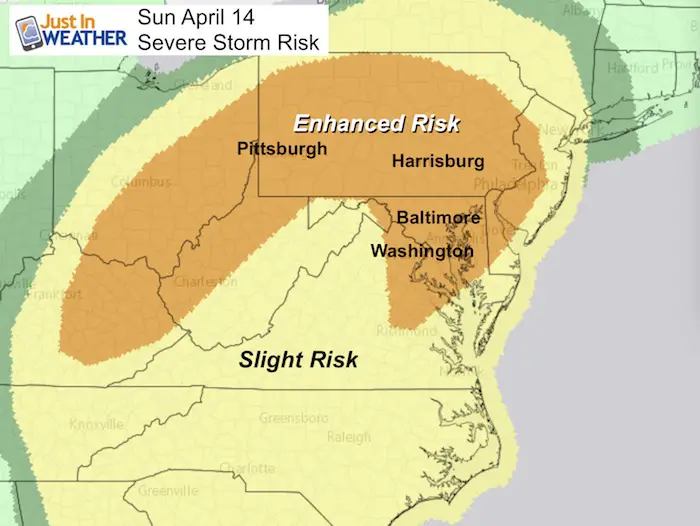 Low Level Jet
The cold front overnight will be working with winds up to 60 knots at 5,000 Ft above the ground. That's wind speed close to 70 mph that can be mixed down to the surface in storms. This qualifies severe limits. It's possible to just have destructive winds without a tornado, but some spin ups will be possible, even with the loss of daytime heating in this set up.
Storm Animation: Radar Simulation
See the sliders below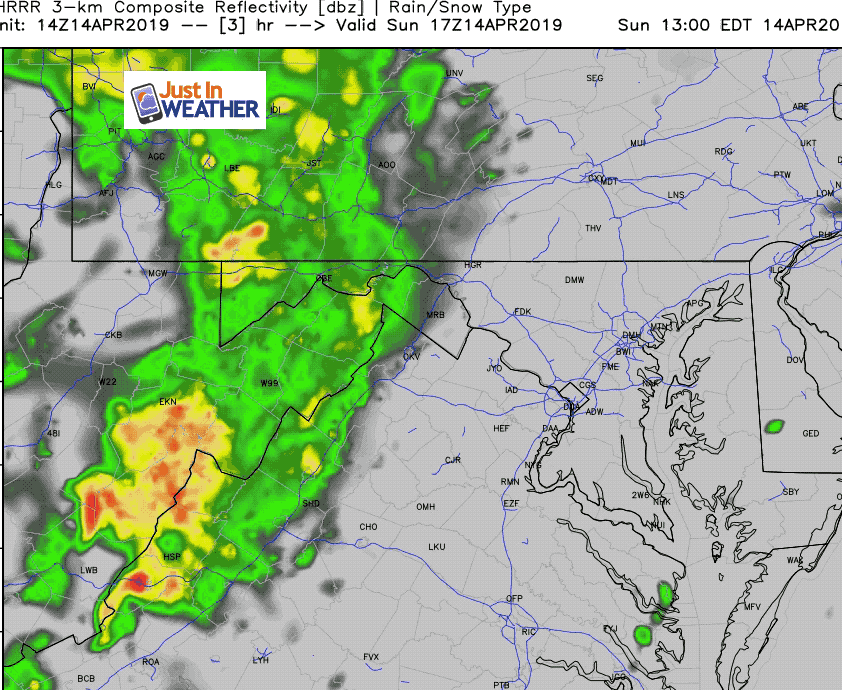 Severe Alert Notes:
IF we get any severe weather alerts, this is what is most important to keep in mind:
A WATCH means it MIGHT happen
A WARNING means it IS HAPPENING NOW!  This can be tracked across counties and towns with more precision and need to seek strong shelter.
Afternoon Setup
At 2 PM, the mild air is in place despite the lack of sun. But that is only part of the story. The winds are increase and along the Bay shifting to the Southeast. That is often a direction that can enhance severe weather in central Maryland. This adds moisture from the Atlantic and Bay, plus rides upslope inland to converge with the main energy arriving from the opposite direction (west).
Radar Loop: Noon to 2 PM
Sunday Evening —> slider 
Two regions to watch: 1) Along the mountains moving northward towards PA; 2) Southern Maryland doing northward up the Bay.
[metaslider id=75747]
After Midnight—> slider 
The main line moving east. This is the cold front with the bulk of the energy and strongest winds. This may interact with a prefrontal line of storms forming along the western shore of the Bay. This is where the most violent weather could be in central Maryland between 1 to 3 AM. Then predawn on Delmarva.
[metaslider id=75756]
My Advice:
Secure Outdoor Items:  Take the afternoon and evening to secure any yard furniture and tools you may have set out.
Devices: Fully charge your phone, etc. Keep the sound on and close to you. This will hopefully alert you if there are any watches or warnings.
Check Back This Evening: I will provide any updates on storm threat and timeline. But also make sure to check it with any other source like TV or other websites. If you are in central Maryland or Southern PA, check out WBAL with Tony Pann. Yes, he is a good friend, but also a very valuable source especially in a potentially severe set up like this.
Keep In Touch Every Day
Just in case you don't get all posts on your social media feed, stay up to date with the latest info…
Click here to sign up for email alerts…. Be the first to hear any new weather.
Please share your thoughts, best weather pics/video, or just keep in touch via social media
Maryland Trek 6
Our look got an upgrade, but we have the same purpose. Please click the logo take a look at our new page.
Consider joining our team for the week, a single day, or even as a sponsor.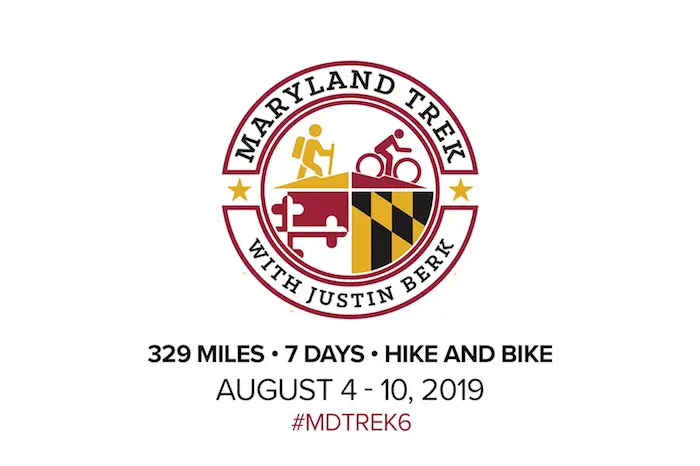 ---
New Partner
Buchanan Kia of Westminster is a supporter of Just In Power Kids and Maryland Trek 6 in August 2019.
---
Related Links:
Was Your County Not Included?
Click this map for more on the regional forecast zones