Sunday Evening Update: April 14 2019
A Tornado Watch has been expanded and lasts through 3 AM Monday April 15. This includes most of Pennsylvania, Maryland, Virginia, and northern Delmarva. Conditions are ripe for numerous thunderstorms that could turn severe. Some may include low level spin, but but there is a better chance you don't get it. If any tornadoes form, they can briefly reach EF-0 to EF-1. Not the supercell events you might think of hitting the Midwest.
Tornado Warning at 7:30 PM
As I was about to post this, a new Tornado Warning was issued for northern Carroll County and Baltimore County's northern edge near the PA line until 8:15 PM… Update: Tornado Warning for York County until 8:30 PM
Just north of Westminster through Cranberry and Manchester in the most likely path. But also in Hampstead head for your safe place…
After 8 PM watch for it in New Freedom, Shrewsbury, and Glen Rock PA.
Basement or sheltered low level floor without a winter or bathroom with tile walls.
This Velocity Scan shows the rotation just past Westminster and racing Northeast around 40 mph
Straight line winds of 50 to 70 mph are also possible. This can produce damage with the severe storms without any rotation.
Any of these storms can produce rainfall rates over 2 inches per hour. While it may not last for an hour to complete that, it can drop enough rain in a hurry to compromise storm drains and lead to Flash Flooding.  The Flood Watch is for PA until 6 AM, but we can see flooding in Maryland and Virginia a well.
Severe Weather Watches
Tornado Watch for most of our region until 3 AM
Flood Watch for south Central Pennsylvania until 6 AM
Severe Alert Notes:
IF we get any severe weather alerts, this is what is most important to keep in mind:
A WATCH means it MIGHT happen
A WARNING means it IS HAPPENING NOW!  This can be tracked across counties and towns with more precision and need to seek strong shelter.
Evening Radar Loop 5 to 7 PM
The individual storm cells are moving to the northeast at 40 mph or faster.
The entire line is shifting to the east and will cross central Maryland/southern PA between midnight and 3 AM.  A little later for Delmarva.
There have been and will continue to be more warnings. It's going to be a very busy evening and night.  I will post some updates on warnings in the comments of my Facebook post. Twitter is more suited for frequent updates and will work try to work on there as well.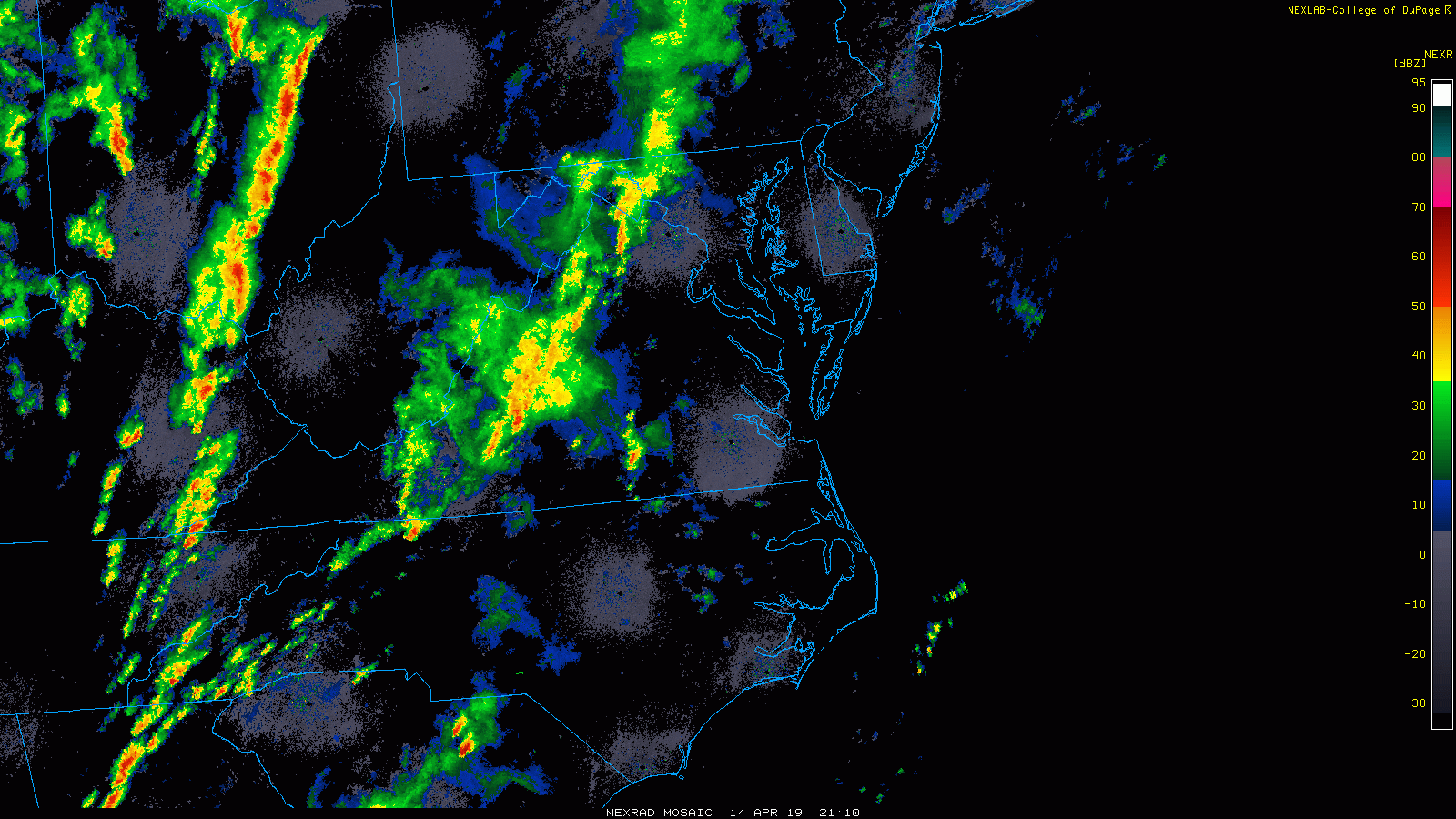 Doppler Radar Snapshot at 7:30 PM
If you are watching your radar this evening, look to the Southwest for the development. The band from Frederick to Westminster to York is one example in the zone right now. More will develop in central Virginia and head towards Washington and Baltimore this evening.
After Midnight—> slider 
This evening will be rapidly changing and the short range models are already having trouble keeping pace.Here is a look at the main storm line expectation between Midnight and 4 AM.
This is where the most violent weather could be in central Maryland and southern PA. Then predawn on Delmarva.
[metaslider id=75780]
Enhanced Storm Risk
When: Sunday Evening AND After Midnight
What's Possible:
Winds over 58 mph
Hail over 1 inch diameter
Isolated Tornadoes
Also expect frequent, vivid lightning and loud long rumbling thunder. This can appear louder in the middle of the night.
The Storm Prediction Center has upgraded the risk for severe storms for our region to Enhanced. This means that we can expect a widespread area of storms with numerous reaching severe limits.
Where: Severe Storms are possible for most of our region. This includes metro Baltimore and Washington through central Maryland, northern Delaware, and most of Pennsylvania. This includes and are of over 30 million people and the worst weather may be overnight.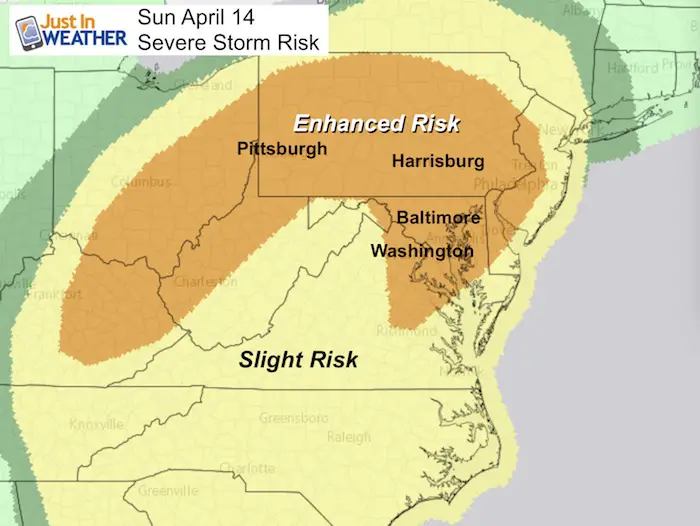 Low Level Jet
My Advice:
Secure Outdoor Items:  Take the afternoon and evening to secure any yard furniture and tools you may have set out.
Devices: Fully charge your phone, etc. Keep the sound on and close to you. This will hopefully alert you if there are any watches or warnings.
Check Back This Evening: I will provide any updates on storm threat and timeline. But also make sure to check it with any other source like TV or other websites. If you are in central Maryland or Southern PA, check out WBAL with Tony Pann. Yes, he is a good friend, but also a very valuable source especially in a potentially severe set up like this.
Keep In Touch Every Day
Just in case you don't get all posts on your social media feed, stay up to date with the latest info…
Click here to sign up for email alerts…. Be the first to hear any new weather.
Please share your thoughts, best weather pics/video, or just keep in touch via social media
Maryland Trek 6
Our look got an upgrade, but we have the same purpose. Please click the logo take a look at our new page.
Consider joining our team for the week, a single day, or even as a sponsor.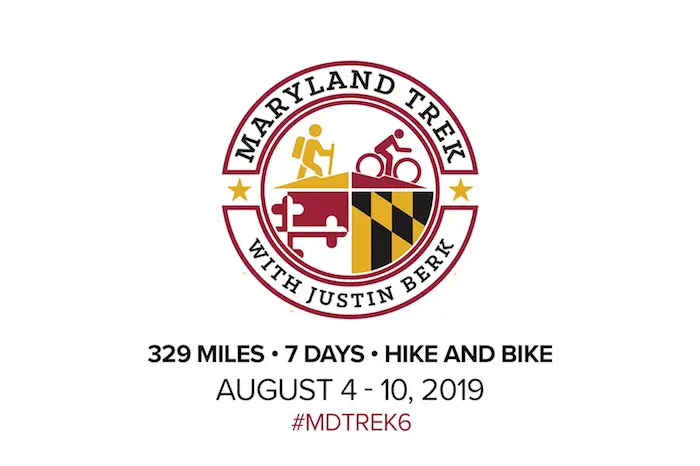 ---
New Partner
Buchanan Kia of Westminster is a supporter of Just In Power Kids and Maryland Trek 6 in August 2019.
---
Related Links:
Was Your County Not Included?
Click this map for more on the regional forecast zones