April 9 2019
A tornado drill statement will be sent over NOAA Weather Radio at 9:45am on Wednesday April 10th. While it should not send the tone alert to weather radio, broadcast media, or phones in Maryland, it will offer a chance for Marylanders to test their tornado response.
That is the message from NOAA and I was careful to use the added word 'should'. I have been in drill modes before where the message was sent out publicly by accident. On January 13, 2018 that was the case in Hawaii for a ballistic missile. You might remember that story when during a shift change during the drill a false message was sent to the public. It took 38 minutes until a second alert was sent stating it was a false alarm.  I was working at a TV station when the newsroom followed a story of an active shooter mistaking it as real when it was a police exercise.
Well, if you get message of a tornado Wednesday morning, please not that it is a planned drill as part of Maryland Severe Storm Awareness Week.
Maryland Statewide Tornado Drill
Wednesday April 10, 2019 at 9:45 AM
Maryland gets plenty of tornadoes
27 reported in 2018

21 was the record set in 2011

10 in one day during an outbreak on June 1, 2012
The past decade has averaged 10 tornadoes per year in the state.
Recent Tornados in Maryland
November 2 2018: 2 Confirmed Tornadoes in Mt Airy and Baltimore
September 18, 2018: Tornado May Have Hit Cecil County
August 7 2017: EF 1 Tornado in Salisbury
The most important thing to remember is to head to the lowest small interior room where you are – away from windows. Put as much "structure" as possible between you and the outside.
Please share your thoughts, best weather pics/video, or just keep in touch via social media
Keep In Touch Every Day
Just in case you don't get all posts on your social media feed, stay up to date with the latest info…
Click here to sign up for email alerts…. Be the first to hear any new weather.
Maryland Trek 6
Our look got an upgrade, but we have the same purpose. Please click the logo take a look at our new page.
Consider joining our team for the week, a single day, or even as a sponsor.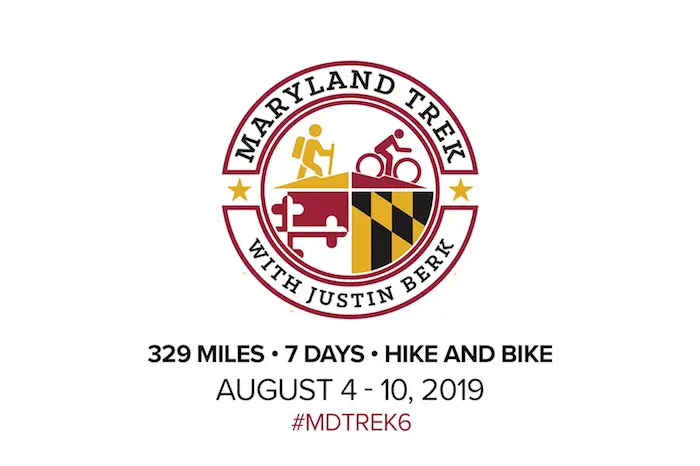 ---
New Partner
Buchanan Kia of Westminster is a supporter of Just In Power Kids and Maryland Trek 6 in August 2019.
---
Related Links:
Was Your County Not Included?
Click this map for more on the regional forecast zones