Sunday December 2 2018
A large strong storm that brought us rain on Saturday, was also responsible for 22 tornadoes in Illinois and a foot of snow in Nebraska. This is the largest outbreak for the month that was documented very well on social media. This image from Beardstown is from the prime location. I have photos and videos below. Our rain is moving out and we will end up with a warm day aiming for the lower 60s, after the fog burns off. A Dense Fog Advisory is in effect until 11 AM.
The pattern will change mid week.
Holding out for snow?  The storm next weekend is still showing consistency for Saturday night and Sunday. More on that below as well.
Tornados Saturday
The tornado activity on December 1 was focused on central Illinois. The total of 22 references the reports. It is likely ,any were duplicates for the same tornadoes.
Low Activity This Year
It is important to note that despite how wild the weather this year has been, the tornado count is 239 below the 10 year average.
Photos and Videos
Incredible Time-Lapse- Developing Over a neighborhood
NEW VIDEO! ??
This sped up time lapse video shows a #tornado ?️ that developed directly over a neighborhood in Staunton, #Illinois Saturday afternoon! #ILwx #SevereWeather pic.twitter.com/SliTVb4Xn1

— WeatherNation (@WeatherNation) December 2, 2018
Wow!!!!

Beardstown, IL Funnel/Tornado

Video Permission: Steven Chase #StormHour @StormHour @Spann pic.twitter.com/aujYpwrQrg

— Live Storm Chasers (@Livestormchaser) December 1, 2018
Tornado video from central Illinois today: https://t.co/b9vTfL5g7Z pic.twitter.com/YnNfejS60y

— Andrew Pritchard (@skydrama) December 2, 2018
Local Weather
Local Weather Stats For December 1 in Baltimore
Average High:  50ºF
Record High: 75ºF in 2006
Average  Low: 32ºF
Record Low:  9ºF in 1967
                         *Record Snow:  1.5″ in 1903
Sunrise: 7:06 AM
Sunset 4:43 PM 
*Daylight = 1:11 shorter than yesterday 
*Bay Water Temperature = 43ºF at Thomas Pt. Light House 
Record Rain Year Update:
Saturday brought 0.23″ to BWI. The yearly total is now 65.51″
The FITF Store Is Open With Gear And SnowStix
A portion of all proceeds for FITF and SnowStix goes to our nonprofit Just In Power Kids- providing FREE holistic care for kids in and post cancer treatment.
Morning Snapshot
That storm is still a complicated mess across the US. But the energy focus will shift to the southeast US today.
Severe Storm Risk Today
Local Afternoon Highs
Not all will reach the 60s, but we will get close.
Snow Storm Next Week?
I still am not a fan of forecasts more than 1 week away, but we are now within 7 days. The potential snow makes is consistently showing up on the European and GFS Models.
See the storm animation below
FITF – Special New Gift Idea
The most popular combo as a gift idea. These Tees and hats go perfectly together, and grouping then will be discounted more than 10% off when ordered together.
Storm Animation GFS Model 
At this point, the timing appears to be late Saturday into Sunday. I still expect some wiggle room on this, so just keep next weekend in mind to possibly adjust your plans.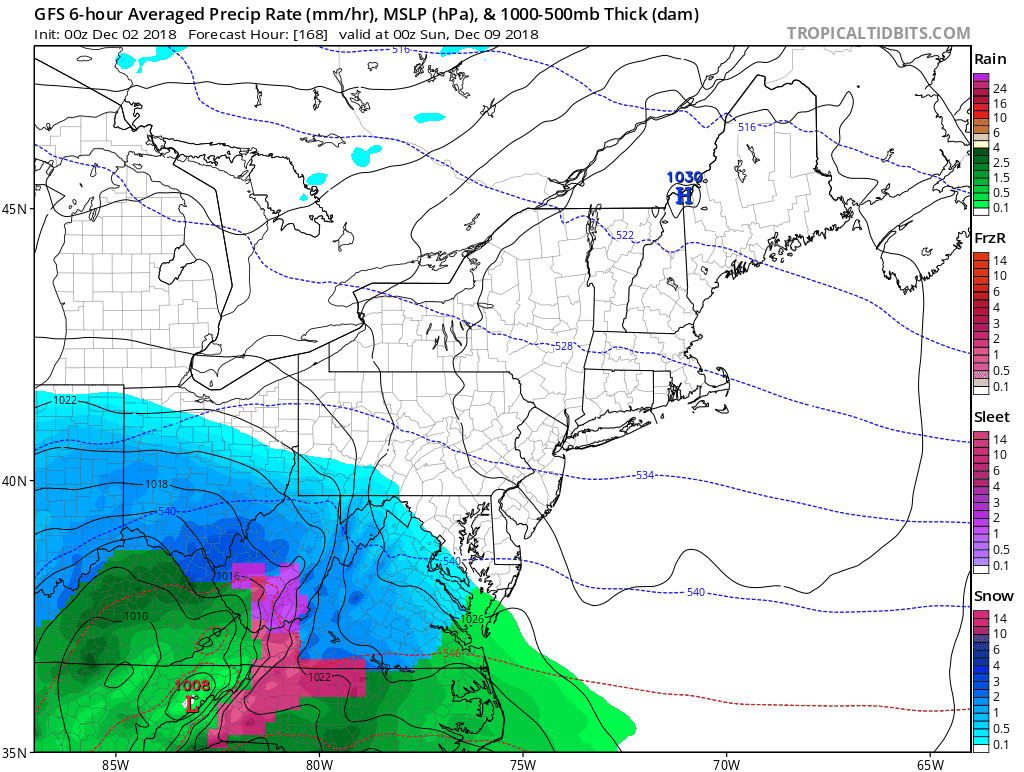 Temperature Outlook
The timing of the cold is is still on target. This is something that was a lock for the past two weeks, so December 5th will mark the pattern shift.   The next weather event will be next weekend. Overall, the cold appears to hold.
December 5th- FITF Day
Gather your friends and co-workers: Wear your #FITF gear to honor and celebrate this unique calendar holiday. This is the date almost every day last decade marked the first snow of each winter season.  I will have the history to show shortly.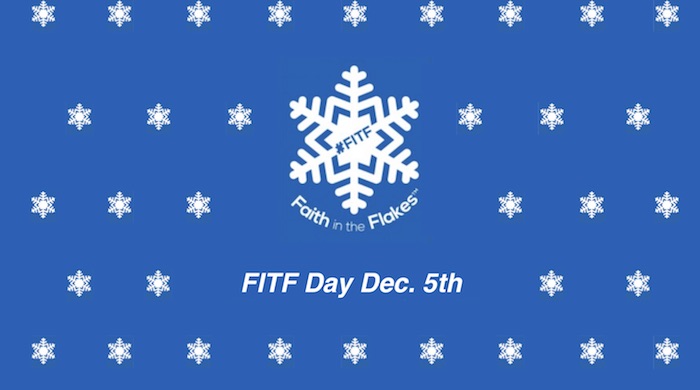 FITF and SnowStix Stores are now OPEN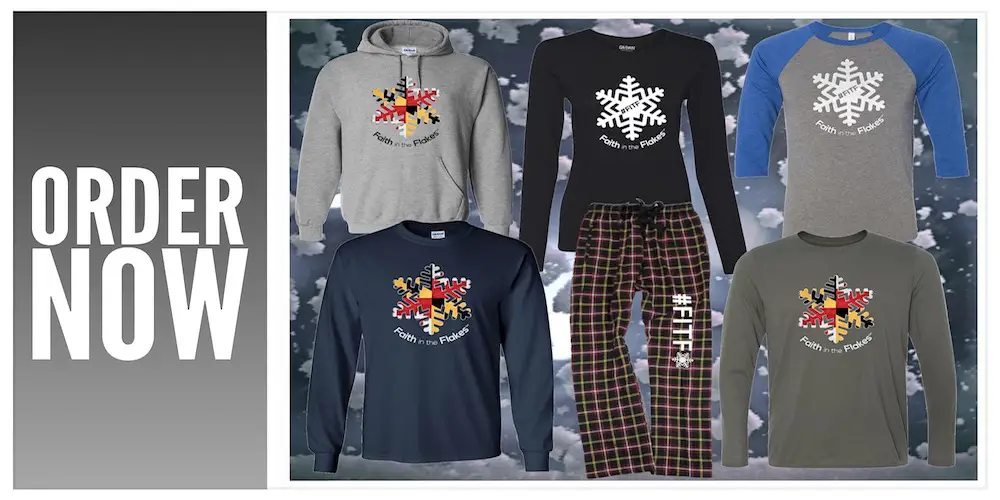 Keep In Touch Every Day
Click here to sign up for email alerts…. Be the first to hear the big news over the weekend
Also- Just in case you don't get the post on your social media feed
Please share your thoughts, best weather pics/video, or just keep in touch via social media
Related Links:
Winter Outlook
My Winter Outlook 2018-19: Multiple Nor'Easters and more snow
Interactive Snow Report
November 15 Snow Reports- Interactive Map Compared To My Forecast
Winter Snow And Top 5 Wet Years 
Snowfall Seasons at Beginning and End of Top 5 Wet Years In Baltimore
Related Winter Outlooks
Solar Cycle: When Sun Spots Are Low We Get More Snow
El Nino Modoki May Enhance Snow Chances
Sweet Spot: Hitting 70ºF on Halloween is followed by more winter snow
Will A Wet Summer Bring A Snowy Winter?
NOAA Winter 2018-2019 Outlook Explained: This Actually Supports Snow
Winter Outlook From Two Different Farmers Almanacs
Maryland Winters: Snowfall Maps and Baltimore Snow History 
Snowstix- We Need You To Measure Snow Too
We are giving 10% of each sale to Just In Power Kids: Providing FREE holistic care for pediatric oncology patients.