Saturday February 23 2019
We are in for a very active weekend of weather. A very strong storm that brought 3 feet of snow to northern Arizona is going to move out of the Southwest into the Great Lakes. This time we will be on the warm side, so it will just be rain. But we could have enough rain for some flooding, and behind it will be strong winds that could gust to 60 mph. A High Wind Watch has been issued for much of our area, but I still think more counties should be added with top winds Sunday night into Monday.
The outlook remains very busy and cold. Winter will return and March may roar in like a Lion with more snow possible. Buckle up because there is no rest for the weary.
I am presenting this a little differently today. Here is the wider view of the storm to include the full picture and severe outbreak in the Southeast in relation to what part of the storm we will get. Then a closer look at our rain and wind.
Saturday Morning Surface Weather
Storm Animation
Track the Low Pressure from the Southwest (lower left) to the Great Lakes. We will get the energy form the southern US… Where the severe storms will be located.
Severe Weather Outlook 
To understand the importance of this event… There will be heavy snow along the path of the Low through the central plains and upper midwest. But the first possible tornado outbreak of the year will reach the southeast. It's this energy that will reach our region (in a weakened form) to enhance energy and  wind potential.
Saturday: Moderate Severe Storm Risk in northern Mississippi and western Tennessee 
Sunday: Leftover Thunder Possible
While the severe element will diminish, the wind energy will be flowing our way and into the larger storm structure.
Keep In Touch Every Day
Just in case you don't get all posts on your social media feed, stay up to date with the latest info…
Click here to sign up for email alerts…. Be the first to hear any new weather.
---
New Partner
Buchanan Kia of Westminster is a supporter of Just In Power Kids and Maryland Trek 6 in August 2019.
---
Closer Look
Rain Timeline —> slider
The heaviest rain will be Sunday morning. 
[metaslider id=73826]
Rainfall Total
Heavier rain will fall in southern Maryland
High Wind Watch
Winds up to 60 mph for Southern Pennsylvania and western Maryland to Frederick County.
Winds up t0 55 mph for Delmarva including Maryland from Cecil, Kent, Queen Annes, and Caroline Counties.
What about central Maryland? See below
Sunday Evening Wind Forecast
This is why I think central Maryland should be added to the High Wind Watch. The NAM 3 Km Model shows the high winds Sunday across central Maryland to reach the criteria in Carroll, Baltimore, Harford, Howard, and Anne Arundel Counties. If the watch or an advisory is not issues, I would still plan for the winds that can take garbage cans and lawn furniture down the street. More importantly will be weakened trees in soggy ground that can fall down.
Outlook: Winter is NOT Done yet
Here is the jet stream pattern into early March. Notice the persistent and reinforcing flow of colder air (blue) following this storm. March will roar in like a Lion.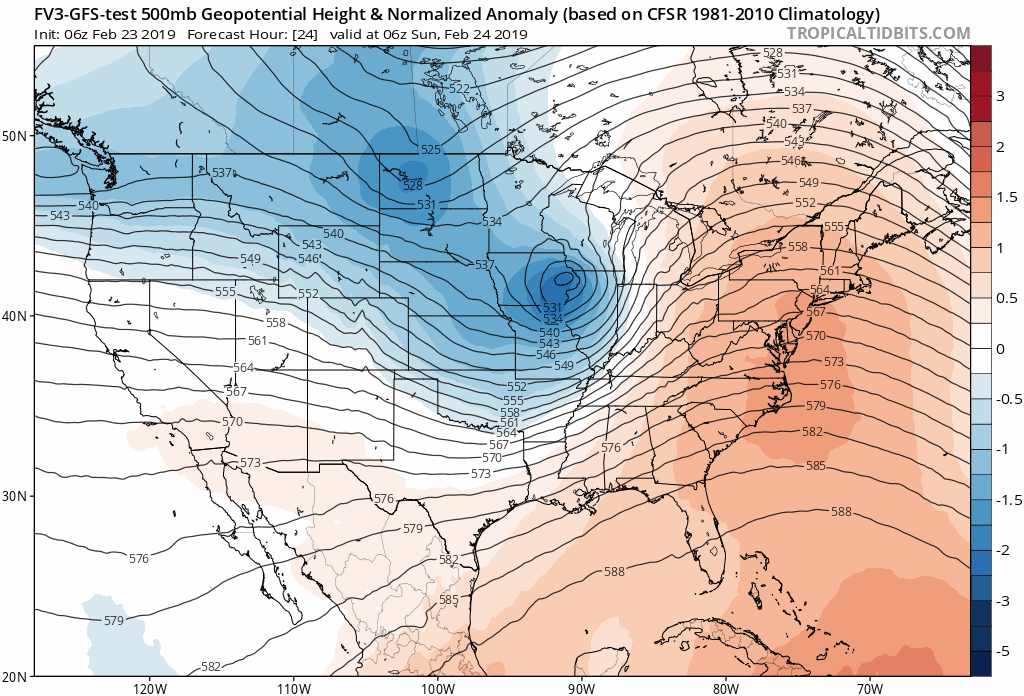 Temperature Outlook
There is a chance for snow at the end of next week. I don't want to give specifics since there is not a lot of agreement. But the pattern supports a few chances of winter events in early March.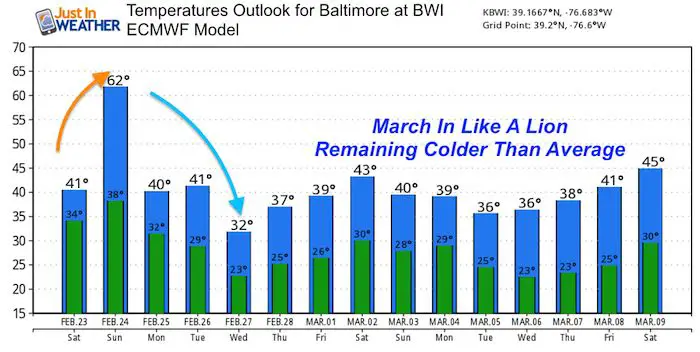 ALL FITF  Apparel 
Please share your thoughts, best weather pics/video, or just keep in touch via social media
Related Links:
Winter Outlook
My Winter Outlook 2018-19: Multiple Nor'Easters and more snow
Was Your County Not Included?
Click this map for more on the regional forecast zones
Interactive Snow Report
November 15 Snow Reports- Interactive Map Compared To My Forecast
Winter Snow And Top 5 Wet Years 
Snowfall Seasons at Beginning and End of Top 5 Wet Years In Baltimore
Related Winter Outlooks
Solar Cycle: When Sun Spots Are Low We Get More Snow
El Nino Modoki May Enhance Snow Chances
Sweet Spot: Hitting 70ºF on Halloween is followed by more winter snow
Will A Wet Summer Bring A Snowy Winter?
NOAA Winter 2018-2019 Outlook Explained: This Actually Supports Snow
Winter Outlook From Two Different Farmers Almanacs
Maryland Winters: Snowfall Maps and Baltimore Snow History