Saturday February 23 2019
Rain showers have spread north to PA with steady rain in southern Maryland and Delmarva. More rain will arrive tonight into the first half of Sunday. It may be heaviest Sunday morning.  The main issue with this storm for our region will be the high winds. As the storm gets closer, we now have an upgrade for winds with near certainty.
Considering the soggy ground and recent snow/freeze/thaw cycle, the root systems of trees have been weakened. There is a legitimate risk of trees falling over and power outages.
High Wind Warning and Wind Advisory
I did not pick the color pallet here. You can thank The National Weather Service for that.
High Wind Warning: Winds will be 25 to 40 mph with gusts to 60 mph. The highest winds will be over 1,500 Ft elevation
In Maryland: 1 PM Sunday to 10 AM Monday
In Pennsylvania: 1 PM Sunday to 1 PM Monday
Wind Advisory: This is the upgrade for central Maryland I expected and mentioned this morning.
Steady winds = 20 to 35 mph.
Gusts up to 55 mph
See the wind forecast maps below the storm animation
Was Your County Not Included?
Click this map for more on the regional forecast zones. This is why there may be a delay for updates on Delmarva.
Storm Animation
The bulk of the rain will arrive in two waves. One will be this evening. The heaviest rain will be Sunday morning. This should end by early afternoon, just as the strong winds arrive.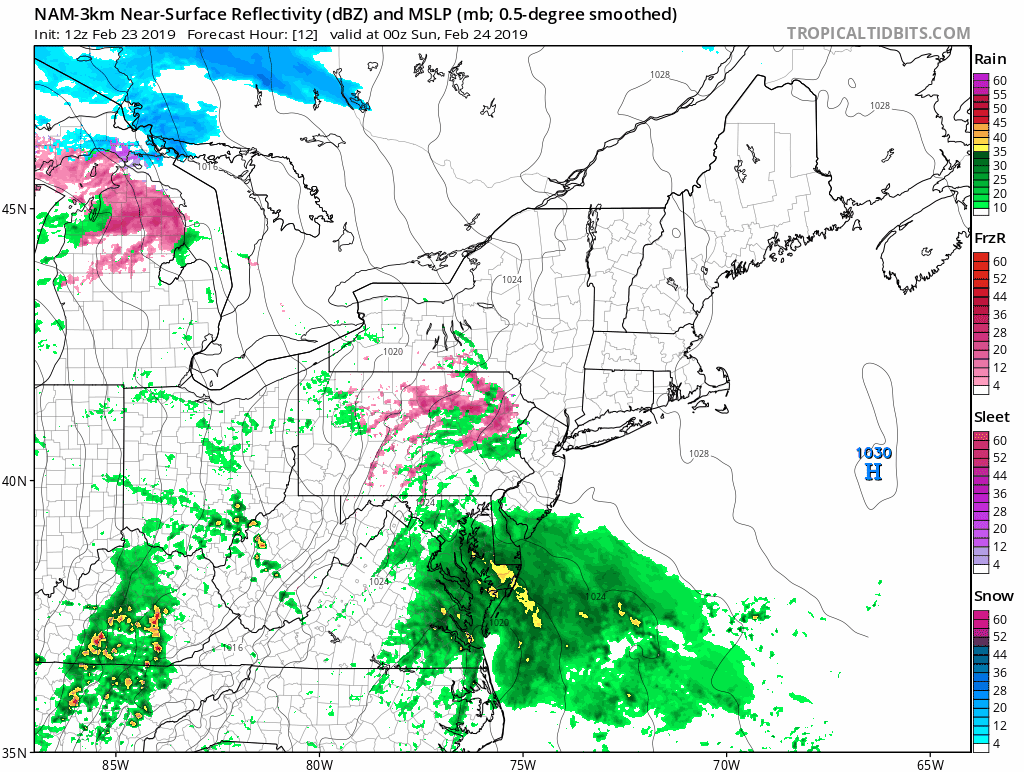 Rainfall Total
Heavier rain will fall in southern Maryland
Wind Forecast
Noon Sunday
5 PM Sunday
10 PM Sunday: Strongest Winds At Night
Keep In Touch Every Day
Just in case you don't get all posts on your social media feed, stay up to date with the latest info…
Click here to sign up for email alerts…. Be the first to hear any new weather.
---
New Partner
Buchanan Kia of Westminster is a supporter of Just In Power Kids and Maryland Trek 6 in August 2019.
---
ALL FITF  Apparel 
Please share your thoughts, best weather pics/video, or just keep in touch via social media
Related Links:
Winter Outlook
My Winter Outlook 2018-19: Multiple Nor'Easters and more snow
Was Your County Not Included?
Click this map for more on the regional forecast zones
Interactive Snow Report
November 15 Snow Reports- Interactive Map Compared To My Forecast
Winter Snow And Top 5 Wet Years 
Snowfall Seasons at Beginning and End of Top 5 Wet Years In Baltimore
Related Winter Outlooks
Solar Cycle: When Sun Spots Are Low We Get More Snow
El Nino Modoki May Enhance Snow Chances
Sweet Spot: Hitting 70ºF on Halloween is followed by more winter snow
Will A Wet Summer Bring A Snowy Winter?
NOAA Winter 2018-2019 Outlook Explained: This Actually Supports Snow
Winter Outlook From Two Different Farmers Almanacs
Maryland Winters: Snowfall Maps and Baltimore Snow History