4:30 PM Sun February 17 2019
Doppler Radar appears to be showing the arrival of our wintry weather a little ahead of schedule.The Winter Weather Advisory is still in place for the northern counties of Maryland (north of Baltimore and southern PA). The icing will be light, but the earlier arrival might impact your Sunday evening plans. We should be thaw by Monday morning.
Update: See the NEW Winter Storm Watch Tue Night into Wed Night 
Turning Colder As The Precipitation Arrives
Before showing the radar, I need to point out something first. The temperatures were just above freeing this afternoon, but the dew point was much lower. That is the level at which the moisture in the atmosphere would condense. When a storm arrives, the first round of precipitation can evaporate in the atmosphere. This cools the air the same way your skin feels chilly when you step out of the shower.
The evaporative cooling will allow the temps to drop a few degrees when the precipitation arrives. It can also allow rain to chance to sleet as it falls.
Temperatues 
Dew Points
Compare the colder spots that are in the Winter Weather Advisory: Westminster and York have temps in the mid 30s, but Dew Points range from 18ºF to 20ºF. This will allow temps to drop below freezing when the sleet and freezing rain arrives.
Arriving A Little Sooner
Doppler Radar
Radar Simulation —> slider
The modeling has been slower and maybe underestimated what is arriving.
This slider looks less impressive than what is seen now.
We will need to nowcast this during the evening for intensity and road conditions
[metaslider id=73418]
Looking Ahead to Wednesday's Storm
Most of our region wil see a burst of snow Wednesday morning as it arrives.
There will be enough for a few inches to fall before changing over.
More will fall in areas that will also get more icing along and west of I-95 into Southern PA.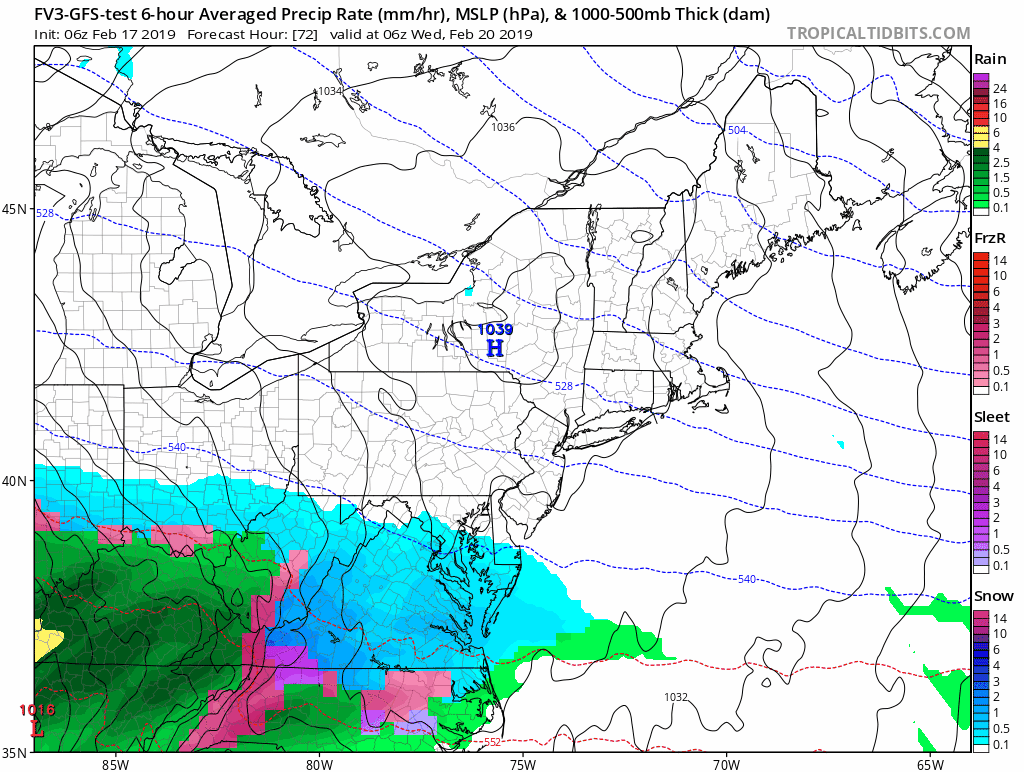 Snow, Ice, Then Rain —> slider
While there will be a few inches of snow at the onset, it is too early to say how much before the mix and change over. The first indication of snow amounts will be tomorrow (within 48 hours of the event).
Plan for a change to rain around the Bay and south of The Bay Bridge during the afternoon and evening.
Ice will be a problem in same areas that had snow and ice last week.
[metaslider id=73392]
Please share your thoughts, best weather pics/video, or just keep in touch via social media
Keep In Touch Every Day
Just in case you don't get all posts on your social media feed, stay up to date with the latest info…
Click here to sign up for email alerts…. Be the first to hear any new weather.
---
New Partner
Buchanan Kia of Westminster is a supporter of Just In Power Kids and Maryland Trek 6 in August 2019.
---
ALL FITF  Apparel 
Temperature Outlook
Note: It will be cold enough for snow and ice most of Wednesday in Baltimore. The high temperatures will be at night.
A few warm days will be mixing in with an overall trend near normal.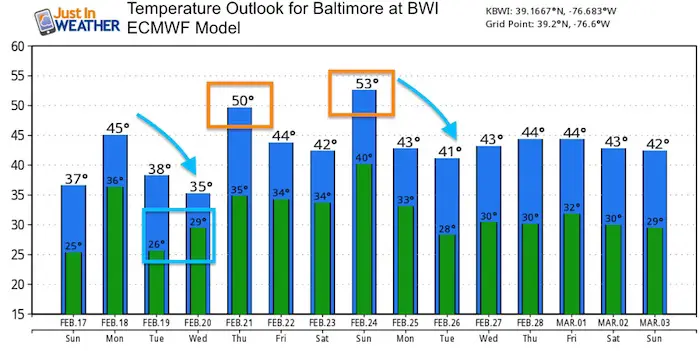 Please share your thoughts, best weather pics/video, or just keep in touch via social media

New Colors
We are giving 10% of each sale to Just In Power Kids: Providing FREE holistic care for pediatric oncology patients.
Related Links:
Winter Outlook
My Winter Outlook 2018-19: Multiple Nor'Easters and more snow
Interactive Snow Report
November 15 Snow Reports- Interactive Map Compared To My Forecast
Winter Snow And Top 5 Wet Years 
Snowfall Seasons at Beginning and End of Top 5 Wet Years In Baltimore
Related Winter Outlooks
Solar Cycle: When Sun Spots Are Low We Get More Snow
El Nino Modoki May Enhance Snow Chances
Sweet Spot: Hitting 70ºF on Halloween is followed by more winter snow
Will A Wet Summer Bring A Snowy Winter?
NOAA Winter 2018-2019 Outlook Explained: This Actually Supports Snow
Winter Outlook From Two Different Farmers Almanacs
Maryland Winters: Snowfall Maps and Baltimore Snow History