Friday February 8 2019
As the sun came out today, that was the leading edge of a cold front.  It may not seem like it with the sun that warmed many areas back into the  50s. But those winds will turn colder this weekend. The weekend should keep many areas near or below freezing, so the ground will have plenty of time to cool before the two part winter event arrives.
This post shows the the latest look at how this storm may play out. It is important to keep in mind, it has not even formed yet.  But the snow developing in Texas south of Dallas is where we are watching.
Keep In Touch Every Day
Just in case you don't get all posts on your social media feed, stay up to date with the latest info…
Click here to sign up for email alerts…. Be the first to hear any new weather.
Common Storm Questions:
What can we expect?
This set up is missing a Greenland Blocking. So it is very likely we mix over with ice and rain. Also, typical snow and ice boundaries with set up impacting northwestern suburbs more.
Weekend: Mostly dry and cooler. Saturday and Sunday may stay below freezing for most of the region. Wind chills in the teens and 20s.
Sunday overnight into Monday Morning: Light snow mixing with ice south in the morning. Then a warming thaw with a break after noon.
Monday Evening Snow redevelops. It will mix to ice in for central and southern parts of our region
Tuesday:  Morning snow and ice turning to rain from south to north. Northern areas will remain icy into the evening.
How much snow will we get?
I do not give snow amounts more than two days away. There are too many uncertainties. I already mentioned the two part event. But also pinning down the timing and placement of the snow/ice/and rain lines is not locked in yet.
Will my flight be affected?
Two weeks ago my wife flew out of town for business. She left during a Wind Advisory. She returned in our arctic blast while it was snowing. Neither flight was delayed, but I thought it was easy to expect they would be. I have learned that I do not know how the airport will be impacted.
Forecast Maps
Here is a look at the Canadian GEM Model and European (ECMWF Model wide and close views). You can see the similarity of both models, but the classic wide variety of weather across our region.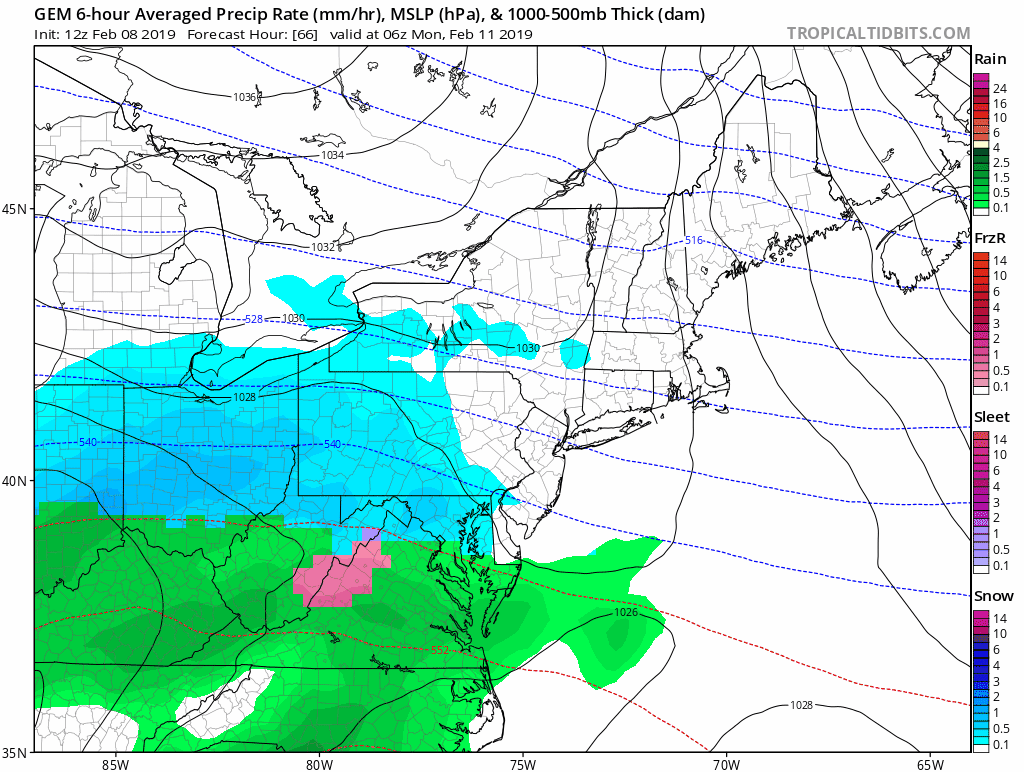 European ECMWF Model
Wide View —> slider
[metaslider id=72697]
Closer View —> slider
[metaslider id=72718]
Notes:
As with most winter events, as the storm actually develops the timing and track will become more certain.
I expect to have a better handle on snow and ice by tomorrow evening.
---
New Partner
Buchanan Kia of Westminster is a supporter of Just In Power Kids and Maryland Trek 6 in August 2019.
---

New Colors
We are giving 10% of each sale to Just In Power Kids: Providing FREE holistic care for pediatric oncology patients.
Please share your thoughts, best weather pics/video, or just keep in touch via social media
FITF and SnowStix 
Related Links:
Winter Outlook
My Winter Outlook 2018-19: Multiple Nor'Easters and more snow
Interactive Snow Report
November 15 Snow Reports- Interactive Map Compared To My Forecast
Winter Snow And Top 5 Wet Years 
Snowfall Seasons at Beginning and End of Top 5 Wet Years In Baltimore
Related Winter Outlooks
Solar Cycle: When Sun Spots Are Low We Get More Snow
El Nino Modoki May Enhance Snow Chances
Sweet Spot: Hitting 70ºF on Halloween is followed by more winter snow
Will A Wet Summer Bring A Snowy Winter?
NOAA Winter 2018-2019 Outlook Explained: This Actually Supports Snow
Winter Outlook From Two Different Farmers Almanacs
Maryland Winters: Snowfall Maps and Baltimore Snow History