Friday February 1 2019
The snow this morning did what was expected, but reached farther east to impact more areas. So with the temps in the teens and light snow falling, everything stuck. The surprise areas were Kent Island and Delmarva getting in on the action this morning. Also a little more snow falling around Washington DC into southern MD in PG, Charles, and Calvert Counties.
Radar Snapshot
Steady light snow continues with more in Southern Maryland. That is the surpass, but still expected to ease with a dry slot approaching from the southwest of Washington DC.
Region wide, it is light snow and most roads are slippery.
Morning Snow Radar Loop
Watch the dry slot trying to move into Washington DC (lower left corner)
My Personal Thoughts On Schools:
As a dad and a meteorologist…
I spoke with my kid's superintendent plus a few other school clients and shared this:
If roads are bad this morning, they will not be much better at noon. Kids are safely in school now. Steady light snow will continue for most into the afternoon. Metro DC to Baltimore may get dry slot then.
I expect that a few degrees higher and more time will allow more roads to be treated. So a regular school dismissal might seem counterintuitive, would actually be better. In My Opinion.
*I know Baltimore County Schools are closing early… I just wanted to share my opinion on the situation.
Temperatures:
Most of our area is in the teens. Salt does not work when that cold. Magnesium and or brine needs to be mixed in to help snow melt… and it takes time.  Some slight warming and daylight, plus snow letting up this afternoon will improve conditions later.
Noon Temperature Forecast
Winter Weather Advisory
NWS State College FINALLY added York and Lancaster at 2:30 until 5 PM
Central Maryland extended to 5 PM
Cecil Co and MD Eastern Shore, your NWS Office finally added you as well until 7 PM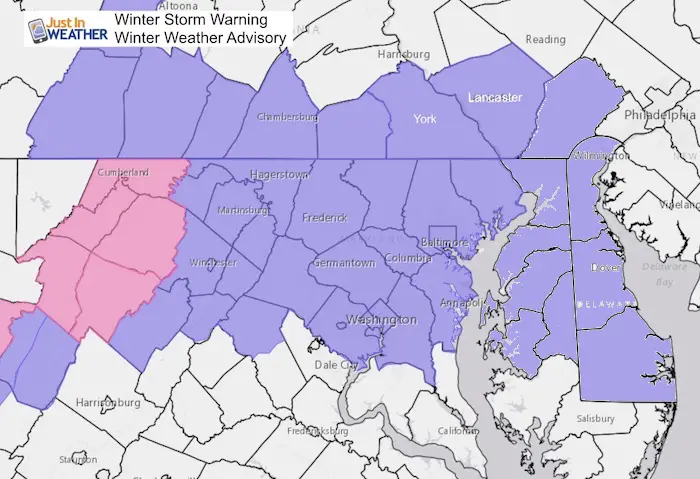 Snow Timeline —> slider
I still see a dry slot around Washington trying to spread across Baltimore mid day.
2 to 4 PM: Locations where snow is steady, will begin to taper to light snow and flurries this afternoon… As the system continues to spread across Delmarva, there will be more areas there with slick roads.
[metaslider id=72481]
Snow Total
Click here to see Snow Reports As Of 1 PM
The model has called for light snow all the way.
Higher Snow South Than Shown Here:
The final amounts might be higher between Washington and Annapolis based on morning snow radar. But overall, not a heavy snow event.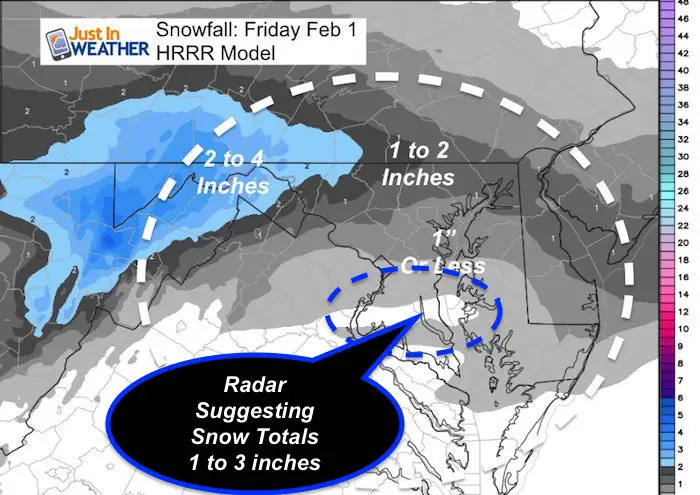 Love Snow and Love Maryland Sale
It's less than 15 days until Valentine's Day
Any Love Snow or Love Maryland item is 15% Off until Sunday.
Use promo code: LOVESNOW15
The first 15 orders get our new FITF bag. Orders after that get another surprise gift.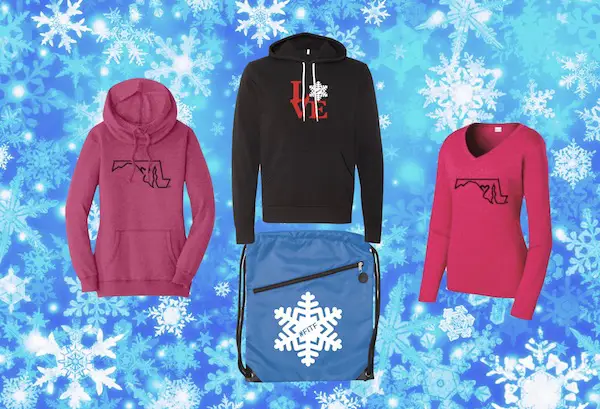 Keep In Touch Every Day
Just in case you don't get all posts on your social media feed, stay up to date with the latest info…
Click here to sign up for email alerts…. Be the first to hear any new weather.
Evening Temperatures
I was asked about evening activities… And I think after a dismissal, it's best to cancel. After dark, more roads and sidewalks will freeze up.  We will have our thaw tomorrow and Sunday.
---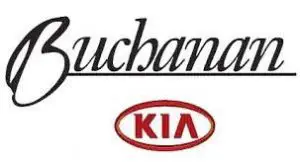 New Partner
Buchanan Kia of Westminster is a supporter of Just In Power Kids and Maryland Trek 6 in August 2019.
---
Temperature Outlook
We thaw this weekend and warm up even more Sunday. The gig warm up next week. Often these end up warmer and last longer than first displayed. But, we will get a reality cold check next weekend.
Please share your thoughts, best weather pics/video, or just keep in touch via social media
Related Links:
Winter Outlook
My Winter Outlook 2018-19: Multiple Nor'Easters and more snow
Interactive Snow Report
November 15 Snow Reports- Interactive Map Compared To My Forecast
Winter Snow And Top 5 Wet Years 
Snowfall Seasons at Beginning and End of Top 5 Wet Years In Baltimore
Related Winter Outlooks
Solar Cycle: When Sun Spots Are Low We Get More Snow
El Nino Modoki May Enhance Snow Chances
Sweet Spot: Hitting 70ºF on Halloween is followed by more winter snow
Will A Wet Summer Bring A Snowy Winter?
NOAA Winter 2018-2019 Outlook Explained: This Actually Supports Snow
Winter Outlook From Two Different Farmers Almanacs
Maryland Winters: Snowfall Maps and Baltimore Snow History