Tuesday January 29 2019
This morning snow began to fall and even more was seen on radar not reaching the ground. This will continue to develop and be in flux all day. This has been a tough call for schools as we expect light snow this morning, then some warming and rain mixing in, and a transition back to heavier snow with colder air this afternoon and evening. Below are two sliders as a guide for when this may happen.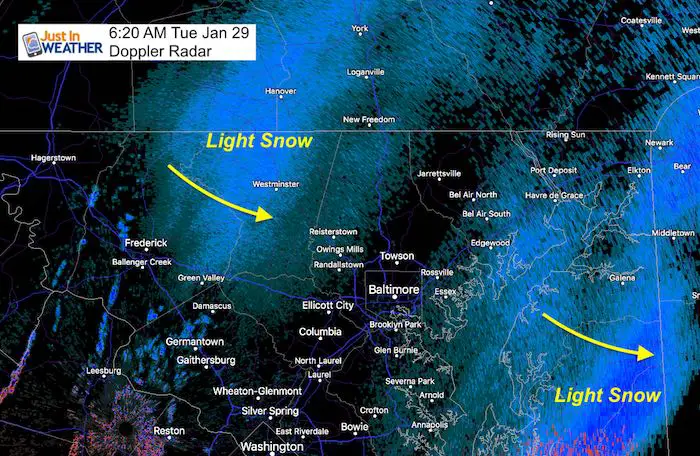 There is more moisture streaming along the arctic front. So as the cold air advances, the system will be developing… right on top of us!
Morning Water Vapor Satellite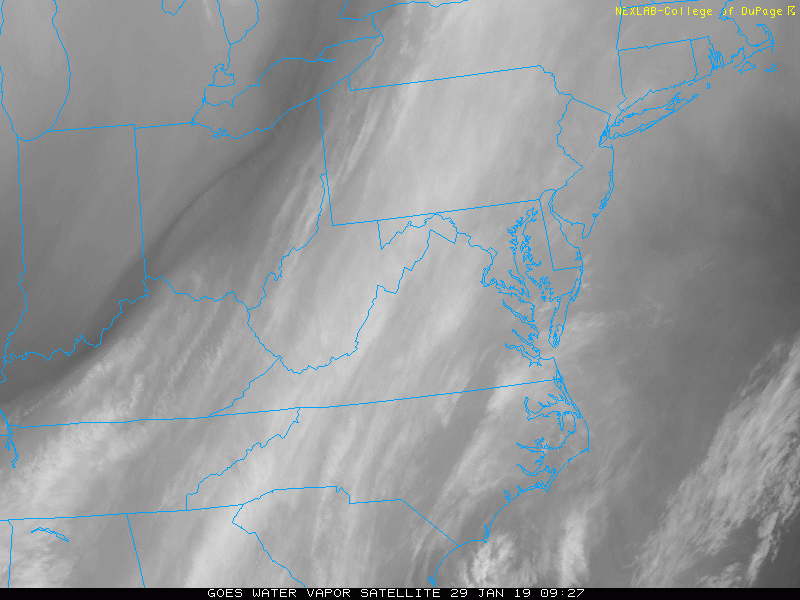 Some light stickage is possible this morning. But late morning and mid day should be wet. THEN it gets complicated and ices up. Timing out when to send kids home safely has been a challenge for schools. The Winter Weather Advisories across our area are reflective of the advancing cold air and how the timing is not the same for all of us. I hope this breakdown helps to explain it.
Winter Winter Weather Advisory
Zones Explained
1 AM Tue to 1 AM Wed for Southern Pennsylvania:
Adams, York, and Lancaster… This area will stay below freezing for the entire event.
4 AM Tue to 9 PM Tue for Counties:
Washington-Frederick MD-Carroll-Northern Baltimore-Northwest Montgomery-
Northwest Howard-Northwest Harford
This area will have some snow and ice in the morning and more snow total with the afternoon round.
Noon Tue to 10 PM Tue for Counties:
Southern Baltimore-Central and Southeast Montgomery-
Central and Southeast Howard-Southeast Harford-
Prince William/Manassas/Manassas Park-Fairfax-Northern Fauquier-
Southern Fauquier-Western Loudoun-Eastern Loudoun-
This area may have some wintry mix in the morning. But should thaw, then turn back to snow noon to 2 PM. Roads will become icy.
3 PM to Midnight Wed for Counties:
District of Columbia-Prince Georges-Anne Arundel-Charles-
Arlington/Falls Church/Alexandria-Stafford-Spotsylvania-
This area will turn to snow mid afternoon and get stickage on the roads for the afternoon commute. Travel will be icy into the evening.
4 AM to Midnight Wed for Counties:
New Castle-Cecil-Somerset-Mercer-Delaware
This area should stay below freezing for most or all of the event. Some morning snow, then the harder hit will be afternoon and evening.
Snow Simulations
Morning Timeline HRRR –> slider
This is NOT perfect. It is a gauge for when the snow is most likely to spread. Northern counties were always expected to be colder longer, but we may have some mid day hours that thaw… in time for kids to be bussed home.
[metaslider id=72151]
Afternoon and Evening Timeline HRRR –> slider
This is NOT perfect. It is a gauge for when the transition to snow is most likely to spread. I highlighted (in purple) where the mix zones are likely to be, as the model may have trouble depicting that zone.
Metro Baltimore will transition back to snow between 2 and 4 PM. This is as the system develops right over us. Then the cold air will be on the move south and east. So most of the day should be wet for DC, Annapolis, and Eastern Shore. But this evening will turn snowy and icy!
[metaslider id=72166]
Scroll Down For The Cold Air To Follow
My Original Forecast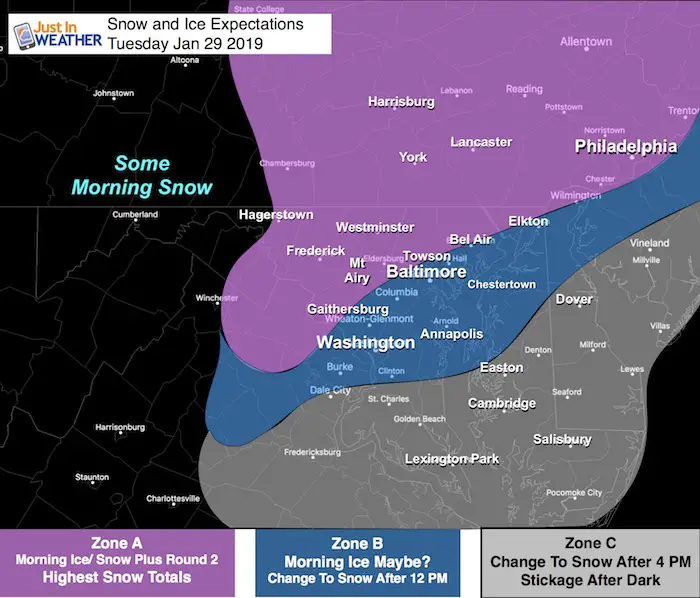 There will be some morning snow in the mountains. But the developing situation will be over our central are to the Delmarva.
Zone A: 
Most likely to have morning impact, stay near or below freezing all day, and have the most snow.
Snow Totals: 2 to 4 inches. There is potential for some higher amounts.
Zone B:
Marginal risk for morning issue on the roads.
Thaw mid day, then change to snow between noon and 4 PM
Snow Totals: 2 to 3 inches
Zone C:
No morning weather problems
Change to snow after 4 PM
Wet roads will get stickage and turn icy of the evening
Snow Totals: Up to 2 inches
Temperature and Wind Chills
This is what will hold the ice for a few days. It will also be painful to be outside.
Wednesday Afternoon
Thursday Morning
Will We See Record Cold?
Climate data for Baltimore at BWI for next week:
January 30 (Wed):
42ºF = Normal High;  25ºF = Normal Low
16ºF in 1966 = Record Cold Max Temperature *(likely to be a little higher than this)
-4ºF  in 1873 = Record Min Temperature *(should not reach this level)
---
January 31 (Thur):
42ºF = Normal High;  25ºF = Normal Low
22ºF in 1948 = Record Cold Max Temperature *(Chance to break this)
+4ºF in 1966 = Record Min Temperature *(Chance to break this)
Temperature Outlook
A quick warm up is expected early next week. Then back to below average temps mid February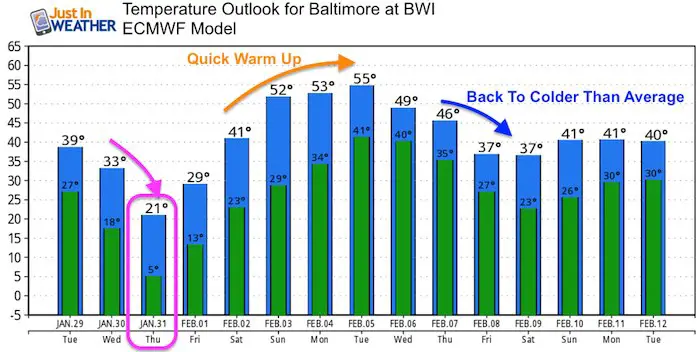 Keep In Touch Every Day
Just in case you don't get all posts on your social media feed, stay up to date with the latest info…
Click here to sign up for email alerts…. Be the first to hear any new weather.
Please share your thoughts, best weather pics/video, or just keep in touch via social media
FITF and SnowStix 
FITF Hats
After selling out twice, the hats are restocked and ready to ship.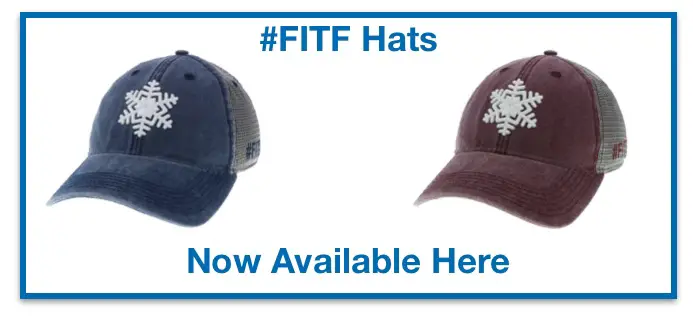 Related Links:
Winter Outlook
My Winter Outlook 2018-19: Multiple Nor'Easters and more snow
Interactive Snow Report
November 15 Snow Reports- Interactive Map Compared To My Forecast
Winter Snow And Top 5 Wet Years 
Snowfall Seasons at Beginning and End of Top 5 Wet Years In Baltimore
Related Winter Outlooks
Solar Cycle: When Sun Spots Are Low We Get More Snow
El Nino Modoki May Enhance Snow Chances
Sweet Spot: Hitting 70ºF on Halloween is followed by more winter snow
Will A Wet Summer Bring A Snowy Winter?
NOAA Winter 2018-2019 Outlook Explained: This Actually Supports Snow
Winter Outlook From Two Different Farmers Almanacs
Maryland Winters: Snowfall Maps and Baltimore Snow History 
---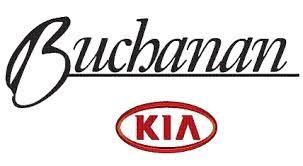 New Partner
Buchanan Kia of Westminster is a supporter of Just In Power Kids and Maryland Trek 6 in August 2019.
---