Tuesday January 29 2019
The snow was falling and schools were closing early. My boys came home just in time as stickage was on our local road. That is a relief for this parent.  Now the big concern is what happens from here. I am doing my best to try and explain that here.  I hope you read my notes (even with some typos) because what I am about to start with proves why computer models are just a guide and NOT perfect. If you just look at the pictures, then you might not get the full story.
The stories today in this complicated weather event are two-fold:
1) We will not see the same things at the same time across our region. That was demonstrated by the variety of timing for the Winter Weather Advisories.
2) The computers are having a hard time with this, so nowcasting and crowdsourcing is our best bet.  I will explain here. Please notes that Facebook does NOT show all of my posts in a timely manner these days.
I will be posting updates more frequently on Twitter. These will include the temperature plots and radar to follow the freezing line all evening. Follow my handle  @JustinWeather  I will continue the main updates on FB and here on my website.
Let's step back first to make this point:
11 AM Snapshot
Did you have snow falling? How about sticking? What was the temperature by you?
Check out the 11 AM observations and compare to the short range models that missed it. One thing I tell the students in every school assembly: If we don't have proper measurements now, we can't expect to get it right in the future.
Actually Doppler Radar
Blue = snow; pink = mix; green = rain
Models Missed It!
The NAM 3 Km model is what I was using to call the snow this morning. It was best with this first round. But this morning's run could not identify the snow properly just 4 hours ahead of time. The freezing line was about 50 miles north of the observed temps in Carroll and Baltimore Counties in Maryland. Even north of York County in PA. But these were all below freezing!
Observed Temperatures
Important to note that snow was falling in many places where surface temps were above 32ºF. Where it was below freezing was where it was beginning to stick.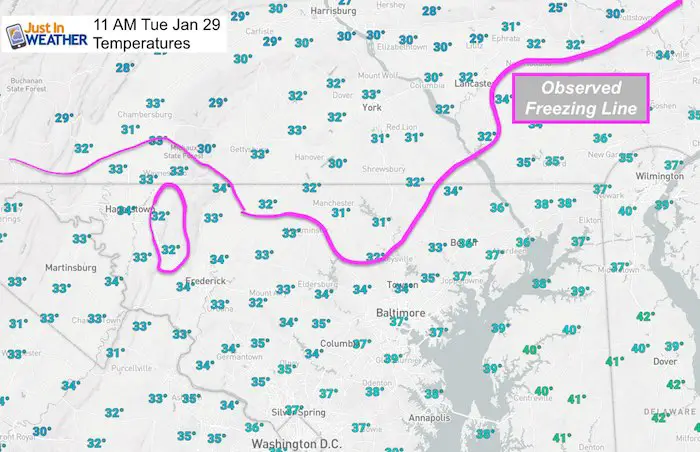 The HRRR Model is the highest resolution and updated every hour. This model underestimated the snow just 1 hour ahead of time, and still off at the time of this post.
Nowcasting and forecasting
Doppler Radar at 1 PM
Try explaining this spread in a simple post. One of the reasons this is considered complex.
Afternoon/Evening Model Simulation —> slider 
Notes:
This model is NOT Perfect! I added in where I think there may be more wintry mix.
The change to snow is likely before this model shows.
I can snow and stick when heavy even if temps are above 32ºF
The icing is still a real threat in northern zones this afternoon; Metro areas between 4 and 7 PM, then Eastern Shore this evening.
[metaslider id=72204]
Notes:
Regardless of snow totals, we will all turn icy this afternoon and evening. Tracking the timing for your area will take extra effort from hourly posts and crowdsourcing from others.  I hope we can help each other simplify the change over given how different it wil be everywhere.
Please share your thoughts, best weather pics/video, or just keep in touch via social media
Get Your Snow Day Kit
Help bring on your snow day with all of the local rituals all in one awesome FITF bag.
Each item is now available by itself. Click the image to see more.
Reminder Of Winter Weather Advisory Timing
Zones Explained
While the sticking snow may develop a little later, it's best to remember that it will be moving from west to east this afternoon and evening.
1 AM Tue to 1 AM Wed for Southern Pennsylvania:
Adams, York, and Lancaster… This area will stay below freezing for the entire event.
4 AM Tue to 9 PM Tue for Counties:
Washington-Frederick MD-Carroll-Northern Baltimore-Northwest Montgomery-
Northwest Howard-Northwest Harford
This area will have some snow and ice in the morning and more snow total with the afternoon round.
Noon Tue to 10 PM Tue for Counties:
Southern Baltimore-Central and Southeast Montgomery-
Central and Southeast Howard-Southeast Harford-
Prince William/Manassas/Manassas Park-Fairfax-Northern Fauquier-
Southern Fauquier-Western Loudoun-Eastern Loudoun-
This area may have some wintry mix in the morning. But should thaw, then turn back to snow noon to 2 PM. Roads will become icy.
3 PM to Midnight Wed for Counties:
District of Columbia-Prince Georges-Anne Arundel-Charles-
Arlington/Falls Church/Alexandria-Stafford-Spotsylvania-
This area will turn to snow mid afternoon and get stickage on the roads for the afternoon commute. Travel will be icy into the evening.
4 AM to Midnight Wed for Counties:
New Castle-Cecil-Somerset-Mercer-Delaware
This area should stay below freezing for most or all of the event. Some morning snow, then the harder hit will be afternoon and evening.
Keep In Touch Every Day
Just in case you don't get all posts on your social media feed, stay up to date with the latest info…
Click here to sign up for email alerts…. Be the first to hear any new weather.
Related Links:
Winter Outlook
My Winter Outlook 2018-19: Multiple Nor'Easters and more snow
Interactive Snow Report
November 15 Snow Reports- Interactive Map Compared To My Forecast
Winter Snow And Top 5 Wet Years 
Snowfall Seasons at Beginning and End of Top 5 Wet Years In Baltimore
Related Winter Outlooks
Solar Cycle: When Sun Spots Are Low We Get More Snow
El Nino Modoki May Enhance Snow Chances
Sweet Spot: Hitting 70ºF on Halloween is followed by more winter snow
Will A Wet Summer Bring A Snowy Winter?
NOAA Winter 2018-2019 Outlook Explained: This Actually Supports Snow
Winter Outlook From Two Different Farmers Almanacs
Maryland Winters: Snowfall Maps and Baltimore Snow History 
---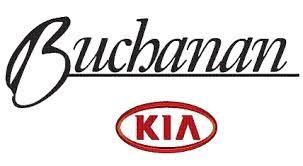 New Partner
Buchanan Kia of Westminster is a supporter of Just In Power Kids and Maryland Trek 6 in August 2019.
---