Tuesday January 22 2019
This is a tough pill to swallow for snow lovers. The coldest air of the season (so far) just came in after bringing mostly rain. The snow on Saturday afternoon was a tease that washed away quickly.  The  wind chills below zero were another tease of another sort. I hear many people saying, "What a waste of cold air"! This next storm will be on yet another track to our west, bringing in warmer air, just for the event, only to be followed by a cool down. This time the boundary may bring some rumbles of thunder Thursday morning.
There is hope. Winter folklore continues to suggest (and prove) that if in winter there is thunder, snow will follow in a week or under. The long range patter supports more cold air and we can still get our big snow. Hang tight, and get past this one.
The Storm Set Up
Low Pressure near Kansas City will track towards Michigan. That will bring the warm side our way. So the arctic air in place is not he way out.
Wednesday Morning
It will be cold, but seasonable. Definitely not like the past two morning. You will feel a difference and just wait until you see Thursday morning.
Wednesday Afternoon
Only some slight showers might develop. There could be enough cold air for some sleet, but I don't see a big deal
Midnight Weather
Most of central Maryland to southern PA will reach the lower 40s… and continue to warm through morning. 
Rain Developing. The main event will be in the mountains and head our way for the morning. 
Thursday Morning Rain Timeline —> slider
There may be some thunder as that strong line of storms rolls through in the morning. 

[metaslider id=71667]

Thursday Morning Temperatures (Highs)
SnowStix 
We have added a bunch of new color options

We are giving 10% of each sale to Just In Power Kids: Providing FREE holistic care for pediatric oncology patients.
Outlook: Jet Stream
Winter is still here and has more to give us. Our luck is likely to change. FITF
We will be dominated by cold air (blue) pattens into February. There will be plenty of supply, but like above, no guarantee of storms at this time. I expect it will be active and worth watching for our winter prime time show.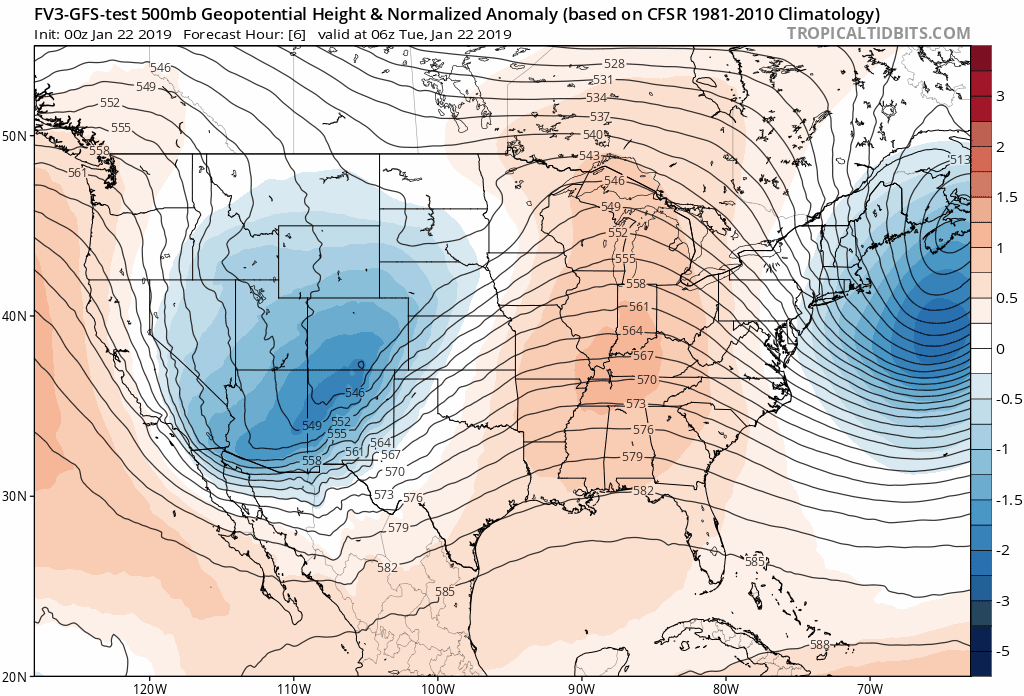 Temperature Outlook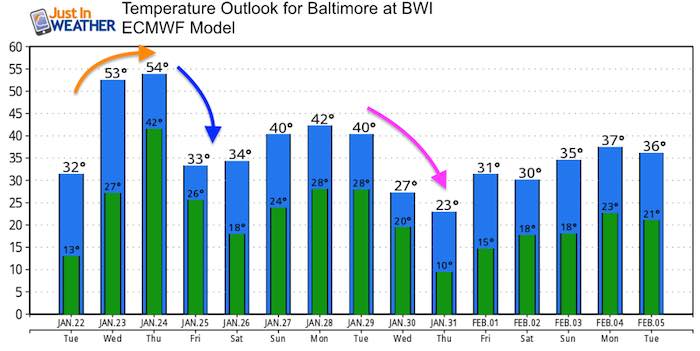 Please share your thoughts, best weather pics/video, or just keep in touch via social media
FITF and SnowStix 
Related Links:
Winter Outlook
My Winter Outlook 2018-19: Multiple Nor'Easters and more snow
Interactive Snow Report
November 15 Snow Reports- Interactive Map Compared To My Forecast
Winter Snow And Top 5 Wet Years 
Snowfall Seasons at Beginning and End of Top 5 Wet Years In Baltimore
Related Winter Outlooks
Solar Cycle: When Sun Spots Are Low We Get More Snow
El Nino Modoki May Enhance Snow Chances
Sweet Spot: Hitting 70ºF on Halloween is followed by more winter snow
Will A Wet Summer Bring A Snowy Winter?
NOAA Winter 2018-2019 Outlook Explained: This Actually Supports Snow
Winter Outlook From Two Different Farmers Almanacs
Maryland Winters: Snowfall Maps and Baltimore Snow History