Saturday Afternoon January 19 2019
I hope you read my morning post and saw my notes on the track more north and thus warmer storm. There will still be some snow and ice tonight, but it will not be a prevalent since warmer air is in place. This north shift is the sam as the prior events and should have been expected. I have new radar simulations and temperature timelines below to assist your plans. There will be an initial push of snow and sleet with brief coverage on the roads. But warmer air will win out tonight. Not tomorrow.
UPDATE SUNDAY MORNING
Good Sunday Morning Jan 20: It's Flash Freeze Day along with Advisories for Winds gusting to 50 mph and Wind Chills below zero. Heavy rain is departing but anything wet should ice up within an hour as temps tank fast below 32ºF. Here is a look at the latest temps and hourly temp forecast plus more. We could do this again Thursday. Click the image for the latest forecast 
My expectation has been echoed by the National Weather Service as they have adjusted the warnings and advisories on the southern edge of this system.
Winter Weather Advisory
Removed/Cancelled for all areas near I-95 and the Chesapeake Bay. This includes Harford, Southern Baltimore Co and City, Howard, and Montgomery Counties in Maryland.
Adjusted for central Maryland (inland/North and West) Counties. These areas were formally under a Winter Storm Warning
Winter Storm Warning: Cancelled in southern PA. Just after publishing this post, NWS dropped the warning and now all of southern PA is under a Winter Weather Advisory. This fits the warming I have been showing.
New: Wind Advisory! All of our region from Sunday 11 AM to 7 PM. Winds 20 to 30 mph will gust to 50 mph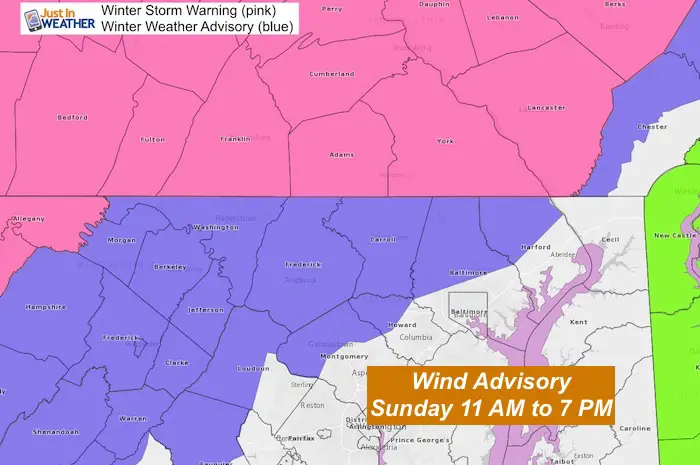 NEW: Click here to see the 6 PM UPDATE: Snow and Ice Burst covered some roads briefly after 5 PM
Quick Storm Notes
Snow and sleet will develop over the next few hours
Temperatures are above freezing for most of our area.
Moderate snow or ice rates for a few hours may cause some stickage on roads in the advisory and warning zone.
Overnight: Rain will be heavy. Total 1 to 2 inches.
Sunday morning: Rain ends then temps drop fast.
Flash Freeze: Rapid cooling and soggy ground freezes quickly.
Temperatures
NWS Airport Weather Stations all showing above freezing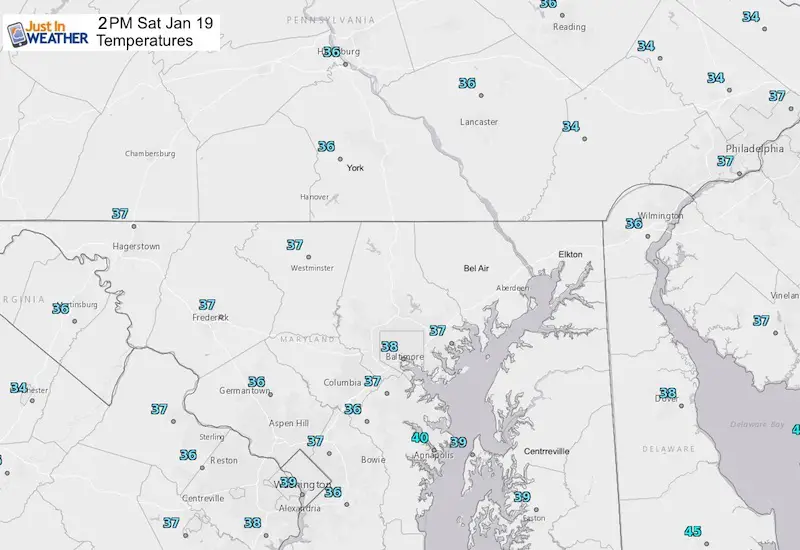 Local Weather Stations also all showing above freezing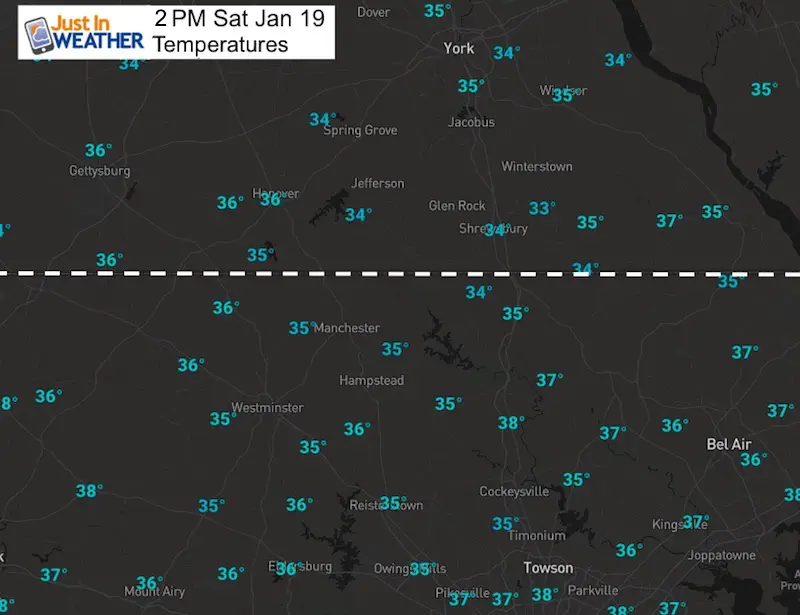 ---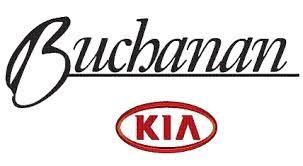 New Partner
Buchanan Kia of Westminster is a supporter of Just In Power Kids and Maryland Trek 6 in August 2019.
---
Radar at 2 PM
Radar Simulation—> slider
[metaslider id=71419]
Temperatures
Notice that evening in southern PA the model is hard pressed to find freezing temperatures.
Take Away From This: Brief Moderate to Heavy Snow or sleet may stick on the roads. But decent treatment should thaw quickly. We all thaw overnight.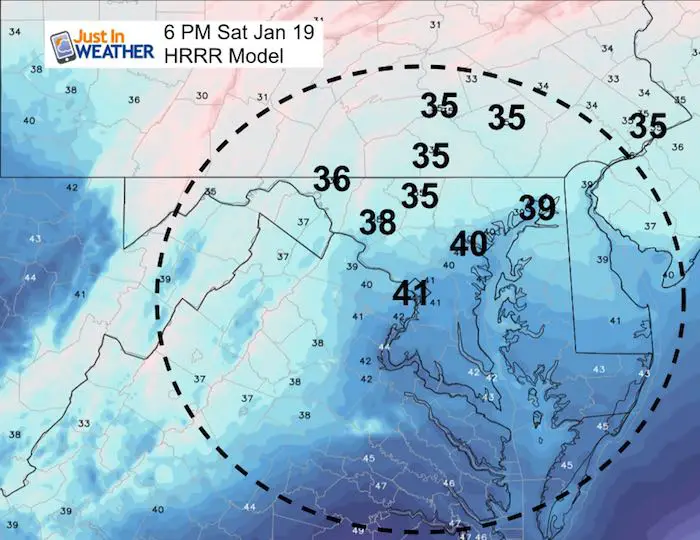 10 PM to Midnight may be the coldest time for Southern PA with moderate Snow or Mix falling.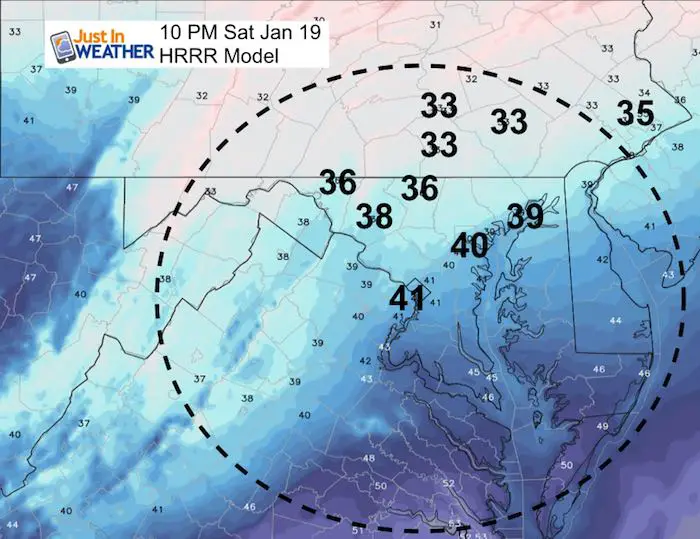 Sunday 2 AM: Our Region will be thawed and under HEAVY RAIN
Storm Animation
The FV3-GFS Model shows the movement of the storm. Here is suggests we may have some snow on the back end Sunday. The main issue will be strong winds and the rapidly falling temperatures. Flash Freeze means that anything wet may ice up very quickly.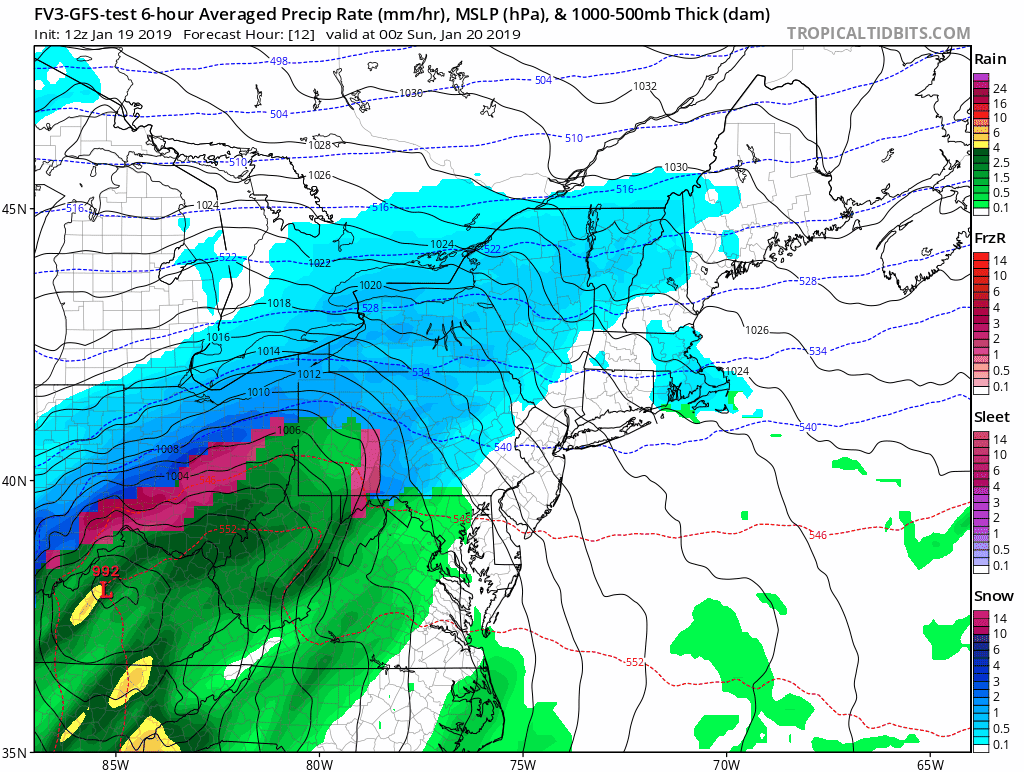 Closer Look
Sunday Mid Day
The NAM has us dry when the colder air arrives.
The Freezing line is expected to cross Baltimore and Washington between noon and 1 PM
Temperature Drop = Flash Freeze
Anything still wet can freeze within an hour. That means wet pavement can get icy very fast.
I will have an hour by hour temperature timeline in my next report.
SnowStix
We are being featured on The Weather Channel this weekend, Jim Cantore has a personalized Thudersnow Whisperer. Check it out as he reports from Boston.
We have added a bunch of new color options

We are giving 10% of each sale to Just In Power Kids: Providing FREE holistic care for pediatric oncology patients.
Sunday Midnight: Ouch!
Monday Morning: Just Stay Inside
Wind Chill: Nothing Else Needed To Be Said
FITF and SnowStix Available NOW
Please share your thoughts, best weather pics/video, or just keep in touch via social media
Related Links:
Winter Outlook
My Winter Outlook 2018-19: Multiple Nor'Easters and more snow
Interactive Snow Report
November 15 Snow Reports- Interactive Map Compared To My Forecast
Winter Snow And Top 5 Wet Years 
Snowfall Seasons at Beginning and End of Top 5 Wet Years In Baltimore
Related Winter Outlooks
Solar Cycle: When Sun Spots Are Low We Get More Snow
El Nino Modoki May Enhance Snow Chances
Sweet Spot: Hitting 70ºF on Halloween is followed by more winter snow
Will A Wet Summer Bring A Snowy Winter?
NOAA Winter 2018-2019 Outlook Explained: This Actually Supports Snow
Winter Outlook From Two Different Farmers Almanacs
Maryland Winters: Snowfall Maps and Baltimore Snow History