January 19 2019
A Winter Weather Advisory is in place for our Northern Counties and that is exactly where snow and sleet burst open this evening. I have been watching temperatures and there has been a drop of a degree or two with the burst. But even where temperatures are still above freezing, I had mentioned that it was possible to get stickage. The snow and sleet can cool the ground to support that. This led to many slick roads and accidents.  The photo from Ryan Seymour in Emmitsburg was showing stickage at 37ºF. We have a few hour of some slick travel, but the warmer air will eventually win.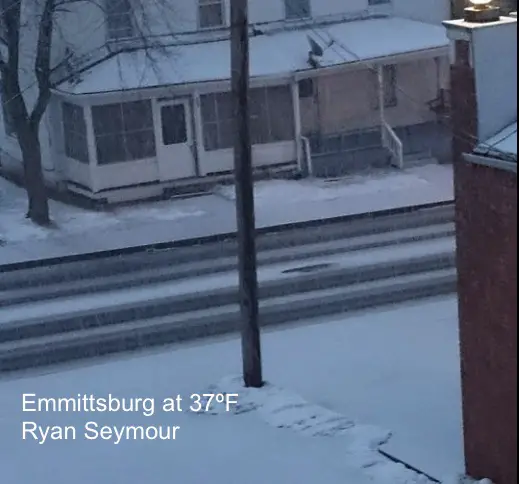 Here is a quick look at the latest conditions and short term forecast this evening. You will see the warmer air will eventually take over.
Keep In Touch Every Day
Click here to sign up for email alerts…. Just in case you don't get the post on your social media feed
Temperatures
Stations reporting at or below freezing have been circled.
North central Maryland
South central Pennsylvania
The winds have been added, shoeing the flow from east to west.
Droppler Radar
Snow and sleet have been highlighted as of 6:30 PM.  I added in the winds to show the flow from the east. This comes from the Atlantic and will warm up the atmosphere within a few hours.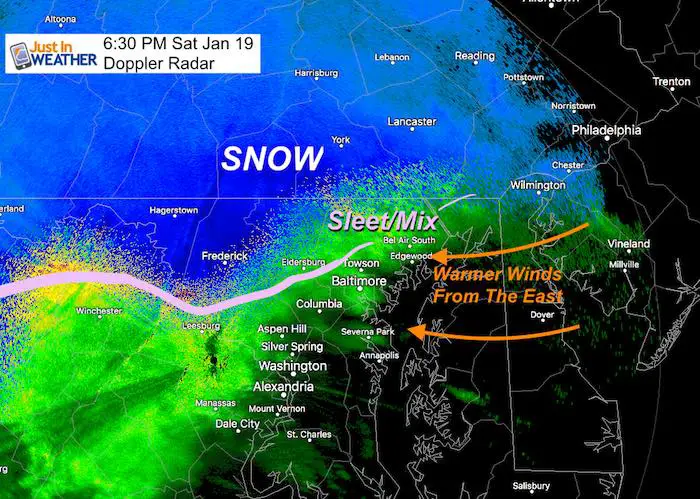 Saturday Night Simulation Timeline —> slider
[metaslider id=71457]
Temperatures
The warmer air will be moving in before midnight. We should see Baltimore rising to near 40ºF, while Harrisburg may hang on the freezing.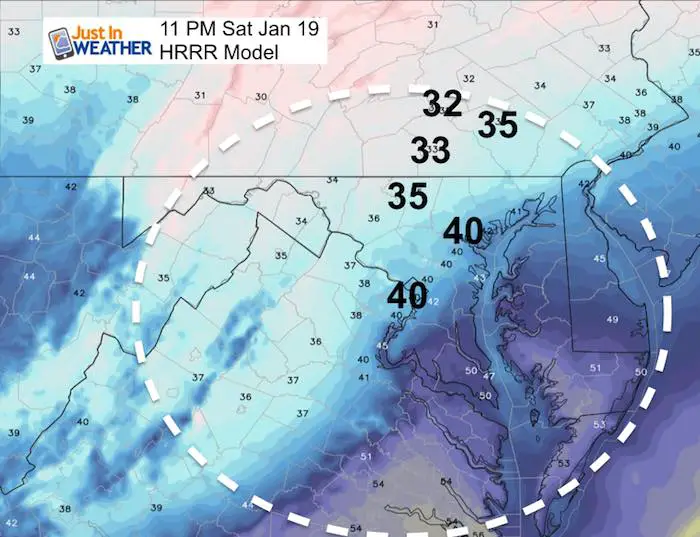 Sunday Morning
Baltimore may be in the lower 50s at sunrise.
Northern suburbs should be in the 40s… but not for long. The cold air will be on the move and reach these areas during the morning.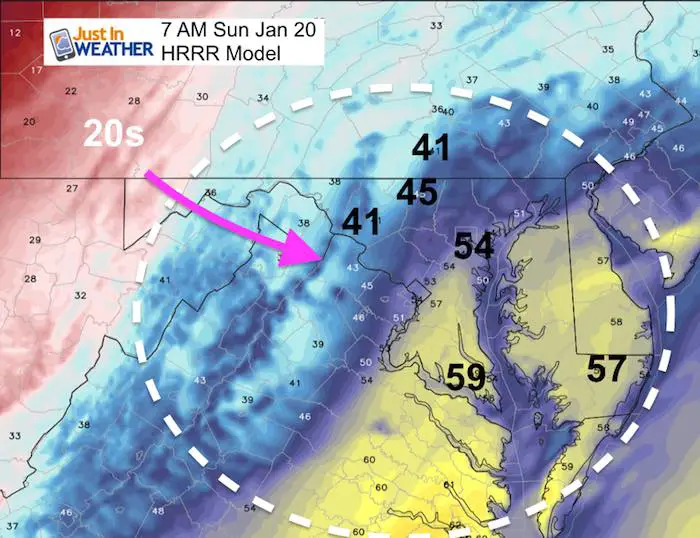 Sunday Mid Day
The NAM has us dry when the colder air arrives.
The Freezing line is expected to cross Baltimore and Washington between noon and 1 PM
Temperature Drop = Flash Freeze
Anything still wet can freeze within an hour. That means wet pavement can get icy very fast.
Click here to see the full forecast from this afternoon
SnowStix
We are being featured on The Weather Channel this weekend, Jim Cantore has a personalized Thudersnow Whisperer. Check it out as he reports from Boston.
We have added a bunch of new color options

We are giving 10% of each sale to Just In Power Kids: Providing FREE holistic care for pediatric oncology patients.
Sunday Midnight: Ouch!
Monday Morning: Just Stay Inside
Wind Chill: Nothing Else Needed To Be Said
FITF and SnowStix Available NOW
Please share your thoughts, best weather pics/video, or just keep in touch via social media
Related Links:
Winter Outlook
My Winter Outlook 2018-19: Multiple Nor'Easters and more snow
Interactive Snow Report
November 15 Snow Reports- Interactive Map Compared To My Forecast
Winter Snow And Top 5 Wet Years 
Snowfall Seasons at Beginning and End of Top 5 Wet Years In Baltimore
Related Winter Outlooks
Solar Cycle: When Sun Spots Are Low We Get More Snow
El Nino Modoki May Enhance Snow Chances
Sweet Spot: Hitting 70ºF on Halloween is followed by more winter snow
Will A Wet Summer Bring A Snowy Winter?
NOAA Winter 2018-2019 Outlook Explained: This Actually Supports Snow
Winter Outlook From Two Different Farmers Almanacs
Maryland Winters: Snowfall Maps and Baltimore Snow History