Thursday January 17 2019
The snow event on the way will arrive this evening with most falling overnight. The Winter Weather Advisory in place has been expanded south to now include Baltimore,  Annapolis, and Washington DC. Nothing has changed with the forecast. I have two model timeline simulations below to show you both the snow and temperatures.
One factor that needs to be considered… Some ground surfaces might be frozen. So even with snow or a windy mix falling in southern zones while the air is above freezing, the colder ground may support stickage and or icing.
Want School Delays?
I think a delay is the best we can get on Friday Morning. I am doing my FITF STEM program at Ring Factory ES today. The faculty told me Harford County has early dismissal Friday. If there is a delay, then they end up with a full day of school.  Ironic, because 136 people in this school are wearing FITF shirts now.
Winter Weather Advisory
Most areas have this until 4 AM Friday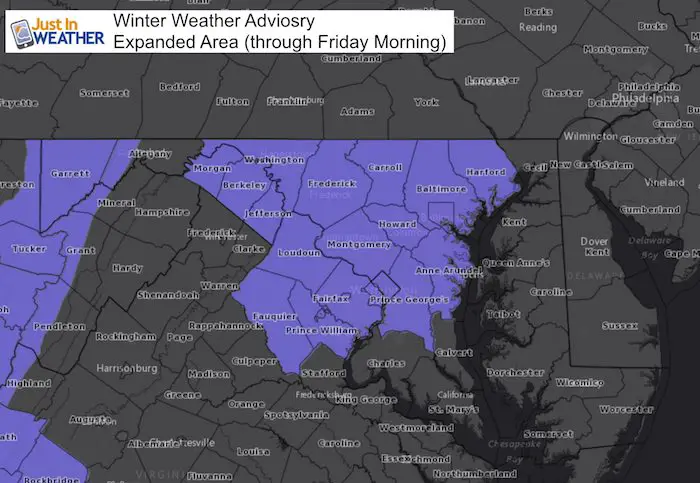 Snow Simulations: Two Models To Compare
HRRR Model —> slider
The first wave of snow showers will be on the north side this evening. It may be enough to impact late activities and I expect some schools may cancel them. The main snow will be after 10 PM and end between 2 and 4 AM Friday.
[metaslider id=71150]
Temperatures (When The Snow Ends)
NAM 3 Km Model
This product has the freezing line, which I highlighted. This tells us the best chance for icy roads to the north. But we need to consider the cold ground for the rest of the Winter Weather Advisory area
Simulation —> slider
[metaslider id=71173]
Temperatures: Will Thaw
I expect that if there are school delays, that is all that will be needed. Temps will be rising during the morning and all will be above freezing during the day
My Call for Snowfall:
This was my original forecast and it remains… The area shaded in white was added to the Winter Weather Advisory. That is where it should still be above freezing, but the cold ground might support stickage.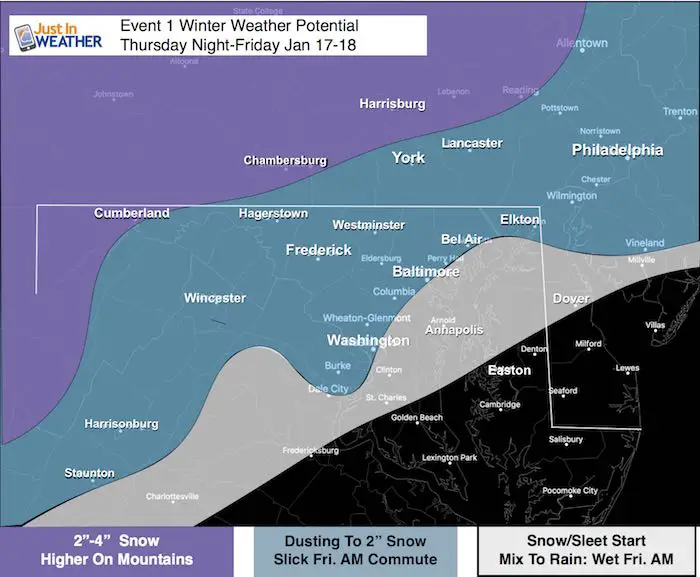 NAM Model Snowfall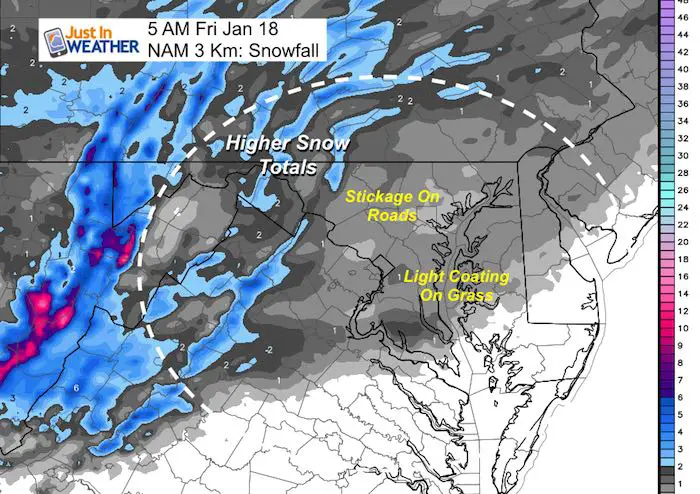 My Next Update Will Be This Evening
Keep In Touch Every Day
Just in case you don't get all posts on your social media feed, stay up to date with the latest info…
Click here to sign up for email alerts…. Be the first to hear any new weather forecasts
---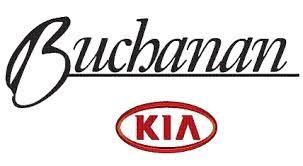 New Partner
Buchanan Kia of Westminster is a supporter of Just In Power Kids and Maryland Trek 6 in August 2019.
---
We are giving 10% of each sale to Just In Power Kids: Providing FREE holistic care for pediatric oncology patients.
Maybe These Snow Day Kits Worked- Get in on the action
NEW: Individual Items Are Now Available A La Carte.
FITF and SnowStix Available NOW
Please share your thoughts, best weather pics/video, or just keep in touch via social media
Related Links:
Winter Outlook
My Winter Outlook 2018-19: Multiple Nor'Easters and more snow
Interactive Snow Report
November 15 Snow Reports- Interactive Map Compared To My Forecast
Winter Snow And Top 5 Wet Years 
Snowfall Seasons at Beginning and End of Top 5 Wet Years In Baltimore
Related Winter Outlooks
Solar Cycle: When Sun Spots Are Low We Get More Snow
El Nino Modoki May Enhance Snow Chances
Sweet Spot: Hitting 70ºF on Halloween is followed by more winter snow
Will A Wet Summer Bring A Snowy Winter?
NOAA Winter 2018-2019 Outlook Explained: This Actually Supports Snow
Winter Outlook From Two Different Farmers Almanacs
Maryland Winters: Snowfall Maps and Baltimore Snow History