January 10 2019
The snow is going to happen for most of our region. I just want to make that point clear that this is almost certain for southern PA, central Maryland, and to Virginia. The issue here is a battle between cold (and dry) Arctic air to the north and the storm passing to the south. As with just about all winter weather events, the amount of snow is tough to forecast.
What I see is a general 2 to 4 inch snow event for most of us. There will be less (1″ to 3″)to the north/northeast and more (possibly 4″+) to the south. But there is still a chance for and adjustment between a few inches or half a foot. It will not be a blockbuster storm, but there will be stuff to shovel and enough to impact travel.  The hope for impact on schools on Monday? That depends on what falls by you and how well road crews handle it. Only flurries or snow showers will be left after Sunday.
Click here to see my latest storm analysis
One of two scenarios
| | |
| --- | --- |
| Current Model Average Expectation | If The Storm Verifies Farther North  |
| | |
The amount of snow shown on computer models is meant to be guidance, not gospel. That is why I hesitate to show it too early because like scanning the internet for news articles, you can find something you want but there may others that contrast the view.
What you will see below is the overall perception that heavier snow will fall in southern Maryland and south central Virginia. However I am still expecting a shift of the storm track to the north, which will drag the snow totals north as well. A shift of 50 to 100 miles north could double snow potential for some areas.
Snowstix- We Need You To Measure Snow Too
We are giving 10% of each sale to Just In Power Kids: Providing FREE holistic care for pediatric oncology patients.
Model Snow Forecasts
These are in no particular oder…
European Model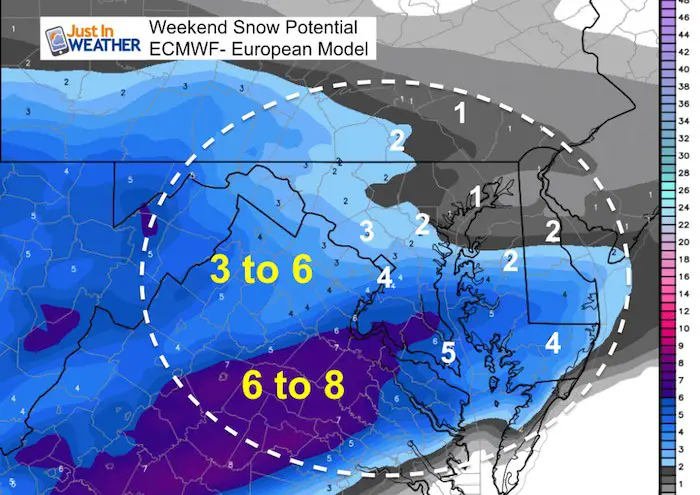 FV3- GFS
Canadian Model
This is the highest overall spread. The top amounts may be a little bit overdone.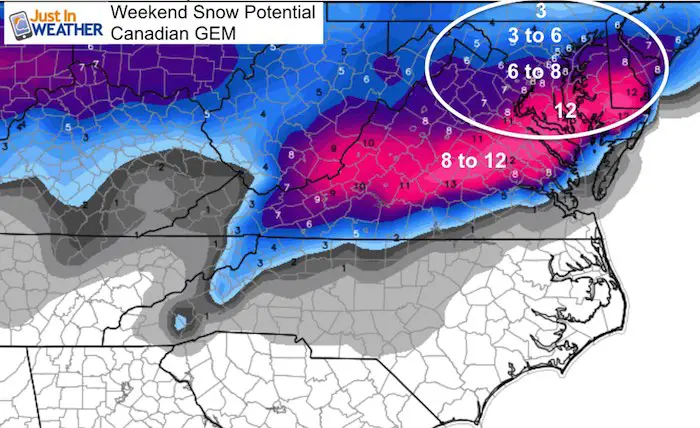 GFS (old version)
This is the lowest overall snow spread
Storm Animation (Closer View)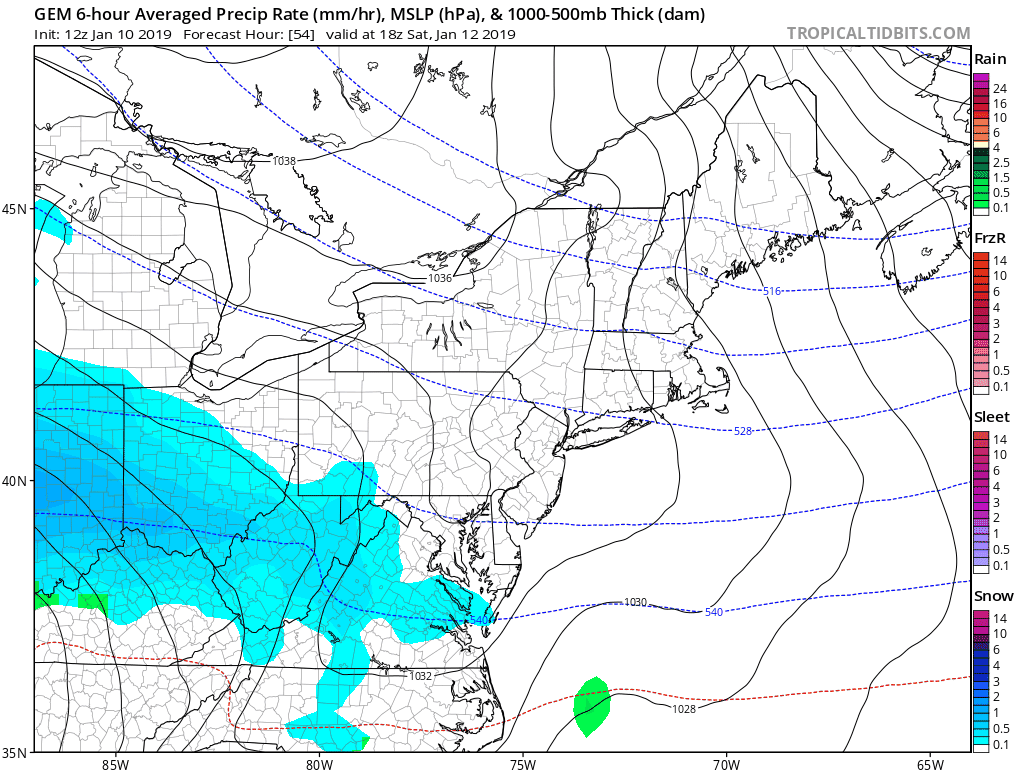 Snow Day Kit
NEW: Individual Items Are Now Available A La Carte.
Our ritual the night before a storm is finally in one kit. Maybe if more Maryland kids had this, the storm would reach us 🙂
This includes a very soft raglan Tee printed inside out with #FITF AND the check list,  #FITF spoon for under your pillow, ice cube tray with snowflake shapes, chalk, a #FITF wrist-band, a mini SnowStix, and a bag to carry it all in.
This will also help us give a free Snow Day Kit to each of the Just In Power Kids.
New Partner
I'd like to welcome Buchanan Kia of Westminster: Now a supporter of Just In Power Kids and Maryland Trek 6 in August 2019. Soon we will be showing you why we developed this relationship with a local business that my wife and I sincerely trust.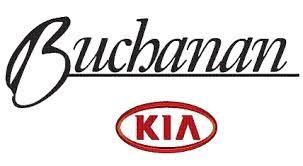 FITF and SnowStix Available NOW
Keep In Touch Every Day
Just in case you don't get all posts on your social media feed, stay up to date with the latest info…
Click here to sign up for email alerts…. Be the first to hear any new weather forecasts
Please share your thoughts, best weather pics/video, or just keep in touch via social media
Related Links:
Winter Outlook
My Winter Outlook 2018-19: Multiple Nor'Easters and more snow
Interactive Snow Report
November 15 Snow Reports- Interactive Map Compared To My Forecast
Winter Snow And Top 5 Wet Years 
Snowfall Seasons at Beginning and End of Top 5 Wet Years In Baltimore
Related Winter Outlooks
Solar Cycle: When Sun Spots Are Low We Get More Snow
El Nino Modoki May Enhance Snow Chances
Sweet Spot: Hitting 70ºF on Halloween is followed by more winter snow
Will A Wet Summer Bring A Snowy Winter?
NOAA Winter 2018-2019 Outlook Explained: This Actually Supports Snow
Winter Outlook From Two Different Farmers Almanacs
Maryland Winters: Snowfall Maps and Baltimore Snow History