Saturday December 22 2018
Today is the first full day of winter which means daylight is now getting longer. We bottomed out, but only gain one second today. However that will be maxed out as we will get much more sunshine. Perhaps good we have an easy day as the partial government shutdown starts and impacts NOAA and NWS. Today is also Super Saturday or Panic Saturday where many get their late Christmas shopping done. The good news is that the weather will be contrast to what we had yesterday, but that brings us back to reality. However the dry air and sun will come with gusty winds. The trend will be chilly but dry through the weekend with a small system Sunday night and Monday. Then, Christmas itself looks quiet and cold.
We will take a little look at the extended outlook into New Year 2019 below, but first, here is the breakdown.
Government Shutdown
Why would a weather report mention this? Well, NOAA and The National Weather Service are Government Agencies. According to the government:
Certain "excepted" employees who are considered critical to public safety, like hurricane hunters or operational weather forecasters, will be required to report to work, even without the guarantee of pay. But those non essential people make up about 50% of the work force and they will be sent home.
There was a measure put in place for retroactive pay when the budget is resolved… But that will not get the next paycheck delivered if it is Congress can not resolve this quickly.
A few NWS offices have made mention of their dedication on Twitter:
We will be here 24/7 providing essential weather information to keep you and your communities safe #nvwx #cawx #vegasweather #azwx pic.twitter.com/subnLLs6EL

— NWS Las Vegas (@NWSVegas) December 22, 2018
During this shutdown, we continue to operate 24/7. However our feed will be limited to posts/replies related only to forecast, warning and public safety information. pic.twitter.com/3zjMB5QoHD

— NWS Boulder (@NWSBoulder) December 22, 2018
The NWS will continue to operate 24/7 through the government shutdown to provide reliable forecast and warning information. Our social media presence will remain as close to normal as possible. Visit https://t.co/VBtcObe09U for local forecast information. pic.twitter.com/9EklrYjYJO

— NWS Fairbanks (@NWSFairbanks) December 22, 2018
Our local NWS Office has not made a mention online, but they will be operating as well… However some services might be missing. The last shutdown did affect some computer systems which limited information that was delivered to some websites and mobile apps.
I will continue to provide information here as my access to computer modeling, data come from a wide blanket of sources and my forecasts are my own.
Temperatures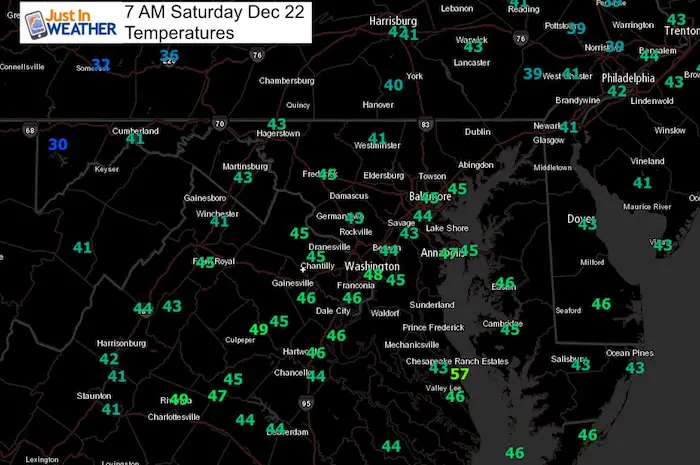 Local Weather Stats For December 22 in Baltimore
The Winter Solstice today!
Average High:  43ºF
Record High: 71ºF in 2013
Average  Low: 27ºF
Record Low:  4ºF in 1989
                         *Record Snow:  5.9″ in 1908
Sunrise: 7:23 AM
Sunset 4:47 PM 
*Daylight = 0:01 longer than yesterday 
*Bay Water Temperature = 44ºF at Thomas Pt. Light House 
Rain Record Update (Through Friday)
Morning Set Up
Satellite Loop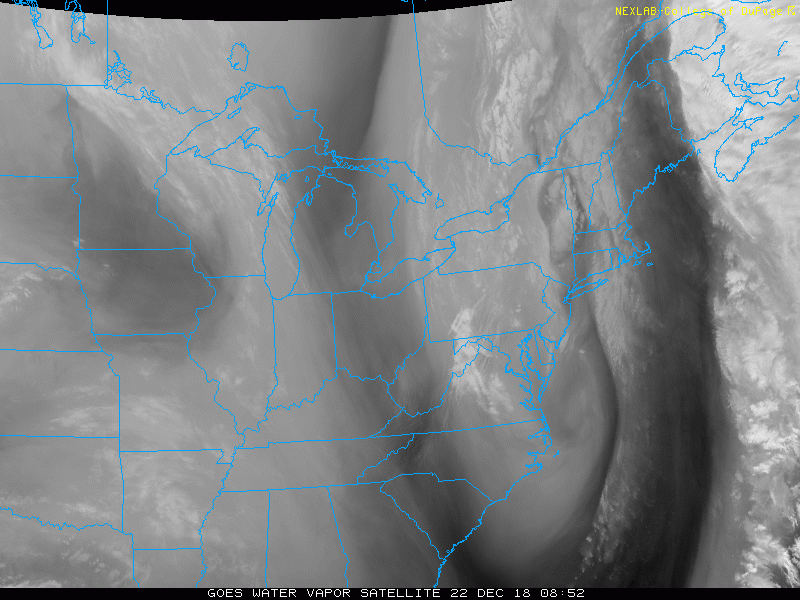 Forecast Clouds/Sun
The bulk of clouds will be with the snow showers in the mountains.  Mostly clear, but some fair weather clouds could pass by.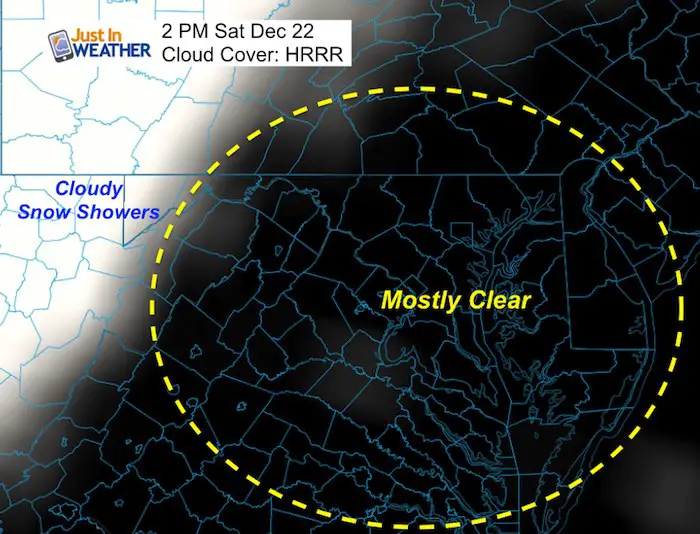 Wind Gusts
Morning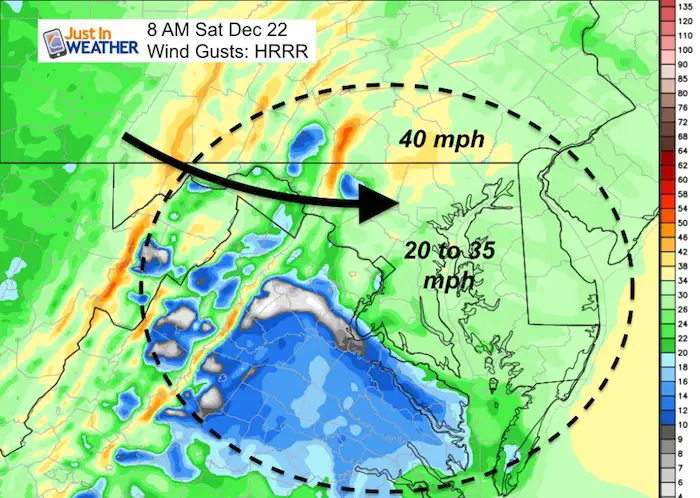 Afternoon
Tonight
High Temperature
Outlook: Rain Showers Sunday Night/Monday Morning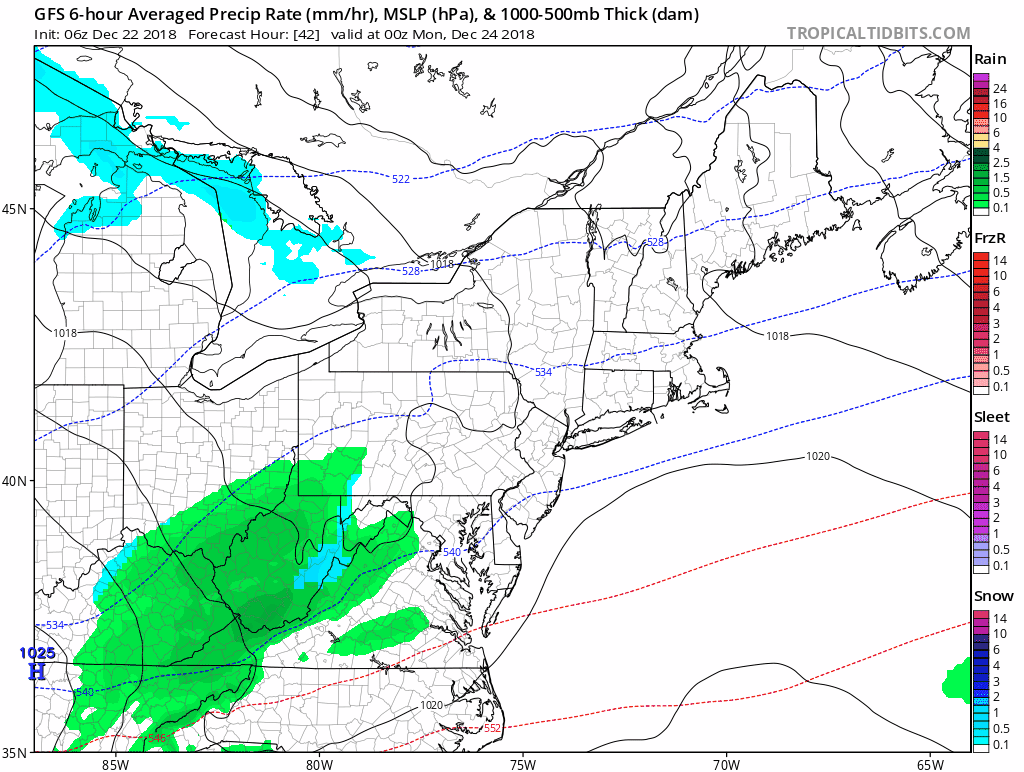 Christmas Day
Do you remember when I showed you a chance for light snow between the 24th and 26th? That was on the European Model and it was alone. That system is nonexistent as High Pressure appears to be in control. This further proves why even the best computer model is not perfect and why I do not trust long range map projections….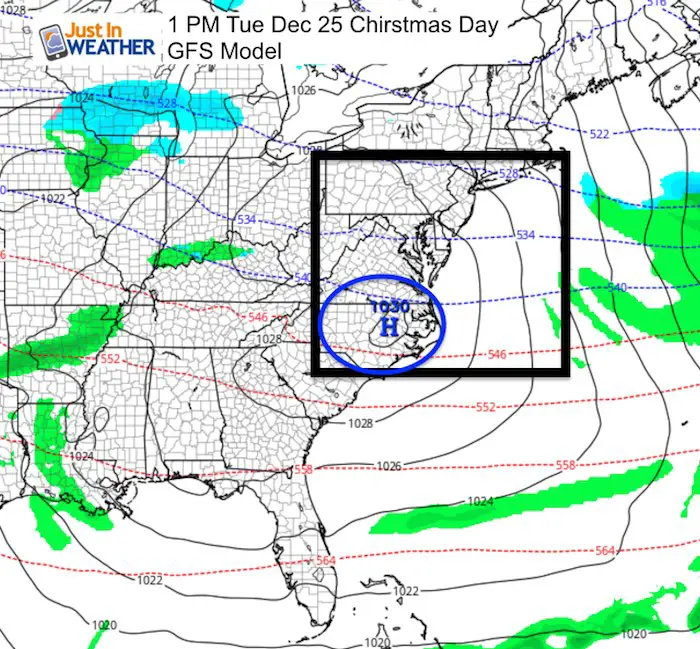 Temperature Outlook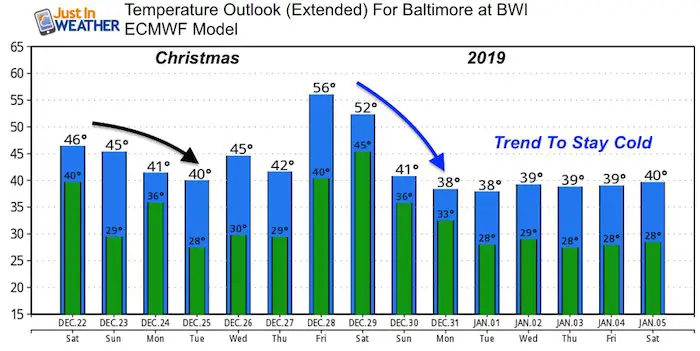 North Atlantic Oscillation
This is the pattern near Greenland that we track for pattern potential in the eastern US. A Negative index is a signal that it will be colder and stormy for us.
We saw this trend in November for early December and it was less intense than expected. Now we have reason to believe there is more support to dislodge the Polar Vortex and send very cold air into the eastern US in January.  I will have more details on this over the weekend.
Snow Day Kit
Our ritual the night before a storm is finally in one kit. Maybe if more Maryland kids had this, the storm would reach us 🙂
This includes a very soft raglan Tee printed inside out with #FITF AND the check list,  #FITF spoon for under your pillow, ice cube tray with snowflake shapes, chalk, a #FITF wrist-band, a mini SnowStix, and a bag to carry it all in.
New Orders are likely to be delivered after the holiday.
This will also help us give a free Snow Day Kit to each of the Just In Power Kids.
FITF and SnowStix Stores are now OPEN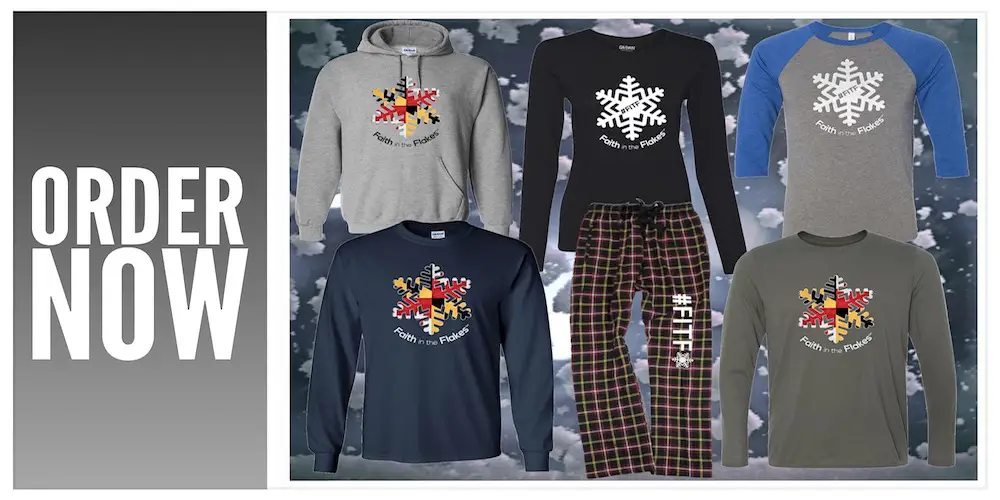 Keep In Touch Every Day
Click here to sign up for email alerts…. Be the first to hear the big news over the weekend
Also- Just in case you don't get the post on your social media feed
Please share your thoughts, best weather pics/video, or just keep in touch via social media
Related Links:
Winter Outlook
My Winter Outlook 2018-19: Multiple Nor'Easters and more snow
Interactive Snow Report
November 15 Snow Reports- Interactive Map Compared To My Forecast
Winter Snow And Top 5 Wet Years 
Snowfall Seasons at Beginning and End of Top 5 Wet Years In Baltimore
Related Winter Outlooks
Solar Cycle: When Sun Spots Are Low We Get More Snow
El Nino Modoki May Enhance Snow Chances
Sweet Spot: Hitting 70ºF on Halloween is followed by more winter snow
Will A Wet Summer Bring A Snowy Winter?
NOAA Winter 2018-2019 Outlook Explained: This Actually Supports Snow
Winter Outlook From Two Different Farmers Almanacs
Maryland Winters: Snowfall Maps and Baltimore Snow History 
Snowstix- We Need You To Measure Snow Too
We are giving 10% of each sale to Just In Power Kids: Providing FREE holistic care for pediatric oncology patients.