December 21 2018
The first day of winter isn't supposed to be like this… Across Maryland and Pennsylvania we had a Flood Watch turn to Flood Warnings with yet another rain event bringing over 1 to 3 inches to the region. This was on the heels of strong winds that pumped up the temps overnight. With a few breaks of sun during the day, we remained warm and developed severe thunderstorms. Not quite what we would expect on the shortest day (light) of the year. But wait.. There's more even before we get to the snow!
Temperatures
The high temperature at BWI was 63ºF
This missed the record of 71ºF set just a few years ago in 2013. But the low for the day so far has been 57ºF, which is a record for the warmest min temperature. It will get cooler this evening, but needs to stay above 54ºF to set the record.
Rain Record Growing
Today brought 0.43″ of rain, that added to our record year in Baltimore. For the first time in our 140+ year history, we have over 70 inches of rain!
This total is as of 4 PM Friday December 21. We will add more by midnight. See the updated rain (and mountain snow) timeline below.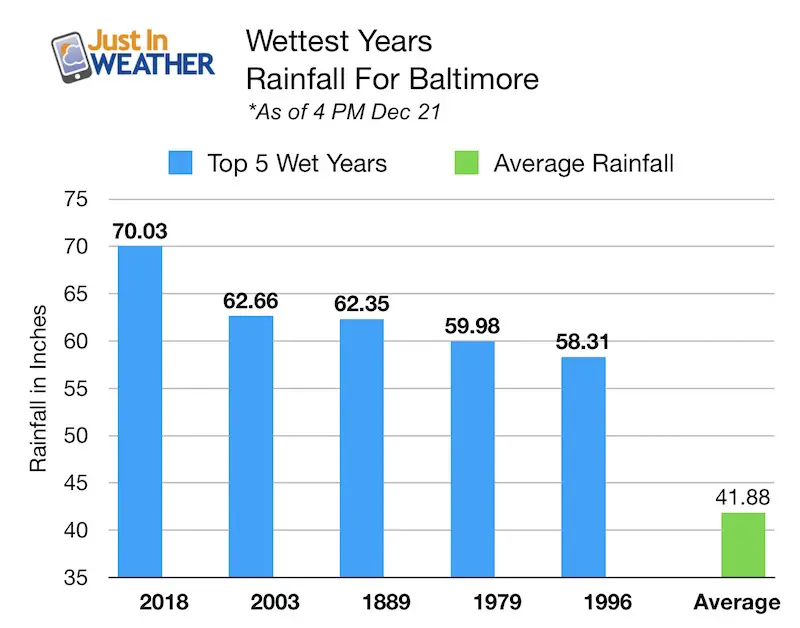 Radar Loop
A series of showers that produced Severe Thunderstorm Warnings across Montgomery and Carroll Counties in Maryland.
Weather Folklore: "If in winter there is thunder, snow will follow in a week or under".  Well, the clock is ticking… Click here to see more winter weather folklore.
Here is the loop between 4 PM and 5:30 PM. The irony is that the only possible ice might have been some small hail near Manchester in Northeast Carroll County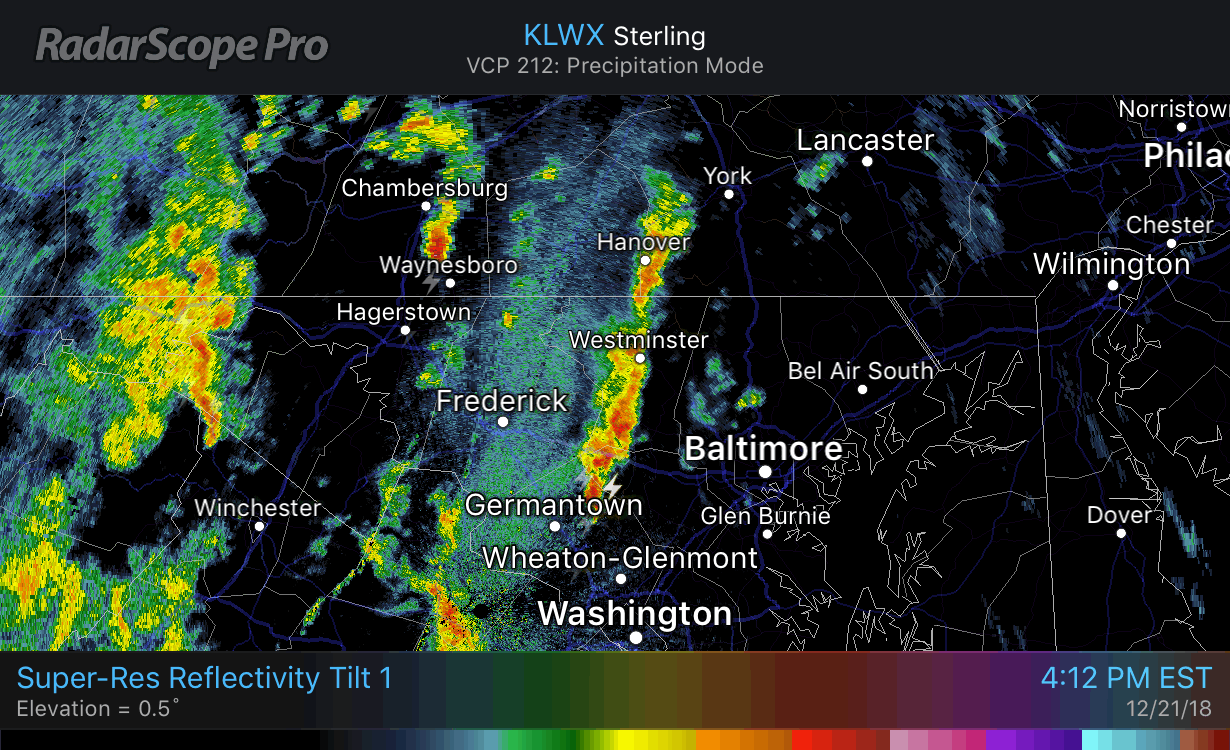 Double Rainbows
The rain in the afternoon combined with the low angle of the winter solstice sun provided a vivid double rainbow from Mount Airy to Westminster Maryland. A lower sun angle actually allows the light to refract for the initial band of colors. It also reflects inside the drops and refracts again for the secondary, dimmer arch. That band of colors is always in reverse order and shown vividly here.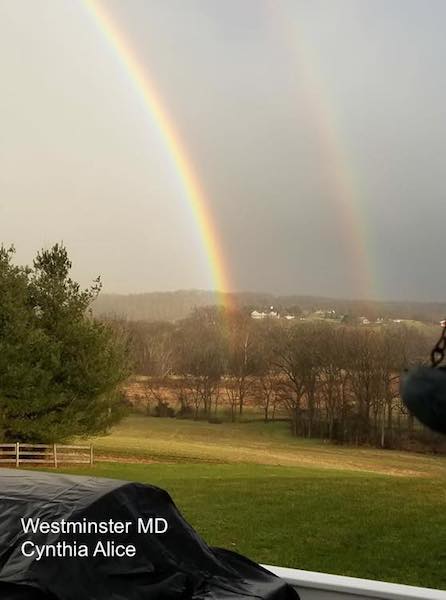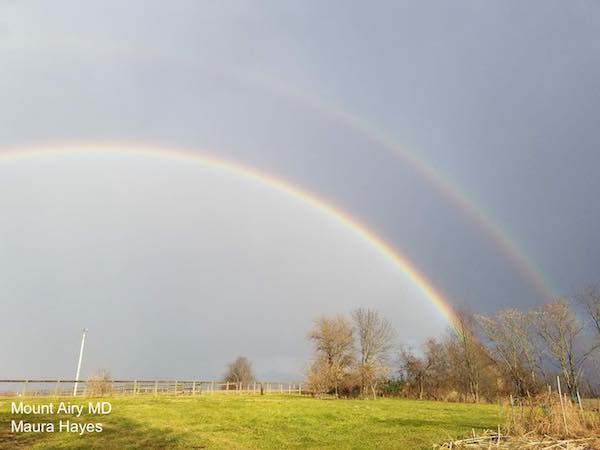 Rain Timeline Will End With Mountain Snow
—> slider
There is a chance that snow will mix in across northern Frederick County with the last band overnight. This could visit Whitetail, Liberty, and Roundtop ski areas, but likely won't stick.
[metaslider id=69965]
New Snow
While Wisp may get 2 to 4 inches. The West Virginia ski areas should with in the 4 to 8 inch range. Snowshoe could be the big winner with 10 to 12 inches at the 4848′ summit.  But they always win up there.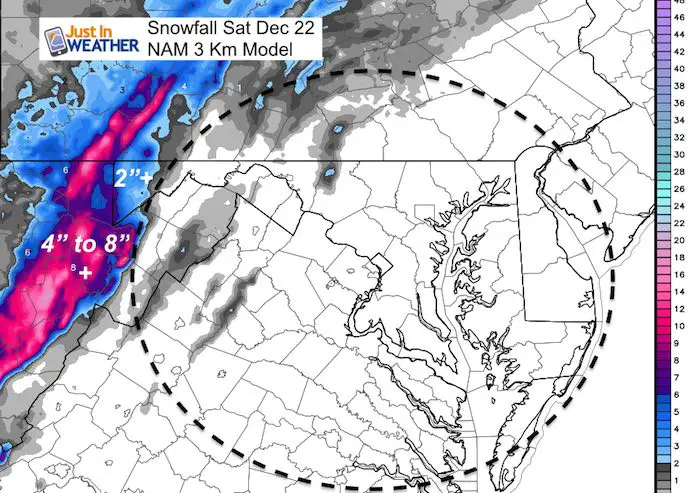 Outlook:
I know there has been a lot of chatter about the Polar Vortex getting dislodged and impacting us with frigid air in January. I agree and have discussed it. If you missed my reports or mentions it might be because social media does not show you all of my updates. Please sign up for my newsletter
Keep In Touch Every Day
Click here to sign up for email alerts…. Be the first to hear the big news over the weekend
Also- Just in case you don't get the post on your social media feed
We should get a chance to dry out for a change on the weekend. More on the next storm and Christmas outlook in my next post.
Snow Day Kit
Our ritual the night before a storm is finally in one kit. Maybe if more Maryland kids had this, the storm would reach us 🙂
This includes a very soft raglan Tee printed inside out with #FITF AND the check list,  #FITF spoon for under your pillow, ice cube tray with snowflake shapes, chalk, a #FITF wrist-band, a mini SnowStix, and a bag to carry it all in.
New Orders are likely to be delivered after the holiday.
This will also help us give a free Snow Day Kit to each of the Just In Power Kids.
FITF and SnowStix Stores are now OPEN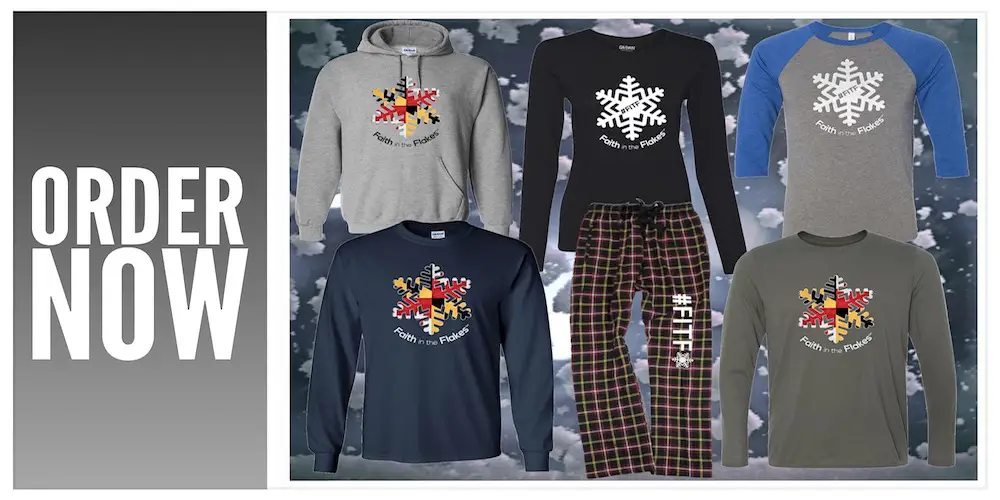 Please share your thoughts, best weather pics/video, or just keep in touch via social media
Related Links:
Winter Outlook
My Winter Outlook 2018-19: Multiple Nor'Easters and more snow
Interactive Snow Report
November 15 Snow Reports- Interactive Map Compared To My Forecast
Winter Snow And Top 5 Wet Years 
Snowfall Seasons at Beginning and End of Top 5 Wet Years In Baltimore
Related Winter Outlooks
Solar Cycle: When Sun Spots Are Low We Get More Snow
El Nino Modoki May Enhance Snow Chances
Sweet Spot: Hitting 70ºF on Halloween is followed by more winter snow
Will A Wet Summer Bring A Snowy Winter?
NOAA Winter 2018-2019 Outlook Explained: This Actually Supports Snow
Winter Outlook From Two Different Farmers Almanacs
Maryland Winters: Snowfall Maps and Baltimore Snow History 
Snowstix- We Need You To Measure Snow Too
We are giving 10% of each sale to Just In Power Kids: Providing FREE holistic care for pediatric oncology patients.