Thursday November 29 2018
The wind storm is finally losing its grip but the cold air will take a little more time to modify. But looking ahead we have yet another storm on the way for the weekend. This will come in two parts: Showers on Friday then steady rain on Saturday arriving in the afternoon.  Like prior storms, this will leave us with half of the weekend in better shape, but this time a warm up will follow the rain.  Then were look ahead to FITF Day- December 5th was the first day of snow in our region almost every year last decade. The models are 'trying' to produce something this year… next week.
Local Weather Stats For November 29 in Baltimore
Average High:  51ºF
Record High: 74ºF in 1927
Average  Low: 33ºF
Record Low:  18ºF in 1991
                         *Record Snow:  1″ in 1952
Sunrise: 7:05 AM
Sunset 4:44 PM 
*Daylight = 1:21 shorter than yesterday 
*Bay Water Temperature = 45ºF at Thomas Pt. Light House 
Record Rain Year Update:
The rain on Monday was 0.42″ at BWI. Considering the storm on the way this weekend and one month left in 2018, we may make a run for 70 inches.
The FITF Store Is Open With Gear And SnowStix
A portion of all proceeds for FITF and SnowStix goes to our nonprofit Just In Power Kids- providing FREE holistic care for kids in and post cancer treatment.
Morning Snapshot
It is colder in northern Florida than New York and Boston this morning!!!
The wind barbs show an average of 5 to 10 mph this morning.
This Afternoon
Just enough wind to make it feel like the upper 30s
Weekend Rain
The will be light rain showers on Friday. The steady rain will move in for Saturday afternoon and night, ending Sunday morning.  See the snapshots below.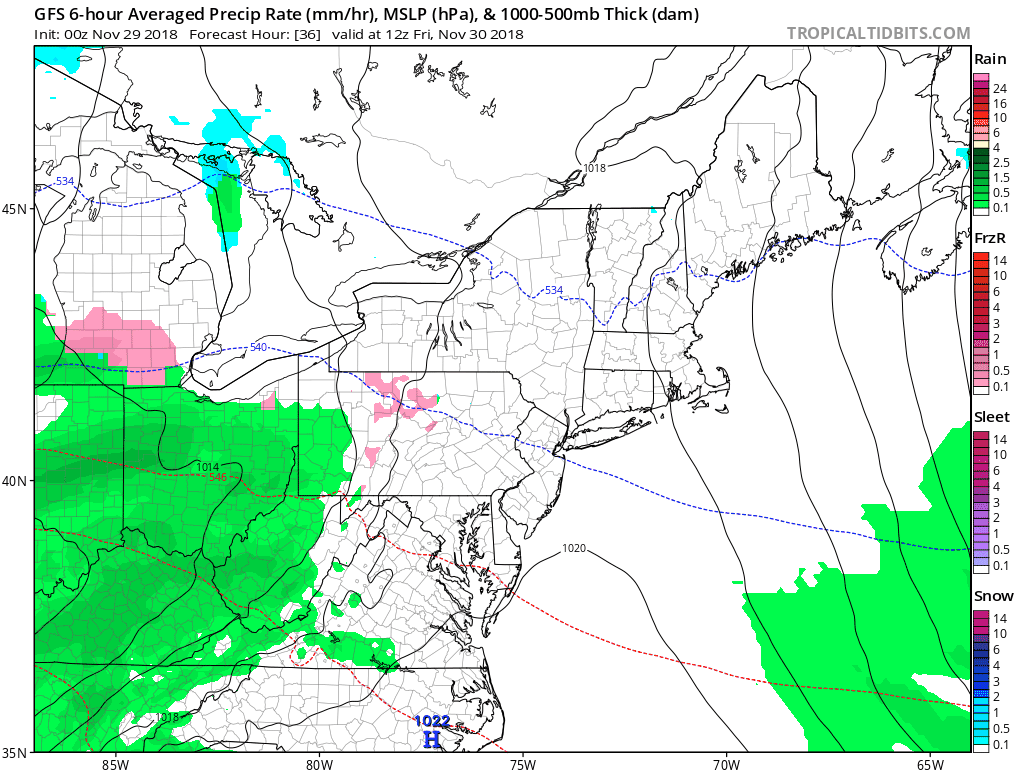 Daily Snapshots
Friday Mid Day
Saturday Afternoon
Rainfall Potential
Next Week
Temperature Outlook
After the Sunday warm up, temps will tank again. There is a chance as the pattern changes we will get a little storm to link up for some snow Wednesday.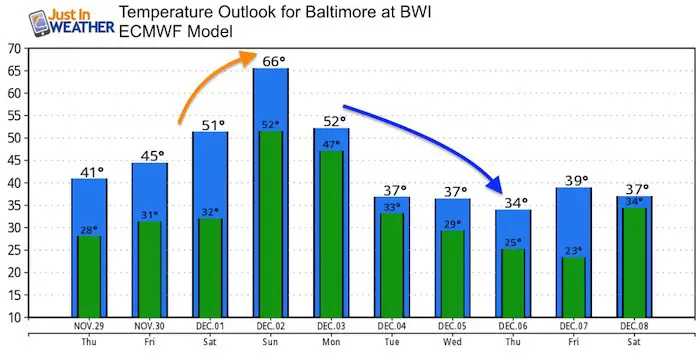 Models Do NOT Agree:
The European ECMWF Model shows a more organized system Tuesday night into Wednesday morning with some December 5 snow.  Compare this to the GFS Model that does not have the energy coordinate as well bringing only flurries or snow showers. I should point out that the GFS model did have this looking more like a storm yesterday, but lost it. This is somewhat common for that model. So it is worth watching for a day or two to see if there is consistency developing this.
December 5th- FITF Day
Gather your friends and co-workers: Wear your #FITF gear to honor and celebrate this unique calendar holiday. This is the date almost every day last decade marked the first snow of each winter season.  I will have the history to show shortly.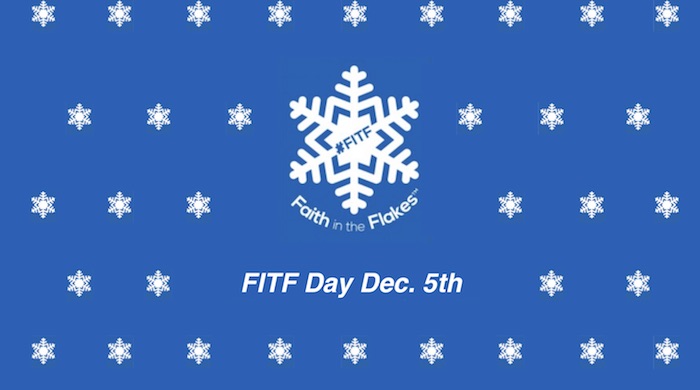 Keep In Touch Every Day
Click here to sign up for email alerts…. Be the first to hear the big news over the weekend
Also- Just in case you don't get the post on your social media feed
Please share your thoughts, best weather pics/video, or just keep in touch via social media
Related Links:
Winter Outlook
My Winter Outlook 2018-19: Multiple Nor'Easters and more snow
Interactive Snow Report
November 15 Snow Reports- Interactive Map Compared To My Forecast
Winter Snow And Top 5 Wet Years 
Snowfall Seasons at Beginning and End of Top 5 Wet Years In Baltimore
Related Winter Outlooks
Solar Cycle: When Sun Spots Are Low We Get More Snow
El Nino Modoki May Enhance Snow Chances
Sweet Spot: Hitting 70ºF on Halloween is followed by more winter snow
Will A Wet Summer Bring A Snowy Winter?
NOAA Winter 2018-2019 Outlook Explained: This Actually Supports Snow
Winter Outlook From Two Different Farmers Almanacs
Maryland Winters: Snowfall Maps and Baltimore Snow History 
FITF and SnowStix Stores are now OPEN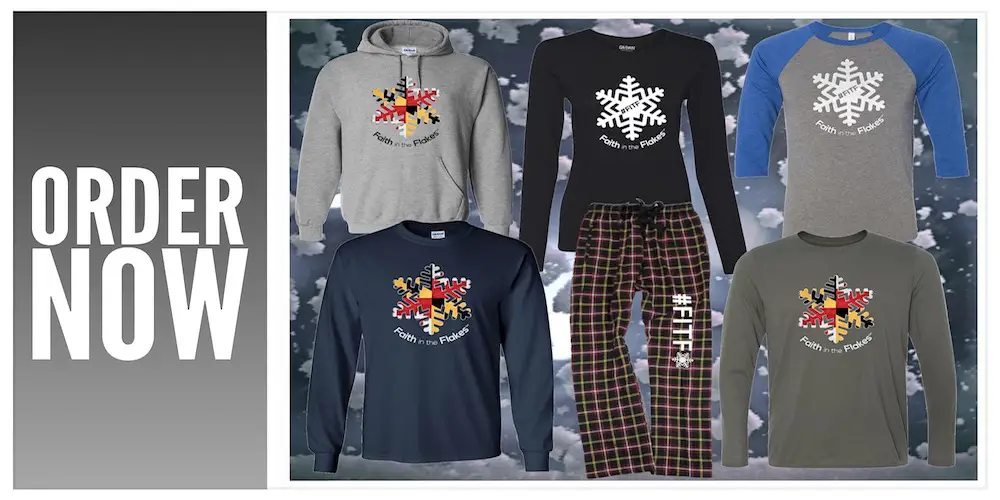 Snowstix- We Need You To Measure Snow Too
We are giving 10% of each sale to Just In Power Kids: Providing FREE holistic care for pediatric oncology patients.